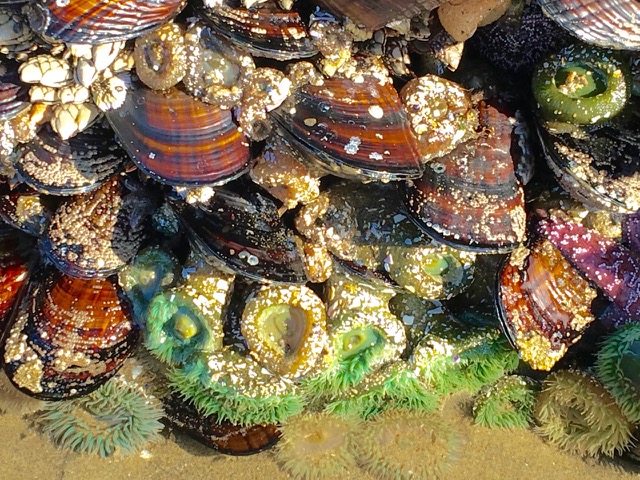 Browse art galleries downtown
There are more than a dozen art galleries in downtown Cannon Beach — plus numerous small shops and boutiques to explore. You can find paintings, pottery, jewelry, photography—many created by Northwest coastal artists. If you're interested in bronze sculpture, don't miss Bronze Coast Gallery, located in The Landing at 224 North Hemlock Street, to view an eclectic collection of works.
Play in the waves and sand
Yes, the waters off the Oregon coast are chilly — even in the middle of summer. Some brave souls splash around in the surf, but if that's too tooth-chattering for you, simply let the waves lap at your toes as you wander at water's edge.You can also search the shoreline for shells, sand dollars, and driftwood; you can take home small quantities of these, as long as you don't collect them from within 300 feet of the base of Haystack Rock, a protected area.Other fun beach options — whether or not you have kids in tow — are flying a kite or creating a sandcastle. Hone your sand-sculpting skills before entering the annual contest held in June. (cannonbeach.org/explore/Cannon-Beach-Sandcastle-Contest)


Walking in the sand. ©Laurel Kallenbach

Dine at sunset on Cannon Beach
A handful of beachside restaurants offer stunning sunset views, and The Wayfarer is the most scenic. Indoor and outdoor seating offers panoramas of Haystack Rock while you enjoy cocktails and locally sourced food, including the catch of the day. A bit of a splurge pricewise, The Wayfarer experience shouldn't be missed, and the restaurant is arranged so that those sitting at nearly every table can watch the sky turning pink and orange through the windows. (1190 Pacific Drive; wayfarer-restaurant.com)

Build a campfire on the sand
Beachside fun doesn't end just because the sun has sunk below the horizon. Buy some wood and matches (sold at many Cannon Beach hotels and in local markets), grab a blanket and the marshmallows, and build a small fire—bonfires are not allowed—in a sand pit. (Be sure to stay a safe distance from shoreline vegetation.) Driftwood logs make great seats if you don't have beach chairs. As sparks float into the starry sky, you'll stay warm on the coolest night. S'mores anyone?

Beach homes and the sky. ©Laurel Kallenbach

Fall asleep listening to the surf
From an oceanfront room at the Hallmark Resort & Spa, you can tuck yourself into bed and hear the waves breaking on the shore. The best part? Waking up the next morning to an eye-popping view of Haystack Rock from your balcony.If the Hallmark is booked, there are 40 hotels, motels and resorts in and around Cannon Beach. Beach camping is not allowed. (1400 South Hemlock St.; hallmarkinns.com/cannon-beach)
Author Bio: Writer Laurel Kallenbach has visited Cannon Beach half a dozen times over the last 20 years.