Visiting Greece is a dream come true for many travelers, and if you are among them, we have prepared a list of the best Greek islands to visit. Before setting yourself on island time and enjoying your holiday, you'll need to decide which Greek islands to visit.
You can go island hopping, stay on one island for several days or stay on mainland Greece and visit islands on day tours. Alternatively, you can go on a guided tour of Greece.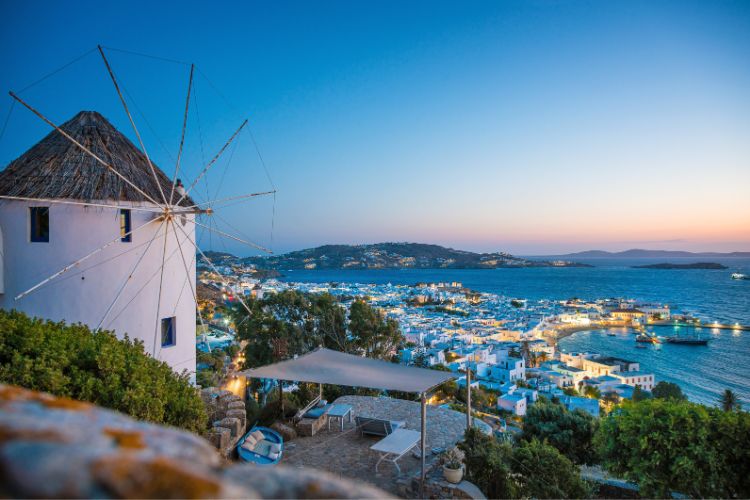 Which Is the Best Greek Island to Visit?
Depending on what type of vacation you are looking for, there are several Greek islands you can choose to visit first. If you want a beach vacation, you should look into Corfu, Zakynthos, or Crete.
However, if you want good nightlife, then the destination for you is Mykonos. Those who appreciate great gastronomy should look into Naxos, Corfu and Santorini.
Planning a last-minute trip to Greece?
Top Experiences and Tours in Greece:
Where to stay in Greece:
Find accommodation with Booking.com
Get a rail pass through Rail Europe
Find Bus, Train, and Flight tickets with one search through Omio
What Are the 6 Greek Island Groups?
Greece has six island groups, which differ in geographical location, slightly in climate and a bit in architecture and foreign influence. These groups are:
The Ionian Islands
Since the Ionian islands were inhabited by Westerners, such as Italians, for an extended period, their architecture is a very distinctive blend of Greek and Western, particularly from the medieval centuries.
Here you will see different castles, Neoclassical towns, fortified ports, Venetian fortifications and Ottoman relics. The most popular of these islands are Zakynthos, Paxos, Corfu, Lefkada, Ithaca, Kythera, and Kefalonia.
The Cyclades
All of the Cyclades islands have distinctive Cycladic architecture, but that doesn't imply the islands are uniform. Within the Cycladic aesthetic, every one of them has distinctive features of their own. The popular Cyclades you can visit are Ios, Milos, Mykonos, Naxos, Paros, Folegandros, Serifos, Syros, Tinos, and Santorini.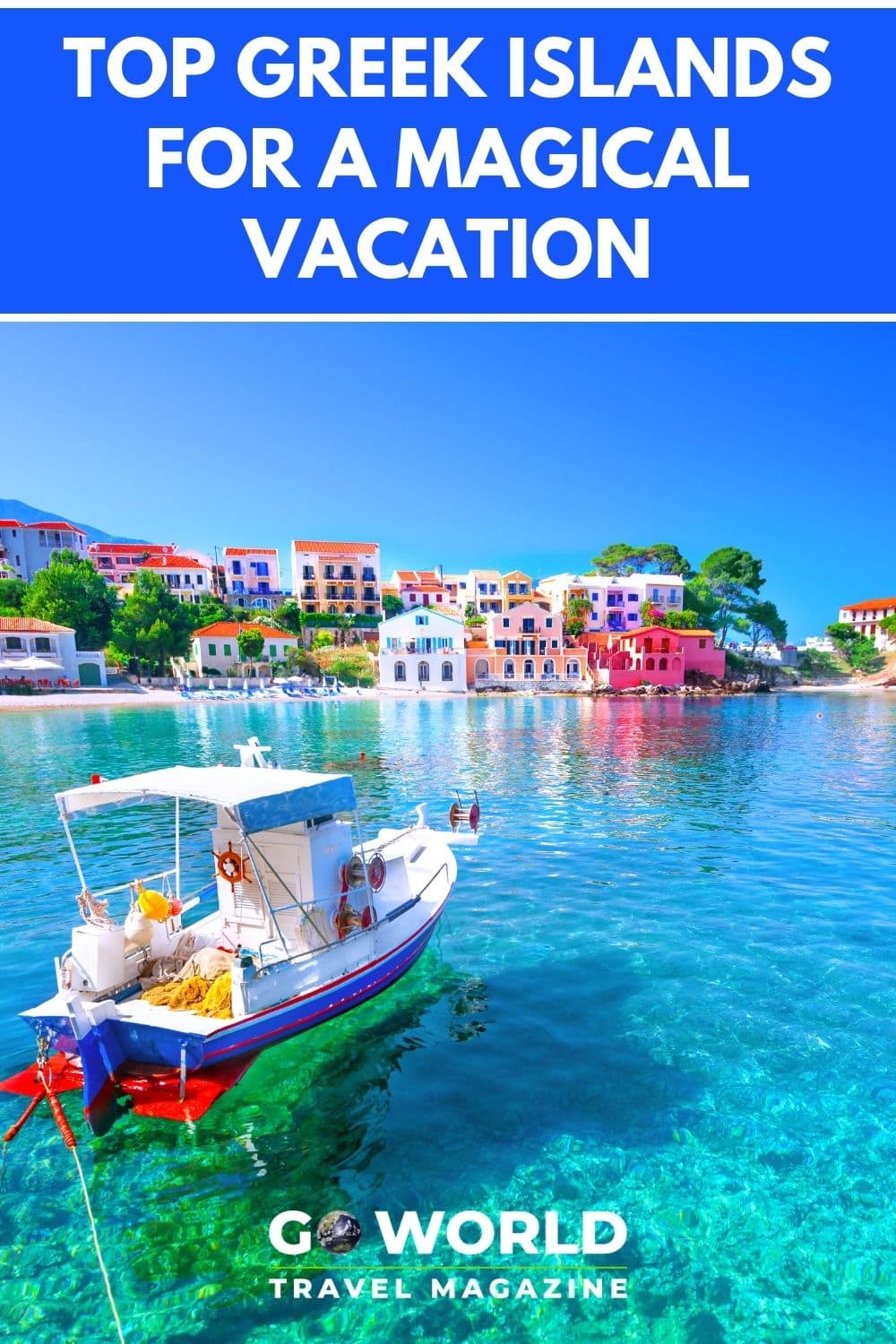 The Sporades
If you love nature, all four islands of the Sporades will provide views of undulating hills touching the distinctively aquamarine-hued waters of the Aegean.
Skiathos is very tourist-friendly and the beaches are stunning. Other Sporades islands are Skopelos (where Mamma Mia! was filmed), Skyros, and Alonissos.
The Dodecanese
For those of you who love medieval architecture, visit this island group. Rhodes in particular epitomizes the term medieval island.
Take a stroll through the narrow alleyways of Rhodes to experience the romance and history that surround this stunning city. Other interesting Dodecanese islands here are Karpathos, Kos, Patmos, and Symi.
Best Tips & Tools to Plan Your Trip
The Saronic Islands
This group of islands, also known as the Argosaronic Islands, is extremely close to Athens and is thus the ideal choice for a brief summer getaway or to add a touch of island appeal to trips you may have planned that would be largely inland in Greece.
They are located between Attica and the North-East Peloponnese, and the most prominent islands in this group are Aegina, Hydra and Spetses.
The North Aegean Islands
The North Aegean Islands, which are near Turkey, are charming in their own way. Most were significant naval bases in earlier eras and played a significant role in the War of Independence.
Several are either referenced in the writings of Homer and other ancient authors or serve as the settings for numerous Greek stories. Here is what to visit in this island group: Lesbos, Chios, Ikaria, Samos and Thassos.
What Is the Most Famous Greek Island?
Santorini is probably the most popular island, not just in Greece but also in Europe. Its charming, recognizable architecture is what attracts millions of tourists every year. Honeymooners also love this romantic island, which offers some of the best sunsets over the Aegean Sea you could dream of.
What Is the Greek Island With the Best Beaches?
It is hard to say where in Greece you can find the best beaches. Every coastline in the Aegean Sea, Mediterranean Sea and Ionian Sea is unique and gorgeous, with crystal-clear waters and pebble or sandy beaches.
However, some islands are more popular among beachgoers and these are Kefalonia, Lefkada, Milos, Mykonos, and Crete.
Which Are the Top Greek Islands?
Before you decide which island to visit, read when is the ideal time to visit Greece. Here are the best Greek islands to visit this year if you love summer, sun, and the Mediterranean climate:
Crete
Greece's largest island and the fifth-largest in the Mediterranean Sea is Crete. Explore magnificent beaches, fertile valleys, steep gorges, breathtaking mountain ranges, and the island's rich culinary culture while admiring the archeological sites.
Santorini
For many reasons, Santorini in Greece is one of the best places to have a vacation. The small island is overflowing with distinctive flavors in local tavernas, has strong traditional origins, and offers spectacular views for your romantic holiday.
Oia is the top tourist village in Santorini, so if you want a more secluded resort for your vacation, try to stay in other parts of the island, and visit this tourist center on a day trip only.
Mykonos
Monuments of Mykonian architecture can be found throughout the island, from white buildings with blue windows to characteristic small churches.
You can experience all of Greek culture in Mykonos through centuries of its history and structures. From Little Venice to Windmills, to the countless churches to museum buildings, there's much to see.
Rhodes
A journey around the walls of Old Town Rhodes, the oldest continuously inhabited medieval settlement in Europe and a UNESCO World Heritage Site, is one of Greece's most thrilling hikes you can take.
Secret history is revealed through hundreds of narrow streets and alleyways that have Byzantine and Gothic structures set against a distinctive background.
Corfu
One of the biggest and most well-known Greek islands, lovely Corfu attracts a lot of tourists every year. The island is worth a trip with your family, even though it might get crowded during the summer. You'll never run out of things to do in Corfu because of its magnificent scenery.
Zakynthos
Unquestionably, one of the most beautiful Ionian Islands is Zakynthos. It is famous for the jaw-dropping views of Shipwreck Beach and the vibrant nightlife resort of Laganas, and it is located on the far eastern side of Greece.
Skiathos
Skiathos, the most developed island in the Northern Sporades, is undoubtedly a heaven on Earth with its thick pine woods and clear blue waters. Numerous stunning beaches and crystal blue waters grace this unspoiled, charming island.
Kos
Though Kos is known for its beaches, there is much more to this island than just tanning. All across Kos, there are remnants left by more recent visitors, such as two Knights Templar-built medieval fortresses, beside ancient Roman and Greek ruins.
Ios
Visit the old town of Ios, which is located on the crest of a hill called Chora. There, you can see the churches of Agias Aikaterinis, Agios Nikolaos, and Evangelismou, which were allegedly constructed on the site of a Pythios Apollo temple.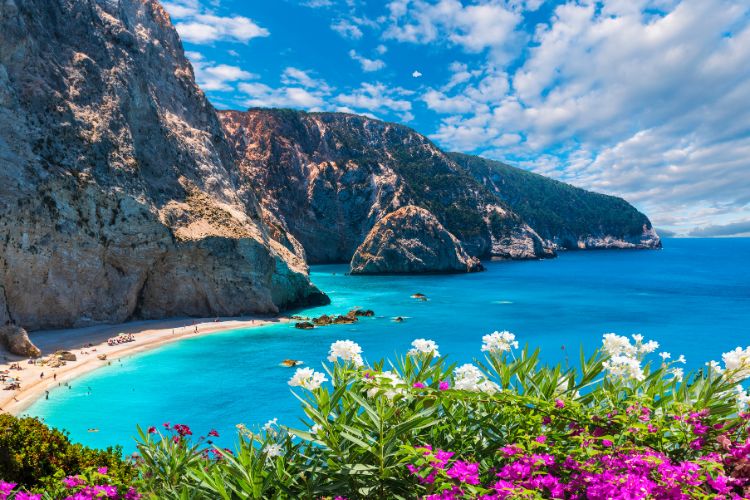 Lefkada
Lefkada, a gem of an island in the Ionian Sea, is renowned for its many world-famous beaches and thick forests.
Undoubtedly, you have seen pictures of the well-known beaches of Lefkada. But as soon as you get there, you'll see that they're much better in person.
Author Bio: Danijela Horvat is a travel writer with a passion for discovering new destinations. With a background in journalism and photography, she is trying to translate her own experience into articles.