Santorini's houses are instantly recognizable around the world: white buildings featuring blue domes and doors, topped on the colorful cliffs. That's the scene that appears most often when you google Santorini, a beautiful island in the Cyclades.
Thousands of years ago, the powerful volcanic eruption separated one big island Thera into several smaller ones such as Santorini, Nea Kameni, and Thirassia.
These islands are also in the center of the Southern Aegean Volcanic Arc. Despite being dormant for quite a while, the Volcano of Santorini is still considered an active volcano.
Today, these volcanic islands, surrounded by the Aegean Sea, are among the most popular Greek islands and the most desirable honeymoon destination in Europe.
What To Do In Santorini, Greece
From the Greece capital Athens you can get to Santorini by plane or ferryboat. Many European airports also have direct flights to Santorini's airport during the summer season.
In addition to characteristic white houses, usually accompanied by blue doors and windows, in Santorini, you can find luxury hotels with pools, pretty villages, stunning beaches, and multiple vineyards.
We recommend going on wine tasting and sailing tours. Also, an excellent way to learn more about Santorini is by exploring the ancient archaeological sites Akrotiri and Thera.
Here are the top things to do in Santorini.
1. Explore Ancient Thera
Did you know that "Thera" is the ancient name of Santorini? Today's name Santorini appeared in the Middle Ages, courtesy of the Venetians.
Ancient Thera is an archaeological site where you can see the Agora, theatre, gymnasium, and temples. This ancient village was founded in the 9th Century BC, so there are relics from the Hellenic, Roman, and Byzantine periods.
You can reach the Ancient Thera by bus or car from Kamari. The site is open from 8 AM to 3 PM, every day except Monday, and the ticket will only cost you 4 euros per person.
Stroll this archeological site lightly and enjoy breathtaking views of the Aegean Sea.
2. Enjoy Amoudi Bay
Amoudi Bay is a tiny fishing village situated 300 steps below Oia. That amazing place is surrounded by red volcanic rocks and the Aegean Sea. It is well-known for tavernas and restaurants with fresh food.
We recommend you to visit Amoudi Bay in the late afternoon and enjoy delicious Mediterranean cuisine at sunset. You will enjoy the chilling ambiance, great food, and spectacular views. Ammoudi Bay is also an excellent spot for cliff diving.
3. Visit Volcanic Kamari Beach
Kamari beach is one of the most popular spots on the island, featured in almost every travel guide on this island. It is settled on Santorini's east coast and is well-known for its clear blue waters.
Thanks to its volcanic history, Kamari beach is a large black sand beach with one of the longest stretches of black sand in Santorini. There are also lounge chairs and umbrellas, so pick an available one and enjoy the view.
Near Kamari Beach, you can find some of the best hotels and apartments, as well as restaurants, bars, and shops. Also, you can visit Open Air Cinema Kamari, located just 1 kilometer away.
The outdoor movie theater is situated in the middle of the forest, and you can watch movies there every night from May to October. It costs eight euros per person.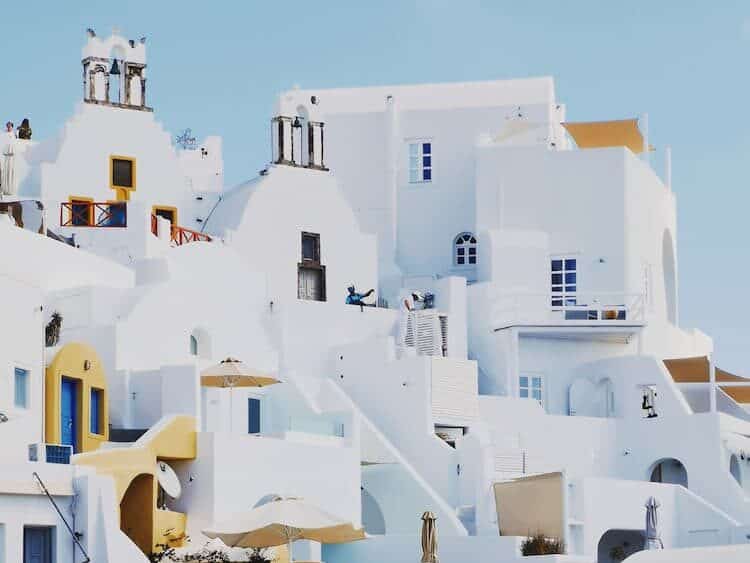 4. Hike on the Edge of the Caldera from Fira to Oia
If you want to experience Santorini's natural beauty, we recommend a 3-hour hiking tour from Fira to Oia. The 9-km long trail on the caldera's edge passes through Fira, Firostefani, Imerovigli, and Oia.
During this unforgettable journey, you will come upon several photogenic stops, such as Skaros Rock, a popular place for sunset views, and the St Gerasimos Church with a blue dome.
The Profitis Ilia Monastery is also along the way. At over 550 meters above sea level, it's the highest point in Santorini and boasts the most magnificent views of the whole island and the azure Aegean Sea.
You can start this adventure early in the morning or late afternoon to avoid the heat and arrive in Oia at sunset. Take enough water, comfortable footwear, and enjoy outstanding views.
5. Meet Santorini's Wine-makers
Did you know that Santorini has some of the world's oldest vineyards?
Thanks to its volcanic origin, Santorini has ideal conditions for viticulture, so diseases rarely attack the vineyards. That is why Santorini is one of the most famous European wine regions, primarily known for white wines.
The majority of wineries are located in the central part of the island, and the most popular are Venetanos Winery in Megalochori and Santo Wines in Pyrgos. Vinsanto and Nykteri are the most popular wines from Santorini.
We recommend visiting the Wine Museum in Fira. It is located in a cave, 8 meters underground. There you can learn more about the history of winemaking in Santorini and see the machines and tools that Santorini wine-makers used in production. Also, you can enjoy local wines.
You can go to the Santorini wine tours independently or book a wine tour for a small group of people, with an arranged pick up and drop off from the hotel to the vineyards.
6. Discover Santorini's Sister – Island Thirassia
Thirassia is an island separated from Santorini due to an intense volcanic eruption in 1500 B.C. This catastrophic eruption caused the tsunami, which reached even Crete.
You can reach Thirassia by boat from the Gialos Port, connected with Oia by cable car. Another option is a day trip boat tour from Amoudi Bay.
You can visit the scenic village of Manolas with colored houses or spend the day at lovely beaches or hot springs. There are also excellent trekking trails.
Thirassia is a small island with only 300 inhabitants. There are no major tourist attractions or nightlife, but you can sit on the tavern terrace in the evening and enjoy the silence and the splendid views of Santorini.
7. Visit the Ancient Akrotiri and the Museum of Ancient Thera
Akrotiri is an archaeological site on the southern end of the island of Santorini. It is one of the most significant prehistoric settlements around the Aegean Sea.
A massive volcanic eruption destroyed the Minoan town, but Akrotiri has allowed tourists to visit after years of excavation. If you want to learn more about this place, a local guide will undoubtedly make this sightseeing memorable.
The ticket price is 12 euros per person, but with a surcharge of 2-3 euros, you can also visit the Museum of Prehistoric Thera. There you can see frescoes and other items found at Ancient Akrotiri.
8. Explore the Most Vibrant Villages in Santorini
Perissa is a coastal village with hotels, apartments, and campsites located in the southeastern part of Santorini. It is one of the most popular spots on Santorini, thanks to the fantastic Perissa beach with black lava sand, beach bars, umbrellas, sunbeds, and lifeguards.
You can also find many water sports facilities, beach volley courts, and a water park. Or you can rent an ATV or scooter and explore the whole area on wheels.
The Museum of the Minerals and Fossils of Thera is a popular tourist spot to learn more about the prehistoric era and human evolution. Nearby is Perivolos, a village with shops, cafes, restaurants, many beach bars, and nightclubs with live music and DJs.
9. Enjoy the Outstanding Red Beach
Near Akrotiri village, in Santorini's southern region, you can find a unique Red beach. Yes, it's really red! This beach is surrounded by steep volcanic rocks, from which the red color comes.
You will not find any beach bar on Red beach, so take everything you need for a full-day adventure with you. Exciting marine life also makes Red Beach an excellent site for snorkeling.
Nearby you can visit two other attractive beaches: Kambia Beach and White Beach. We also recommend visiting Akrotiri Lighthouse in outer southwest Santorini. You will enjoy the fantastic sunset views.
10. Book a Sailing Tour
A cruise on the Aegean Sea will complete your vacation in Santorini as an unforgettable experience.
Catamaran cruises and boat tours are very popular activities in Santorini because you can swim in the crystal-clear waters and go to the most popular beaches on the island, as well as enjoy amazing views of the island's caldera and villages with white houses.
Some boat tours include an onboard meal followed by quality Santorinian wine.
If you want a romantic getaway, we recommend you book a sunset cruise and enjoy the most beautiful sunset in the world.
Book This Trip To Santorini, Greece
Ready to plan your greek getaway to the stunning island of Santorini? Get Prepared with insider tips on the best beaches, hotel and VRBO options, local restaurant reviews and more through TripAdvisor and Travelocity.
Plan even more fun by booking some island activities in Santorini, expert-led tours and skip-the-line tickets to popular attractions with the help of GetYourGuide. Find more information and book your tours here.
For exclusive flight deals, train tickets and car rental reservations, check out OMIO Travel Partner.
Be sure to bring a suitcase that can fit all your travel essentials and all the amazing items you find in Santorini. AWAY Luggage has stylish, durable and expandable travel bags so you can bring your adventure home. Check out their top-rated selection of travel bags here.
Read about other exciting destinations in our articles below:
Author Bio: Based in Serbia in Europe, Marija Stojanovic Petkovski worked as a journalist but realized writing about the most beautiful places in the world is something that inspires her. She is sure that a pint of good craft beer perfectly accompanies a tasty home-made lasagne. In her spare time, she enjoys playing with her children and spending time outdoors with her family.