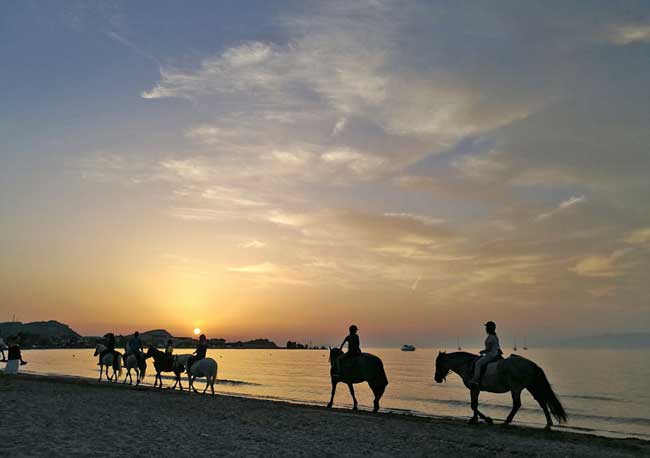 In one single year, I got engaged, lost my father, started a business, got married, closed that same business and became pregnant. The word "intense" would be an understatement.
You might notice that "went on a honeymoon" was not included on that list, since we were kind of busy with life. Seven years later, that lack of a honeymoon still stuck with me. It felt that we had neglected to luxuriate in a phase of marriage infancy that is irreplaceable. Instead, we were eyes deep in another kind of infancy, quite literally, with a newborn baby.
But recently, anticipating a milestone birthday (the big 4-0) and knowing that our not-a-baby-anymore daughter would be fine for two weeks with grandma, we decided to take that trip we had to skip before. We set off to Greece with a mission to find the love that all-too-often takes a back seat to parenthood.
Honeymoon in Corfu
Greece had been top-of-list for us when we envisioned a honeymoon way back in 2011. We fantasized about the beaches, the stark white cliff-side island dwellings and the wild herb laden delicacies.
We had some time in late October to escape to the Greece of our dreams. But what quickly became clear is that many of those little tiny islands basically shut down for months at a time, and our off-season October dates would mean that the romantic hotels and bustling seaside tavernas we were anxious to experience would not be in the cards for us.
And then we discovered Corfu. Being the second largest of the Northwestern Ionian Islands, Corfu is active all year round. Businesses run here, residents live and work here, schools and a university exist year-round.
Visiting Corfu in the Off-Season
All of that meant that an off-season visit to Greece in late October would be met with open restaurants, places to stay, sights to see. Another reason why tourism remains active here during the off-season is that many people associate the island with the PBS comedy series, The Durrells in Corfu. Many tourists visit just because of that show, but for us, we found that a larger draw, not as well known or expected, is the Corfiot culinary culture.
My husband and I travel for food, and this island blew us away, in what we soon discovered to be a gastronomic pride of place. This is nothing new, but since the Greek economic crisis there has been a sense of renewal for many producers, cooks and winemakers. Not that the struggle is over by any means.
The people we met are in need of our business, but the root of their creations are of, in and for the place of origin, which is an island with a storied history of rule, triumph and independence. Venetians, English, French, Russians, and finally Greeks, the many cultures that have stamped the place with their trace.
Mayor Mon Repos Palace Art Hotel

Our Corfu lesson began on a cloudy morning, as angelic rays of sun busted through and dazzled the sea below. The view welcomed us from our fourth floor balcony of the Mayor Mon Repos Palace Art Hotel, a lovely adults-only place that boasts an incredibly ideal location just down the coast from the center point of Corfu town.
Walking to and from town over the course of four days was a wonderful way to experience this part of the island (and helped burn off all the calories we were enjoying).
The rest of the time we buzzed around the island in our little Hertz rental, a Peugeot that safely got us up and down and around the steep mountainsides and cliffs on our food and drink adventure.
The Governor Olive Oil Unit

Our first stop, which looking back was actually a perfect introduction to the regional theme that emerged, was at The Governor Olive Oil Unit.  It turns out that the native olive trees on Corfu, some over 400 years old, grow the little "lianola" olive that creates oil extremely high in phenolic properties. Researchers from all over the world are visiting The Governor to learn about the oil. They're using it to study the effects olive oil has on cancer and Alzheimer's.
We learned how to sip, aerate and swallow the oil to detect true extra virgin properties and toured the groves of trees that were straight out of another time and space. Our guide told us that a few weeks ago, his jeep was stopped by the Durrell's film crew, while they shot a scene there.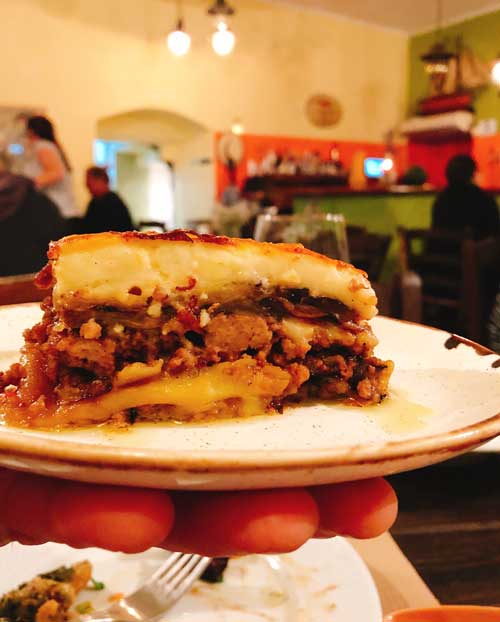 Marina's Taverna
The olive oil piqued our appetites for a taste of authentic Corfiot food. And no place can offer this better than Marina's Taverna, down a cobblestone street in Corfu town near the old Jewish quarter. Chef Marina is devoted to using local products (including The Governor oil), and her colorful, folksy restaurant is where to find typical dishes where the best ingredients shine through.
We ate very Greek dishes like baked feta and taramosalata and moussaka and sofrito and drank the house white wine (which I generally never order since it is generally the cheapest and lowest quality). Here it was a carafe-full of the local Kakotrygis varietal, made from organic grapes.
The 25-minute walk back to the hotel was a nice, digestive stroll, watching the moon glitter on the waves that later lolled us to sleep.
In the morning, we enjoyed the vast breakfast spread that came with our room (many hotels in Europe operate this way, including breakfast with the room rate), complete with a make-your-own Turkish coffee station with mini copper pitchers and a hot sand griddle.
But what we also enjoyed was leisure time. Time to sit, sip the coffee, read a paper, watch the birds on the open-air terrace. It was the quiet, uninterrupted time we never have at home, that a six-year-old does not permit.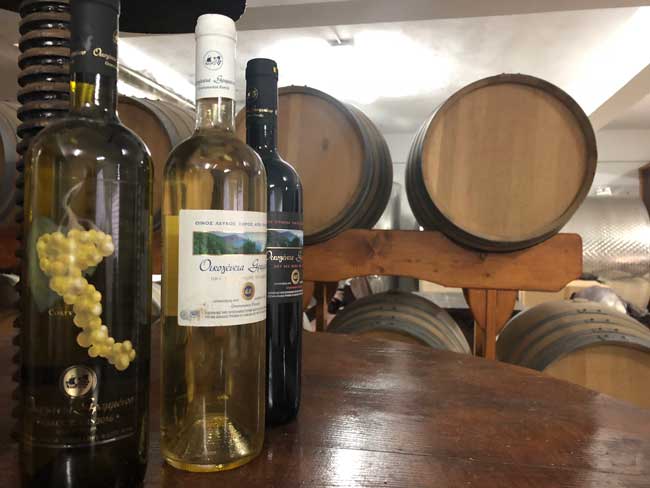 Grammenos Family Winery
And then onto more food adventures! This day was all about local drinks, from wine to beer to liquor. We started at Grammenos Family Winery, one of one handful of commercial wineries on the island, run by third generation son and winemaker, Panagiotis Grammenos.
He is part of a young wave of people bringing attention to tradition in a fresh way. Instead of moving away and starting life in a bigger city, as is very common for his generation, he chose to return home to prop up the family business and propel it forward while maintaining respect for history.
They are in the process of building out a modern wine making facility and tasting room, which, paired with the onsite remnants of how Senior Grammenos used to make wine, is an interesting contrast and commentary on the island's wine making status.
Mavromatis Kumquat Distillery

Aside from grapes, Corfu is known for another alcoholic beverage made from the fruit of their land – the kumquat. Its liquor is distilled in various levels of sweetness, generally displayed in funny shaped bottles throughout gift shops here.
At Mavromatis Kumquat Distillery, the oldest company making this product, we discovered a large space filled to the brim with kumquat-related gifts, from bright orange liquor to candied fruit to infused cookies and nuts. They even had a small museum, displaying antique distilling tools and a kiddie corner with toys and games. If only our daughter were here…
Continued on next page