In one single year, I got engaged, lost my father, started a business, got married, closed that same business and became pregnant. The word "intense" would be an understatement.
You might notice that "went on a honeymoon" was not included on that list, since we were kind of busy with life. Seven years later, that lack of a honeymoon still stuck with me.
It felt that we had neglected to luxuriate in a phase of marriage infancy that is irreplaceable. Instead, we were eyes deep in another kind of infancy, quite literally, with a newborn baby.
But recently, anticipating a milestone birthday (the big 4-0) and knowing that our not-a-baby-anymore daughter would be fine for two weeks with grandma, we decided to take that trip we had to skip before.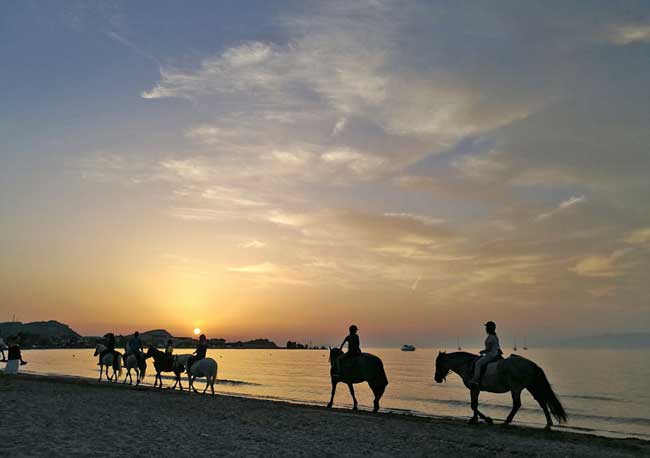 Taking a Honeymoon in Corfu
We set off to Greece with a mission to find the love that all-too-often takes a back seat to parenthood with a belated honeymoon in Corfu.
Greece had been top-of-list for us when we envisioned a honeymoon way back in 2011. We fantasized about the beaches, the stark white cliff-side island dwellings and the wild herb laden delicacies.
We had some time in late October to escape to the Greece of our dreams. But what quickly became clear is that many of those little tiny Greek islands basically shut down for months at a time.
Our off-season October dates would mean that the romantic hotels and bustling seaside tavernas we were anxious to experience would not be in the cards for us.
And then we discovered Corfu. Being the second largest of the Northwestern Ionian Islands, Corfu is active all year round. Businesses run here, residents live and work here, schools and a university exist year-round. Everything added up to planning our honeymoon in Corfu.
Visiting Corfu in the Off-Season
All of that meant that an off-season visit to Greece in late October would be met with open restaurants, places to stay, sights to see.
Another reason why tourism remains active here during the off-season is that many people associate the island with the PBS comedy series, The Durrells in Corfu.
Many tourists visit just because of that show, but for us, we found that a larger draw, not as well known or expected, is the Corfiot culinary culture. My husband and I travel for food, and this island blew us away, in what we soon discovered to be a gastronomic pride of place.
This is nothing new, but since the Greek economic crisis there has been a sense of renewal for many producers, cooks and winemakers. Not that the struggle is over by any means.
The people we met are in need of our business, but the root of their creations are of, in and for the place of origin, which is an island with a storied history of rule, triumph and independence. Venetians, English, French, Russians, and finally Greeks, the many cultures that have stamped the place with their trace.
Mayor Mon Repos Palace Art Hotel
Our Corfu lesson began on a cloudy morning, as angelic rays of sun busted through and dazzled the sea below.
The view welcomed us from our fourth-floor balcony of the Mayor Mon Repos Palace Art Hotel, a lovely adults-only place that boasts an incredibly ideal location just down the coast from the center point of Corfu town. Perfect for a Corfu honeymoon.
Walking to and from town over the course of four days was a wonderful way to experience this part of the island (and helped burn off all the calories we were enjoying).
The rest of the time we buzzed around the island in our little Hertz rental, a Peugeot that safely got us up and down and around the steep mountainsides and cliffs on our food and drink adventure.
Where to Eat & Drink on a Corfu Honeymoon
The Governor Olive Oil Unit
Our first stop, which looking back was actually a perfect introduction to the regional theme that emerged, was at The Governor Olive Oil Unit. It turns out that the native olive trees on Corfu, some over 400 years old, grow the little "lianola" olive that creates oil extremely high in phenolic properties.
Researchers from all over the world are visiting The Governor to learn about the oil. They're using it to study the effects olive oil has on cancer and Alzheimer's.
We learned how to sip, aerate and swallow the oil to detect true extra virgin properties and toured the groves of trees that were straight out of another time and space. Our guide told us that a few weeks ago, his jeep was stopped by the Durrell's film crew, while they shot a scene there.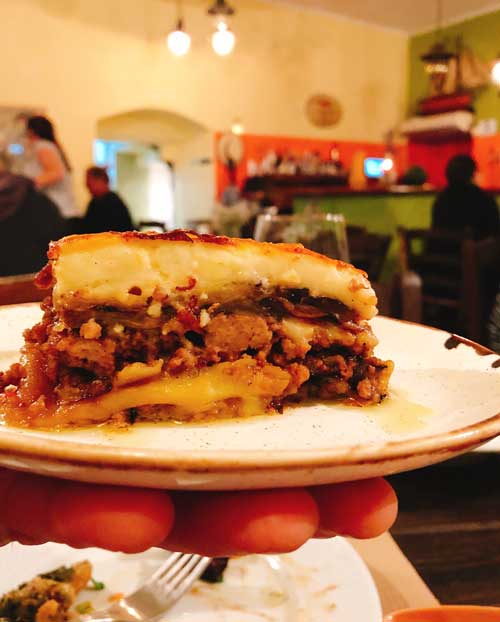 Marina's Taverna
The olive oil piqued our appetites for a taste of authentic Corfiot food. And no place can offer this better than Marina's Taverna, down a cobblestone street in Corfu town near the old Jewish quarter.
Chef Marina is devoted to using local products (including The Governor oil), and her colorful, folksy restaurant is where to find typical dishes where the best ingredients shine through.
We ate very Greek dishes like baked feta and taramosalata and moussaka and sofrito and drank the house white wine (which I generally never order since it is generally the cheapest and lowest quality).
Here it was a carafe-full of the local Kakotrygis varietal, made from organic grapes. The 25-minute walk back to the hotel was a nice, digestive stroll, watching the moon glitter on the waves that later lolled us to sleep.
In the morning, we enjoyed the vast breakfast spread that came with our room (many hotels in Europe operate this way, including breakfast with the room rate), complete with a make-your-own Turkish coffee station with mini copper pitchers and a hot sand griddle.
But what we also enjoyed was leisure time. Time to sit, sip the coffee, read a paper, watch the birds on the open-air terrace. It was the quiet, uninterrupted time we never have at home, that a six-year-old does not permit.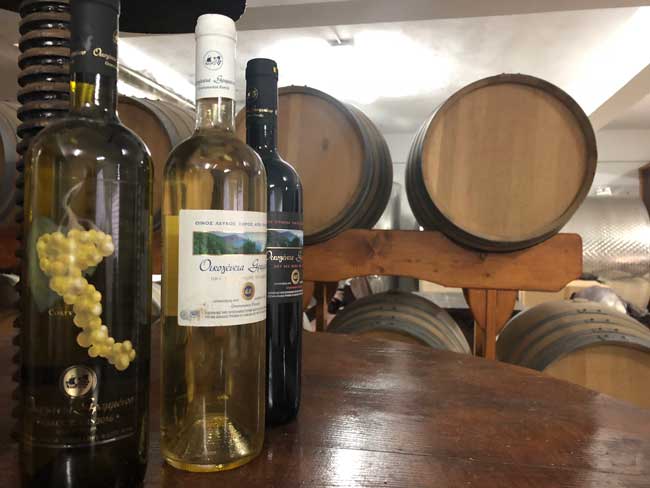 Grammenos Family Winery
And then onto more food adventures! This Corfu honeymoon day was all about local drinks, from wine to beer to liquor.
We started at Grammenos Family Winery, one of one handful of commercial wineries on the island, run by third generation son and winemaker, Panagiotis Grammenos. He is part of a young wave of people bringing attention to tradition in a fresh way.
Instead of moving away and starting life in a bigger city, as is very common for his generation, he chose to return home to prop up the family business and propel it forward while maintaining respect for history.
They are in the process of building out a modern wine making facility and tasting room, which, paired with the onsite remnants of how Senior Grammenos used to make wine, is an interesting contrast and commentary on the island's wine making status.
Mavromatis Kumquat Distillery
Aside from grapes, Corfu is known for another alcoholic beverage made from the fruit of their land – the kumquat. Its liquor is distilled in various levels of sweetness, generally displayed in funny shaped bottles throughout gift shops here.
At Mavromatis Kumquat Distillery, the oldest company making this product, we discovered a large space filled to the brim with kumquat-related gifts, from bright orange liquor to candied fruit to infused cookies and nuts.
They even had a small museum, displaying antique distilling tools and a kiddie corner with toys and games. If only our daughter were here…
Corfu Beer
Another harrowing drive on the mountain roads brought us to Corfu Beer, the first and only craft brewery on the island (and the oldest one in all of Greece).
Corfu Beer started in 2009, during peak economic crisis time, and have since grown, bringing a craft beer option to an otherwise limited beer landscape.
They are recognized not only in Corfu, but in Greece as a whole, and have a strong ethos in giving back to the community through their annual beer festival. My husband, who leans towards IPA's, was happy to find theirs after many days of drinking standard big brand lagers.
Paleokastritsa Beach
After all these tastings, we were ready for a little beach time. After all, what is a honeymoon in Corfu without some beachy fun? And even though this day in late October was a little bit stormy, we cut down to the Paleokastritsa beach area, typically jam-packed in the summer.
The cliff sides, dotted with hotels and restaurants and boat rental offices, were quiet on this day. But gazing out at the sea caves and dramatic rock formations, we didn't miss the crowds one bit.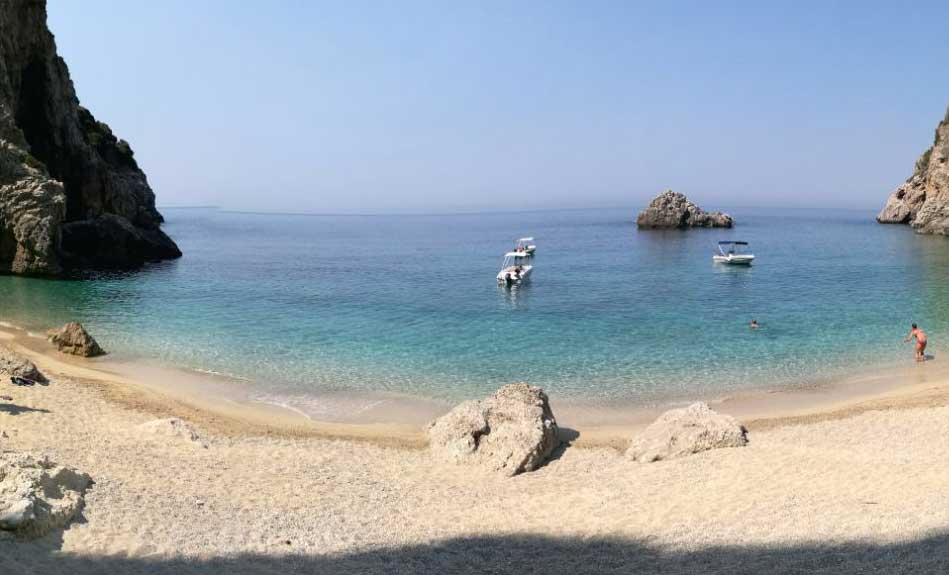 Pomo D'Oro
A few hours later we were back in the city center of Corfu, approaching the softly glowing Pomo D'Oro restaurant. Chef Aristotelis Mengoulas is another shape-shifter here, bringing a nod to the blending of cultures in Corfu (Italy, French, Greek).
He continued uplifting a contemporary gastronomic approach in his kitchen. Dinner was impeccable and memorable, opting for the Chef's Choice Tasting.
"Give your trust to me," says Mengoulas. We ate octopus carpaccio with saffron aioli and a "superfood salad" that changes with the seasons (there's that Governor olive oil again).
Then a dish simply called "earth" that was whole wheat ravioli stuffed with chicken liver pate, chestnuts and black truffle and then the "grandma" plate of sou vide rooster pastitsado.
Every single menu item is made with Corfu-specific ingredients, and with what Mengoulas credits to be his main philosophy of "meraki," total passion. And the music playlist was straight out of my dreams, jumping from 90's grunge to 80's synth-pop to classic rock.
At around 11:30 pm, as we were getting up to depart, a large group of hip, stylish young Corfiots entered to begin their meal. Early bird specials and 8pm bedtimes felt far, far away.
The last full day of our Corfu honeymoon on this island began like the rest, with a wonderfully slow breakfast of Greek yogurt (it really is better over here), honey, citrus, fresh baby croissants and strong coffee.
We meandered down to Corfu town, stopping off briefly for my husband to get a shave at the closet-sized barber shop on the edge of San Rocco Square.
More Sights & Tastes of Corfu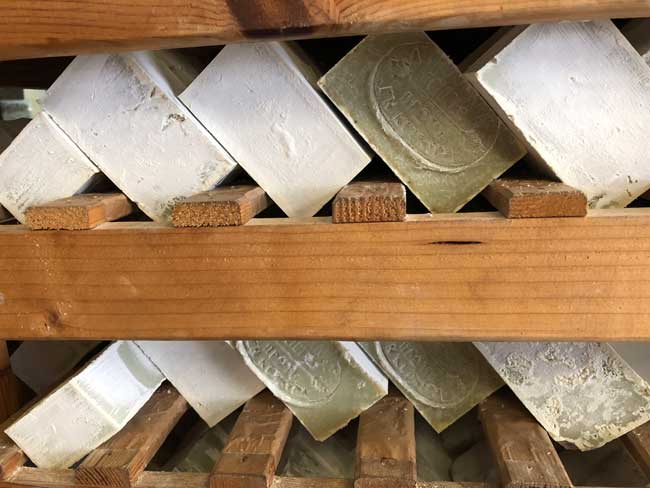 Patounis Soap
A young barber, swift and skilled, cleaned up the stubble in no time, all for a well-worth-it 5 euros. Fresh-faced, we headed over to Patounis Soap, a fifth-generation soap company that has been continuously operating since 1891.
They adhere to a family recipe, unchanged since the very beginning, using local Corfu olive oil in the meticulous French "Savon Cuit" method. They claim to be one of five companies left in the entire world making soap in this ancient way.
Every ingredient is natural, down to the hibiscus tea they use to dye the grid lines marking where to cut each batch.
Pasta Corfu
Two doors down sits Pasta Corfu, a shop that specializes in fresh pasta made onsite. Former scuba diver turned pasta maker.
George Papadatos and his Italian wife Luisa, are the only ones doing this here, and supply many local restaurants and hotels with their products. George took us into the back and demonstrated making ravioli and various shapes of pasta, all with his Italian mother-in-law whispering reminders in his ear.
We left with bags full of honeymoon souvenirs in Corfu, knowing that the ruffly rainbow-colored shells would be quite popular with the little one back home.
Ambelonas
Back in the car, we drove 15 minutes up to Ambelonas, an ancient property with a beautiful story of regeneration.
Today, the owners are dedicated to reviving local traditions and customs through the native bounty around them, which they share with the public through cooking classes, events, and as a restaurant on certain days of the week.
They produce natural wine, only available onsite, and a variety of other products, including a cookbook. We were there for a cooking class with owner Vasiliki Karounou, who showed us how to make some recipes from her book, like seeded wine bread and pork dolce e garbo and spice cake with syrup.
We made start to finish and then dined upon at a romantic two-top in a refurbished barn next to their vineyard. Candlelight, wine, food cooked with love for each other. It was the honeymoon meal we never had.
As our Aegean flight rose above this island, we bade goodbye to the place we never predicted we would love so much. Even in the air, we ate a fresh breakfast of Greek yogurt and honey, gazing down at the cultural melting pot that has created a distinctly proud, and alluring flavor all its own.
Dropping into Athens just long enough to catch a car over to the massive Piraeus Port, we were off again to explore another island, this one much smaller.
Spetses
Just to throw in a taste of that little island fantasy of ours, and to experience something quintessentially Greek, we braved a choppy ferry ride on the Hellenic Seaways Flying Dolphin boat over to Spetses, an A-lister playground for the wealthy Athenians and Hollywood set.
Niriides
Our sweet little room at Niriides guesthouse was set in a perfect location for exploring the quintessential coastal village (and, surprise, provided a delicious breakfast in their little courtyard).
And while it was quite clear that the tourist season here was over, with less than half of the businesses open, we found the quiet, small setting to be perfect for us.
Walking the pedestrian-only road, as the full moon rose, and soft jasmine-scented winds blew, we were glad to not be battling for ocean-side seating with yacht-goers in midsummer.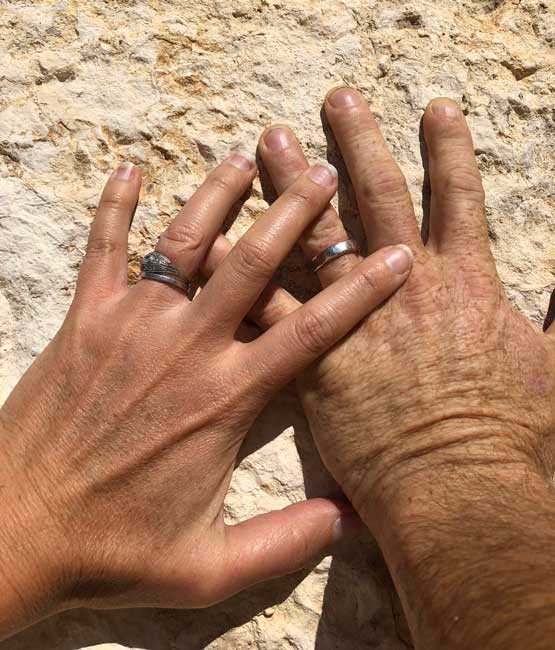 Ending in Athens
And then there was Athens. Topping off our Greek honeymoon in the way only a big city can. We did all the things you are supposed to do, gazing at the Acropolis, walking through the neighborhoods, shopping for trinkets.
The location of our hotel, Athens Golden Age Hotel, permitted a peek into the historic Mavili square section of the city that we probably wouldn't have seen otherwise.
We went for a drink there at Kyrios Bar, where we amazingly found two seats to perch on as hipper, younger folk reveled the night away. We felt old and nostalgic for the times we would have been chain smoking right along with them.
Instead, we sipped our Malagousia white wine from Serres, observed the bartender's egg white foaming technique and left the bar on the early side for Athens, around 12:30 am.
The final night of our honeymoon in Corfu, my birthday, a dinner to remember at Michelin-starred Nolan, which was astounding and notable despite our weeks of non-stop eating and drinking.
We toasted farewell to Greece, vowing to return, as we looked over from our rooftop at a view of the Acropolis at night, glowing almost as bright as the moon above.
Book This Trip
Start planning your getaway to Corfu, Greece today! You'll want to be prepared with hotel or VRBO options, local restaurant recommendations, tips on how to get around and more through Travelocity and TripAdvisor.
Then when you're ready to book, find the best flight deals and travel packages through Kiwi search and compare tools.
You can find out more about fun things to do in Corfu and the culture when you learn Greek. Through Rosetta Stone, you can learn just the basics of the language or continue to have deeper conversations with locals in Greece. Check out the recent deals and flexible learning options here.
Discover Greece – https://www.discovergreece.com