I woke up just in time to see the sky glow red and orange as the sun rose above the Aegean Sea. My partner, Nathan, was lying beside me and I gently nudged him awake to share the experience.
We had a spacious and comfortable cabin below deck. But we only slept there twice during our week of island hopping in Greece. It was just too glorious sleeping on the thick sun beds under the stars on the top deck.
Awakening at sunrise to the sound of softly lapping water and the distant cry of goats from a nearby island is just one of the magical memories from our voyage.
Other highlights include eating freshly prepared meals, swimming in the warm sea, sunset hikes to castles and hours of laughter with friends new and old.
But, the best thing about a Sun Fun You experience is island hopping in Greece on a gorgeous Turkish gulet. At just over 100 feet, this yacht provides an intimate experience that no standard cruise can provide.
Furthermore, sailing on a smaller vessel, as opposed to a large cruise ship, allows stops at the less touristy islands and overnights anchored away from noisy ports.
If this already sounds like heaven to you, read on. But be prepared to add a voyage with Sun Fun You to your bucket list.
Our Greece Island-Hopping Itinerary
Sun Fun You offers several itineraries of island hopping in Greece and cruising the coastline of Turkey. Each route includes some of the bigger names like Rhodes and Santorini.
But many of the stops are on smaller islands where guests can enjoy a more authentic Greek experience away from the crowds.
Our itinerary was the North Aegean Island Voyage. We sailed for a week from Kos to Naxos making several stops along the way.
The voyage included two nights in a hotel in the town of Kos before boarding the gulet. This is especially good for those traveling across time zones as it allows a couple of days to get over any jet lag. Of course, if you're not suffering from travel tiredness it's a perfect opportunity to explore Kos…which we did.
Kos For Greece Island-Hopping
We weren't all that familiar with Kos before our voyage. It is a popular destination for Europeans but is a little less known to North Americans like ourselves. Also, it's often overshadowed by its famous neighbor, Rhodes. However, it didn't take long for us to see the appeal of this Dodecanese island.
Kos has an international airport and is also reachable by ferry from Athens and several other Greek islands.
Most people stay in the town of Kos which is where the ferries dock and is an easy taxi ride from the airport. The town is compact and walkable but cycling is also a popular mode of transportation on the island.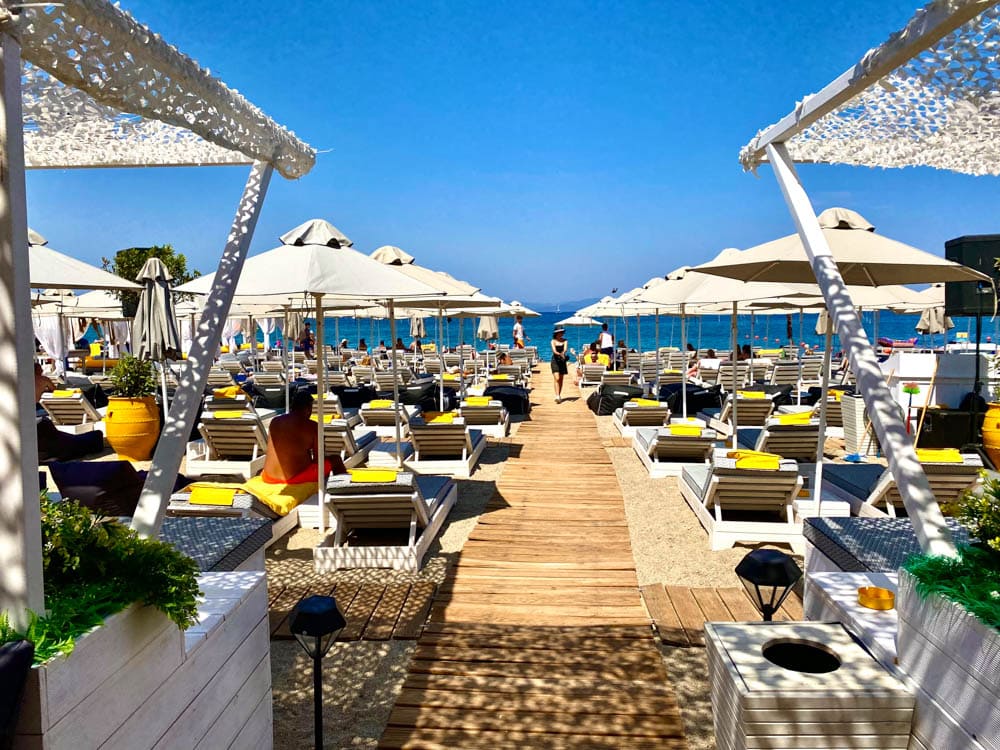 Known for its more than 20 beautiful accessible beaches there is something to please every vacationer. From soft sand to shale, peaceful or lively, large or small you can find a beach on Kos.
Following are the best beaches within or not far from Kos town. With sunbeds and umbrellas lining the sand and lots of watersports available Masticahri is the most famous beach on the island.
Lambi and Psalidi are the best choices close to Kos town. Tigaki Beach is a popular resort with a 10 km long stretch of super soft sand. For a unique experience, Thermes is a black pebble beach with thermal water.
With a 5,000-year-long history and influences from the Romans, Venetians, Ottomans and Ancient Greeks, visiting historic sites is one of the top things to do in Kos. Sites include the first healing center of Hippocrates' Asclepeion, Hiprocates Tree, the Castle of Knights and Ancient Agora.
After two nights in Kos town, we boarded our gorgeous vessel and left the bustling port to spend our first night at sea in a peaceful cove.
Kalymnos/Vathys
Our first morning on board began with a yoga session followed by a delicious breakfast of eggs, cheese, honey and many other Meditteranean delights. This would be the standard rise and shine for the coming week. Unless we chose to sleep in, which was always an option, though we rarely did.
The first Greek island hop was to Kalymnos where we hiked the rugged Italian Road. The island is known for its rocky terrain and this hike is a perfect example of that.
This 4 km stone pathway from Pothia to Vathys was built by the Italians at the beginning of the 20th century. It was, in fact, the only route until 1967. It's a challenging hike but we were rewarded with stunning views.
We were additionally rewarded at the end with a feast of calamari and ice-cold beer on the beach in picturesque Vathys. After some rest and sustenance, we had time to explore the charming hamlet and go for a swim before returning to our yacht.
For many years the residents of Kalymnos relied on sponge diving for a living and there are still stands selling sea sponges everywhere.
The island has also become a top climbing destination and hosts an International Climbing Festival every year.
We slept in the quiet cove of Vathys that night and it was the first of many nights sleeping on the top deck under the stars.
Leros
The lovely island of Leros was to be our next destination. But first, we sailed to another peaceful and stunningly beautiful cove to spend a few hours enjoying watersports. Our ship held a variety of water toys including kayaks, paddle boards, snorkel gear and a tube to be pulled by our small motor boat.
Following a day of fun and a fantastic fresh lunch, we cruised into the harbor of Leros at about 3 pm. As we approached the harbor there were gasps of joy at the scenic spot we would be spending the rest of our day.
After exploring Agia Marina and the nearby village, we gathered to hike up Apitiki Hill to the Castle of Leros to watch the sunset. The 360-degree view is incredible any time of day. But when the sun sinks into the sea and the sky lights up with red, purple and orange it is truly breathtaking.
Taking a different route back down we passed the Leros windmills that are now used as unique guest houses. Aside from the castle and windmills, a visit to Leros is all about relaxing and enjoying the slow pace of an authentic Greek island. Eat at the family tavernas, explore the quiet villages and have a siesta on a lovely beach.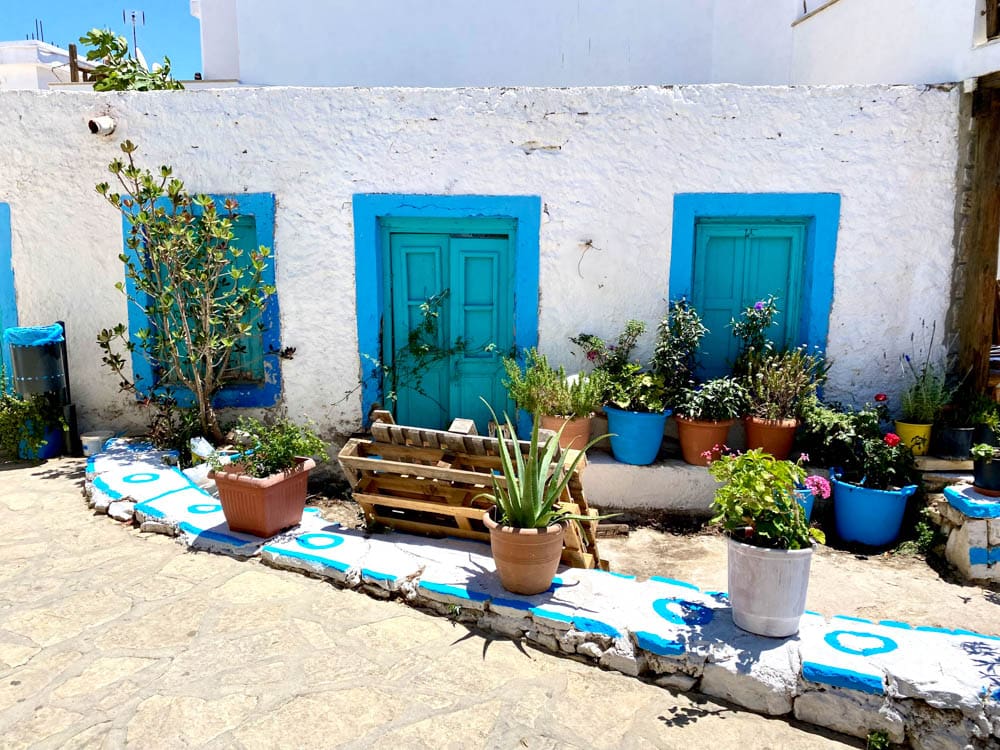 Lipsi For Greece Island-Hopping
We loved every minute of our Greece island hopping but if I had to pick my favorite day it would be this one. The tiny island of Lispi is so tranquil and lovely that I immediately envisioned myself staying for a month or two and writing the book that I never have time to work on.
After anchoring in a picturesque cove we were shuttled to shore where we walked to the village. Here we found a labyrinth of cobblestone streets lined with lovely white and blue buildings that are so iconic of Greece. Some were private homes while others were boutique shops and charming tavernas.
From there we walked to Dimitris Farm and Vineyard. Visiting this small, serene organic farm and winery was definitely a highlight for us.
We sat at a vine-shaded wooden farm table and spent a heavenly time tasting their all-natural products. Samplings included olives, cheese, bread, honey, lemons and of course wine.
The sounds of our laughter and chatting were accompanied by bees buzzing, birds chirping and goats bleating. It was a perfect setting with wonderful hosts and I never wanted it to end. I left with a bag of delicious items to enjoy later on the boat.
But that was just the first half of this special day. From the farm, we walked back to the harbor and enjoyed a couple of hours at a colorful beachside taverna where we ate, swam, drank and laughed some more.
Following another scrumptious dinner on the boat, we played pirate bingo while sailing to our next stop of Patmos. Needless to say, after a fun-filled day we slept soundly under the stars once again.
Patmos
The lovely little island of Patmos may be better known for its religious legacy of the apostle John than for traditional tourism.
However, if you're looking for an off-the-beaten-path authentic Greek island experience complete with gorgeous beaches and charming villages then give Patmos a try.
It was on Patmos that we did the last of our group hikes. Although it was not as challenging as the Italian Road it was still a good workout with great reward.
Our destination was two pilgrimage sites and the route was uphill, past eucalyptus and olive trees with epic panoramic views.
Our first stop was at the extraordinary Cave of the Apocolypse (aka Holy Grotto). This UNESCO site is said to be the place where Saint John spent his exile and wrote the Bible's Book of Revelations. Regardless of your beliefs this site has a special energy and is well worth visiting.
We continued to climb until we reached the Monastery of Saint John. It sits perched high on top of the hill above the Chora (main town).
After catching our breath, from both the exertion and the stunning view, we entered the monastery through a heavy iron gate. We spent at least an hour exploring the impressive site including the library, museum and chapel with its incredible frescos.
Surrounding the monastery are a labyrinth of streets with whitewashed buildings housing lovely shops and tavernas. Naturally, after some time exploring we stopped for refreshment overlooking the Aegean Sea before climbing back down the hill.
That afternoon we played in the water in a quiet cove at the island of Levitha, where we also anchored for the night. The island has a total of four human residents and hundreds of goats so of course, we spent a final peaceful night under the stars.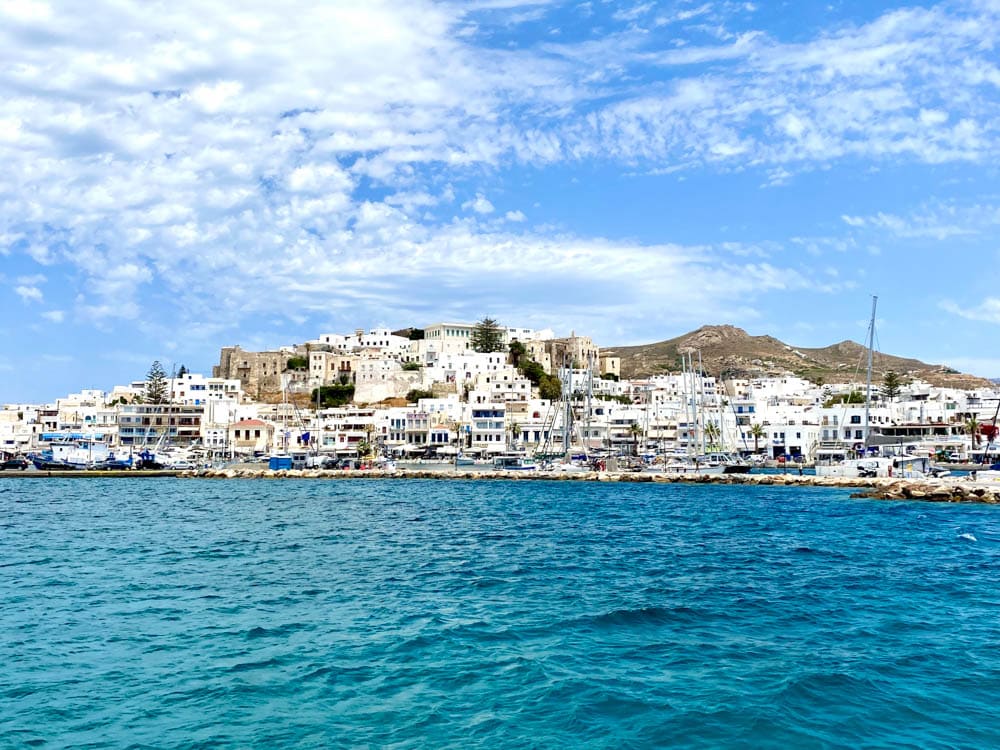 Naxos For Greece Island-Hopping
Sadly all great things must come to an end. We spent our last full day on board voyaging to our final destination of Naxos. Once there, this charming island would quickly become one of our favorite Greek isles.
Although absolutely beautiful and easily accessible from Athens and many other islands it is still flying slightly under the tourism radar.
Most people tend to head to nearby Santorini and Mykonos but personally, we would choose Naxos over the more famous neighbors every time. But maybe we should keep that quiet?
Naxos has a little of everything you could ever want in a Greek island hopping vacation. There are beautiful beaches galore, plenty of historic sites, gorgeous natural landscapes, good nightlife and amazing food.
Our lovely floating home had docked at the port right in Naxos town (Chora). This meant we were able to easily explore at our own pace. After doing so, we all met for a sunset cocktail at a rooftop bar.
Here, we toasted our fabulous hosts and new friends and reminisced about the unforgettable voyage we'd shared. Then we returned for our last dinner together on board.
Nathan and I had already planned to spend a few additional days in Naxos and it was a great decision. We visited historic sites like the Portara of the Temple of Apollo, Naxos Kastro (castle) and the Statues of Kouros.
Much time was also spent wandering, and getting lost, in the narrow streets and alleys of Chora. It was a lot of fun turning the corner to find a picturesque white house, a charming taverna or a lovely boutique shop.
For the rest of our time there we enjoyed relaxing on the beach and trying out as many tavernas and bars as we could.
About Sun Fun You Meditteranean Voyages
Voyage prices include 2 nights hotel and 7 nights on the yacht.
Also included in the price are 3 meals per day, beverages and all activities.
The meals are plentiful and delicious and are prepared by the onboard chef using traditional methods and locally sourced ingredients.
Cabins are spacious and comfortable with private en-suites. However, you may be tempted to forgo the cabin bed for one under the stars.
All voyages have a fitness professional on board to lead classes and prepare for the hikes. However, everything is of course optional.
Ali and Cindy create itineraries that are the perfect balance of activity and relaxation so there is ample time for both.
The captain (who built the gulet himself) and his crew are fun, friendly and efficient. And if you play backgammon they are always ready for a game.
Sun Fun You runs at least four organized voyages per year and they are also available for private voyages.
A variety of activities are offered. These include (but are not limited to) hikes, watersports, cooking lessons, sightseeing, games and a variety of fitness classes.
Author Bio: Sarah and her husband are full-time travelers who run several travel and lifestyle websites including the international travel site Live Dream Discover. She caught the travel bug early in life and eventually created a location-independent business that supports her passion to explore the world. As a writer, editor, photographer and social media expert Sarah is able to share her experiences and insights which inspire people to find their own passion for travel.