Greece is the ideal place if you love fine white-sand beaches and beautiful islands surrounded by the jet blue sea. This European country is surrounded by the Aegean, Mediterranean and the Ionian seas, and its coastline is more than 13,000 kilometers (8,077 miles) long.
Greece is also known for the first modern Olympic games, exceptional cultural heritage and countless archeological sites from ancient times.
However, sightseeing is not the only thing you can do in Greece. In fact, there are so many possibilities that you'll probably have to choose your favorite ones. Discover some of the best locations for your summer vacation in Europe with our travel guide.
Find out more about the best things to do in Greece, like snorkeling, cruising, and mountaineering. Embark with us on an exciting journey, from the Mediterranean islands and ancient ruins to amazing Meteora and Mount Olympus.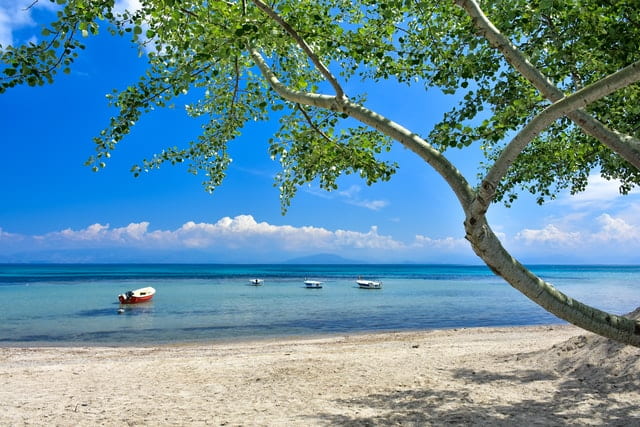 1. Explore Gorgeous Greek Islands
Greece has around 200 inhabited islands, and between 1,200 and 6,000 uninhabited. Crete is the largest Greek island by area; other attractive islands are grouped in the Ionian, Aegean, Sporades, Cyclades and Dodecanese archipelago.
Corfu, Lefkada, Kefalonia and Zakynthos are the most popular Ionian islands, situated near the west coast of Greece.
Corfu is known for the first university, modern theater and opera in Greece. The Venetians ruled it for almost 400 years, so it features Italian-style architecture. There are as many as 37 churches on Corfu, of which the Church of St. Spyridon is the most famous.
Corfu Old Town and Old Fortress are also worth a visit. The entire island has green vegetation, coniferous forests and numerous olive trees. Corfu has 40  Blue Flag beaches (an international symbol of environmental quality) and more than 100 beaches totally.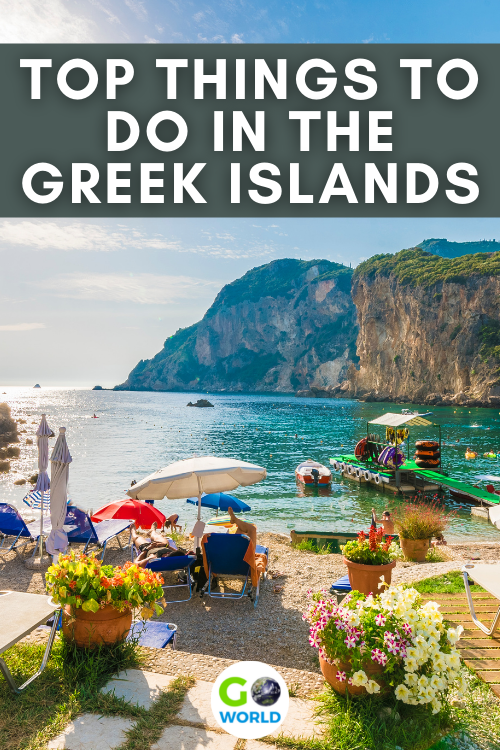 Porto Katsiki is the most famous beach on the island of Lefkada. Above it is a massive rock with greenery, and in front of it lies the beautiful Ionian Sea.
Visitors also adore Egremni and Milos beaches, Nydri waterfalls and the Archaeological Museum of Lefkada. Due to the mountainous terrain, Lefkada is also great for mountain biking fans.
The coast of Kefalonia is full of beautiful bays. We recommend Skala, a village where you can find restaurants and shops, and enjoy numerous sports activities. Picturesque Assos village is also worth visiting, as well as exceptional beaches such as Myrtos, Petani and Antisamos.
Melissani Cave is a big attraction, and, in Greek mythology, it was the Cave of Nymphs. The inside of the cave hides a lake with trees surrounding it. The ceiling of one of the halls is open, letting the sunlight in. You can take a boat ride to the lake, and it's best to do it on a sunny day, so you can truly admire its magic.
Askos Stone Park on Zakynthos is an excellent place to visit with kids, because of the zoo and the farm. If you love history and art, you can go to the Byzantine museum to see the paintings, frescoes and wood carvings from the 15th century.
Banana beach is the longest beach on Zakynthos, with soft golden sand. There are also Navagio, Kalamaki and Gerakas beaches, as well as Marathonisi, an uninhabited islet in Laganas bay with sea turtles. You can book a boat tour to the Blue Cave and Keri Caves, or enjoy waterskiing and jet-skiing.
Skiathos and Skopelos are the most popular Sporades islands. They are located in the Aegean Sea, 30 minutes from each other.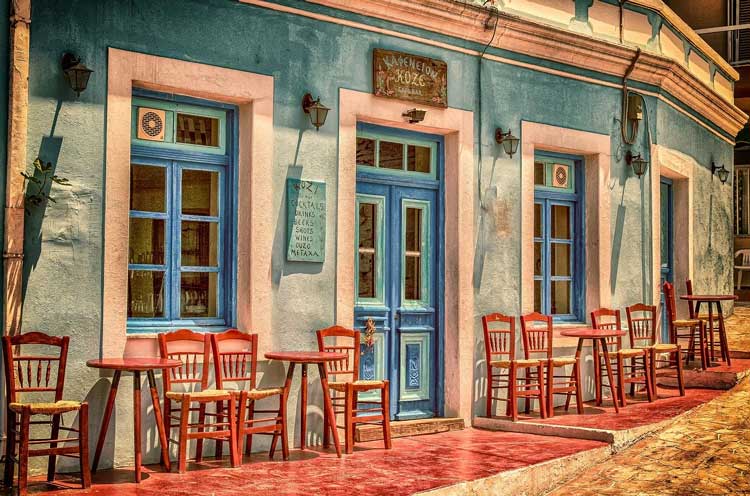 Skopelos is a quiet island with a pine forest, white houses and beautiful beaches. The most popular beaches on Skopelos are Milia and Hovolo beach. Skopelos is also the right place for diving, kayaking and snorkeling.
Skiathos is a small island, but more crowded, with more than 60 outstanding beaches. The most famous is the 2-kilometers-long (1.4 miles) Koukounaries Beach.
Lalaria Beach is also attractive because it can only be reached by water. On Skiathos, you can visit Kastro Castle from the 14th century, as well as several churches and monasteries.
Mykonos and Santorini belong to the Cyclades and are known as luxury places for summer vacations. On Mykonos, you can see windmills, enjoy the bustling nightlife and beautiful Cycladic beaches such as Elia and Agios Sostis. You can also find several museums and art galleries, like Dio Horia or Delos archeological museum.
Santorini is one of the most luxurious summer destinations in the world. It is known for its white houses and beaches with black volcanic sand. Many honeymooning couples come to enjoy the romantic atmosphere. Experiencing sunset on Santorini with a glass of wine is on the bucket list of many travelers.
Rhodes is the most popular Dodecanese island, near the Turkish coast. The most popular tourist spot is the medieval city of Rhodes, a UNESCO world heritage site. It was built in the 14th century by the Knights of Saint John.
Today, in Rhodes' Old Town, you can find many restaurants, tavernas and shops. Rhodes also has several castles from the 15th century and beautiful villages like Lindos.
The Palace of the Grand Master of the Knights is a medieval castle and one of the must-see places on Rhodes. The most popular beaches on Rhodes are Faliraki and Tsambika.
Crete is the largest Greek island, known for its numerous archeological sites, old towns and beautiful beaches. In Greek mythology, Crete is also known as the birthplace of the god Zeus. In Crete, you can visit several exciting cities.
Heraklion is the main city, and Hersonissos has excellent nightlife, many bars and restaurants. Agios Nikolaos is a romantic city, suitable for couples and families, and Rethymnon has a famous old town and a 12-kilometers-long (7½ miles) beach.
The beaches in Crete that will completely delight you are Elafonisi, Palm Beach and Balos Lagoon. If you love outdoor activities, Samaria Gorge is an excellent place. You can hike a 16-kilometers-long (9.9 miles) trail with cliffs rising dramatically over 300 meters (984 feet).
Other popular tourist attractions in Crete are the Historical Museum of Crete, The Palace of Knossos and Malia's Minoan Palace.
If you want to visit beachside spots in mainland Greece, go to the Halkidiki peninsula. In addition to several lovely cities like Neos Marmaras and Sarti, you can also find great campsites such as Thalatta, Armenistis and Blue Dream.
2. Learn More About Ancient Greece
Greece has one of the oldest civilizations in the world, so the country features many important ancient Greek archeological sites. In the ancient city of Corinth, at the junction of the Peloponnese with the mainland of Greece,  you can see the remains of the sanctuary of Apollo.
In the Peloponnese, you can also visit ancient Mycenae, described in the famous Homeric epics, as well as Epidaurus, an old theater known for its excellent acoustics, which is still used today. You can end your visit to the Peloponnese by visiting Olympia, the site of the ancient Olympic Games.
The Acropolis of Athens is one of the most significant archaeological sites in the world, with several ancient ruins from the most crucial period of Greek history. The most famous structure is the Parthenon, a former temple dedicated to the goddess Athena.
The ancient Greeks believed that the center of the world was in Delphi on Mount Parnassus. The temple of Apollo in Delphi had Pythias, a prophetess whose advice was of great importance in ancient times. Today, Delphi is a UNESCO World Heritage Site and one of the most famous archaeological sites in Greece.
3. Experience Athens and Thessaloniki
The two largest Greek cities have attractive tourist facilities. Athens is Greece's capital, and it houses the famous Acropolis, as well as several beautiful museums and beaches.
History lovers will enjoy the Acropolis Museum, the Benaki Museum, the National Archaeological Museum, and also the Byzantine and Christian Museum. The Theater of Dionysus, Roman Agora, National Garden and Anafiotika, an old picturesque neighborhood, are also worth visiting.
If you want to experience Greek culture, go to the Plaka District, where you can enjoy authentic Greek cuisine, cafes and boutique shops.
Near Athens, you can find several beautiful beaches, like Lagonissi, Vouliagmeni and Glyfada beach. You can also go on a day trip from Athens to Cape Sounion and the Temple of Poseidon, the pretty town of Nafplio or take a coastal cruise.
Thessaloniki, the second-largest Greek city, was once a significant place. White Tower is the Thessaloniki main symbol, with a great view of the city and the Gulf. Ladadika District is also an exciting location, with tavernas and bars.
Thessaloniki has several famous museums, like the Museum of Byzantine Culture, the Archaeological Museum and the Olympic Museum. You can also visit Roman Agora, an ancient ruin, as well as several UNESCO-listed old churches from the Byzantine period.
4. Visit Unique Places in Central Greece
There is one extraordinary place in central Greece, near the city of Kalambaka. Amazing Meteora rock formations would be popular with tourists even if they didn't have monasteries built on top of them. There are six of them, each named a  UNESCO World Heritage Site.
They were built in the 14th century and represent an impressive achievement because they've been built on such inaccessible terrain. However, those dramatic peaks and monasteries helped in making Meteora a rock climbers' destination, too.
In Greek mythology, Mount Olympus is the home of the gods. Also, Mount Olympus is a true hiking paradise, with 46 peaks higher than 2,000 meters (6,561 feet). You can climb the highest peak Mitikas, 2,918 meters (9,573 feet) above sea level, and enjoy stunning views.
If climbing Mount Olympus is too much for you, you can find a more accessible trail on the island of Santorini. In half a day, you can do walks between Fira and Oia and enjoy exploring the wonderful surroundings.
With so many beautiful islands and places of great historical significance, Greece is definitely a country you will return to several times to explore all its beauties.
You will never get tired of the mesmerizing sunsets on Santorini, the blue sea around Zakynthos, enchanting Meteora rock formations, and archeological sites where we can learn so much about one of the oldest civilizations in the world.
Book This Trip
Start planning your island vacation to Greece today. Get prepared with knowledge on how to get around the islands, hotel and VRBO accommodations, local restaurant favorites and more through TripAdvisor and Travelocity.
Plan even more fun in Greece by booking some exciting island adventures, expert-led tours, ocean activities and skip-the-line tickets through GetYourGuide. Find more information and book your dates in advance here. Cancel anytime for a full refund.
For the best flight deals, train tickets and ground transportation options check out OMIO Travel Partner. Be sure to protect your travel investment with travel insurance catered to your specific needs from Squaremouth.
Pack all your travel essentials and have even more room for shopping around the Greek islands with top-rated luggage from AWAY. See their selection of the ultimate travel bags here.
Author Bio: Based in Serbia in Europe, Marija Stojanovic Petkovski worked as a journalist but realized writing about the most beautiful places in the world is something that inspires her. She is sure that a pint of good craft beer perfectly accompanies a tasty homemade lasagna. In her spare time, she enjoys playing with her children and spending time outdoors with her family.