It was a wild, cold, blowing autumn afternoon in Charlevoix, Michigan, and as I crossed the street, I heard a woman say to her friend, "Is that snow? Oh thank heavens! Now we can finally get our town back."
Travel in Michigan
I knew what she meant. I was a stranger here, but even on a first visit, I could imagine this place in north Michigan on a hot summer day with the quaint main street thronged with t-shirted tourists eating ice cream and fudge, window shopping at the impossibly cute stores, chomping on big burgers at the outdoor cafes and toddling along the two lake shores – to the southeast, the pretty and tranquil Lake Charlevoix lined with rich mansions, big trees and boat houses, and to the northwest, the imposing and ocean-like expanse of Lake Michigan.
But that's in summer. Today, Lake Michigan was a fury, with large wind-driven breakers hitting the shore. The narrow channel connecting the two lakes was enraged, water slapping back and forth with anger, throwing cold spray flying on to the sidewalk.
The town was setting up for the annual apple festival. The booths that hadn't blown over already, were being tied down with weights against the wind to sell pumpkins, squash, jam, honey, maple syrup, pies, cider and apples – baskets of apples.
It was my first visit to Michigan. And despite the cold, the wind and the spitting snow, as I warmed up by a fireplace in the bar of Stafford's Weathervane Restaurant (packed and cheerful even though it was only two in the afternoon) I looked out over the harbor and fell in love with Michigan in October.
North Michigan? To someone who was brought up in the East, had spent falls in Vermont, and now lives in Colorado just minutes from aspens in the Rockies, what could North Michigan offer in the late fall?
Well, it turns out – a lot. Hemingway and pumpkin farms.  Islands without cars served by horses and bicycles. Tunnels of trees, whitefish sandwiches and hoppy IPAs. Outdoor pits with glowing hardwood fires. Lakes, forts, farms and streamside walks. And everywhere, friendly residents who welcomed tourists in the last few weeks of October because they knew soon enough they would once again have the Michigan they loved all to themselves.
So here are a few great places in Michigan I discovered, well worth putting on a bucket list for some visit in the future, no matter where you are from.
Have a Beer (or Eight) in Grand Rapids
Grand Rapids is a great porte d'entree in central Michigan with an easy to use airport that is served by several low cost carriers. A lot of people were surprised, including me, when USA Today declared Grand Rapids as the "No. 1 Beer City in America." I'm not surprised anymore. There are more than 60 breweries in the city, dozens more around it and 372 statewide. But the craft beer scene here is about so much more than numbers.
Every city has breweries; Grand Rapids has a beer culture that consumes the city at wonderful places like Founders, Hop Cat, Brewery Vivant, City Built and, of course, Grand Rapids Brewery. It takes seconds to download a free sophisticated beer app, Brewsader, that uses geo-sourcing to log you in.
Once the app knows where you are, it will walk you from one brewery to the next.  Enter a password from each brewery, and with eight brewery "check-ins," you earn a free Brewsader T-shirt. It's part treasure hunt and part walking tour, and while it's a challenge to visit eight breweries in a two-day visit, you can wear the resulting t-shirt with pride.
Downtown Grand Rapids is a mix of old and new buildings along a river lined with parks, sidewalks and trees. It reminded me a bit of Portland, OR. The river is going to be re-imagined in the near future into a major destination with rapids (ironically, there currently are no rapids in Grand Rapids), boulders, kayaking and rafting.
For now, Grand Rapids is a fun town with ridiculously confusing streets that go in all sorts of angles, but there's a street sign map on every corner to help out and it's small enough to easily Uber around to the main attractions.
Foremost is the Frederik Meijer Gardens & Sculpture Park, an amazing gem of a place filled startling sculptures, including a 24-foot-high horse, a Rodin sculpture in a location that would rival any in Rodin's native Paris, a dozen gardens, a picturesque farm and miles of trails beside lakes and waterfalls.
Gerald R. Ford Museum
President Gerald Ford grew up in Grand Rapids and, with his wife Betty, is buried on the pretty grounds of the Gerald R. Ford Museum. He was one of many U.S. presidents who served without winning the popular vote, but he is the only one to serve as both U.S. vice president and U.S. president without winning any votes – he was never elected to either office.
No matter what you think of Gerald Ford, after touring the museum, you'll come away believing he was a pretty decent guy who just got thrust into one of the strangest periods of American history. The museum is brilliantly done and filled with eccentric things to see, such as a pair of wire-cutters used in the Watergate break-in, and Richard Nixon's actual resignation letter.
In Grand Rapids, stay downtown (J.W. Marriott is beautiful) because all downtown attractions, including the Market with its many food stations and restaurants, the Ford museum and many breweries are walkable and easy to visit.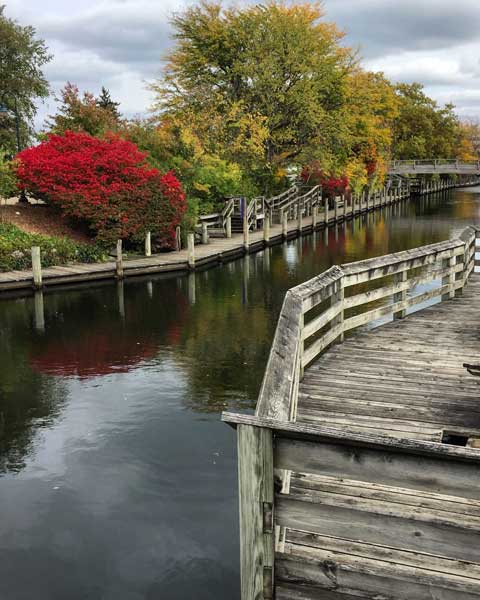 Traverse City
Just an easy 2.5-hour drive from the Grand Rapids airport, Traverse City is a major tourism destination with dunes, golf courses, resorts, beaches, an historic downtown (with a gigantic bookstore, Horizon, that stays open until 11 p.m.), breweries and chic restaurants. You could spend a pleasant week here, but it was not the Michigan I was looking for.  However, it does make a convenient and fun place to stay that has a walkable downtown and is easily accessible to the Grand Rapids airport for return flights.
Continued on next page