I was walking along the stone walls that circle Cartagena, Colombia, minding my own business. That's not an easy thing to do in Cartagena.
Cartagena, Colombia
Cartagena is a stunningly beautiful city — one of the crown jewels of South America and a UNESCO World Heritage Site. And it's totally safe with foot police everywhere, elegant restaurants and a shopping mall that rivals anything on Rodeo Drive with store windows filled with gold and emeralds.
There are also wonderful small parks shaded by palm trees, pastel-colored buildings covered with flowers, murals and balconies offering majestic views of the sparkling Caribbean. Plus, Colombian music, sometimes from a band, sometimes recorded, but always lively and loud playing in the background.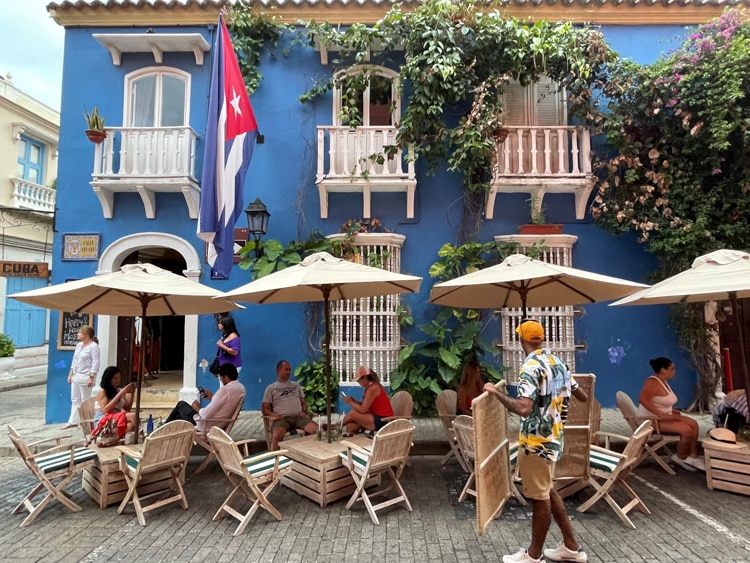 Hello My Friend
As I strolled along the walls, as I say, minding my own business, young entrepreneurs, just waiting for an old man like me to come by, would suddenly materialize.
"Hello, my friend! What are you looking for?" was their usual opening.
My response, "Ah, if I only knew," throws them for a second.
But they're right back with, "What Senor? Tell me. Women? Cocaine? Emeralds? A beer?"
"A beer? Well, why not?" I responded, for the third time in an hour. It can be frightfully hot and humid in Cartagena, and you must stay hydrated.
Elated, the tout reaches into a nearby ice chest full of beer. Delivered cold and dripping with condensation, the local Club Colombia Roja costs about one dollar.
So I was sipping my third beer in an hour, admiring a particularly picturesque row of cannons overlooking the sea, and minding my own business.
Then a short little man in a NY Yankees baseball cap slid up and in perfect Bronx English explained to me how the British had attacked right here in 1741, but had been beaten off by Patapalo, the peg-legged Spanish admiral, who'd also lost an arm and an eye in battle.
"Your English is perfect," I said. "Where did you learn?"
"I lived in New York for 20 years," he said dismissively and went back to describing the battle. He introduced himself as Henry and said he once shook hands with President Bill Clinton. Then he asked if I would like a tour guide.
A Personal Tour of Cartagena
Why not? His fee was $20 for two hours, and he knew his history. And so we set off for what became not two, but five hours of walking and drinking many beers as we wandered around his beloved city. Henry, it turned out, had indeed spent 20 years in New York. Sixteen of them in Attica prison.
He originally left Cartagena, hitch-hiked through Central America and Mexico to Juarez, and crossed the border in a truckload of palm trees (buried under the dirt). He found his way to the Bronx, where he was living the dream as an illegal dishwasher.
Best Tips & Tools to Plan Your Trip
His whole family eventually joined him. But the lure of easy money from the cartels was too much. He, his father and his brothers got into the business of transporting cash to Miami.
"We were stupid," he said. At least the whole male portion of the family went to prison together. The mother lived nearby and visited often.
Henry was now back in Cartagena for 20 years, a reputable guide, often in demand from hotels. Everyone in the city knew him, shook hands, slapped him on the back or at least waved.
Gabriel García Márquez
His great love was the hero who lived in and wrote about Cartagena, Gabriel García Márquez, the writer famous for One Hundred Years of Solitude. Which just happened to be Bill Clinton's favorite book.
Clinton had indeed come to Cartagena for an event celebrating Gabriel García Márquez. And Henry did shake the President's hand after jumping out of a crowd and nearly being arrested again by the Secret Service.
But Henry's enthusiasm for Cartagena and Gabriel García Márquez was infectious. I bought and tried to read One Hundred Years of Solitude. Let's just say, Bill Clinton and I will never be in the same book club. Neither will Chelsea Clinton.
Henry told the story that Chelsea met Gabriel García Márquez and said she would love to read his book, but she didn't speak Spanish. The next day, Gabriel García Márquez sent to her hotel room his book translated into English, and 20 other languages.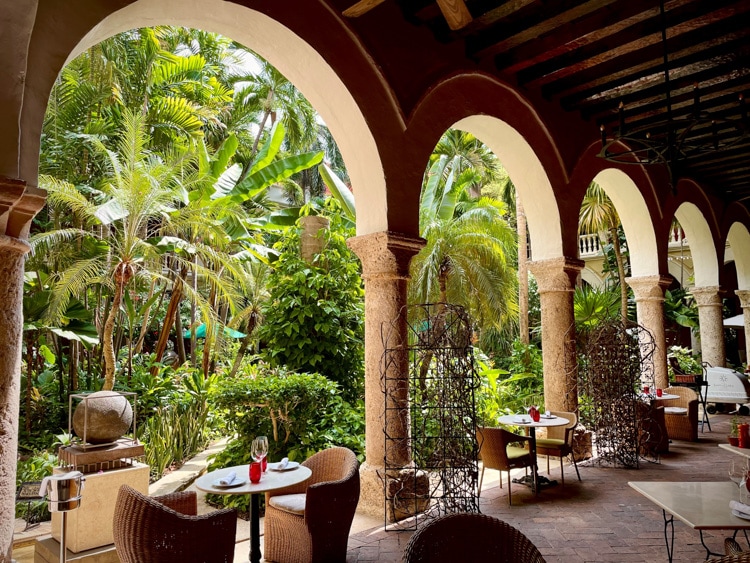 What to Do in Cartagena
After the "Highlights with Henry" tour, I spent four days wandering around this lovely seaside city, that has changed so much from its image 20 years ago. Here are just some suggestions of how to enjoy it. All these sights are safe and fun.
Cartagena has a small army of semi-armed tourist police (they carry a big club), as well as very visible armed police. This is always a sure sign that the destination understands and appreciates tourism.
Another sign, was when I landed at the airport and was in the customs line. A gentleman came up and in English said, "Do you mind if I ask your age?" 
Finding I was over 65, he took me to a special customs desk with no line, specifically established for senior citizens. Just saying…the wait on my return at a USA customs booth in Miami was four hours which led, of course, to a missed connection. It's easy to see which country appreciates tourism.
The Walls of Cartagena
Cartagena is the largest walled fortress city of the Americas. Don't take a pledge to walk the walls lightly. They are 11 km long. Most everything within the walled city is gorgeous with cobblestone pedestrian streets, historic lampposts and flowering trees growing up buildings.
There are also street musicians, wonderful backlit storefronts filled with art and jewelry and a gigantic fleet of at least two dozen horse-drawn carriages that come out at twilight.
There are outdoor cafes under palm trees, though in the heat and humidity of October, most people dine indoors or late at night. The walls are studded with cannons. In especially attractive areas, such as overlooking an entrance gate, there are outdoor bars on the walls with umbrellas and live music.
There is no moat to the fortress. But it rained every evening I was there for a short time, flooding the streets and creating a temporary Venice-like quality. Until the water drained off.
The power also went out one night, magically producing a romantic atmosphere as everyone, no doubt used to this, pulled out candles and went on as usual.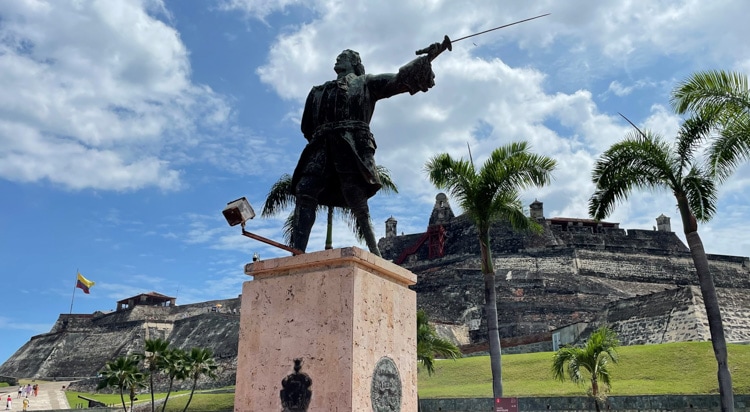 The Pirates of Cartagena
In the late 1600s and early 1700s, Cartagena was the fortress city of what was called the Spanish Main – the mainland of Central and South America. Spanish soldiers busy looting the continent would bring their stolen gold from Mexico, silver from Peru, and emeralds from Colombia by mule trains to Cartagena, the largest port on the Atlantic side.
Here, they would wait for a fleet of heavily armed warships to transport the treasures to Spain. Of course, also waiting in ships just offshore were pirates, lusting for the chance to steal these treasures from the Spanish.
One of the pirates was the famous Sir Frances Drake. Although England and Spain were at peace, Queen Elizabeth I had secretly hired him in 1586 to attack, capture and sack the city. She and other investors hoped to make a huge profit. Which they did when the bloodthirsty Drake succeeded.  
Incredibly, the Cartagena headquarters used by El Draque is still there. It was built in 1560 as Casa del Alba, one of the town's first stone buildings, and provided Drake with comfortable lodgings. So, while the usual raping and pillaging took place outside, Drake was safe behind the impregnable massive iron doors you still see today.
Only today, those fortified doors lead to a private seven-bedroom, eight-bath rental property that goes for $3,100 a night. 
Cartagena's wonderful Naval Museum, protected by cannons just beneath the walls, has model ships and dioramas showing all the pirate attacks and battles. Unfortunately, the museum is in Spanish, but you can hire an English guide for $10 and hear blood-curdling stories filled with pistols and cutlasses.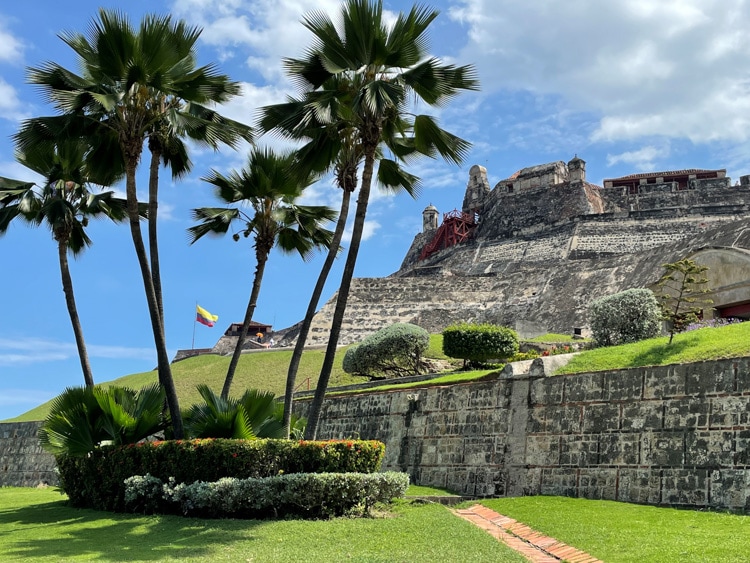 The Fortress – San Felipe de Barajas Castle
A 20-minute walk outside the walls brings you to the massive San Felipe de Barajas Castle, which was built in 1657 and is the largest fortress in South America. Ironically, it was built away from the walled city to protect Cartagena from attacks by land. Why? Because that's how Drake captured it.
The 850-foot-high fortress was based on a "defense in depth" design, so if a lower part of the fortress was captured, the defenders could fall back to the next level and still shoot down their enemies.
Today, as you climb higher up the ramparts, the views of the city and sea become grander. There are long tunnels you can walk through that were used to move troops around undercover.
On my visit, a man dressed in an 18th-century uniform played military bugle calls that hauntingly bounced back from the deserted walls just as they must have hundreds of years ago. When he asked where I was born, he also did a nice rendition of New York, New York.
After you climb the walls (no easy task in the heat and sun) don't miss the statue of Cartagena's hero – Blas de Lezo — the Spanish Admiral who lost a leg, an arm and an eye in battle. He was another hero of my tour guide Henry.
Known as Patapalo ("Peg Leg") he refused to wear an eyepatch and with a visible empty socket must have been a fearsome-looking character. In 1741, he commanded the defense of Cartagena and defeated a huge British fleet and army. He famously said, "If the King of England wants to come here, he's going to need a bigger squadron."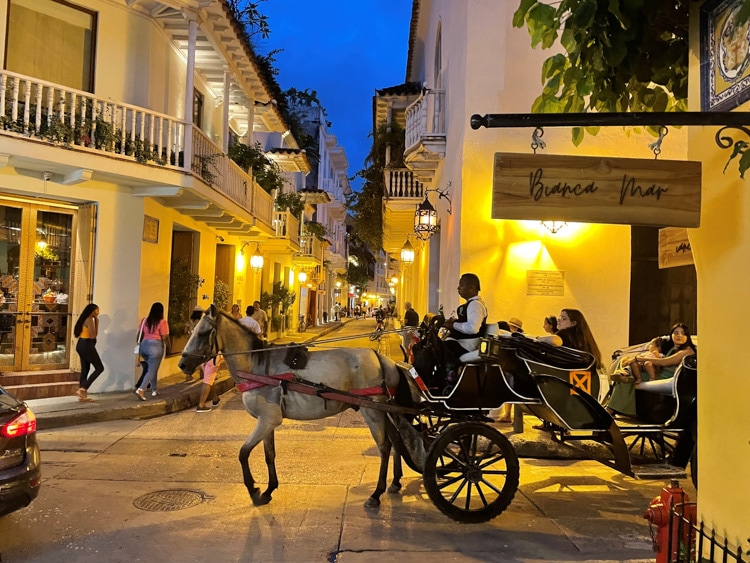 Inside the Walls
Cartagena is not filled with many "must-visit" museums and attractions. There's the usual number of fantastic and elaborate Catholic churches.
There's also a small museum of gold objects created by the indigenous people (the large, famous Gold Museum is in Bogota) and an emerald museum, which tells you the history of the green stone. And then tries to sell you some but in a relaxed, low-pressure atmosphere.
People come to Cartagena to live, party, eat, drink, shop and admire the architecture and the beauty of the Caribbean Sea. You can hear Colombian music playing in your head (even if it isn't) as you wander down one beautiful pedestrian street after another.
The buildings are a pastel of colors. Henry claimed the colors are selected by a committee to create a pleasing palette. It could be true.
Most remarkable are the flowering trees that climb up buildings and around windows and doors. They are filled with blossoms that are a rainbow of color, perfectly blending with the more subtle background color of the buildings. Turning many street corners for the first time, you will find yourself saying, "Wow!"
Shopping and Eating
The main shopping mall was built on a former bullring and follows a circular pattern with three floors of elegant shops and a massive upscale food hall with live music, dancing fountains and outdoor decks overlooking the city. But this is, after all, South America. Just a block away there are dozens of street food stands, fruit vendors and absolute traffic chaos.
For food, any city guide will point you to the restaurant from Anthony Bourdain's show (La Cevicheria) and the latest hot spots. Better I think, to just explore.
The portions in Cartagena are gigantic and the prices are ridiculously cheap. For a full Red Snapper covered in shrimps with beer, it was $12 at a perfectly nice little local place, of which there are dozens, many with music.
Islands of the Caribbean
A principal Cartagena attraction is to take a day trip by fast boat to Islas del Rosario, 27 small coral islands about 90 minutes away.
There are many tour options. Book a tour that includes lunch and make sure the boat has a cover against the brutal sun (and possible rain).
You'll have a day at a pirate Caribbean paradise with white sand beaches, hammocks, a tasty fried fish lunch and palm trees. And barbed wire fences. Each tour goes to its own beach compound, isolated from the others by fences.
You can walk away from the water into the jungle, but not along the beach. After the beach, hop on another ferry to Isla de San Martin de Pajarales, where there is a fun aquarium show in Spanish.
There are sharks and jumping dolphins and you'll join in the laughter, even if you don't understand a word of what's going on. The islands offer overnight accommodation, but they are rustic, get-away-from-the world, type places.
If You Go to Cartagena
Most Americans see Cartagena on a day excursion from a cruise ship, but it's worth a visit on its own. Especially since most of the action in town begins in the evenings, long after the ships have sailed.
Anywhere within the 11 km circle of walls is safe and beautiful, though some streets are more so than others. There are two beach areas outside the walls lined with hotels if you must stay at a beach. It's easy enough and certainly cheap enough to Uber into and out of the historic area. But the beach areas are just okay, while the historic city is wonderful.
The hottest neighborhood right now is Getsemani. Ten years ago, it was a dodgy backpacking area, now it's filled with murals, street food, restaurants and colonial mansions turned into small hotels.
I stayed on the other end of town at Hotel 3 Banderas, on one of the town's prettiest streets near Plaza de San Diego, which has six restaurants, live music, and is a short walk to everything. Cartagena Information.
Author Bio: Rich Grant is a freelance travel writer in Denver, Colorado and a member of the Society of American Travel Writers and the North American Travel Journalists Association. He is, along with Irene Rawlings, co-author of "100 Things to Do in Denver Before You Die," published by Reedy Press in 2016