A few years ago, a Denver couple moved from their home in Colorado to their family cottage on Old Mission Peninsula, a skinny piece of fertile land that juts out into Grand Traverse Bay just north of Traverse City, Michigan where they used to spend summer vacations. Now they live the retired life: playing golf, sailing, going to concerts and festivals and playing host to their kids and visiting friends.
Traverse City, Michigan
"We left a really great summer in Colorado for an even greater summer in Traverse City," says Jon, an avid sailor.
"It's because of the water," he explains. "In Colorado, you sail in a variety of circles. In Michigan, we sail in open water from one town to another. The water is like the Caribbean Sea—deep blue and crystal clear. When there's not enough wind to sail, it's great golf weather. When the wind comes up in the afternoon, we sail."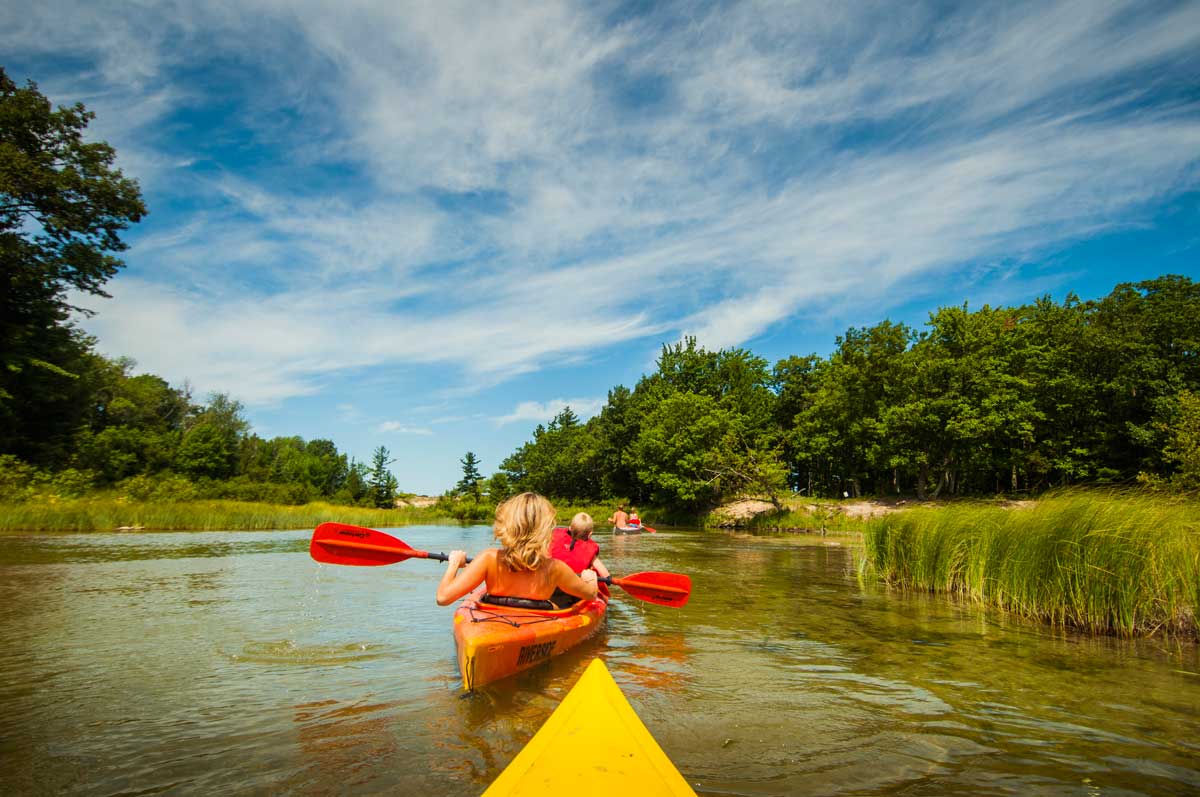 Traverse City Lake Activities
The bays, coves and islands along Lake Michigan's shoreline and the protected waters of Grand Traverse Bay are ideal spots for sailing, kayaking, paddle boarding, waterskiing and fishing. The sandy beaches are perfect for family play, especially in July and August when daytime temperatures can reach 80 degrees. After a storm, Jon and Sue like to hit the beaches to search for Leland Blue, a type of rare stone by-product from the former iron industry in the area.
Historic Lighthouses: Traverse City
Lighthouses are another shoreline attraction, a nod to the pre-GPS era of ship navigation. Michigan has more lighthouses than any other state in the US, and the area around Traverse City has five relatively close together. They are deactivated now, and you can visit all but one for a nominal fee and see what life was like for the lighthouse keepers. I learned a lot at the maritime museum housed in the Grand Traverse Lighthouse, one of the oldest on the lakes.
Sleeping Bear Dunes
The closest thing the area has to a mountain is Sleeping Bear Dunes, a 64-mile curvy mound of sandy hills and forests rising about 500 feet from Lake Michigan's shoreline. Glaciers sculpted this geological phenomenon 10,000 years ago, and its protected wilderness—now a national park—is a popular spot for hiking, biking and camping.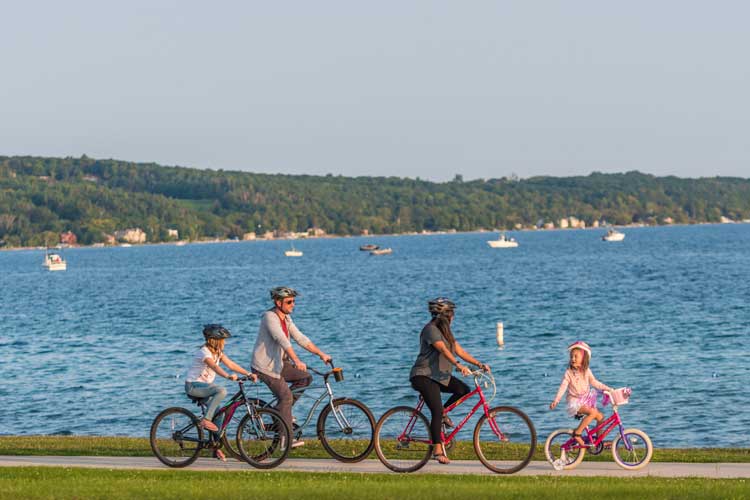 Biking in Traverse City
My friend calls it "mountain biking," but there are no mountains. . .just miles and miles of trails in and around Traverse City. Negotiating my bike through tight trees, I have a hard time keeping my eyes on the meandering narrow dirt path underneath me. Above my head, the canopy of leaves explodes into brilliant fall colors that this Colorado girl is not used to, such as crimson, tangerine and vermillion. The spectrum of the red/orange palette takes my breath away, just as much as the long rides in the forests.
Where to Eat in Traverse City
Foodies love Traverse City for its burgeoning farm-to-fork movement. Talented young chefs create inventive dishes with ingredients sourced from nearby farms, waters and orchards.
"A farmer might come into a restaurant with a big tray of mushrooms, and the chef buys them on the spot." says Sue. "And the farmers markets are unbelievable," she adds. Besides offering great quantities of local produce, they also sell artisan cheeses, free-range chickens, locally raised pork and fresh fish.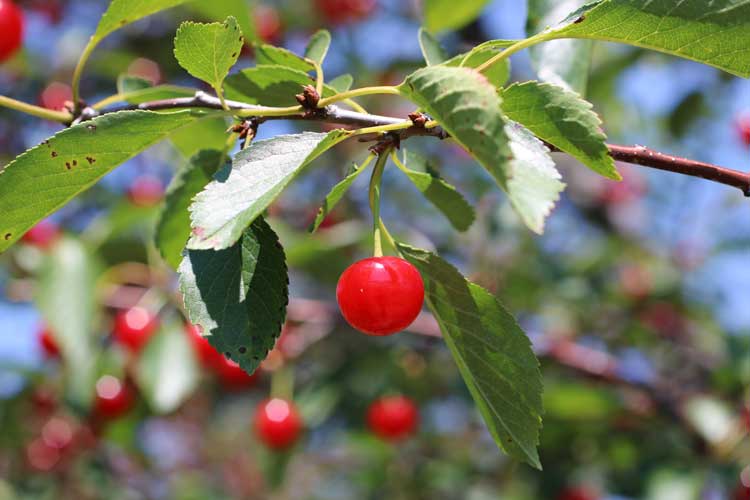 Cherry Orchards
Rolling cherry orchards that burst into bloom in May are the most prolific in North America, providing chefs with cherries for everything from sauces to salads. The ubiquitous cherry theme escalates in July when the National Cherry Festival takes over the country's Cherry Capital for eight days.
The hot culinary scene coincides with a thriving wine industry. A  third of Michigan's award-winning wineries and vineyards are on Leelanau and Old Mission Peninsulas. Winemakers discovered that the area's unique combination of cool climate, topography and soil responsible for its famous cherries is also ideal for growing grapes. Each of the peninsulas has a wine trail leading to tasting rooms with spectacular bay views. About 40 wineries dot the area.
Traverse City's burgeoning craft beer industry won accolades right from the start. Now it has grown to a total of 20 microbreweries, brewpubs and taprooms, as well as restaurants serving local brews.
Traverse City Events
Summer is high season in Traverse City, and early fall is popular for annual leaf-peeping pilgrimages. The warm months are packed with festivals, events and activities.
"You can go to something every night of the week," says Sue. Concerts, performing arts, art galleries, museums, botanical gardens—this little town of 15,000+ residents has it all. During the film festival in July, Jon and Sue live on their boat docked near downtown so they don't have to drive to each film from Old Mission Peninsula.
The boat slips are in great demand, so they make their reservations six months in advance. From the marina, the walkable town with its tree-lined streets, quaint shops and fascinating boutiques is at their feet.
More than anything, Jon and Sue praise the locals. "They are just basic, nice civic-minded people who work to make the community better," says Jon.
That's the kind of place I like to visit.
For more information, visit traversecity.com.
Author Bio: Colorado-based Claudia Carbone is a frequent feature contributor to GoWorldTravel and writes a blog Sleepin Around on the site.