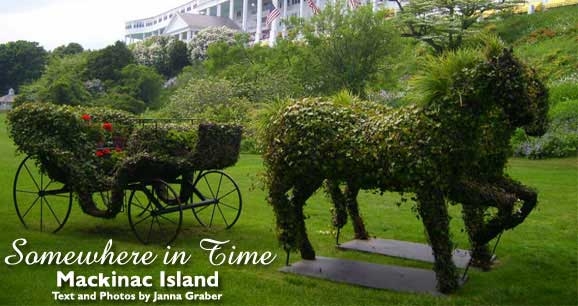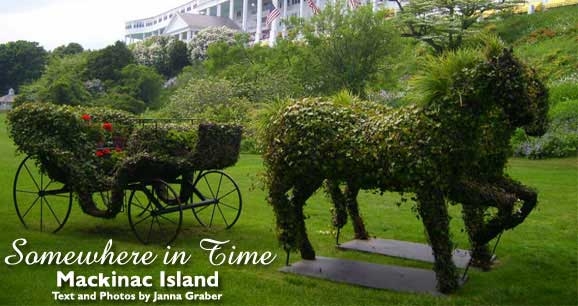 Traveling to Mackinac Island
Calling for a taxi can be a gamble. You never know who will show up. Yet for all the strange taxi rides in my past, nothing can top the cabs on Mackinac Island, Michigan. When you call for a taxi on this tiny slip of land in the Mackinac Straits between Lake Huron and Lake Michigan, a horse-drawn carriage shows up at your door.
Call me crazy, but this is not the type of cab I'm used to. Still, I'm intrigued as my family and I gingerly crawl up onto the wooden seats behind the driver. She moves the reins slightly, and a pair of 1,800-pound Belgians responds, bringing new meaning to the term "horse power." Their hoofbeats are strangely soothing as we leave the ferry terminal and float through the island streets at a rapid pace.
Within seconds I begin to relax, soaking in the slow-paced nature of Mackinac Island. Sure, the modes of transport are unusual here, but then again, there is nothing usual about Mackinac Island.
Accessible only by boat or plane, the island lives by its own rules. Automobiles have been banned on the island since 1898, so folks get around by bike, horse and buggy or on foot. The result is that no one rushes anywhere, and the island moves on its own time.
Only 600 hearty souls live here year round; the winter months can be cold and cruel. Freezing winds whip across the Great Lakes. When the water freezes, supplies can be brought in only by air.
But each May, the island transforms into a lush, green world. Mackinac is covered in tree-sized lilacs, many of them more than a century old. The sweet scent of their hearty blooms mingles with the earthy smell of horses and the ever-present aroma of fudge.
Fudge is the island's only export. The tradition started with one shop back in the 1920s. Now some 17 candy shops (and counting) create these sugary treats.
With such an idyllic nature, one could easily forget the island's war-ridden past. Once home to the Great Lakes American Indians, Mackinac Island has seen its share of soldiers. During the American Revolution, the British moved their garrison to Mackinac Island. With its steep limestone hills, the island offered a perfect location for their fort.
But their strategy was short lived, and Mackinac Island became the territory of the new American nation. When war broke out again in 1812, the British recaptured Fort Mackinac and more struggle ensued. American peace negotiators finally secured the island's return after the war.
Today, historic Fort Mackinac is all that remains of those bloody times. Reenactors demonstrate bygone days for visitors, and the fort's high location provides a beautiful view of the bay and town below.
While history is re-created at Fort Mackinac, it is a living, breathing thing at the island's famous Grand Hotel. Built in 1887 during the post-Civil War's Gilded Age, the Grand Hotel was a popular destination for that era's rich and famous.
They arrived by lake steamer from Detroit, Montreal and Chicago, and dined on the finest cuisine, danced to top musicians and played croquet in fashionable hats on the lawn.
And it's easy to see what drew them. The luxury 385-room hotel stretches so far from end to end that it's hard to fit into one photograph. A 600-foot-long front porch, visible even from the water, is lined with white rocking chairs and some 2,500 geraniums in 260 flower boxes.
We can't help but be awed as our carriage pulls up to the hotel's red-carpeted entrance. A doorman helps us from the coach, and I feel like I've stepped into the 19th century.
The lobby is open and tall, decorated with fine antiques from yesteryear. Indeed, the whole scene is familiar to me. The 1980 romantic film Somewhere in Time, starring Jane Seymour, Christopher Reeve and Christopher Plummer, was filmed at the Grand Hotel.
Yet the Grand Hotel was no fake film set; the historic hotel clings stubbornly to the graces of her past, preferring to remain in the rhythms of yesteryear. The hotel experience includes dressing for dinner, and evening wear is required after 6 p.m. This is a foreign concept to my three 21st-century children, and they complain as they straighten newly-purchased ties and pull on fancy dresses.
With his hair slicked back, my 8-year-old son looks uncomfortable as we walk into the grand dining room. Yet his awkwardness is soon forgotten when we begin our five-course dinner, served by tuxedo-clad waiters. The girls easily get into the spirit of fine dining, selecting curious-sounding appetizers and luscious desserts.
Since our room rate includes a modified dining plan, full breakfasts and dinners are provided. There are several restaurants onsite to choose from. (One does not lose weight at the Grand Hotel.)
After dinner, we head to the ballroom, where we dance to the tunes that entertained those of the early 20th century. But then our children discover the free arcade on the next floor, and it's hard to entice them back to dance beats of yesteryear.
Children are welcome guests at the Grand. Those ages five and older can participate in a daily kids' program, and our youngest eagerly signs up for some of the weekly activities.
Stay at The Grand Hotel
The Grand Hotel is a comfortable place to stay. No room is alike, but each reflects the warm colors of the flower beds that fill the hotel gardens. More than a ton of bulbs and 125,000 bedding plants are used to create the gardens each year. Such gardens are usually reserved for kings and queens, but here they are a treasured part of everyday life, as they have been for more than a century.
Mackinac Island is for Families
Mackinac Island is an easy place for families to explore. Flat roads and no automobiles makes it perfect for biking. The summer morning air is filled with the scent of damp earth as we pedal through the forest and out onto the streets of Mackinac Island the next day. Watching for the occasional horse and carriage, we soar up and down the streets, stopping to look in small shops or at quaint historic buildings.
But we really gather speed when we head our bikes onto the 8-mile loop that encircles the island. At first the path follows the lake front. The water calls, and we soon pull over to skip the perfectly smooth white stones that line the beach.
From there, we head into Mackinac Island State Park, with 1,800 acres to explore and 70 miles of natural and paved trails. I admire the wildflowers, cedars and birches that fill the forests.
But our kids find a little roadside stand that sells fried pickles served with ranch dip. It sounds disgusting, but I give it a try. Not bad, I admit.
The kids devour them, proclaiming the pickles the best find of our bike outing.
As we head our bikes back onto the trail, I can't help but chuckle. Children experience new places through their own unique eyes. While my husband and I ooh and aah over fascinating history, luxurious accommodations and fine dining, the kids will remember skipping smooth white stones, pedaling fast along the lake allowing the wind to part their hair, and eating fried pickles in the forest, content in their curious find.
Such are the family treasures to be found on Mackinac Island. For all of us, the island is memories in the making.
If You Go
Mackinac Island
www.Mackinacisland.org
Weather: Summers are moderate, with cool mornings and evenings. Dress in layer, to adjust as the temperature changes throughout the day.
Grand Hotel
www.grandhotel.com
Rooms start at $210 per person, double occupancy. Children under 11 are free. Children ages 12–17 are $49/night; 18 years and older are $109/night. All rates include a modified American dining plan (full breakfast and five-course dinner provided each day).
Mackinac Island State Park
www.Mackinacparks.com
Getting to Mackinac Island
If traveling by air, it's less expensive to go through Detroit, Michigan. From Detroit, it's a five-hour drive to Mackinaw City, where you can catch a ferry with Arnold Transit (800-542-8528) to the island.
There is also air service into Pellston, Michigan, which is 12 miles south of Mackinaw City.
Driving to Mackinac Island from Detroit
If you're traveling through Detroit with your family, consider stopping at Greenfield Village and the Henry Ford Museum. On the same grounds in Detroit, these two attractions are a favorite with children.
Greenfield Village is a vast open-air museum spanning more than 300 years of American history. History re-creations and live demonstrations entertain kids while they learn.
The Henry Ford Museum is one of the largest collections of its kind, showcasing American innovation and invention over the decades. Adults and older children will enjoy the fascinating exhibits.
The small town of Frankenmuth, approximately 1.5 hours north of Detroit on I-75, is another family favorite. This quaint Bavarian-style burg has fun restaurants and loads of kid-friendly shops, including the famous Bronner's Christmas Wonderland store.
Henry Ford Museum
Greenfield Village
www.TheHenryFord.org
Frankenmuth
www.frankenmuth.org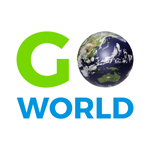 Latest posts by Go World Travel Magazine
(see all)