"If you seek a pleasant peninsula, look about you."
The State of Michigan, about a decade ago, launched an award-winning tourism campaign built around the phrase "Pure Michigan."
That phrase, which described the state's upper and lower peninsulas surrounded by the Great Lakes as a water wonderland and winter wonderland, may have been ahead of its time as vacationers now more than ever seek fresh air, wide-open spaces, crystal clear bays and lakes, and places to take off their masks and…breathe.
Tourism is among Michigan's top three industries – in a win-place-show bet with manufacturing and agriculture. Since Michigan's "wine country" is in the vibrant, scenic foodie town of Traverse City, which is also home to the annual National Cherry Festival; and the greater Grand Rapids region has become known as "Beer City" due to its craft-brewed stars such as Founders and Bell's, it's safe to parlay agriculture with tourism in a perfect a bet.
Skiing, golf, hiking, boating, swimming, snowboarding, hunting, fishing, kayaking, farm-to-table picnicking and just plain beaching it are some of the many activities visitors to Michigan will find as they escape the summer heat of the south and the "hot spots" of the current health situation.
If you're seeking the ability to spread out some to prevent the spread of disease, Michigan, particularly Northern Michigan, may have just what you're seeking. The state seal is even emblazoned with the motto: "If you seek a pleasant peninsula, look about you."
Mission Point Resort
For a state that gave birth to automobile manufacturing in what would become known as the "Motor City," — Detroit is still headquarters of the "Big Three" automakers Ford, General Motors and Fiat-Chrysler — it's premier and most unique vacation destination is an island which forbids cars.
Mackinac Island
Mackinac Island, which sits between Michigan's upper and lower peninsulas in the strait which connect Lake Huron to Lake Michigan, is reachable via the Shepler's Ferry or via small aircraft – and those are the last two powered vehicles vacationers will see once they hit the dock or tiny airstrip.
Horse-drawn carriages and bicycles are the only means of transportation through the vintage village or to make the 8-mile, scenic circumnavigation of the island's scenic ring road.
Some 80-percent of the historic island is forested state park, and the last stop on the way out of town is Mission Point Resort, which sits alone on 18 acres overlooking the sun rising above the Lake Huron horizon each morning.
"Mission Point is always a good spot to be on the lawn and look out at the boats on northern Lake Huron and Round Island Lighthouse," said Captain Chris Shepler, president of Mackinac Island Ferry.
Mission Point finds itself in an advantageous position due to its physical location just a bit away from the fray of the souvenir and sweatshirt shops but within the scent of the downtown fudge-making shops. The resort's "great lawn" allows guests to spread out and catch some rays or have a catch, fly a kite, practice putting, bowl a bocce ball or engage in yoga, tennis or croquet. Grabbing a bicycle to tour the island is a time-honored tradition.
"The Great Lawn has 81 Adirondack chairs gracing it and it's a beautiful place to be with stunning views. You can sit there and watch a freighter glide by at any moment," said Liz Ware, vice-president of sales and marketing at Mission Point Resort. "We also have a new promenade deck this year. It's a wonderful outdoor area overlooking the straits and it's where we've created the largest lemonade stand on the island."
It's hard to tell which is clearer – the pure lake waves on the southeast shore or the water in Mission Point's outdoor swimming pool, but either way guests have access to both. There are hot tub suites, too, for private romance or "Calgon take me away" experiences.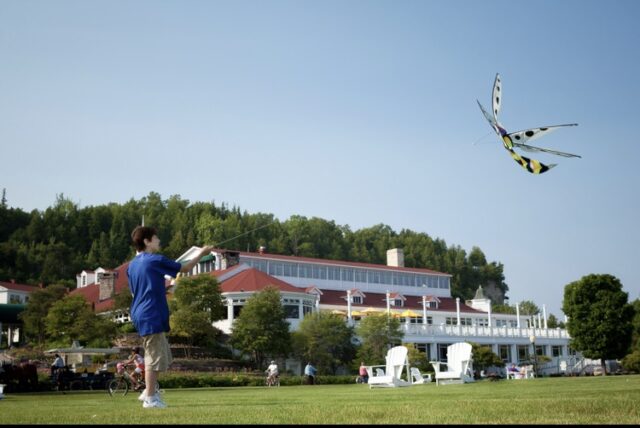 Seeking Solitude? Mission Accomplished at Mission Point
The resort understands, too, that during that for some "work from home" can mean "work from anywhere," so, despite the seemingly pristine location, they offer connect-ability and business services for the guests and families (even dogs) who have learned to mix business with pleasure. Kids under 12 eat free in the resort's five restaurants, which are also happy to provide carry out picnics or in-room dining.
Currently, Mission Point guests are loving the fact they can take all their meals in various outdoor dining and porch settings including Bistro on the Greens; Round Island Bar and Grill; Chianti; and the takeaway options at Boxwood Coffeeshop and Café.
"Here on the island we are not "farm to table" – we are "farm to ferry" so all of the ingredients come over on the boats. We work with farmers around the area to bring locally-grown crops to the island," said Ware.
Small weddings have discovered Mission Point to be a perfect fit – the wedding parties like the spa services before the ceremony, especially. Parts of the resort were used during the 1980 filming of the romantic movie "Somewhere in Time" starring Christopher Reeve and Jane Seymour.
Seasonal Splendor
While Mackinac Island does have a small number of year-round residents – and America's longest-serving mayor – it's mainly a seasonal resort island. Fall colors and the even extra quietness of autumn on the island is still dreamy even if sometimes brisk in a timeless, turn of the century fashion.
There is something about stepping off the ferry that provokes a kinder, gentler attitude and sense of wonder. Hearing the clip-clop of horse's hooves plus the catching the melody of "Taps" being played each evening as Old Glory is lowered at the historic fort are just two elements of the serene sensory experience.
Michigan's serving Governors are afforded a summer residence overlooking the fort and one of the island's golf courses.
"Walking to Mission Point between the rows of trees lit by old fashioned streetlights is so cozy and romantic," said longtime islander Bob Carr. "The fireplaces are romantic on a rainy or cold day."
Shepler's Ferries provide multiple departures daily from both Mackinac City and St. Ignace for the 20-minute cruise to the island. If you're coming from airports in Detroit, Traverse City, Pellston or up from anywhere to the south, Mackinac City has plenty of shops and last-minute sips and bites near the dock.
But the other unique option is to drive just seven miles more and pass over the "Mighty Mac" – the Mackinac Bridge – a scenic suspension span connecting Michigan's upper and lower peninsulas and essentially dividing Lake Huron from Lake Michigan. Just over the bridge in St. Ignace travelers can catch a Shepler's Ferry as well.
Contact Travel Writer Michael Patrick Shiels at [email protected]