From South Africa and Namibia to Botswana and Zimbabwe, this 10-day, 4-country land and cruise safari is an incredible adventure.
We were on a small pontoon boat, floating along the Chobe River in Botswana. My husband, Benjamin, had his camera pointed at a small group of hippos, gazing at us lazily from upriver. Overhead, a pair of white egrets soared across a wide blue sky.
I was looking ahead, trying to soak it all in, when we came around the river bend to find a young female elephant playing in the shallows. Our guide cut the boat's motor as we floated quietly nearby. But she paid us no mind, splashing about at the water's edge.
I didn't know it yet, but she would be the first of hundreds of elephants that we would see on our safari trip in Southern Africa.
Learn more about CroisiEurope's Southern Africa Land and Cruise Safari here: CroisiEurope Southern Africa
A Bucket List Safari in Africa with CroisiEurope
I've spent years dreaming of Africa, and it's long been on my bucket list. Yet Africa is a huge continent with many top safari destinations. I had no idea where to even start.
CroisiEurope's land and cruise safari in Southern Africa proved to be the perfect introduction to the continent. Their safari trip is an African sampler. We visited four countries in 10 days – South Africa, Botswana, Namibia, and Zimbabwe – and went on both land and water safaris.
Staying in luxury accommodations at safari lodges and on a well-appointed houseboat, we saw Africa in style. Best of all, we had expert safari guides and staff who took care of everything.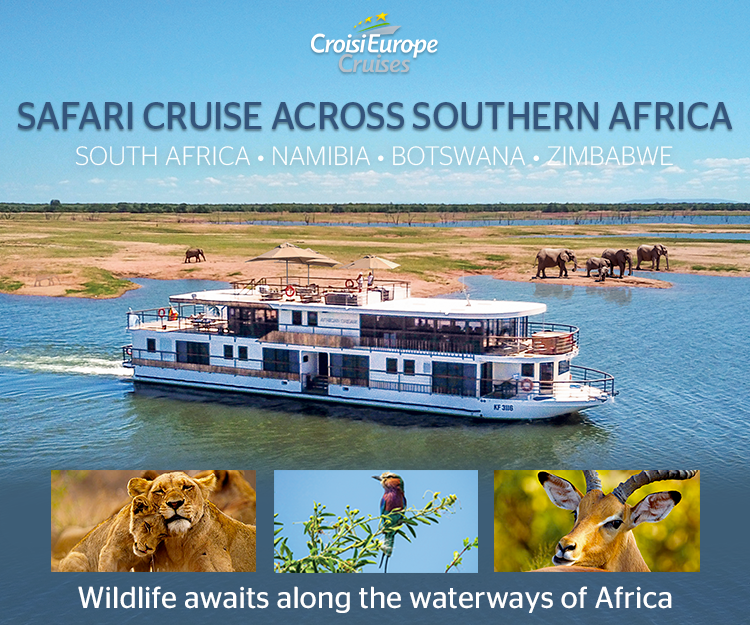 Using a well-orchestrated array of transportation methods, from planes and small aircraft to boats and jeeps, CroisiEurope got us to each new destination with ease. Throughout the journey, we saw more wildlife than I ever imagined and met some wonderful people along the way.
Pre-Tour in Johannesburg, South Africa
We started with a two-night tour in Johannesburg, South Africa. After a non-stop flight from Newark, we were greeted after customs and whisked to 54 on Bath, a boutique hotel in the Rosebank District.
We toured Johannesburg the next day, including a visit to the Apartheid Museum which takes South Africa's history of Apartheid head-on. It delves into the key roles that Nelson Mandela and others had in leading South Africa out of apartheid to become the democratic country it is today. It was a sobering and insightful visit.
Three Nights at the CroisiEurope Kaza Lodge in Namibia
Eager to start our safari adventure, we flew a commercial flight from Johannesburg to Kasane, Botswana. From there, we took a 30-minute boat ride to CroisiEurope's beautiful Kaza Lodge on Impalila Island in Namibia. (CroisiEurope also has a second lodge nearby called Cascade Lodge.)
We were welcomed by song and dance, along with refreshing drinks. Surrounded by the magnificent Chobe and Zambezi Rivers, Kaza Lodge gave us a truly immersive experience in the heart of Africa's wildlife paradise. Built around an 800-year-old Baobab tree with thatched roofs and a wooden deck, it has the true safari lodge feel.
The lodge has eight guest chalets. Ours included a large bedroom, living room, huge bathroom with a soaking tub and a small plunge pool on the outer deck.
It also came with a neighboring family of vervet monkeys who spent a great deal of time racing through the trees. Occasionally, we could hear hippos grunting from the river a safe distance away.
Dinner that evening showcased excellent dishes prepared with fresh local ingredients – an experience that would continue throughout the trip.
Kaza Lodge is in Namibia, but we were just a stone's throw from Botswana. Early that next morning, we took a small boat from the lodge up the river to a tiny immigration outpost. With a quick stamp of our passport, we were in Botswana.
Safari in Chobe National Park
Our safari guide, Culture Maruza – so nicknamed for his love of sharing the ancestral stories of his people – picked us up in a comfortable safari jeep.
As we drove into Chobe National Park, he told us: "Go into the park with open spirit and accept what Mother Nature gives you."
Located in northern Botswana, Chobe National Park has four distinct ecosystems, from dry savanna and cathedral mopani to shrubby grasslands and floodplains and marsh. The park is home to the world's largest elephant population. Some 140,000 roam the park, part of a population in the Kaza region of 250,000 elephants.
The national park is managed by African Parks, a nonprofit conservation organization that manages national parks and protected areas throughout Africa in collaboration with governments and surrounding communities. Strict rules ensure that the animals are protected – all vehicles must drive slowly and may not go off-road. Visitors must respect and stay a safe distance from the animals.
With Culture's expertise, we saw hundreds of animals. Giraffes lumbered across the road, while zebras grazed on the hillside. A family of warthogs dug in the earth, while a herd of impala antelope raced across the savanna. Cape buffalo wallowed in mud along the water and baboons pranced across the countryside.
We came across a family of lions and stopped to watch. Several sauntered toward us, coming within feet of our jeep. They weren't bothered by us but plopped down for a nap.
The birdlife we saw was incredible. One of our friends on the trip was a birder, and it was so fun to watch his delight as he recorded bird after bird – egrets, herons, African fish eagles and so much more.
In the later afternoon, our group boarded a pontoon for a water safari. The Chobe River is rich with wildlife, and we saw Nile Crocodiles, dozens of hippos, elephants and more.
A Village Excursion on Impalila Island
While seeing wildlife was high on my wish list, I wanted to learn more about the cultures and countries we were visiting. Lennon, our guide from Kaza Lodge, took us that next morning to visit his village on Impalila Island.
As we followed narrow dirt paths through the island, a herd of cattle managed by one lone herdsman crossed the expanse ahead of us. Lennon told us stories of growing up on the island. Each village consists of a large extended family, he said. Most do small-scale farming or fishing. Wildlife can sometimes be a danger, with croc or hippo attacks and hungry elephants grabbing snacks from local gardens and banana trees.
He showed us the houses that are built by hand with rocks plucked from the earth, and we visited a shop run by his mother. A group of local musicians welcomed us with song and dance. The money they raise throughout the year is used to help local families in need.
Three-Day Safari Cruise on the Zimbabwean Dream on Lake Kariba
After one last morning safari cruise on the Choe River, our group of 12 boarded small planes to fly to Kariba, Zimbabwe. Ben and I were aboard a very small craft – the plane only held us and the pilot and co-pilot, while the others boarded planes that could hold about six passengers each.

The flight was beautiful, and we watched as the wide expanses of the savanna gave way to the deep waters of Lake Kariba, the world's largest artificial large. Our pilot even gave us a good view of the magnificent Victoria Falls.
Once we landed in Zimbabwe, we were driven to our home for the next three nights – the Zimbabwean Dream, a 16-passenger luxury houseboat on Lake Kariba. (Although CroisiEurope is a river cruise ship company, this boat is more of a houseboat.)
Our rooms were very comfortable, and the dining onboard was excellent. Somehow, even though we are in the middle of a large lake in the wilderness, we had the most amazing French croissants each morning for breakfast.
Though Zimbabweans vacation and fish on the lake, we barely saw any humans at all. But we did wake in the morning to open the curtains and find elephants grazing along the shore, and birds of all sorts in flight above us. In the evenings, Benjamin and I would go up on the top deck to gaze at the millions of stars above us.
We took several water safaris on the lake, cruising along the shore where we saw hundreds and hundreds of elephants. Many had yearlings and baby elephants with them, and I couldn't help but delight in watching them play. Hippos were a common sighting as well. We kept our safe distance as we watched them feeding in the waters.
Safari at Matusadona National Park
We spent one day on a jeep safari at Matusadona National Park, a national park in northern Zimbabwe on the southern shore of Lake Kariba. All the Big Five animals can be found at the park, and we saw everything from elephants to zebras to kudu.
On the last evening of our cruise, we went out for a sunset cruise, one of many we had done on the trip.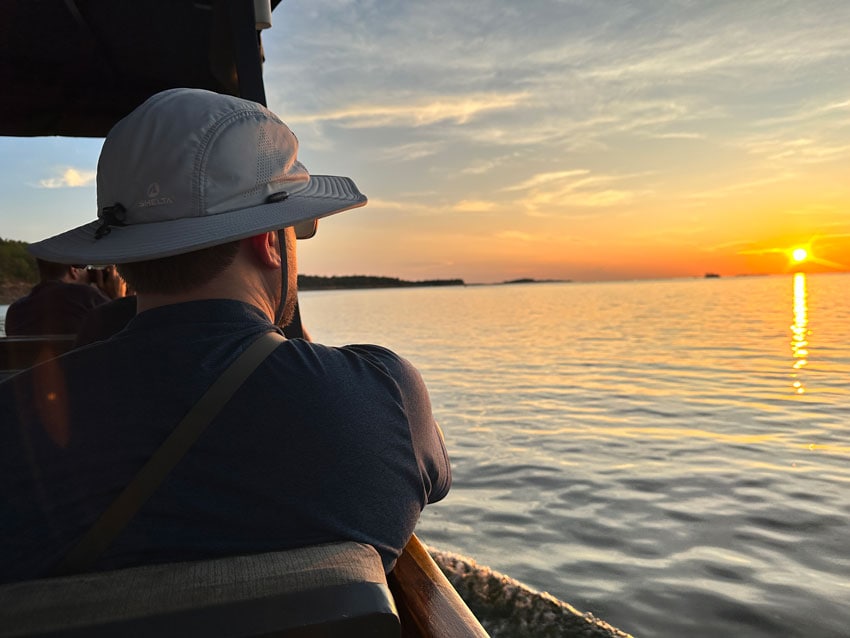 As always, the staff had brought along snacks and drinks to enjoy, and the mood was light. One of the benefits of small group travel is that you get to know the other travelers, as well as the staff. By now, we knew each other well. We laughed and talked as we watched the vibrant sunset grow dark and then sink into the horizon.
Two-Day Stay at Victoria Falls Safari Lodge
We took another small plane to Victoria Falls, where we stayed at Victoria Falls Safari Lodge. This large 72-room hotel is a destination all its own, with thatched roofs, double pools and large deck and dining rooms.
Our large, comfortable room overlooked the African savanna. In the evening, we watched from our deck as a small herd of elephants gathered around the watering hole.
A Visit to Victoria Falls
The main attraction here, of course, is the famous Victoria Falls, widely regarded as one of the most spectacular waterfalls in the world. The falls are formed by the Zambezi River, which plummets dramatically into a deep chasm, creating a spectacular cascade of water.
Stretching over 1.7 kilometers (1 mile) in width and reaching heights of up to 108 meters (355 feet), Victoria Falls captivates with its sheer size and awe-inspiring power.
Covered in rain ponchos, which our guide had recommended, we walked along the trails at the park. At each overlook, we heard the deafening roar of the water, and saw the dense mist that rises high into the air, earning it the local name "Mosi-oa-Tunya," meaning "The Smoke That Thunders."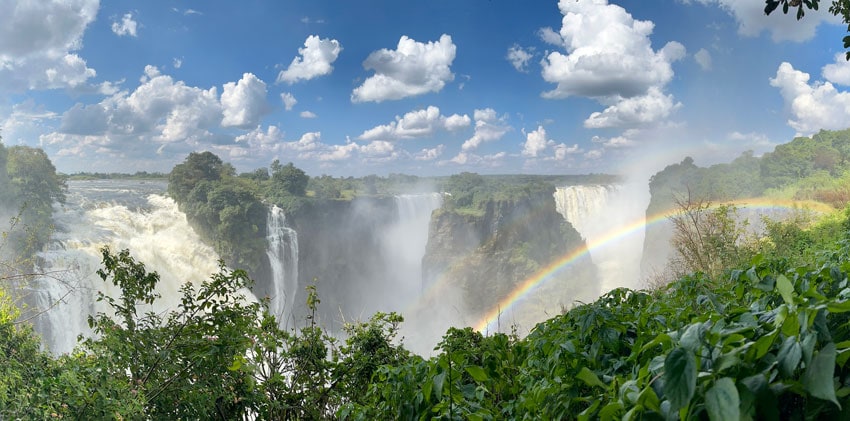 The mist gave rise to countless rainbows, painting the skies with vibrant colors and adding to the enchantment of the place. As we walked further on the trail, the mist turned into rain. Soon we were drenched in every place the poncho couldn't cover.

There was nothing to do but laugh and savor the experience. After all, how often do you get to stand alongside one of the world's largest waterfalls and watch rainbows dance in the mist?
Later, Ben and I took a 20-minute helicopter ride over Victoria Falls, which was a wonderful way to see the entirety of the falls.
Last Views
Like many vacations, our African journey came to an end all too soon. It had been an incredible trip. As our van left the hotel, we had journeyed five minutes up the road when we came face to face with two large elephants, sauntering up the middle of the road.
We quickly pulled over to give them their space, but they didn't pay any attention to us. Using their trunks, they pulled leaves to eat from trees along the street.

It was a gentle reminder that we are just guests and that this beautiful African landscape is their home.
Finally, our driver slowly maneuvered the van past the giant animals. I turned to watch as they grew smaller in the distance. Then, with a mind filled with precious memories, I turned around and headed home.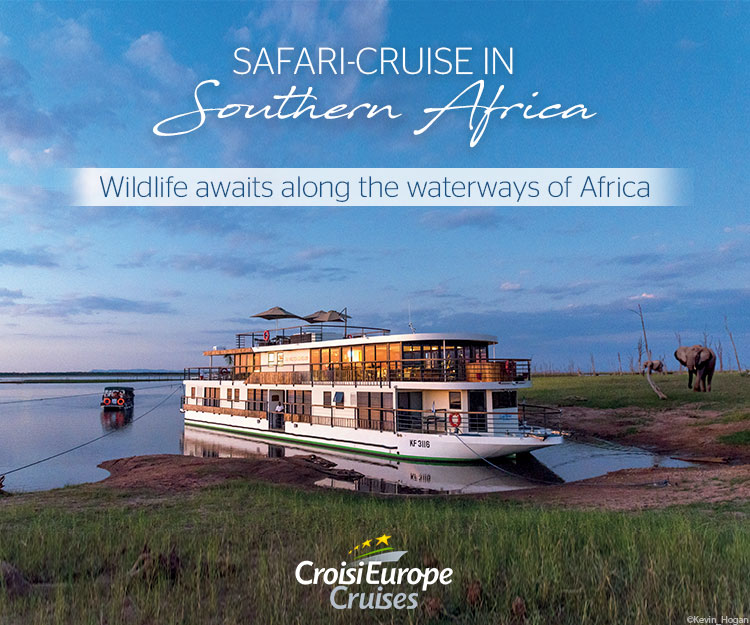 FAQ: Travel Tips to Help You Plan Your African Safari Adventure
When is the Best Time to Go on Safari in Southern Africa?
The best time to go to South Africa for a safari is from May to October. We went in late March and early April, and the weather was perfect. It wasn't too hot or humid, but still pleasantly warm. I was advised to carry bug spray, which I did, but I didn't get one mosquito bite during the trip. We saw many baby animals, including baby elephants.
Safari Packing List: What to Bring on a Safari Trip in Southern Africa
The most important tip is to pack light. Due to the small planes used to fly between Botswana and Zimbabwe, travelers are restricted to one soft-sided piece of luggage no larger than 60 cm/23.60 in. in length x 40 cm/15.70in. in height x 30 cm/11.80 in. in width.
Your bag can only have two wheels. I ended up using this Samsonite rolling duffel from Amazon and it worked perfectly. I also brought along my trusty all-purpose Gregory backpack, which was a great fit, and a small day bag (which easily folded into my suitcase) to take along on safari.
Essential Items to Pack:
Clothing:
Lightweight, breathable, and neutral-colored long-sleeved shirts and pants to protect against the sun and insects
Comfortable, sturdy closed-toe shoes for walking and hiking
Sweater or jacket for cooler mornings and evenings
Swimwear for pools and hot tubs
Hat or cap and sunglasses to shield from the sun
A lightweight rain jacket or poncho for unexpected showers
Safari Gear:
Binoculars for wildlife spotting
Good mobile phone camera or camera with extra batteries and memory cards
Power adapters and chargers for electronic devices (see my note on this below)
Daypack or backpack to carry essentials during game drives and excursions
Personal Essentials:
Sunscreen with a high SPF
Insect repellent
Medications, including any prescriptions, along with a basic first aid kit. Talk to your doctor about any immunizations you might need before travel
Travel-sized toiletries, including hand sanitizer
Travel-sized toiletries to save space
Personal documents such as passport, visa, and identification
Miscellaneous Items:
Cash: You can use American dollars in most locations. Bring small donations, such as $5 bills, as you will receive any change in local currencies. You'll also want cash for tips for staff at the safari lodge and onboard the ship.
Credit card for souvenirs and other expenses
Travel insurance documents for peace of mind.
Reusable water bottles to stay hydrated
Snacks for long drives or game viewing
What Power Adapter Should I Bring to Southern Africa?
I ended up using a mix of power adapters throughout our visit to South Africa, Botswana, Namibia and Zimbabwe. In South Africa, I used an adapter for the UK. In Namibia, I used a UK adapter in some locations, while our room at the lodge required a local power plug. You can get a power adapter for Botswana and Namibia here on Amazon. I used my World Plug Adapter set for the others.
Who is CroisiEurope?
CroisiEurope is a popular European river cruise company that offers a wide range of cruise itineraries along rivers such as the Danube, Rhine, Rhône, Seine, and many others. They've been operating since 1976 and are known for their high-quality cruises, exceptional service, and diverse destinations. CroisiEurope also provides trips in Southern Africa, Southeast Asia and Egypt.
CroisiEurope's fleet includes comfortable riverboats and other vessels, providing passengers with a luxurious and memorable cruising experience. In Southern Africa, they have two beautiful safari lodges in Namibia and two luxury houseboats that cruise on Lake Kariba.
What Languages Are Used?
CroisiEurope provides both English and French-language journeys.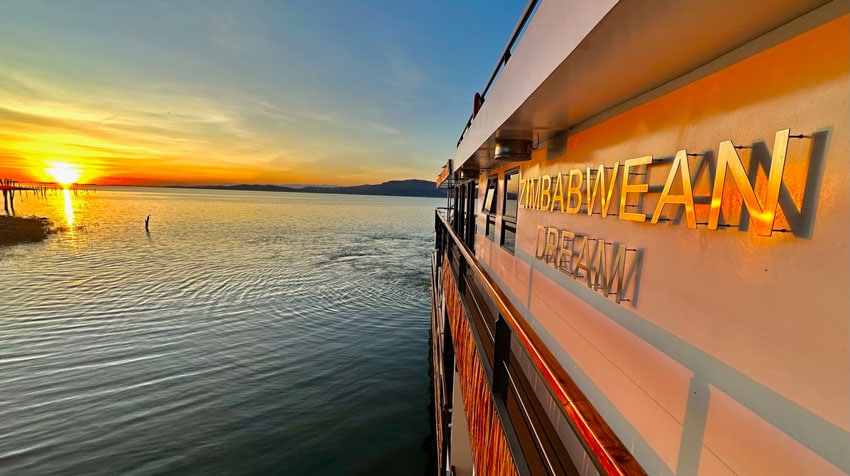 About CroisiEurope Africa Safari Cruises
CroisiEurope's Africa land and cruise safaris start at $6,033 per person. Their all-inclusive African journeys include:
A day tour in Johannesburg
Three nights in CroisiEurope's Cascades Lodge or Kaza Lodge, located on an island on the Zambezi River
A land and water safari to Chobe National Park and the Zambezi River and a visit to a local village on Impalila Island where you'll learn about Namibian traditions.
Three nights on board the RV African Dream or the RV Zimbabwean Dream. Both are lovely eight-cabin ships with a sundeck providing 360-degree views, a hot tub and CroisiEurope's excellent gastronomic cuisine
Water and land excursions while on board, including cruising along the largest man-made lake in the world and a day in Matusadona National Park
You can also book an optional helicopter tour of Victoria Falls
Optional pre and post-trips are available
Learn more about CroisiEurope's Southern Africa River Cruises here: CroisiEurope Southern Africa