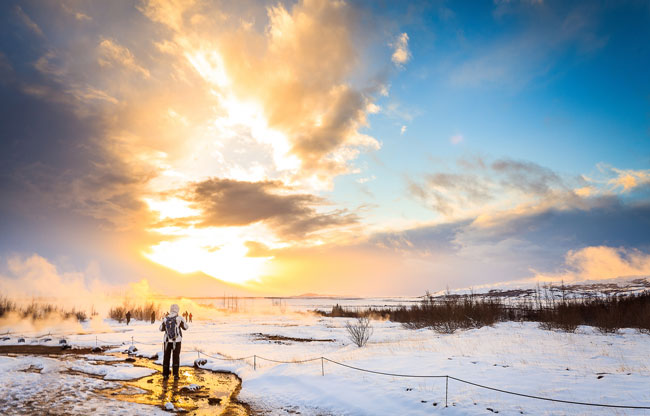 Many know Iceland as the Land of Fire and Ice – and it's easy to see why. Towering mountains, soaring waterfalls and bubbling mud are everywhere. If you're looking to experience the best of Iceland, or only have a short amount of time to see the country, the Golden Circle is the perfect road trip.
To get to the Golden Circle, you have a few options. Many different tour operators run excursions to the Golden Circle from Reykjavik, either general (such as seeing the whole Golden Circle) or specific (like scuba diving in Silfra). These can get pricey, but if you'd rather have all the logistics taken care of for you, they're a great option.
Driving the Golden Circle in Iceland
If you're more interested in the adventure, it's best to rent a car or van and drive the Golden Circle yourself. It can be done in as little as a day, but it's worth spending more time there if you really want to see and experience everything the region has to offer.
The Rift Between Continents: Pingvellir National Park
The oldest existing parliament in the world first gathered at Pingvellir in 930 AD, and you can see why they were inspired. It opens up into a gorgeous valley ribboned with rivers, streams and waterfalls. The site where the North American tectonic plate meets the European one is located here, and it's a great place to brush up on your geology skills (that is, if you can close your open-mouthed jaw after seeing how beautiful it is.) Snap some photos at the overlook of Pingvallavatn Lake.
While you're at the park, check out the Oxararfoss waterfall, tucked away from the main trail, and walk or drive down to Silfra, where you can catch scuba divers and snorkelers swimming between the tectonic plates.
Continued on next page