Planning a last-minute trip to Florida?
Top Experiences and Tours in Florida:
Where to stay and transportation in Florida:
One of the best getaways for the whole family is a vacation in Florida. There's delicious food, wildlife, history and of course sunny beaches. In Destin, Florida you can enjoy all the fun of the beaches and waterparks without being too crowded.
Top 10 Things to Do in Destin, Florida
For your next family vacation here are the best things to see and do in Destin.
Destin Commons Shopping Area
To beat the heat, an outdoor fountain with ground-level spray heads sends random streams of water for children to run through at Destin Commons, a local shopping area. And the mall's soft playground has marine-themed sculptures for little ones to climb on.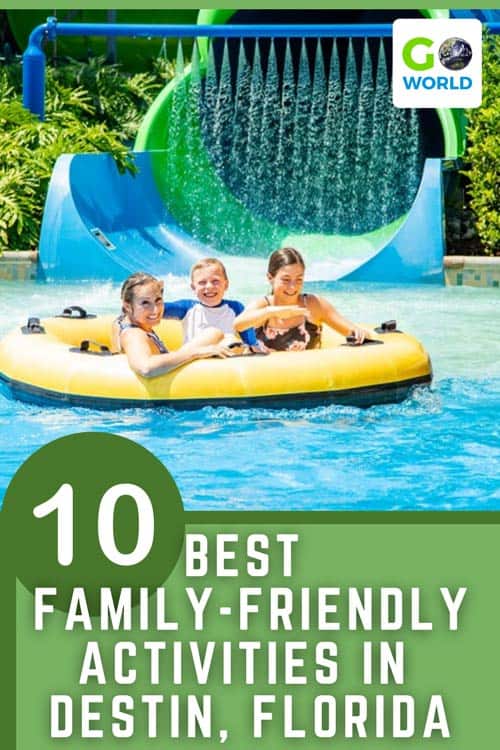 Fred Gannon Rocky Bayou State Park
Twenty minutes north of Destin, visitors can get a look at the quintessential Florida plant and animal life at Fred Gannon Rocky Bayou State Park. The park is centered around Rocky Bayou, an arm of the Choctawhatchee Bay, and includes Puddin' Head Lake, a fragile ecosystem that is home to such fascinating finds as the pitcher plant and Florida anise.
Sandpine Trail here leads to the shoreline, where visitors can view dolphins and otters. Complete with pavilions and picnic areas, the park also has a playground and boating access.
Some useful travel tips for your perfect trip to Destin:
Destin Fishing Museum
Since fishing is part of Destin's heritage, it only makes sense to visit the Destin Fishing Museum. Here you can get a feel for life in Destin in the early part of the 20th century with the oldest seine-fishing boat, The Primrose, built in 1925; historical rods and reels; and photographs. Kids can learn about life in the Gulf through an exhibit depicting the animals and plants that live in the Gulf.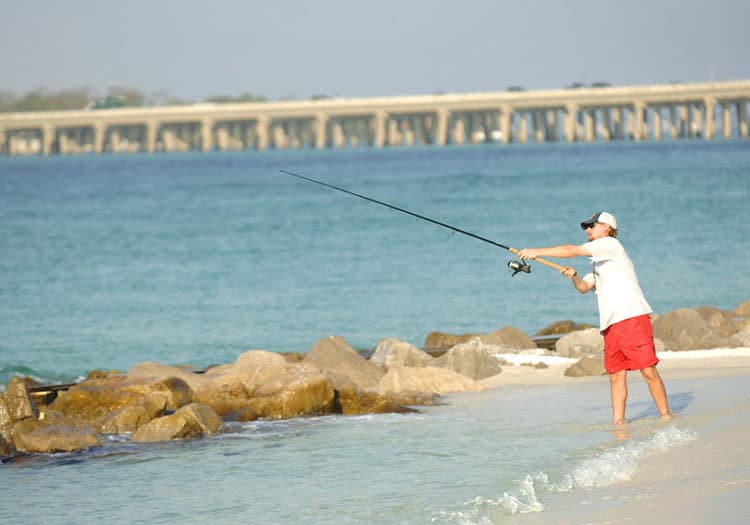 Best Tips & Tools to Plan Your Trip
Gulfarium
At the Gulfarium, a mere 15 minutes west of Destin, children can enjoy live bottlenose dolphin and sea lion shows. River otters, sharks and penguins are also featured in feeding demonstrations held throughout the day. Other animals visitors can view include stingrays, loggerhead turtles and an alligator.
Kids can always learn more about wildlife and world travel with Little Passports. With different interactive lessons from science to culture, children get excited to learn from home with each lesson backpack delivered to your door. Find activity options for your little one here.
The Track Family Recreation Center
For a full evening of entertainment, The Track Family Recreation Center provides activities for all ages. Kids Country features rides such as a carousel, Ferris wheel, a train and swings. Surfin' Safari Golf is a mini-golf course where players will encounter models of jungle animals and attempt to send the ball flying through a waterfall.
The Track also offers go-carts, bumper rides and an arcade. For those who want a little more excitement, thrill rides at the park include a 65-foot-high (20 m) bungee jump and a skydiving crane.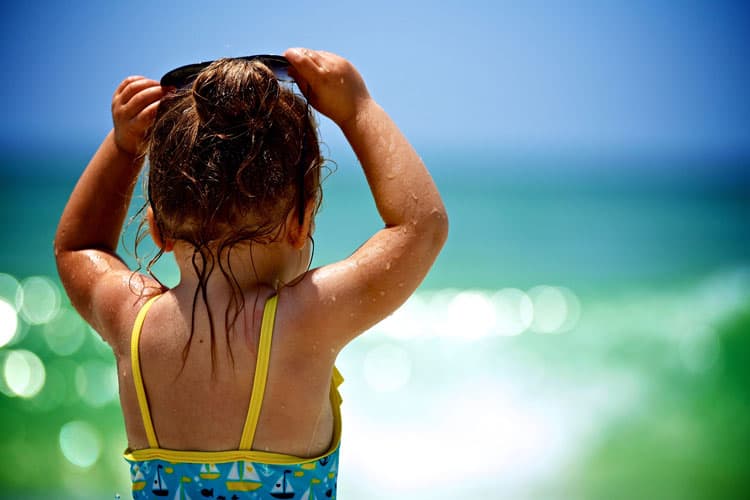 Warm Ocean Temperatures
Children will enjoy the surf with the incredibly warm Gulf Coast waves. With water temperatures averaging 75° F (24° C) and known to surpass 85° F (30° C) in the summer, little fingers and toes won't get chilled swimming.
Even in the evenings, a stroll on the beach with waves playing at your ankles is quite pleasing.
Glass-Bottom Boat Cruises
Several operators offer tours with glass-bottom boats — small boats with a section of glass or other transparent material below the waterline, allowing passengers to observe the underwater environment without getting wet. Trips leave from several of Destin's marinas.
Dolphin encounters, close-ups of marine animals such as crabs and pufferfish, and educational discussions will keep attention drawn throughout the trip. Tours generally last for two hours and, to keep little stomachs from getting hungry, snack and beverage bars are usually available on board.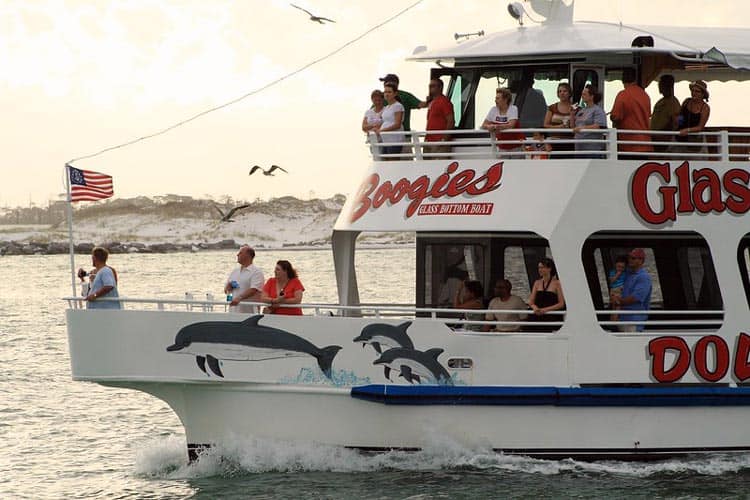 Big Kahuna's Water and Adventure Park
Big Kahuna's is a huge water park with 40 water features, such as Ragin' Rhino Rapids; the Tiki River Run; and Pleasure Island, a paradise for kids, with a pass-through waterfall, floating crocodiles and a water-spraying octopus. A wave pool and fountains add to the fun; off-the-water adventures include go-carts and thrill rides.
Gator Beach
More than 100 alligators reside at A Gator Experience, located at Fudpucker's Restaurant. The site features a secure, open-air pond with a raised dock and a bridge, where visitors can feed "gator bait" on a pole to the reptiles.
Particularly adventurous children have the opportunity to pet a live alligator held by a professional handler during an interactive presentation on the dock. Don't worry, Mom and Dad — the animal's mouth is securely taped shut. A wildlife exhibit area is also part of the experience.
White Sand Beaches
Destin's beaches are a fine, powdery white sand that is actually Appalachian quartz. It is soft and warm and will tickle your toes as they sink into it.
These brilliantly white beaches are part of the 24-mile (38.6 km) stretch considered the Emerald Coast, which also includes Okaloosa Island and Fort Walton Beach. The feel and look of the beaches create an oceanside paradise.
Make the most out of your family getaway by getting a beachfront room or an insider opinion on the restaurants in the area. Check out Travelocity and TripAdvisor to find that information and the best flight deals, hotels and rental car options in Destin, Florida.
Inspire your next adventure with our articles below:
Author bio: Sheri Thompson