You've been to Disney World. You've seen Miami. Next time you're traveling in Florida, why not try something new? Citrus County, Florida offers visitors an experience no other county in the nation can. It's the only place in the entire United States where it is legal to swim with West Indian Manatees.
Where to See Manatees
Wait, did we say manatees? Yes, we did. When many think of entering the water to encounter aquatic life they imagine dolphins, sharks or stingrays. In Citrus County, you can get up close and personal with the gentle giants of the sea, the curiously sweet manatee.
Manatees can weigh up to 1000 pounds, but don't let that scare you. They are graceful despite their size and are incredibly playful. They love to somersault through the warm gulf waters and have even been known to swim on their backs. Manatees can be shy, but their curiosity often gets the best of them. They have been known to gently rub against swimmers.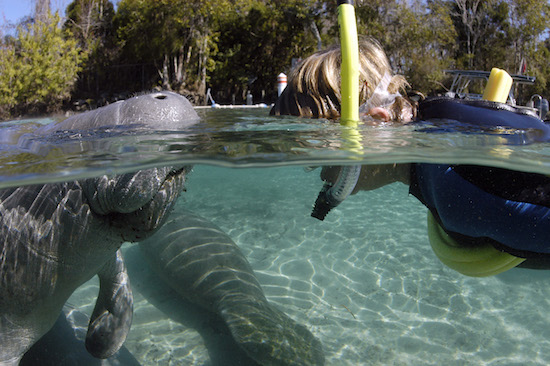 The best place to encounter the manatees is Three Sisters Springs, the only spring in Citrus County that is accessible by land. If you're up for a boat ride, you can visit the other springs to get a more private manatee experience. Either way, you're going to want to head down during the winter months. As the waters cool, the manatees return to the warm springs of Citrus County. It's during this time that visitors can experience the magic of the manatee, and maybe even encounter a baby or two along the way.
Florida Manatee Festival
Citrus County hosts the Florida Manatee Festival each January, an annual celebration of all things manatees. During that time you can experience the manatees themselves, as well as live music, art and food from the surrounding community.
Manatees are not all that Citrus County has to offer.
Hamosassa Springs State Wildlife Park
Hamosassa Springs State Wildlife Park is a great place to get lost. This area is home to all kinds of wildlife, from Yuma and baby panthers to even more manatees. There are tours, both by boat and land, and a visitor's center that will teach you everything you need to know about the county. Bird watchers will love this area, as it is home to whooping cranes, eagles and every color of bird imaginable.
For a more land-based adventure, check out the towns and cities that make up Citrus County. You can travel by car, but if you want the full experience, explore these cities by bike. Many feature trails that will let you see the natural beauty of the towns while exploring the cultural and historical sites.
Floral City, named after the wildflowers that bloom there, is as rich with restaurants as it is history. If you're looking for a taste of old Florida, Floral City is just the place. The shopping in this city is plentiful, with many small boutiques you can only find here.
If you're looking for small town charm, try Inverness. Many of the cities historic sites, including the Courthouse Square, have been persevered, providing visitors with an experience straight from a schoolbook about the old south.
Crystal River, home of the manatees themselves, is also a great place to experience the rich history of Citrus County. Visit the Crystal River State Archaeological Site, a Florida State Park, to see what remains of the Calusa Indians. This Native American tribe traveled to what is now Citrus County in 200 BC. The temples, trails and architecture left by these people can be explored only in the six-mound complex located within Crystal River State Archaeological Site.
No matter where you are in Citrus County you can enjoy the natural splendor provided by this well-preserved area.
If You Travel in Citrus County, FL
Citrus County is accessible from Tampa, Orlando and Gainesville. Driving directions can be found on the Citrus County Visitors Site. Citrus County offers manatee encounters by kayak, canoe and paddleboard, but you can also visit the animals on your own. If you want to swim with these gentle giants, consider getting a guide.
For more information visit https://visitcitrus.com/