When most folks think of Louisiana Cajun Country – if they think of it at all – it's probably Lafayette, Louisiana.
Yet Lafourche Parish, just 45 minutes west of New Orleans, is a more accessible, more authentic Cajun experience than its more well-known and commercial cousin several hours away.
Louisiana Cajun Country: Lafourche Parish
Though it's not that far from New Orleans, Lafourche Parish is very different from Bourbon Street, beignets and bar stools.
This is real Bayou Country, where the 106-mile-long waterway defines everything affectionately called "the longest main street in the world."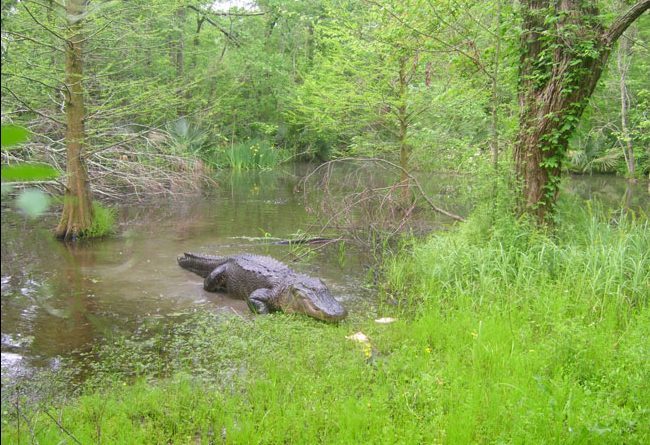 In answer to any question involving directions, it's either up the bayou, down the bayou or across the bayou.
This is laid-back shrimpin' country where when you say, "See you later, alligator," you mean an actual alligator!
We learned all about Louisiana's alligators when we rode on an airboat, a combination of a large rusty old rowboat with multiple mismatched seats at varying elevations on an otherwise unidentifiable Rube Goldberg contraption.
With Captain Jeremy presiding, we went on a thrilling ride in, around, along, through and over the extensive native greenery and wetlands at 40 miles per hour.
Stopping along the way to see bald eagles, herons, egrets, ducks, nutria (a type of semi-aquatic rodent heretofore unknown to me) and, of course, alligators.
First, we communed with Big Al – a 13 1/2′ gator weighing in at 1000 pounds. To accentuate his largess, Jeremy picked up his tail as well as his very large pointy-nail four-toed foot to further illustrate how close they've become over the years.
Big Al barely flinched.
Then Big Al's buddy, Sneaky, upstaged him by practically joining us on the boat as Jeremy deposited bits of chicken into his very large and very menacing mouth.
A bit further down the bayou, Brutus came when called. Okay, so he knew there was chicken waiting, but still…
Cajun Country Culture in Louisiana
Being Cajun means something different depending upon whom you ask. First, it's the proud heritage imbued by the French Acadians who settled here in the 1750s when driven out of Nova Scotia.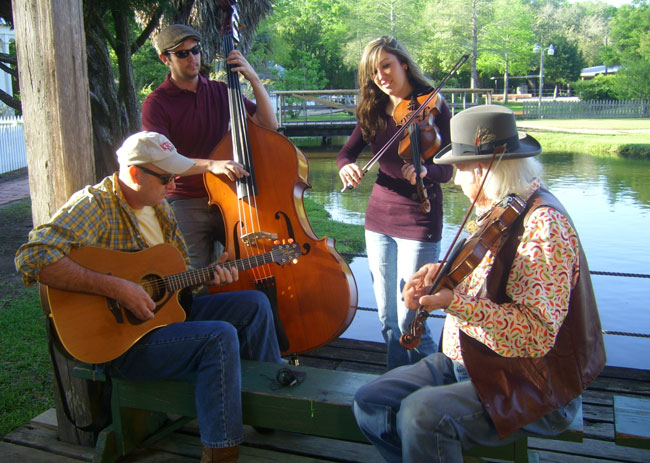 For others, it's the food – the special gumbo (no okra – that's New Orleans Creole style) but always served with potato salad.
That and catfish chips. Often, it's the music – old-fashioned accordion, fiddle, guitar, and triangles, slightly different than New Orleans Zydeco.
Of course, it's also the bayou way of life – fishing, shrimping, and oystering. It could also be the long-time reliance on the sugar cane industry which thrived for generations making rum and molasses.
And always, Cajun culture in Louisiana means southern hospitality taken to extremes; the sense of community, the emphasis on family and values.
Cajun Country is one of the few local societies from which the young folk are not moving away; they're just moving down the street.
And to the visitor, Cajun Country might just may be the ubiquitous nature of crayfish, the unique accent and the prevalence of white rubber shrimp boots, known locally as Cajun Reeboks.
As one local explains: "Our Cajun runs just a little bit deeper than the rest of the state, and it shows up at every bend in the bayou."
Wetlands Acadian Cultural Center
The Wetlands Acadian Cultural Center explains all this in a rich tapestry of exhibits which bring Cajun Country to life.
The center relates the history, lifestyles, traditions, aided by films, interactive programs, walking tours, boating expeditions, and weekly gatherings of French descendants who share coffee and conversation in their native language.
Another throwback into sugar cane history comes compliments of the Laurel Valley Village and general store, the largest surviving sugar plantation complex in the United States – where sugar cane is still farmed today.
The general store alone, built in 1905, merits a trip to Lafourche Parish. An eye-widening assortment of a wide variety of old – and odd – objects many of which are delightfully unidentifiable.
From edibles such as pickled quail eggs, jams and jellies and homemade pralines and dilly beans to old walking sticks, corn husking machines, cane harvesters and tractors.
The multiple shelves were a jumble of thousands of items from saws and knives to cavalry saddles and sewing machines, water pumps and deer antlers.
It was hard to know what most of them were, but don't even think about wanting to buy any.
These are living remnants of a storied past and the history is to be preserved. The earrings, photos, and dried flowers, however, are for sale.
And then we stepped outside. Antique engines and farm equipment were everywhere.
I felt like I was engulfed within a metal jungle and the other-worldly iron dinosaurs were on the attack.
I could do nothing but shake my head at all the personifications of a 250-year-old industry.
A couple of miles down the road are 55 original buildings dating back to the 1840's, most of which functioned as slave quarters for the 135 slaves working the sugar mills.
Unfortunately, nothing is identified and invaluable history is lost among the decrepit remnants of the buildings themselves.
Donner-Peltier Distillers
More recent history, still enmeshed in Lafourche's sugar cane and other local products, can be found at Donner-Peltier Distillers.
It opened in 2012 after two local doctors, whose families had been in the sugar industry for years, were sipping rum while vacationing together with their wives.
Said one: "I have sugar cane in my backyard; why is no one in Lafourche making any rum of its own?" Several years later – after thorough and thoroughly enjoyable research into the rum industry – they opened their own distillery.
They use only Louisiana products in their rum, vodka, whiskey, and gin, which are now distributed in 11 states and Canada.
Sugar cane from across the street is used for their rum, local long-grain rice for the vodka and Satsuma oranges in the gin – the only distillery in the U.S. to do so.
Tours and tastings of these very unusual products are available, and like the alligators, the metal stills also have names – Betty produces vodka, Veronica gin and Stella whiskey.
I was happy to sample them all.
Center for Traditional Louisiana Boatbuilding and Museum
More Cajun history can be found at the Center for Traditional Louisiana Boatbuilding and Museum in Lockport.
It celebrates the Pirogue, a long, thin boat made from Cypress trees with which Acadians have traveled the Bayou for centuries –and which, like the sugar cane, is still being made today.
Resident boat maker, Ernest Savoie, demonstrates the labor intensive artistry employed in constructing the boat by hand. He also talks about his French heritage harking back to Nova Scotia.
His pride is evident as he relates that he was born into a family that extended along three blocks. Again, it's all about family! And building his pirogues is keeping that culture alive.
Mudbug Brewery
A de rigueur stop at the Mudbug Brewery encapsulates Cajun Country.
Those previously mentioned white shrimpin' boots are so much a part of the culture that the Brewery even has an ale named after them — White Boots Ale.
My favorite, the coffee-tinged Cafe Au Lait beer recalls the famous beverage accompanying the even more-famous beignets at the Café du Monde.
And during Mardi Gras, their King Cake Ale is an especially big seller. How can you not love Cajun Country when a brewery alone epitomizes its culture?
If You Go to Cajun Country
For more information about Louisiana's Cajun Bayou, visit www.lacajunbayou.com or call 877-537-5800.
Author Bio: Fyllis Hockman is a multi-award-winning travel journalist who has been traveling and writing for over 30 years — and is still as eager for the next trip as she was for the first. Her articles appear in newspapers across the country and websites across the internet.