Editor's Note: We're all dreaming of travel ahead. Here's some inspiration for future adventures. We share places, products and activities we recommend. If you make a purchase using a link on our site, we may earn a commission.
Italy's Capri is best known as a fashionista's paradise and a top travel destination frequented by celebs such as Gwyneth Paltrow and Beyoncé Knowles. But if you wander beyond the labyrinth of lanes flanked by boutiques like Dolce & Gabbana and Versace, you can exercise more than your buying power on a variety of challenging hikes.
This Italian isle's pulse-pounding potential is immediately apparent as our ferry from Naples, Italy, approaches the port of Marina Grande. Wedged atop a rocky bluff, above the marina's narrow strip of trinket shops and pizzerias perch the town of Capri—a relatively compact maze of exclusive shops and sidewalk cafes populated by beautiful people who have elevated sweater-draping to an art form.
This is why visiting Italy's Capri should be on your bucket list of travel around the world. In fact, Capri is one of the most beautiful places to visit in Europe and Italy.
Visitors can surmount the slope on foot, but most opt for the funicular, which deposits passengers just below a gracious terrace where bougainvillea-draped columns frame views of stucco houses tumbling towards the coast.
Visiting One of the Most Beautiful Places in Italy
White sails gleam like giant shark fins slicing the surreally teal water, but more ominous still are the formidable cliffs to the west, scarred by a faint zigzag stripe known as the Phoenician Steps.
Until the 1870s, these centuries-old stairs provided the only access between Marina Grande and Capri, Italy's town's more relaxed little sister, Anacapri, where shops are more likely to stock authentic local wares than the latest runway fashions.
These days, a narrow, winding road skirts the cliff face to connect Anacapri with Capri, providing an adrenaline rush of its own, particularly when riding one of the public buses at night, when the world is enshrouded in inky blackness, save for the marina lights twinkling far, far below.
Near the top of a funicular that transports visitors to Capri, Italy, a terrace offers sweeping views of the island. As we round a particularly harrowing bend one evening, even a jaded-looking local is moved to make the sign of the cross, though she coolly attempts to disguise the gesture as a hair toss. 
Perhaps the Phoenician Steps aren't such a bad alternative, after all, we reason—at least when attempted in broad daylight (and headed down, rather than up). So we find ourselves at the top of this daunting and seemingly endless staircase, with the colorful fishing boats of Marina Grande bobbing 200 meters below.
Lizards scamper with enviable ease between the big stone steps, rustling among dried leaves and disappearing into weeds, but we're soon huffing and puffing, our thighs and lungs burning.
Towards the bottom, as the steps level out into an alleyway leading into town, we encounter a British couple, already red-faced and panting as they begin the ascent.
"How far to the top?" the wife asks plaintively. "Did you bring a sack lunch?" I reply. Her husband—clearly the instigator of this little adventure – stares daggers at me as I urgently attempt to blink a Morse-code message to his wife: "Forget what Nike says! Just DON'T do it!"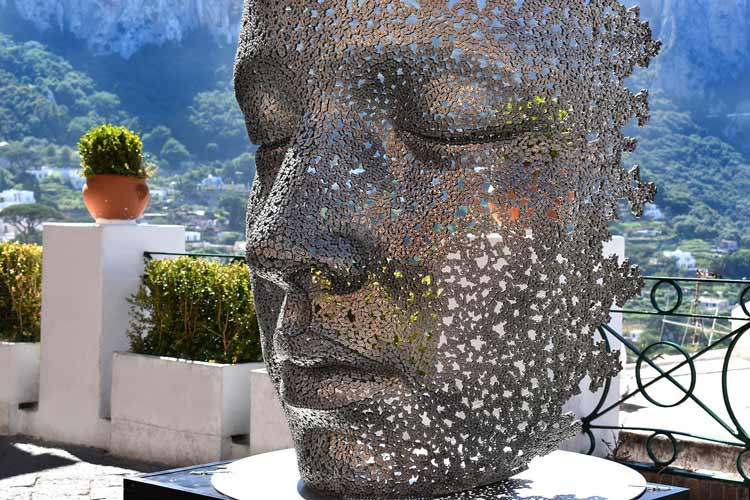 But hubby, undeterred, sweeps her along, and if they made it, they must have experienced a sense of satisfaction at least equal to our own. If we could survive these sadistic steps, then surely we had bested the biggest challenge that "Stairmaster Island" (as my husband Scott nicknames Capri) could boast.
At least, that's what we thought until we undertake the Sentiero dei Fortini, a rocky path linking the ruins of several Napoleonic-era forts along Capri's wave-lashed west coast and a top travel destination in Europe.
We begin with lunch at Add O'Riccio, a friendly little restaurant overlooking the Grotta Azzurra, a cave renowned for reflecting the ethereal blue light of the sea.
We had hoped to take a boat tour of the cave. Still, the water is too choppy, so after sharing a hearty plate of cheese ravioli and a super-sized Caprese salad ("Grande, like me," jokes our diminutive waiter), we set off towards the fort course a couple of hundred meters down the road.
Minutes after descending a short flight of steps to the dirt trail, we're rewarded with a glimpse of Orrico, the most impressive, in my opinion, of the three forts along the way.
Travel Guide: Exploring Capri Italy's History
This orderly stone semi-circle seems to have grown out of the jagged precipice upon which it presides, like neatly ordered molecules forming spontaneously from natural chaos.
Though the fort is open to the sky, intriguing features like a brick fireplace remain, and it's easy to imagine British soldiers gazing pensively out to sea, eyes straining for any sign of the French fleet, who did indeed take Capri in 1808. (The island was returned to the Kingdom of the Two Sicilies in 1813).
Get a little deeper knowledge from Capri locals by knowing Italian. Babbel has virtual Italian lessons for every level and has new deals all the time. Check our their languages and lesson options here.
Continuing onwards, we pass through a cool forest, where pine needles deaden the sound of our steps. Soon thereafter, we're evicted into a gray moonscape, clambering over rocks, in and out of gullies, and past blue-fingered fjords and caves that pluck at the eroding Italian limestone.
Painted ceramic plaques alongside the path illustrate the flora and fauna that hikers might encounter along the way, such as the rather unimaginatively named "wall lizard," the Western whip snake ("not poisonous, but prone to bite"), and, somewhat improbably, the Moray eel. If I find myself face to face with an eel, I think, something will have gone drastically, horribly wrong.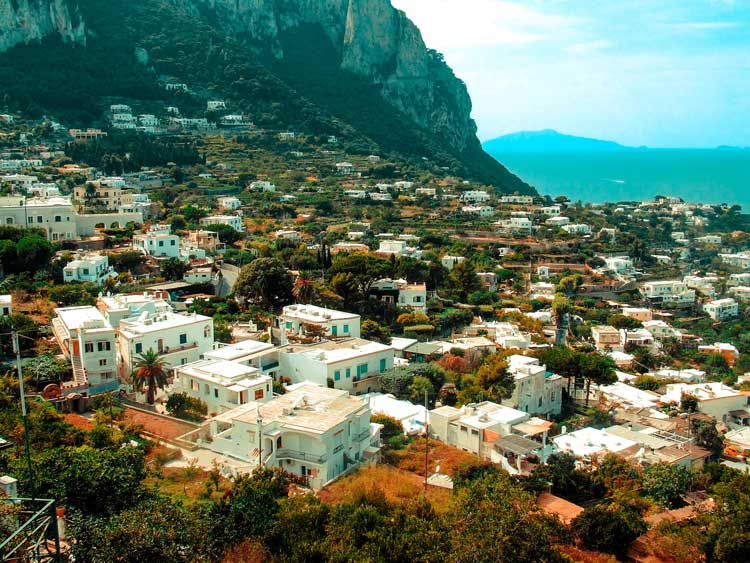 Cringing at the unwelcome sound of thunder, I observe that a storm must have been coming. "Or," Scott whispers ominously, "Could it be cannon fire?" Thankfully, the storm (or the French invasion) holds off, and we live to hike another day, choosing a trek to the Arco Naturale—a massive natural stone arch on the east coast—as our grand finale.
It's possible to reach the arch via a relatively short walk from Capri town along the Via Matermania. But we're seduced by the more scenic, albeit longer and more arduous, Via Pizzolungo, which flirts with the southeast coast.
This undulating route proffers fantastic views of the Faraglioni–an array of thrusting pinnacles just offshore—and winds past the Grotta di Matermania, a horseshoe-shaped cave that may have played host to ancient fertility rituals. After a final ascent and a jog past the strategically placed Le Grottelle restaurant, we descend one last staircase to view the Italian arch itself.
Rough and unpolished, it shines golden in the sun, offering a keyhole view of the aquamarine sea. As the gray skies that had beleaguered us begin to clear, a rainbow forms just beyond the arch—a celestial confirmation that we're gazing at one of Capri's greatest treasures, a priceless view on an island of big bucks and bling.
Travel Tips on How to Get Around Capri, Italy
From Naples, it's a short taxi or bus ride to Molo Beverello harbor, where you can catch a ferry or jetfoil to Capri. Note: Cars are severely restricted on Capri, but it's easy to get around using public buses or taxis.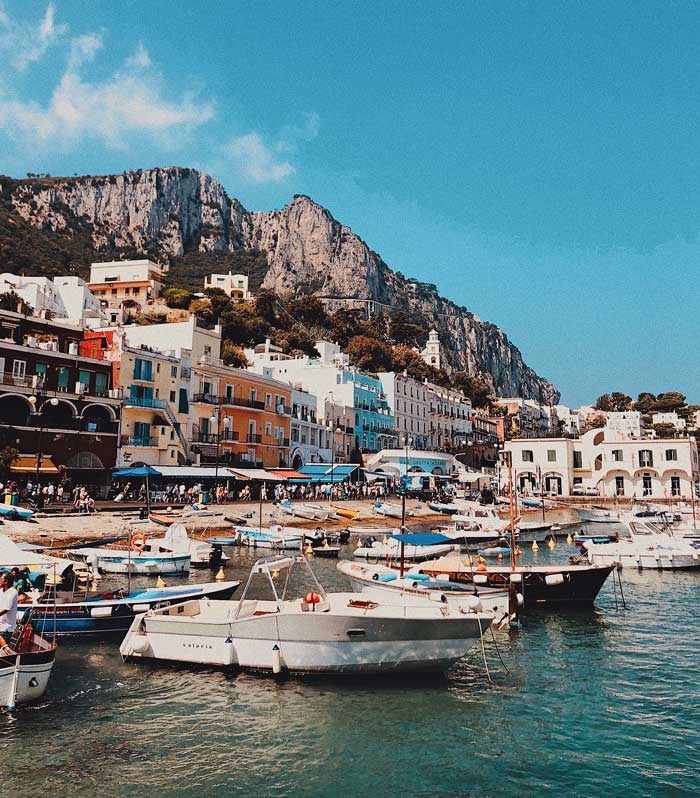 More Walks and Hikes to Discover in Capri
Via Krupp: Viewed from above, this route, with its hairpin turns carved out of a steep stone slope, resembles a mouse maze as it winds down to the beach at Marina Piccola.
Monte Solaro: You can hoof it to the peak of Monte Solaro, the highest point on the island, in about an hour and a half—or take the chair lift, which hoists you to the top in just over ten minutes. You'll be rewarded with 360-degree views of Capri.
Villa Jovis: The route to this crumbling Roman villa, built for Emperor Tiberius, leads through a quiet residential area on the outskirts of Capri town. The 45-minute walk becomes quite steep at the end, but the stone and brick ruins command a panoramic vista of the Amalfi Coast that is well worth the effort, and the € 2 admission.
The Hotel Caesar Augustus in Anacapri is one of the island's best places to view the sunset. Cocktails in hand, guests gather to gawk at the flaming spectacle reflected in the mirror-like surface of the infinity-edge pool.
Where to stay in Capri, Italy
Hotel Caesar Augustus is balanced on a clifftop 1,000 feet above the Bay of Naples in Anacapri, this Relais & Chateaux property encompasses 55 rooms and suites, an elegant bar and lounge with a fireplace, candlelit restaurant, two-tiered infinity pool, alfresco fitness area, and steam bath. Cascading terraces offer spectacular sunset views towards Mount Vesuvius and is a favorite of honeymoons. 
The Capri Palace, Via Capodimonte. The hotel, which includes 79 rooms and suites in Anacapri, is renowned for its Michelin-starred restaurant, L'Olivo, and spa, The Capri Beauty Farm, whose fans include Gwyneth Paltrow.
Grand Hotel Quisisana. Via Camerelle. With its coveted cocktail terrace in the heart of Capri, a pair of swimming pools, tennis courts, and spa treatments, this 150-room, 19th-century grande dame has wooed celebs like Sting and Tom Cruise.
Best time to go to Capri, Italy
For the best time to experience one of the most beautiful places in Europe and around the world visit between April and October, as many hotels and restaurants close in the winter.
For more information on Capri, Italy: www.capritourism.com 
Find expert guides, local knowledge of Capri and unique tours here through GetYourGuide.
Author's Bio: Amy Laughinghouse is a freelance writer living in London. Follow her on Twitter at @a_laughinghouse.