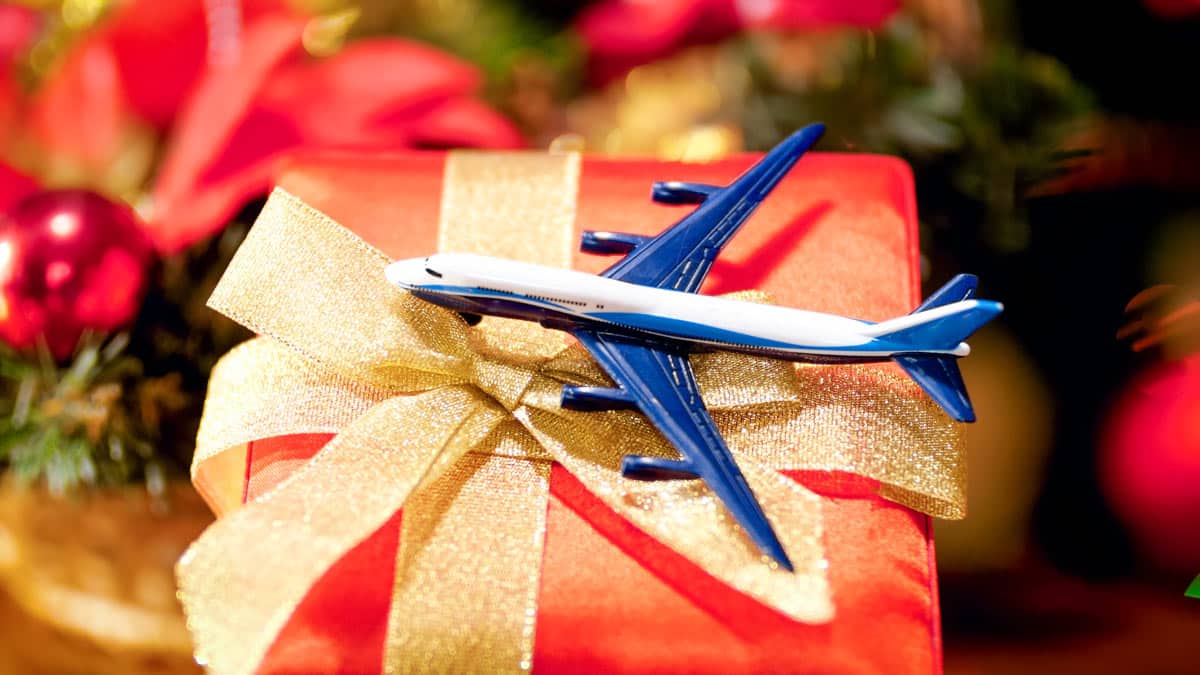 Editor's Note: We share places, products and activities we recommend. If you make a purchase using a link on our site, we may earn a commission.
Travel-themed gifts not only make great holiday or Christmas presents but they are the perfect boredom busters for kids, tweens and teens! We've done the research for you and combed through the best travel gift ideas all available on Amazon to make your holiday shopping a smooth ride (pun intended).
From fun soft blankets to cozy travel pillows to the most engaging board games and card games, these travel gift ideas will keep kids of all ages entertained whether you are traveling by air or hitting the open road. Here is a list of the best travel gift ideas for little ones, kids, tweens and teens.
Best Travel Gifts and Travel Toys for Little Ones
Little Passports: A Global Adventure Subscription Services for Kids
This award-winning subscription service offers a plethora of products designed to inspire kids of all ages to learn more about the world and the world around them. The monthly subscription includes sets including Early Explorers, World Edition, USA Edition, Science Junior and Science Expeditions.
Available at LittlePassports.com starting at $15.90
Meland Kids Camping Set with Tent—Camping Travel Gear Tool Pretend Play Set
This toy camping set is perfect for pretend play and practice for little ones to get ready for that family travel camping trip whether it's in the backyard or part of a road trip. Meland Kids Camping set includes 45 pieces including a tent, lantern, binoculars, cooking stove, pretend food and more!
Available on Amazon here – $29.99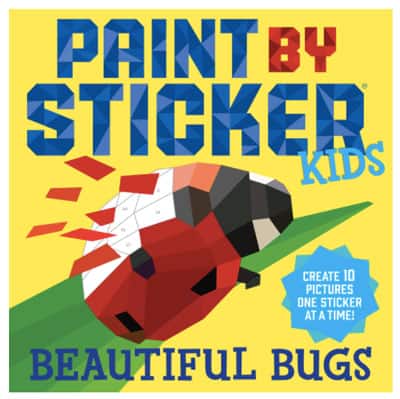 Paint By Sticker Activity Book for Kids: Beautiful Bugs
Keep little ones busy on the plane, train or back of the car with this activity book that allows kids to paint 10 bug pictures with stickers! The best part about activity books that allow kids to paint by sticker is—no mess!
Available on Amazon here – $8.48
Ourlife Kids Camera, Selfie Waterproof, Silicone Handle Digital Camera
If you've ever been uneasy about handing over your phone camera to a toddler or a kid then you are not alone especially if they are anywhere near a pool. Hand them this waterproof kids camera instead and allow their inner travel photographer to come out. This digital camera has a recording time of up to two hours and silicone grip handles. The waterproof case means kids can capture incredible video and images underwater up to 100ft or 30 meters. (For kids 3-6+)
Comes in blue and pink and is available on Amazon here – $45.99
High-Resolution Compact Binoculars for Kids
Kids cannot wait to get their hands on these high-resolution binoculars that are perfectly designed for small explorers. Light-weight and ergonomically designed to fit into small hands, these binoculars are safe and make a great gift for kids ages 3-12 that want to get a birdseye view of the outdoors.
Available on Amazon here – $15.99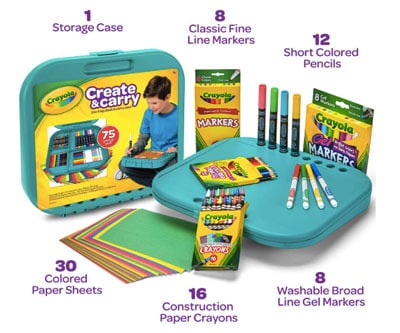 Crayola Crayons Create 'N Carry Art Set
Keep that creative kid entertained on the next road trip or on that next flight with this 75-piece set of Crayola Crayons. This set features a 2-in-1 art storage case with a lap desk and plenty of art supplies on board for inspiration!
Available on Amazon here – $12.99
Gift Ideas for Tweens, Teens and Kids of All Ages
Skillmatics Guess in 10: Animal Planet Card Game for Little Ones and Older Kids
Who says education can't be fun? This road trip card game is guaranteed to keep your whole brood entertained while you hit the open road. Try and guess the animal based on 10 simple questions. The first one to correctly guess 7 answers wins!
Available on Amazon here – $13.99
Icewater 3-in-1 Smart Water Bottle with Bluetooth Speaker, Dancing Lights and Hydration Reminder
This 100% BPA-free water bottle makes staying hydrated more fun. This 3-in-1 feature includes up to one-hour of glow time, a portable wireless Bluetooth speaker, dancing lights mode and more! Comes in a variety of colors.
Find it on Amazon here – $19.99
Foldable Kids (and adults) Travel Tray for Airplane/Cars/Train
Don't leave home without this travel tray! Perfectly fits on most airplane tray tables with straps to keep it locked in place. This tray table is light, compact and easily folds for storage. Comes in two colors: gender-neutral gray/green tray.
Available on Amazon here – $23.95
Travel Backpack with USB Charging Port
Complete with all the bells and whistles including water-resistant fabric, a separate laptop compartment (fits 15.6, 15, 14 and 13-inch Macbook laptops or even a Kindle or iPad), special padding and support to keep shoulders from wearing out and a built-in USB charger outside and built-in charging cable inside to keep your devices from wearing out as well.
Available on Amazon here – $37.99
Animal Travel Pillow/Neck Pillow for Kids—Soft Neck Head Chin Support for Car, Train, Airplane
Perfect for naps and neck support, this cute plush travel pillow/neck pillow is machine washable with elastic fleece fabric. Choose from a variety of animals including a panda, cat, dog, chicken or frog!
Available on Amazon here – $9.99
National Geographic Kids Why?: Over 1,111 Answers to Everything
Got a kid with lots of questions about EVERYTHING? Well, this book from National Geographic has all the answers with the exception of, "are we there yet?" Pack this in your carry-on or be sure to bring along your next family road trip.
Available on Amazon here – $11.25
LEGO Classic Creative Suitcase Building Kit
This LEGO set has everything you would ever want in an on-the-go building. Keep all these 213 LEGO pieces in all colors, shapes and sizes for constructing creative structures in this suitcase building kit. Since these pieces are small enough to present a choking hazard, this set is intended for kids ages 4 and up.
Available on Amazon here – $15.99
Giant Pepperoni Flannel Pizza Blanket
We are betting your tween or teen doesn't have a giant pepperoni pizza blanket to nap under yet. This 60-inch appetizing blanket is made from breathable and lightweight materials but is warm enough to keep cozy.
Available on Amazon here – $18.99
Rotibox Bluetooth Beanie Hat Wireless Headphone
What's better than a beanie to keep your ears warm? A beanie that eliminates the need to wear headphones. Made from 100% soft acrylic, this beanie has a Bluetooth stereo headset built-in and makes a great gift for kids of all ages (adults too!).
The beanie comes in plenty of different colors and sizes and music patch options for discreet style. Perfect for wearing for a run/hike outside, skiing, snowboarding or just when temps dip a little cooler. Also easy to wash!
Find it at Amazon here – $29.99
Best Travel Gifts: Board Games, Card Games and Travel Games
World of Disney Eye Found It Card Game for Kids
Keep kids entertained with this Disney card game that teaches memory and observation skills. Includes 12 Disney realms and kids' favorite Disney characters from their favorite films!
Available on Amazon here – $8.65
Trekking The National Parks: The Award-Winning Family Board Game
This award-winning board game was created by those in the know about National Parks. This board game is ready for the next road trip or upcoming family travel. Re-live your favorite memories from visits to National Parks or simply learn about which parks are still left to explore. This is the perfect gift for the whole family!
Available on Amazon here – $50
Travel Journal for Kids—Fun and Easy Documentation of Vacations and Travel Memoires
You're never too early to start a travel journal or journey for that matter. Kids can create their own travel book with this travel journal for kids that allows them to document up to 60 travel days with guidance through prompts and questions about their family vacation. Kids can also enter dates and destinations with spaces to add photos. The durable clear cover and page sizes of 5.5 x 8.5 allow for quick tuckaway into a carry-on.
Available on Amazon here – $16.99
Need more holiday or Christmas gift ideas? Check out our list of the best travel books to feed your wanderlust.
Author's Bio: Angie Cavallari is a lifestyle & pop culture expert and author of Trailer Trash: an '80s Memoir. She has authored thousands of blogs and articles with some of her work featured in Huffington Post, The Reset, Go World Travel, among others. When she is not traveling, she is spending time with her kids and her precocious pug, JJ.
Latest posts by Angela Cavallari
(see all)