The first tarot card the psychic at Pentagram turned over was a sun, which I was told signifies optimism and success. She then proceeded to tell me I would have several opportunities coming my way soon. One would be career-related; the other not. And a third was going to be a distraction I shouldn't undertake.
Other cards she chose indicated good health and awareness, as well as increasing strength in the wake of grief. She was right on the mark with this one, as my father passed away last fall.
It was an auspicious start to my visit to Salem, one of our country's most historic towns and a destination I had tried to visit twice last year. Three times really was the charm.
Most visitors to Salem are drawn to its well-known witch lore. They come to see the attractions that focus on a very dark period of time in the city's past. Along the way, however, they discover that this special place is a many-faceted destination.
Salem Trolley Tour
For an overview of the town one of the things to do in Salem, Ma is to take a narrated tour on the Salem Trolley. In one hour, you'll get a crash course on nearly 400 years of history. Your guide will point out various buildings, homes, shops and statues, providing context to each.
You'll ooh and aah as you drive by the massive, stately Federal-style mansions in the Chestnut Street District. Designed by Samuel McIntire, known as the "architect of Salem," these handsome beauties are very photogenic.
You'll also pass by the Ye Olde Pepper Candy Shop. Put it on your list to visit. It's the oldest candy store in the country and you'll definitely want a tasty souvenir.
At nearby Winter Island, there are bunkers that stored ammo during WWII, as the place served as a military installation. Get your leis ready as you drive by the island's own Waikiki Beach, sans the tropical breezes.
The Coffee Walk with Salem Food Tours
I also highly recommend doing the A.M. Coffee Walk with Salem Food Tours. Owner Karen Scalia combines her passion for food with history. She gives a great orientation to the city's past and present and is a wealth of knowledge. Karen also has the inside scoop on all things Salem.
You might be surprised to learn that Salem is a town of firsts. The country's first millionaire, Elias Derby, was from here. This is also where Alexander Graham Bell completed the first successful long-distance telephone call.
Additionally, Salem, Massachusetts is the birthplace of the U.S. National Guard and it's where Parker Brothers produced the game "Monopoly."
The Coffee Walk covers Salem's spice history, too – a period that spanned the end of the American Revolution to the War of 1812. Thanks to Captain Jonathan Carnes, who sailed into town from Indonesia with a load of pepper, Salem became the center of the spice trade in North America.
To conclude the tour, you'll visit Salem Spice for a spice and olive oil tasting session.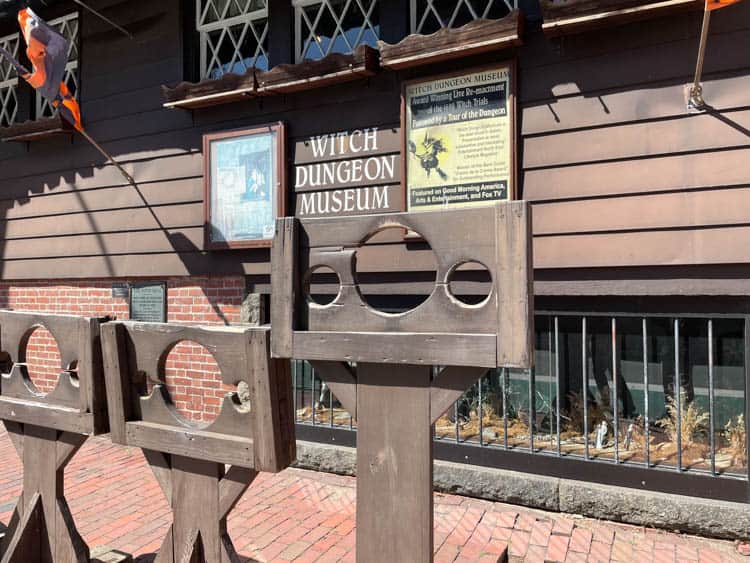 History of the Salem Witch Trials
Learning about the history of the witch trials is one of the top things to do in Salem, MA. Salem's most popular witch trial-related attractions are the Witch Museum, Witch Dungeon Museum, Witch Trials Memorial and the Witch House.
It's hard not to notice the Witch Museum. The building, a historic church, is very imposing. The museum was created to help people understand the true story behind the events of 1692.
The witch trials were incited by mass hysteria among the area's deeply religious populace regarding witchcraft in their communities. Two young girls started the chain reaction after demonstrating uncontrollable fits of rage. A doctor diagnosed witchcraft as a possible ailment.

Fingers were pointed and within months, nearly 200 people were accused of the crime of witchcraft. Nineteen of the condemned were executed by hanging and one was pressed to death by stones. Several others died in prison awaiting their fate.
In the first part of the museum, you'll sit in a darkened room and watch the aforementioned events unfold on life-size stage sets, offering an immersive presentation.
The second part of the museum delves into the development of witchcraft beliefs in Europe and the evolution of the image of witches, then focuses on the terrifying aspects of modern-day witch hunts.
In the Witch Dungeon Museum, you'll observe a live reenactment of an actual Salem witch trial, followed by a guided tour of a recreated dungeon with all its abject conditions.
The Witch House & Witch Trials Memorial
The Witch House is the 17th century home of Witch Trials Judge Jonathan Corwin, who lived here with his family for over forty years. It's the town's only remaining structure with a direct connection to the terrible events of 1692. As such, it's one of Salem's most recognizable and photographed buildings.
Contrary to its name, there were never any convicted or accused witches living in this house. However, the place is rumored to be haunted.
I was most impacted by the Witch Trials Memorial. The memorial is strikingly simple, yet powerful. At the entrance are inscriptions in stone of the victims' protests of innocence. A granite wall creates a perimeter, within which are stone benches bearing the names and execution dates of each of the twenty victims.
It's an enduring tribute to these individuals, who chose death rather than compromise their personal truths.
Find more Salem witch trail tours here.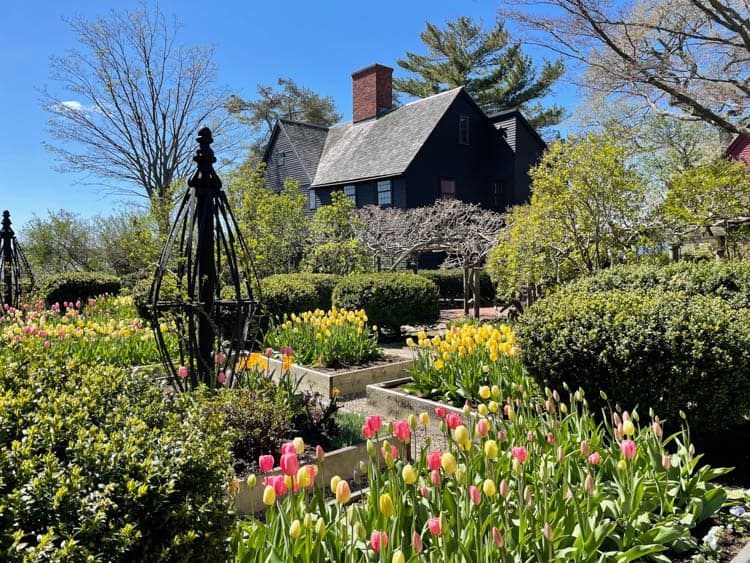 Non-Witch-Related Attractions in Salem, MA
Two of my favorite non-witch-related attractions in Salem are the House of Seven Gables and the Peabody Essex Museum. The House of Seven Gables is a colonial, large timber-framed home (circa 1668) that is best known for being the setting for author Nathaniel Hawthorne's celebrated novel of the same name.
A Salem citizen, Hawthorne spent his formative years living in the community before returning to it later in his life. The town and its history had a profound impact on him and served as inspiration for a number of his books.
Interesting to learn is that the author was so ashamed of his Puritan ancestors and their unsavory actions that he changed his name from Hathorne to Hawthorne to distance himself from them.
The site, which also includes Hawthorne's birthplace, is designated a National Historic Landmark District. Take time to meander around the lush grounds and admire the seaside view.
Centered on the historic East Marine Hall of 1825 is the Peabody Essex. It has the distinction of being the oldest continuously operating and collecting museum in the U.S. possessing a staggering number of works of art and culture, from maritime and American art to Asian and African collections. Furthermore, it boasts the only complete Qing Dynasty house outside China.
The museum's collection of "Salem Stories" is especially noteworthy. It's a compilation of vignettes about the people, places and events that shaped the area, with paintings, manuscripts, artifacts, even a specimen of an ancient leatherback turtle and more.
Salem's Food Scene
You'll definitely work up an appetite seeing all the sights in Salem. Good to know that the town has a vibrant culinary scene. Seafood reigns supreme, which was music to my palette.
Chowder and lobster are mainstays on many menus in town. Red's Sandwich Shop has a Lobster Mania selection, where you'll find this tasty crustacean in rolls, quesadillas, grilled cheese sandwiches, mac n' cheese, on pizzas and in sliders. Decisions, decisions!
I had memorable dinners at both Turner's Seafood at Lyceum Hall and the Adriatic Restaurant. At Turner's, it's all about New England's fresh catch of the day fare. Offerings are extensive with everything from stuffed shrimp and sashimi to fish cakes and crab pie and wine.
Spooky Salem Night Tours
Mediterranean-inspired fare is the specialty at inviting Adriatic. The menu features delicious brick oven pizza, pasta and fresh seafood. After dinner, walk off your meal on one of Salem Night Tours' "Haunt and History Tour."
As we strolled the streets, our guide regaled us with spooky legends and purported hauntings of various buildings in town. It was a full moon that night, which heightened the eerie quality to the experience and upped the goosebump ante.
Find more haunted night tours in Salem here.
Shopping & Sleeping in Salem
You can shop till you drop in Salem, especially if you're looking for magic and occult-themed items, or Halloween merchandise.
Harry Potter fans will want to make a beeline for Wynott's Wands, where handcrafted magic wands have been elevated to an art form. And there's no shortage of psychics in town, who will be happy to do a reading for you.
When it comes to accommodations, you'll be pleased to know that Salem has a variety of options. I chose to stay at the historic Hawthorne Hotel, an iconic, Colonial Revival-style property that has been a landmark in town for a century.
Over the years, the place has attracted numerous celebs and former presidents. But its fame really skyrocketed when the cast of the popular T.V. show, "Bewitched," stayed at the hotel to film scenes for "The Salem Saga."
There are framed photos of the event and even of the menu created by the hotel's chef to commemorate the occasion, with such dishes as Green Goulish Stew (fish chowder), Fried Salamander (fried shrimp) and Eye of Newt Ambrosia (zucchini squash).
If you go:
Start planning your spooky season vacation in Salem today. Get prepared with insider tips on the best sights, VRBO or hotel reservations, local restaurants and more through Travelocity and TripAdvisor. Find the best seasonal flight deals and car rentals with CheapOair.
If you fly into or are staying in Boston you can reserve a relaxing cruise along the Charles River with a Salem Ferry Ticket (1-way or round trip) by GetYourGuide. You can also find more expert-guided tours and spooky activities in Salem here.
More information: www.salem.org
Author Bio: Debbie Stone is an established travel writer and columnist, who crosses the globe in search of unique destinations and experiences to share with her readers and listeners. She's an avid explorer who welcomes new opportunities to increase awareness and enthusiasm for places, culture, food, history, nature, outdoor adventure, wellness and more. Her travels have taken her to all fifty states and nearly 100 countries, spanning all seven continents. Her stories appear in numerous print and digital publications, including Luxe Beat Magazine, Big Blend Radio & TV Magazine, Parks & Travel Magazine, Northwest Prime Time, Northwest News, Santa Fe Fine Lifestyles Magazine, the Edmonds Beacon and Travelworld International Magazine, among others. She can also be heard sharing her travel adventures on Big Blend Radio. Her work reaches over two million readers and listeners, representing a demographic of primarily affluent professionals and active retirees.