On the western edge of Shaanxi Province, smack-dab in the middle of China, lies the city of Baoji. The characters that make up its name are Bao (宝,or Treasure) and Ji (鸡,or chicken.)
Even though the juxtaposition of these two words seems like a non-sequitur, it is quite an apt name. The city is filled with historical treasures but also has a rural, agricultural, chicken-y feel. I learned about the region from one of my students.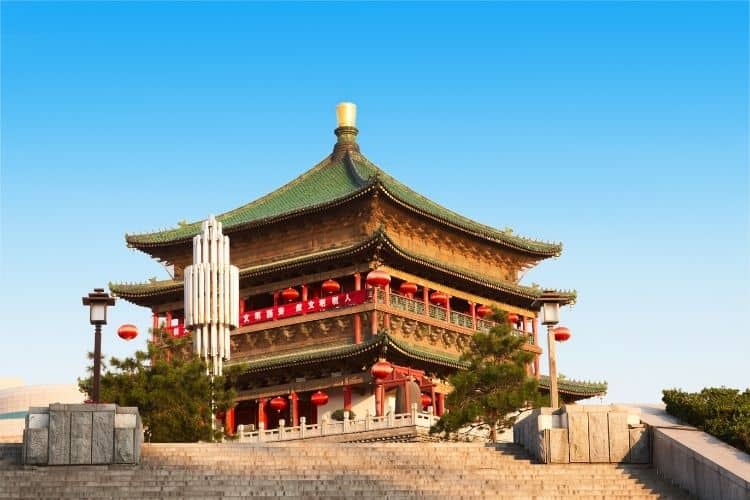 An Introduction to Baoji, China
In 2019, I spent a year teaching English in Xi'an, the biggest city in Shaanxi, China. When I told the class that I was going to visit Baoji during the Chinese National Holiday, one student spoke glowingly of the area. She told me that it is beautiful – filled with waterfalls, grasslands, and a scenic mountain.
She also acknowledged that the people there are under-educated. "I always want to urge them to read more books!" she said. Still, she grew up there, and so she had a deep affection for it. "There, life was simpler," she told me. "It has a slow life pace."
I learned from her that many companies in the town have closed, which is bad for economics, good for the environment. She added, "The air is fresh. Though the county is not rich, people are happy."
Among the top things to see in Baoji are Mt Taibai National Forest and the Baoji Bronze Museum. Because it was raining – autumnal storms famously sweep across the province in October – we skipped the national forest and went to the museum.
Find other ways to immerse yourself in Chinese culture by becoming an Au Pair in China. See all the iconic sites, learn history, make new friends and get paid to work with children while you stay. Find out more about this opportunity to live in China here.
The Baoji Bronzeware Museum
Baoji Bronzeware Museum is a fussy, musty name for the hyper-modern building that housed the artifacts. It was nothing like a regional museum. Set in a park, the stone edifice was boxy and square, like one of the enemy fortresses found in a Bond movie.
Rising out of the formidable cement was something akin to a bronze sundial, cannon, or maybe a package of Ritz crackers. The museum holds an impressive array of bronzes from the Zhou (pronounced Joe) Dynasty.
"Joe" reigned from 1046 BC to 256 BC. This was before the silk road opened to the west. But still, even without global trade, Baoji wasn't a western backwater with chickens and under-educated people.
It had been home to human-like beings who wandered the Shaanxi plains for over 100,000 years. These Neolithic groups made pots, earthen embankments, and many, many spears and arrows.  
The museum's collection focused on the Zhou dynasty's pots. When you look at the pots crafted from the time, the first thing that hits you is the whimsy. Some of the characters would be at home in a video game.
These aren't subsistence pots. These are decorative. The people who made them wanted to create something not just useful, but also beautiful.
Bronze was the dominant material of the time. Bronze is an alloy of copper. Thus, each of the artifacts is marked by a mysterious greenish haze, reminiscent of verdant moss or the angry sea.
The Zhou Dynasty Legacy
The dynasty wasn't just famous for its pots. It was also a time when its leaders began talking about what an ethical government could look like: What do people owe the State and what does the State owes its people? Questions that we wrestle with to this day.
Anxious to get out of the cycle of battles, war, and destruction (witness the many arrowheads and spears that are also housed in the museum), the leaders of the dynasty tried to answer these questions.
Despite the constant wars, this dynasty managed to think about what everyone's responsibility is to their society. Emperors, merchants, nobles – each had a responsibility to the community to ensure that society worked. The Zhou dynasty is arguably the first Chinese dynasty and the longest-reigning dynasty.
Five hundred years later, Confucius and his followers codified these early thoughts about ethics and good government in a compendium of his wisdom called The Analects. 
One of the signs in the museum celebrated this inspiration in a somewhat convoluted way: "Just as what Confucius highly complimented: "How complete and elegant are the Zhou regulations. I'll follow them!" 
Navigating the Baoji Bronzeware Museum
All of the museum's signs are delivered in this whimsically Chin-glish form, making the museum very accessible, even to non-native speakers. The exhibitions lead you in a circle from Baoji's early history, through the founding of the Zhou dynasty, and then to its heights.
Along the way, you can see how the art changes and develops. At the end, there is an exhibit that explains how the bronze pots and creatures were made and describes how this fantastic collection was uncovered.
Three thousand years after the dynasty coalesced, during urban renewal projects of the 1970s and 80s, large stashes of bronze pots were found in cavernous holes, piled up and perfect in their sage green wisdom.
The museum visit finishes with the following wisdom:
"Tracing along the river of civilization and tracking the ancient time, we found the wisdom of our ancestors; admiring these treasures with glory and resplendence, let us once again enjoy the enlightenment of sages: when we finish this visit across time and space, we finally discover that creation is the true meaning of history."
These profound thoughts made me think of another philosopher. This one looked at ancient Greek urns and wondered at the stories they tell. In "Ode to a Grecian Urn," the British poet Keats wrote: "Sylvan historian, who can thus express a flowery tale more sweetly than our rhyme." Baoji's pots too are tiny historians telling a beautiful tale of a forgotten past.
When I dig back into my meager memory of world history (OK, so maybe I did check the internet), I found that 1000 BC was the time of David in Israel and the time of Homer in Greece.
Three hundred years later in 700 BC, Rome was consolidating, and the Greeks held their first Olympics. In 660 BC Byzantium was founded. At the same time, these beautiful little green artifacts were being cast, used, and then discarded on the plains of Shaanxi.  
If You Go to Baoji, China:
Getting there:
The nearest major airport is Xi'an Xianyang International Airport (XIY)
There are many package tours that go through Xi'an because Xi'an is home to the Terracotta Warriors.
Baoji is an easy day trip from Xi'an. Trains leave every 20-30 minutes from Xi'an North Railway station to Baoji and cost about $14.00 round trip. The trip, one way, takes an hour.
Hotels: Although this trip works well as a day trip from Xi'an, there are numerous hotels around the Baoji Bronze Ware Museum:
Holiday Inn Express is about 2 miles from the museum. If you book online it is about $30 and comes with breakfast. Address: No. 23 Jintai Avenue Jintai District, Baoji 721000, China.
Crown Plaza in Baoji's City Center: No. 66 Jintai Road, Jintai District, Baoji 721000, China.
Restaurants near the Baoji Bronze Ware Museum
Chongqing Chicken Pot: A nice choice, given the fact that Baoji's name celebrates the humble chicken. The restaurant's specialty is a pot of chicken and rice. Qing Jiang Road 46, in the Sheng Hua Mansion a Tower, 1st Floor (about 1 mile from the museum).
Xiangnv Jiachu: This restaurant offers traditional Western Chinese fare. No.1 Huoju Road (under a mile to the museum)
Baoji Bronzeware Museum is open daily from 8 am to 6 pm. Price: 10 yuan ($1.50). You sometimes need to show your passport. Address: China, Shaanxi Sheng, Baoji Shi, Weibin Qu, 滨河大道东段中华石鼓园; Phone: +86 917 276 9016
Live and work in China by becoming an au pair in China. Get international au pair experience, enjoy amazing food, explore national parks and more during your stay. Get everything arranged for you by the trusted team at Global Work & Travel. Learn more and plan your trip here.
Author Bio: Wendy Bashant was a dean and English professor in the US for 30 years at places as diverse as Coe College, New College of Florida and University of California, San Diego. She also taught in London and Thailand. Through a Japan Friends Research Grant, she returned to Japan, where she lived as a child. She has published scholarly articles and book chapters in The Pre-Raphaelite Journal and En Travesti: Opera and Gender Subversions (Cambridge UP), and poetry in various "Little Magazines."  In 2019-20 she moved to Xi'an China and taught at Jiaotong University.