Being a foodie, I often structure my vacations around a culinary goal with each meal an event rather than a quick means to satisfy hunger.
In the summer and fall, I search for the perfect New England lunch (or dinner): a succulent lobster roll with a side of coleslaw or steamers, a cup of clam chowder, chased with a frosty root beer or tart lemonade.
Where is the best lobster roll?
My sojourns have yielded the following "best" list. I've included suggestions for where to stay and what to do in the surrounding areas to help you build your own road trip around this New England favorite.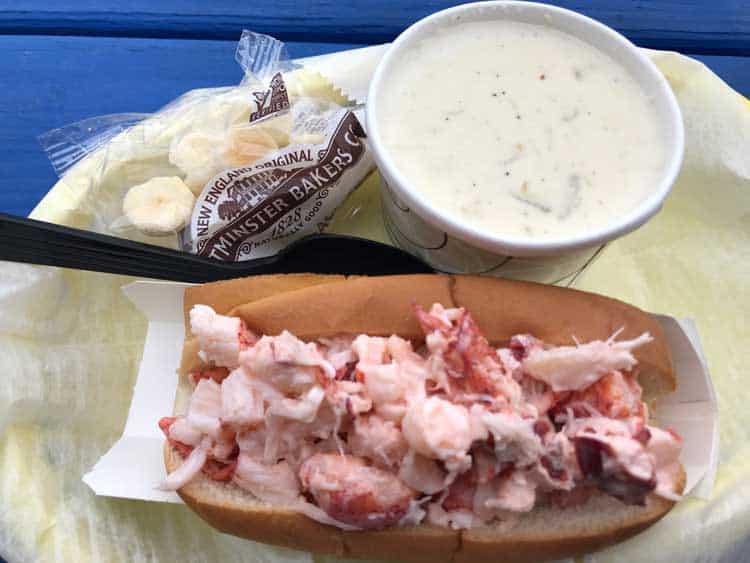 Best Lobster Roll in Massachusetts

Kelly's Roast Beef
No doubt about it. Kelly's Roast Beef is the Massachusetts king when it comes to lobster rolls.
A short drive from Boston, the original (and takeout only) Kelly's on Revere Beach has had long lines since the day it opened in 1951, serving up some of the most delicious "fast food" by the beach.
From memorable fried clams to hot dogs and oversized roast beef sandwiches drowned in a tangy barbeque sauce, everyone loves Kelly's. But, for me, the lobster roll is what brings me back again and again.
On a delicious buttered frankfurter roll, the lobster meat in this sandwich seems to come from at least two whole lobsters and the pickles and chips served with it on the paper plate only add to the appeal.
Book a Stay: Find a hotel in Massachusetts
I suggest you stay in one of Boston's elegant, historic hotels and ride the subway to Kelly's to avoid the crazy traffic to the beach.
The Fairmont Copley Plaza or the Lenox Hotel are well located near the Copley Square T stop and put you on part of the Freedom Trail just behind Trinity Church near the great shops of Newbury Street and the gorgeous architecture and boulevards of Commonwealth Avenue, Beacon Street and Marlborough Street. Both hotels are distinguished by their white-glove service and concierges who can direct you to the best sites of the city.
Best Lobster Roll in Maine
Much as I love Kelly's, Maine lobster rolls deserve to be called the best. Why? They're made with Maine lobsters.
The cold waters here produce the sweetest, freshest lobster you can buy. There's a reason why Maine lobsters are shipped all over the world.
The Clam Shack
The Clam Shack in Kennebunkport doesn't look like much, but the lines in front will tell you that something special is going on here. The shack is set next to a fish store just across the bridge from the town center (you might know the town as the summer home of the Bushes).
There's a stand next door where they make homemade lemonade, step by step, and it's a worthy complement to this sandwich.
You can select to have your lobster roll plain, with butter, or with mayonnaise or with butter and mayonnaise together – others usually come with mayonnaise already mixed in.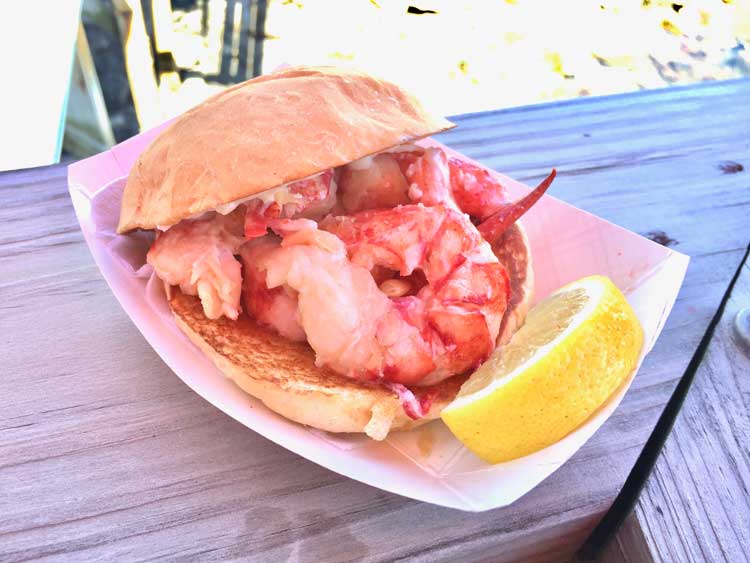 The lobster is taken right from the pot and the lobster roll is just a bit warm. Homemade dill pickles can be ordered to accompany it. There are no seats but most people take the rolls and eat standing on the walkway around the corner while they watch the ducks and seagulls waiting for scraps of bread.
Two inns here provide contrasting luxury. The White Barn Inn & Spa, a member of the Auberge Hotels Collection, offers gorgeous rooms, exquisite dining, a spa and high tea. The Captain Lord Mansion, a historic ship captain's home, is a smaller property with each room decorated in period antiques and furnishings.
After visiting the shops in the center of town, travel East along Ocean Avenue, past the summer "cottages" and various inns to the point where you'll see people gathered along the sidewalk or on the rocks looking out at the point.
Everyone stops or slows down to gawk at the Bush compound, a sprawling home with an array of boats, three flags (Texas, US Presidency, USA) and lots of security.
Red's Eats
You'd have a hard time missing Red's Eats in Wiscasset, as the line in front stretches the length of the bridge. Another tiny shack that dishes out an amazing, meaty lobster roll, this is a "destination" for lobster rolls – you really shouldn't order anything else except their wonderful onion rings. Red's, fortunately, has seating on an outdoor patio.
A choice for traditional inn-style accommodation is the Victorian-style Blackberry Inn in Camden, one of Maine's most scenic towns. There's a nice selection of shops and you can go out on a schooner for a day or sunset sail from the harbor.
For the shopper in the group, nearby Freeport is nirvana with its large selection of name outlets and the flagship L.L. Bean store.
I love Bar Harbor and Acadia National Park on Mount Desert Island. There's no shortage of "lobster in the rough" places in Downeast Maine, as it's called, and each has its own twist on the lobster roll.
Trenton Bridge Lobster Pound
My favorite is the Trenton Bridge Lobster Pound just before the bridge to the island. I was surprised to get a lobster roll served on white bread, not a roll, but combined with just the right touch of mayonnaise and a little lettuce, the bread works beautifully and doesn't camouflage the flavor of the lobster.
This is lobster at its most basic, for sure, with the steam from the lobster boilers hitting you as you sit at the outdoor picnic tables. Freshly brewed ice tea and tangy blueberry pie made with tiny Maine blueberries finish your meal.
If you're into hiking, biking, or just enjoying nature, Acadia National Park is perfection. You can climb Cadillac Mountain (or drive) to watch the glorious sunsets, choose from any number of easy-to-difficult trails, or sunbathe at Echo Lake (warm water) or Sand Beach (freezing water) and see as many or as few people as you choose.
Book a Stay: Find Accommodations in Maine
For a dose of amazing hospitality and comfort, stay at the Ullikana, a distinctive Tudor residence in Bar Harbor dating from 1885. The inn's ten rooms are named after flowers and are furnished with brass beds, claw-footed bathtubs, and colorful wallpaper or hand paintings.
A gourmet breakfast is included. The innkeepers will help you pick out a hike or bike route from their many years of experience.
Tubby's
Make a detour to Tubby's in Wayne before heading South to Portland. A short drive inland from Augusta, the capital of Maine, this ice cream stand with its wide range of unusual flavors offers two sizes of lobster rolls, made fresh on a grilled hot dog bun.
I've never chosen the smaller version because I'll always be a glutton for this lobster roll, one that earns my praise for being the best in Maine. Soak up some true Maine atmosphere as you eat your lobster roll on a picnic table by Lake Androscoggin.
Twin Lights Lobster Shack
The historic port city of Portland is a walker's and eater's dream. There are many restaurants and food trucks where you can have a lobster roll that won't break the bank. For a casual and scenic choice, join the line at Twin Lights Lobster Shack overlooking Cape Elizabeth and the Atlantic Ocean.
Then spend the night in Cape Elizabeth itself at the welcoming Inn by the Sea. All ages will enjoy the stay here with family activities, s'mores around the fire pit, a private beach and warm, friendly service.
An added plus: the Inn's lobster roll is a beauty – it's served on a buttered brioche roll and is ideal for a picnic on the beach. If you're thinking about where to set up your next remote office or home school location, the inn offers discounts for extended stays.