Whatever you are looking for, Stockholm has you covered. Sweden's capital city oozes effortless Scandi-chic with its cobbled streets, an interlaced network of waterways and islands (comprising over 24,000 in the wider Stockholm archipelago), art nouveau design and impressive architecture.
It's got a thriving cultural and arts scene and is compact enough to get around easily. Like its fellow Scandinavian cousins, Sweden has a high cost of living but a commensurately high quality of life. Equally beautiful cloaked in snow or bathed in glorious sunlight, make sure this beautiful city is at the top of your European city break destination list.
What to Do in Stockholm, Sweden
Stockholm has more culture to offer than you can possibly hope to soak up in a long weekend.
There really is something for everyone when it comes to museums. The most popular, rightly in our opinion, is the Vasa Museum. If you only visit one museum during your time in Stockholm, this is an absolute must.
Best Tips & Tools to Plan Your Trip
Home to the prodigious eponymous Vasa warship that sank on its maiden voyage in August 1628, the largely intact hull was raised from the Stockholm harbour between 1959 – 1961. Now thanks to painstaking (ongoing) restoration, we marvelled with our fellow visitors at the elaborate intricacy of the carvings and her sheer majesty.
If historical museums aren't your thing, don't worry, Stockholm has you covered. Top of the list would be the kitsch pop culture of the ABBA Museum or the Fotografiska Museum, home to a stunning collection of contemporary photography, art and culture. It also boasts a fabulous view out over the city from its tower.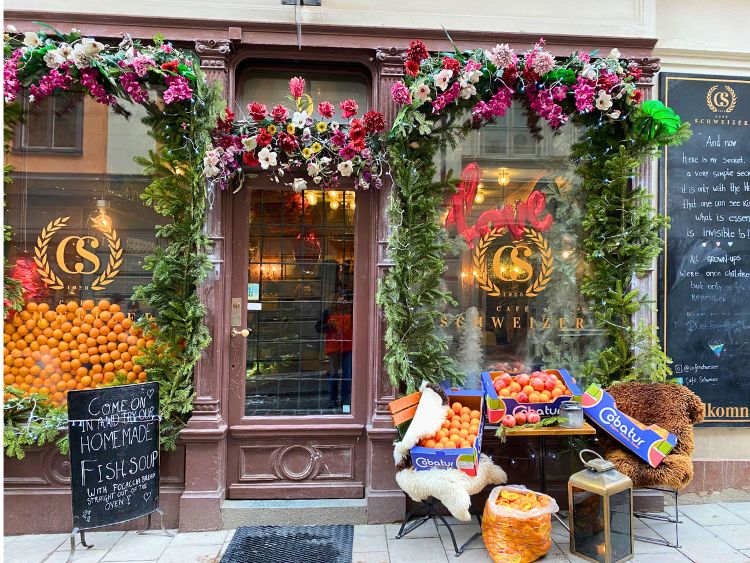 Experience the Beautiful Gamla Stan Island
A visit to Stockholm isn't complete without exploring Gamla Stan, the charming old city located on its beautiful island. You'll know the Stortorget main square when you see if from the throngs of tourists and the beautifully painted buildings lining one of its cobbled edges.
This really is the beating heart of the city. Whilst you will find the expected smorgasbord of tourist tat in the adjacent streets, it is possible to get off the beaten track and wander the quieter cobbled streets for welcome respite from the crowds. During our casual stroll, we stumbled upon the German Church, offering a peaceful pause within its modest baroque interior.
After a long day's sightseeing, where better to relax than Stockholm's Central Badet, an opulent art deco-inspired spa and baths in the center of the city. We particularly enjoyed lying on a recliner overlooking the pool, before taking a turn in its near-deserted waters.
We were told that there is a stunning sunset to behold from the rooftop of the baths. If you are able to find the rooftop, then good effort. We spent some time aimlessly wandering the corridors of the building to no avail.
A couple of top tips – there is a well-equipped gym that is free to use with your entry fee. The saunas are unisex (and nudism is far from uncommon!) It's good to take water in with you as there aren't many water fountains.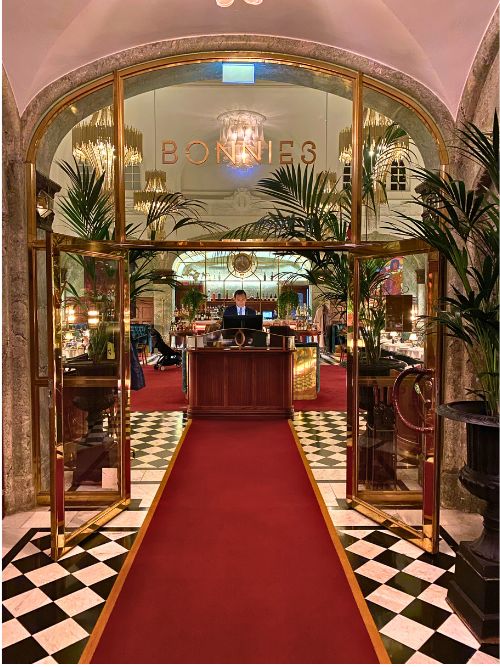 Where to Stay in Stockholm, Sweden
We stayed at the opulent boutique Bank Hotel, with the popular islands of Dujardin. This island is home to museums like the Vasa and the Grona Lund amusement park and Gamla Stan (home to the Stortorget main square and the Royal Palace) just a short walk away. The rooms exude understated elegance and the hotel boasts two bars, including the bougie Sophie's and the elegant rooftop Le Hibou.
For a slightly more budget-friendly option, check out the unique Langholmen Hotel, which offers guests the opportunity to stay in the former prison cells of the Langholmen prison, long since deserted and renovated with a tasteful Scandi-chic minimalism.
For an altogether different experience, why not test out your sea legs with a stay at one of Stockholm's stationary boat hotels, such as The Red Boat.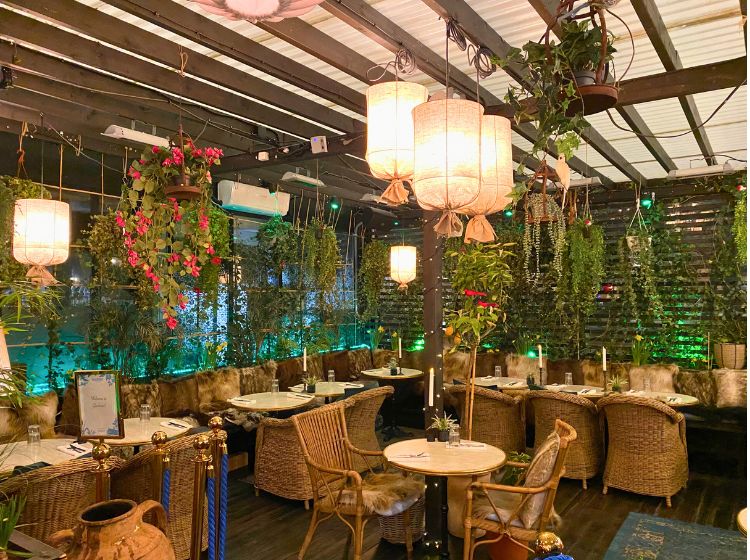 Where to Eat in Stockholm, Sweden
You are spoilt for choice in Stockholm for places to eat. Bear in mind that everywhere carries a pretty hefty Scandinavian price tag.
Fika is a big deal in Sweden, and Stockholmers take it very seriously. "Fika" is a state of mind and an important cultural element of Swedish daily life that perhaps best sums up why everyone we saw in Stockholm was happy and chilled.
It entails taking time out of your day to make time for your friends, family or colleagues, often over a shared coffee, pastry or cake. Suffice to say we quickly embraced the sentiment with open arms and figured that it would be rude not to have at least two fika stops a day. Our favourite spots were Konsthallen, a short walk from the ABBA museum, and Cafe Misteln on the Stortorget main square.
Read More: Book a Stockholm food tour here
Our Restaurant Suggestions
For a light bite at lunch, check out Ostermalms Hallen, an indoor food market that dates back to the 1880s (although it is presently under renovation) which offers plenty of deli and takeaway options.
Just across the street from the Bank Hotel, we had a fantastic Scandinavian-inspired sushi dinner at the Japanska Galleriet. With maybe only 20 seats available in this intimate restaurant, make sure to book ahead. We were very lucky to get a late walk-in table.
On our second night, we stumbled across the Brasserie Astoria. Accessed by pressing and holding the tongue on a brass lion's head on the outside door, you are propelled into the decadent interior of the restaurant. We ate in the bar area on a red velvet semi-circular booth which proved to be an excellent people-watching location.
On our final night, we had an excellent dinner at the Glashuset (glasshouse) restaurant overlooking the water. We shared a selection of Scandi smaller plates, washed down with excellent wine and cocktails from their in-house bar.
Where to Drink in Stockholm, Sweden
For a cocktail with a view, we enjoyed the bird's eye perspective of Le Hibou (but you could also check out the much beloved Himlen) and the waterfront vista of the Glashuset.
In the summer, check out Boule Bar for a drink whilst playing boule or shuffleboard in the beautiful surroundings of the Rålambshovsparken, or Omnipollos Flora for craft beer and artisan pizza.
For a cozy nook, we very much enjoyed the brick-vaulted bar downstairs at Cafe Misteln. This is where many a wheat beer was sunk discussing the day's exploits. An alternative option just around the corner is Pharmarium. This used to be the oldest pharmacy (in those days, an apothecary) in Sweden – dating back to 1575 – but now offers a small and lively mixology atmosphere.
Where to Shop in Stockholm, Sweden
From vintage boutiques, flea markets and the world's largest IKEA, Stockholm has something to cater for all shopping tastes.
We didn't find much time to look in the shops as we were too busy exploring the city.
Head to the Gallerian or Sture Gallerian shopping centres for high street and designer staples. For small independent vintage boutiques, head over to Hornsgatan Street (on Sondermalm). For antiques and older collectibles, check out the trendy Vasastan neighbourhood, or the Hötorget weekend flea market.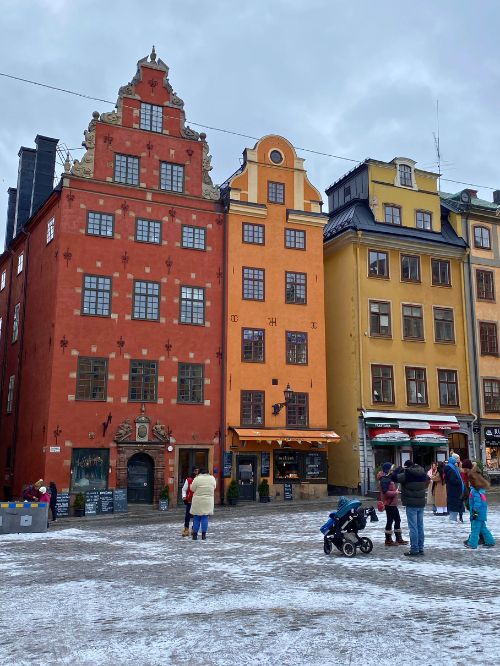 Nuts and Bolts for Traveling to Stockholm, Sweden
What currency do they use?
Swedish Krona
What language do they speak?
Swedish, but English is almost universally spoken
How much should I tip?
Tipping isn't generally expected in Sweden but will always be gratefully received. If you wish to recognise good service in a bar or restaurant, it's generally customary to round up to the nearest "big number." E.g. if your bill is 360 SEK, you can round up to 400 SEK.
What's the time difference?
1 hour ahead of the UK
What's the average flight time from the UK?
2 – 3 hours
How should I get around?
Stockholm's tunnelbana is by far the quickest and easiest way to get around. This is a metro, which is partially underground and partially overground. Alternatively, make your way around the city under your own steam by hiring a bike or walking.
Book a bike tour of Stockholm here
What's the best view?
Although it's only open during the summer, the 108-metre City Hall Tower offers commanding views over Stockholm. This costs 90 SEK (free for children under 11).
If you're feeling intrepid and don't have a fear of heights, then the rather unusual Rooftop Walking Tour is a must.
Insider tip?
Why not kill two birds with one stone and combine your travel around Stockholm with sightseeing? Many of the metro stations house beautiful decorative murals and artistic works. The best of them are featured on Visit Stockholm's official website. The particular gems include T-Centralen, Solna Strand, Mörby Centrum and Hötorget stations.
Read More:
Authors Bio: Tom is a freelance travel journalist based on Jersey in the Channel Islands. His passion is getting off the beaten track to explore places that are misunderstood or not on the average traveler's radar. He loves immersing himself in the local culture so that he can provide readers with an informed narrative about the local quirks of everyday life.