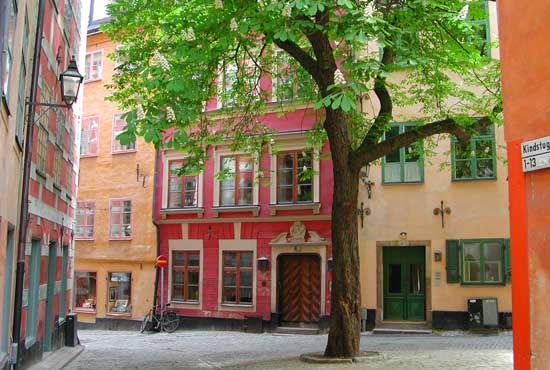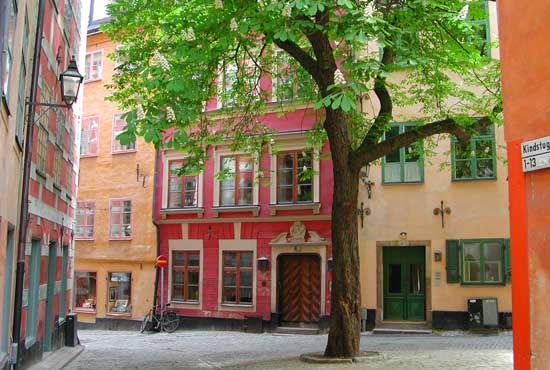 The morning air is still cool, but customers are already seated at Kafekoppen's wooden outdoor tables. I can't decide where to sit, so I stand at the doorway of the tiny café in Stockholm's Old Town and watch as waitresses scurry in and out, their hands laden with pastries and huge cups of coffee.
Tantalizing aromas fill the room's 13th Century interior, and the soft sounds of Swedish echo off the walls. The café is warm and cozy, but it is almost summer in Stockholm, so I head back outside to grab a table of my own.
Although I pull my jacket close, the hearty customers outside ignore the chill. After long months of cold weather and short hours of sunlight, Swedes relish every minute of the light-filled summer months.
I plan to do the same. Sitting back in my rickety chair, I bask in the sun's warm rays and soak in the colors of summer: red and pink geraniums in hanging baskets, lush trees lining the narrow cobblestone streets, and the pale-pink, okra and peach-colored historic buildings of Stortorget, Old Town's main square.
I have visited Stockholm before, but this is my first day of this trip, and I am right where I want to be. Gamla Stan is the very heart of this vibrant city. Stockholm began here on this tiny island more than eight centuries ago. Even today, walking the island's winding alleyways is like walking into the past.
But there is another reason that the island draws me.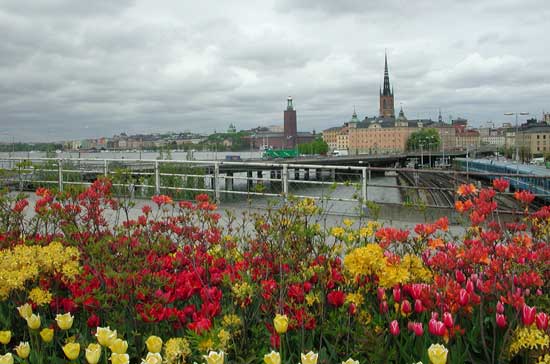 While some consider Paris and Venice the cities of romance, Stockholm has always claimed that title for me. For it was here, walking through the quiet streets of Gamla Stan that I fell in love with Stockholm – and the handsome Swedish boy who first introduced me to this tranquil city by the sea. We spent hours strolling along the water's edge and exploring the area's treasures – tiny shops, cobblestone squares and cozy cafés.
Years have passed since then, and the Swedish boy has since grown to be a man with a life of his own, but this city of 1.8 million has never lost my affections. Like other visitors, I am drawn to Stockholm's quiet nature, friendly, English-speaking residents and unique culture.
The first thing most visitors notice is the city's stunning location. Built on 14 islands that border the edge of a 24,000-island archipelago along the Baltic, Stockholm is a city of water. Bridges (all 52 of them) crisscross the orderly streets, where modern architecture is built alongside Renaissance-era buildings.
Stockholm has carefully preserved its natural environment and boasts that it is one-third water, one-third parkland and one-third buildings. The Swedish affection for the outdoors is ever present, even in the city. Hundreds of bikes fill the bike paths; sailboats navigate the clean waterways; fishermen cast their lines from the piers; and children swim in the canals.
The sea is everywhere, and having had my fill of coffee, I follow its banks through Gamla Stan, where centuries-old history eventually melds into current day life. The Royal Palace of the Kingdom of Sweden is located at the north end of Old Town. The palace, said to be the biggest in Europe, is the official residence of the royal family, although they currently live on the island of Drottningholm. The palace is open for tours, and is a popular attraction for visitors.
Across the canal from the palace, I pass the Opera House, and the most prestigious restaurant in Sweden, the Operakällaren. Nearby is the Kungsträdgården, the King's Royal Garden. It's a good place to take a stroll or simply people watch.
Stockholm has more museums than I've ever been able to visit, but today I am headed to two of my favorites – the Vasa Museum (Vasamuseet) and the Nordic Museum (Nordiska Museet). These two sit side by side, and reaching them is simple.
The Stockholm card I've purchased provides 24-hour access to the public transportation system (including the ferries), as well as entrance to almost all of the city's attractions. Although there is a well-organized subway (called the 'T') and an excellent bus system, a ferry is the quickest way to the island of Djurgården, where the museums are located.
The Vasa is a true national treasure. In 1628, the Vasa, a warship that was the pride of the Swedish navy, sailed on her maiden voyage – and immediately sank in the harbor. The great ship was raised in 1961, and then lovingly preserved. More than 10 million visitors have seen the impressive warship.
The Nordic Museum is Sweden's national museum of cultural history, covering everything from folk art to fashion. The museum's content seems to bridge a gap in my own education. Like millions of other Americans, I have Swedish roots. Yet the years have watered down that heritage to traditional foods and holiday customs. Places like the Nordic Museum are helpful in understanding that rich Swedish heritage.
I am not alone in my quest for Swedish roots. Every year, thousands of visitors from all over the world travel to Sweden hoping to research their family history. Sweden has designed a whole program to help these visitors re-discover their heritage, and track down family ties.
Another excellent spot to learn about the Sweden of the past is at Skansen, Stockholm's living air museum. More than 200 historic farm buildings, shops and homes have been preserved in the 75-acre park (about 0,30 km²) amid the island's nature and flowers. Swedes in period costumes interpret various time periods.
Skansen is one of the most popular attractions in Stockholm for both locals and tourists alike. It's perfect for all ages, from families with young children to those interested in Swedish culture. Most national holidays, including Midsummer and Lucia, are celebrated at Skansen with traditional festivities.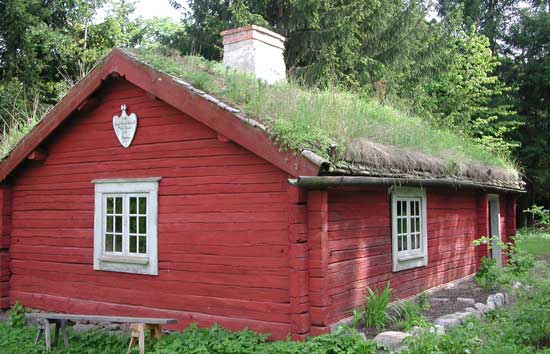 Yet while Skansen celebrates Sweden's past, this nation moves eagerly into the future. The country boasts the latest in scientific research and technological devices, and I've discovered things here that I've never seen elsewhere. (Sweden has produced a cedar "drying closet" for laundry that I'd love to take home.)
Sweden joined the EU in 1994, but still uses its own currency, the krona. Most purchases include the standard 25 percent sales tax, which is already figured into the price. Non-EU visitors can claim a refund for purchases over SEK 200 (about US$ 26). Be sure to ask for a tax-free receipt at the time of your purchase.
But Sweden is perhaps best known for its stunning and innovative design, which often centers on minimalism.
"Our design is functionalist," a Swedish friend says. "Look at what you need and then remove what you don't. When there is nothing left to remove, you have achieved Swedish design."
I have cousins living in Sweden, and Pontus and Becky helpfully explain the country's fascination with minimalism when I visit them later that week.
"The Swedish word lagom means 'just right' – not too much and not too little," Pontus says. "It's a whole Swedish philosophy, and applies to everything from cooking to the clothes you wear. You don't want to stand out, or have too much of something, yet you want to be sure you have what you need."
This love of simplicity is obvious later that week when I go shopping in Drottninggatan, a popular blocks-long pedestrian shopping mall. Although Swedish fashions follow the latest trends, colors still tend to be muted and subtle. Clothing is rarely loud or showy.
This gentle sense of style is not surprising in a culture that spurns extravagance and self-glorification. It's a compliment to call someone "ordinary," for it means that he or she fits in well.
Yet what does stand out is Swedish cuisine. Over the past decade, the number of restaurants in Stockholm has almost doubled. World-famous chefs and top dining establishments are no longer the exception.
While local fare has taken on more of an international flavor over the years, my cousins and I choose one of the many local cafés when we meet up for lunch. Here one can still find husmanskost, which means "good down-home cooking." Local dishes include fresh fish, thick bread and tasty sauces.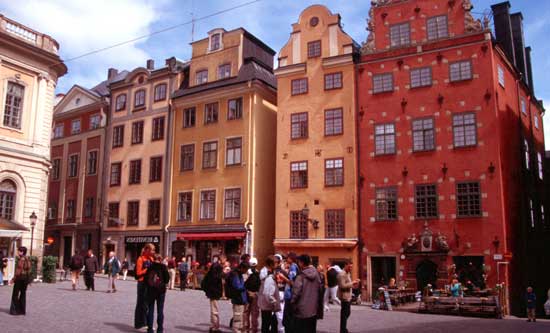 But my favorite times in Stockholm seem to revolve around fika, a very Swedish tradition. "Fika" is a word used to describe having coffee, but it's an entire cultural institution. It implies taking a break for life's daily grind and relaxing in the company in others. While Brits head to the pubs to socialize, Swedes get together for coffee.
The java drink is popular here; Swedes have traditionally been among the top consumers of coffee, per capita, worldwide.
"Fika is almost a religion," a friend tells me as we sit outdoors overlooking the water on my last night in Stockholm. "We have fika before we start work, fika in the mid-morning, then after lunch and after dinner. It's always a good time for fika."
I laugh and nod in agreement. It's just another reason that I return again and again to this land by the sea.
The hazy midnight sun casts its last rays across the water as the sun begins to set. It is almost 11 pm, yet the city is still illuminated by the sun's rays. This is one benefit of life in the north. While the sun goes missing in winter, in summer it returns in full force. Its comforting presence seems to make summer days linger.
A whispering breeze sweeps over us, and I catch the smell of fresh flowers and the salty breath of the sea. I stop for a moment and make a mental picture. It is a beautiful night to be in Stockholm.
If You Go
Tourism in Sweden
www.visitsweden.com
Latest posts by Janna Graber
(see all)