Editor's Note: We're all dreaming of travel ahead. Here's some inspiration for future adventures. We share places, products and activities we recommend. If you make a purchase using a link on our site, we may earn a commission.
What's it like to live in Northern Sweden within the Arctic Circle?
It was one of the questions that continuously looped through our minds when we settled in Malmö, a city in the far south of Sweden.
Northern Sweden
We knew that in some Swedish towns in the far north, the population density drops to less than one inhabitant per square kilometer. Would they have access to basic services such as the internet, we wondered. What about supermarkets or schools?
As a young Ugandan couple, we knew there were misconceptions about Sweden, from geography to socio-economic norms to politics. Even within Sweden, a lot is unknown beyond where one lives.
We were curious about life in the Arctic Circle. After Christmas, we embarked on a long journey from the south to the northmost part of Sweden, a village called Abisko.
The journey from Southern Sweden to Abisko is about 1,800 km (1,118 miles), so it took us about 24 hours by train (including approximately 2 hours of waiting time).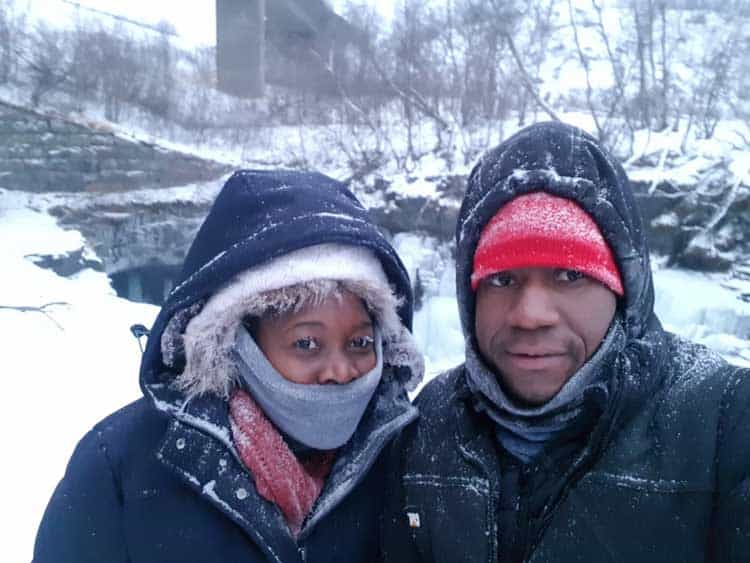 Heading North to Abisko, Sweden
Abisko is a small village in the northern part of Sweden and lies within the Arctic Circle. The landscape is magnificent, composed of beautiful mountains and forests that keep its beauty in all seasons throughout the year.
It is home to approximately 150 inhabitants and various wildlife, including reindeer and moose, to mention a few.
The Weather in Abisko, Sweden
Not only did the temperature drop to -27° Celcius (-17° Fahrenheit) on some days, the daylight only appeared for about two hours ―from 10 a.m. to noon. The sunlight did not appear at all during our six-day stay.
How 2020 Affected Sweden
The year 2020 was special because of the COVID-19 pandemic. Many countries had a lockdown of social and community activities and put bans on travels from specific countries.
On the other hand, Sweden only put in place what it called "stark rekommendationer," i.e., strong recommendations. With this, it was still OK to move around the country from one region to another.
Whereas the neighboring countries like Denmark and Norway restricted travel from Sweden, Sweden barely put such restrictions in place but only recommendations, as applied from within.
Visiting Abisko
During our stay, it was quite evident that most of the visitors in Abisko were "non-Swedish."
"I looked for flights to Germany, France, Italy, but they were only allowing their citizens into the country. When I looked into travels to Sweden, there were no restrictions, so I booked the flight instantly," said a visitor from the Netherlands.
Apart from the residents of Abisko, we met other visitors from the Netherlands, India, China, Switzerland, Israel, and only a handful of Swedes. It could be that the locals and internationals interpret the strong recommendations differently.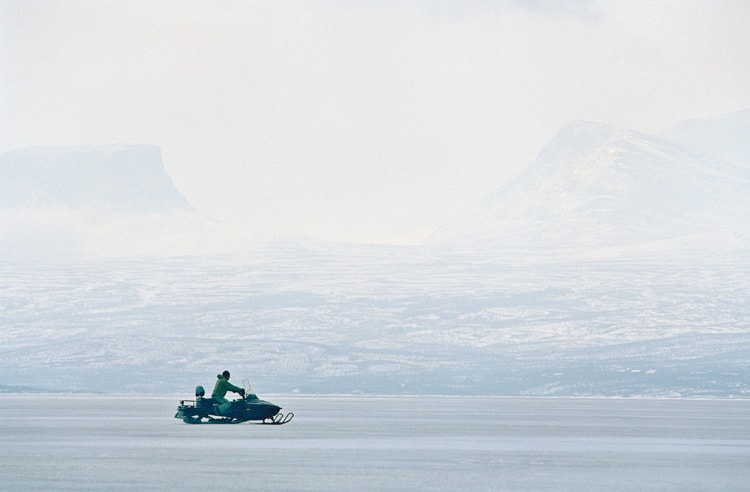 Sweden Winter Activities in Abisko
There are several activities in Abisko, Sweden, during the winter, such as skiing, snow-shoeing, snowmobiles, landscape photography, ice fishing and ice climbing. But we focused on these three top things to do in Abisko:
Northern Lights Hunt in Sweden
Abisko is one of the most famous places in Europe to view the Northern Lights (aurora borealis) ―an astronomical phenomenon in space weather where disturbances in solar activity result in a display of colored lights that are visible in the sky from the earth.
We closely followed the aurora space weather station for notifications on when the Northern Lights might appear and the so-called Kp-index (from 0 to 9) that depicts the intensity of the solar activity. The higher the Kp-index, the higher the chances.
Many call it the "Northern Lights hunt," and it is indeed a hunt. Dressed in several layers of clothing, as though we were a couple flying off to space, we headed out. By 10 p.m., we were stationed by Lake Torneträsk together with several other visitors, enduring the evening cool breeze.
Little did we know that a full moon and cloudy conditions are not favorable for viewing the northern lights. Nevertheless, like many other visitors on a short visit to Abisko, nothing could deter the hope built up over the 1,800 km (1,118-mile) journey.
You'll want to pack your best winter jacket for nights like these. Colombia Sportswear has a selection of Down Puff Jackets that insulate the heat and keep you comfortable in any winter weather. Check out their jackets and other winter gear here.
While we anxiously waited for the Northern Lights to make an appearance, we talked to other people and took some random photos. After two hours of socializing, we were about to call it a night but instead shared a bottle of Cognac with our new friends, and we even stayed an extra hour.
The Aurora Borealis did not grace us with her presence that night. It was on the third night that we managed to capture a faint aurora with a camera. We only noticed it after a close inspection later on.
Swedish Dog Sledding
As if the COVID-19 pandemic was not enough, there was less snow than expected in Abisko. We had to drive 30 minutes northwest to Kopparåsen for the dog sledding activity ―a one-of-a-kind experience.
On two occasions along the way, Thomas, the sled leader, greeted two individuals along the way by name ―there are only 150 people in the city. With two trainers and six of us, we set up four sleds with Alaskan huskies. Alaskan huskies are high-energy dogs used to pull the sleds.
During the setup, the huskies looked impatient, moving and barking all the time ―they wanted action. The lead sled and trailing sled were driven by the trainer and us, pulled by 10 huskies each.
The second and third sleds had three husky dogs driven by one person each. We sat in the front sled while enjoying the sight of the 10 high-energy huskies in front of us, barking their way into the terrain along a well-known trail.
We marveled at the snow-covered forests, lakes and landscapes, the rise to hilltops that kept opening up horizons never seen before and the thrill of riding down the slopes. Eventually, we were able to switch places on the sled, and later, we even got to ride our own sleds.
We were trained on the basics of reducing speed on the slopes and how to lean inward when turning and how to stop. We didn't know that if you fell off your sled, the huskies just kept doing what they are good at ―running. And that is what happened on a slope, we fell, landing in the fresh snow by the trail.
Regardless of the unknown, anxiety and anticipation, snow sledding is one of those thrilling activities that visitors to the North should include on their "to-do list."
Hiking in Abisko, Sweden
There are well-defined and clearly marked trails with varying degrees of difficulty in Abisko. We took a 10-kilometer (6.2-mile) hike on snowy trails from the Abisko guesthouse toward the Abisko Tourist Station hostels.
Unfortunately, due to the COVID-19 pandemic, travel to the tourist station by cable cars to the top of the mountain was canceled during our trip.
We hiked around the canyon and down toward the beach. On the upper side, we hiked on a trail along the mountain river Abiskojåkka toward the then frozen lake Abiskojaure and then back to the tourist station.
It was amazing to see the rock formations caused by the flowing water and climatic conditions over thousands of years. The sight of frozen waterfalls was unbelievable and breathtaking.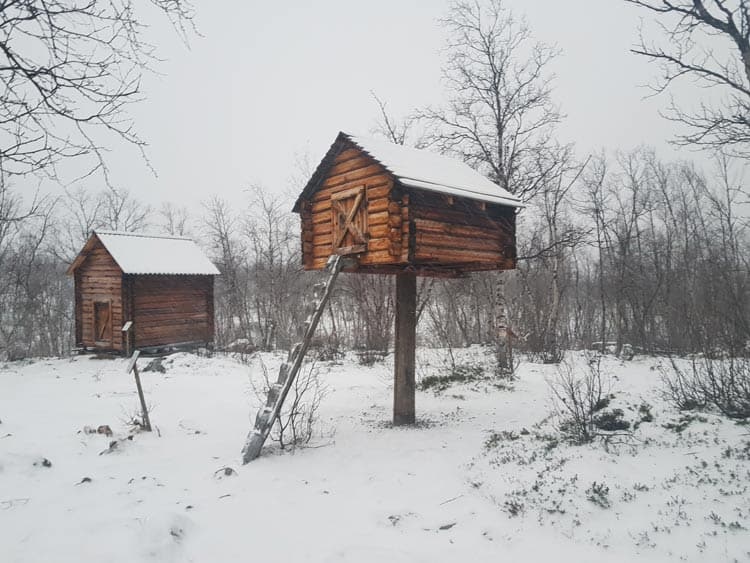 Sweden's Re-creation of a Sami Village
About 300 meters (985 feet) from the base at the tourist station is a re-creation of a Sami village called the Sami camp. The Sami are an indigenous tribe located in the northern parts of Sweden, Norway and Finland.
For many years, the main source of livelihood for the Sami people was reindeer herding. At the Sami camp, you get to see the kinds of houses the Sami lived in and get a feeling for their way of life.
IF YOU GO
You need a torch/headlamp and you'll need a winter face mask. (These can be found online at Colombia Sportswear.)
Author's Bios: Esther Nampiina and Joseph Mukama are a young Ugandan couple that recently settled in Sweden. Esther is a computer engineer and a freelance writer. Growing up, Esther was always very descriptive and excited about travel experiences. She spends her free time singing in a church choir, listening to music and reading Swedish books. Joseph is a software engineer and seasonal blogger. He has a personal blog, 'Through Joseph's eyes (https://mukamatwo.github.io/), in Swedish to learn and practice the dynamics of the language. He writes about funny experiences from his life in Sweden. In other free time, he likes to relax his mind by walking, jogging and cycling around the neighborhood of Malmö.