When I moved to Los Angeles, California, several years ago, my friends from New York City who had already made the leap west were incredulous. Thanks to their welcome, I settled into sunny SoCal more easily than they – or I – imagined I might.
I was only there for a few years before decamping to Seattle for a career move but fell in love with all that LA had to offer. Well, maybe not all. But certainly, much of what it had to offer – and have returned many times.
Planning a last-minute trip to California?
Top Experiences and Tours in California:
Where to stay and transportation in California:
When confronted with what seems to be a massive metropolis surrounded by freeways that daunt even the most confident drivers, it's important to understand that it's not a city at all.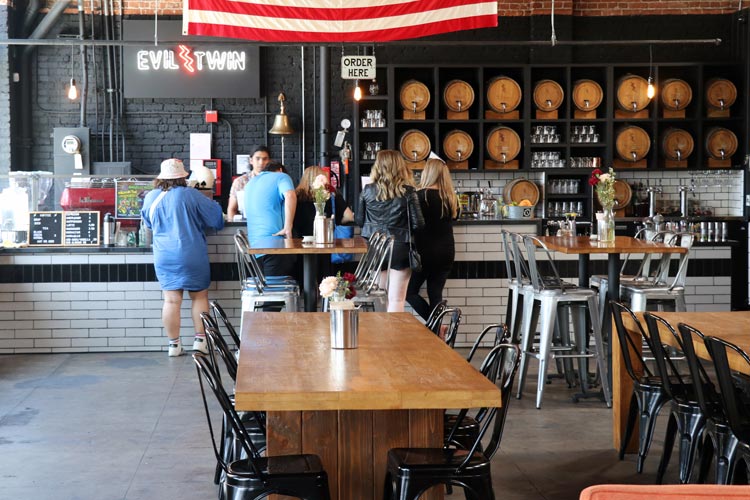 It's a county made up of individual cities and towns and neighborhoods, each with its own distinct vibe. Granted, they run into each other, unlike counties in the Midwest that have wide-open rural areas in between small towns and one or two cities of varying size. LA is an organism made up of hundreds of distinct cells.
Neighborhoods in Los Angeles
Before you arrive in Los Angeles, spread out a map and get familiar with where those different cells are located. Santa Monica, Venice Beach, Beverly Hills, Brentwood, Malibu, Chinatown, Venice, Little Tokyo, Century City, Downtown LA, Boyle Heights, Atwater Village.
San Fernando Valley
Those are just some of the names you'll see. Then look north to the San Fernando Valley and places like Studio City, so named for the film and television studios that reside there. Take note of Burbank, Pasadena and Glendale to the east.
Next, decide what interests you most. Do you want to see the normal tourist attractions like Universal Studios, the Hollywood Walk of Fame or Disneyland? Or are you interested in theater, art, museums, music, history, food, architecture, shopping or some combination of the above?
LA Arts District
I'm staying with a friend who moved to the Arts District two years ago. This historic district offers most of the things that are on my personal list of interests – great food, art galleries, historic architecture, small shops and hanging out where the locals hang with a glass of good wine.
This is one of the neighborhoods that I haven't explored in depth before, so it feels new and fresh to me amid the century-old buildings that are now converted into lofts where artists, tech start-ups and residents live and work side-by-side.
Located southeast of Downtown LA and next door to Little Tokyo and the LA River, the Arts District has both an old and new history.
Like most of California, a wandering Catholic priest arrived and planted a stake in 1789, proclaiming, "Should a town be needed in this location, this site shall be called Our Lady Queen of the Angels." Little did he know what his vision and the small pueblo he built there would become.
In the 1830s, one of the first entrepreneurs planted a vineyard that grew into the largest winery in the state. Next came orange and grapefruit orchards and a print shop that produced colorful labels for their shipping crates. Today those graphic artist-designed labels are coveted by collectors all over the world.
A shipping depot was also erected, and other businesses moved in and built sturdy structures that served as factories. Constructed of bricks and mortar long before buildings were required to be built on rollers to withstand earthquakes, they stood strong, the names of the companies carved into stone facades that are left above doorways today even though the companies are long gone.
LA Arts District Once was a Thriving Industrial Area
At the beginning of the 20th century, the district was a thriving industrial area where large manufacturers made furniture, cars, cookies and other products that were shipped to market on the railroad tracks that are now ghostly apparitions in alleyways and along streets.
Artists began to move into the empty buildings when the companies started moving out in the 1950s. They were looking for cheap cribs and studio spaces. The large windows, high ceilings, open spaces and low (or nonexistent) rents were perfect. By the 1960s and into the '70s the area took on a new life, albeit illegally due to restrictive zoning laws.
Then in 1979, the state passed live/work legislation and two years later the city approved an Artist in Residence bill. The building code was lifted. The artists could live and work in the area legally if they had a business permit.
Those early homesteaders are a who's who of California artists. Today, as the buildings are turned into pricey condos, fewer artists can afford to move in but the art scene is still very much in evidence.
Popular Location for Filming
In addition to visual artists, the area is also a popular location for filming. The evening I arrived from LAX, a crew was setting up the next scene in front of my friend's building while actors lounged nearby and checked out the snacks at the craft services table. Nearly every day, models and photographers can be seen taking advantage of the edgy urban background. Welcome to LA.
During the week, dogs and their human parents are out in force in the early morning and after work. They all seem to know each other and stop for a quick sniff and gossip check before the rush to work. In the afternoon, the dog parks are filled with bouncing mutts of all sizes and breeds while their owners sit by with doggie snacks and check e-mail.
The Pie Hole
Popular coffee bars include The Pie Hole, a small, local chain at 714 Traction Ave. on the first floor of an historic 1905 building that houses the American Hotel. More about that in a minute. First, let's go inside The Pie Hole and put our noses against the glass case where the day's offerings are displayed.
The Pie Hole's sweet and savory pies and pastries are made on the premises. Order a slice (I've developed an addiction for Salted Honey Custard) with your favorite morning beverage and take it outside to one of the sidewalk tables.
Guaranteed you'll meet the locals – most of them artists or techies – who will bring you into the conversation over their morning brews. One recent morning I sat next to a couple of guys who were working on a video game design. Listening to them bounce around ideas was well worth the price of an iced tea and a two-bite-size quiche.
Now that you've had your morning caffeine and sugar infusion, let's get started on our walking tour.
A Guide to Walking the LA Arts District
From The Pie Hole, turn the corner onto South Hewitt Street. Check out the mural that leads to the entrance of the hotel that was the first quality hotel in Los Angeles for African Americans. Once the site of Al's, a famous punk rock bar and stage, the "unfussy" hotel was also the home of some of the first artists to move into the district back in the day.
Rogue Collective
Just past the hotel's front door, stop in at the Rogue Collective and see what's new on the racks and tables of pared down, trend-setting merchandise. According to its website, "The original Al's Bar stage is exactly where it was 38 years ago, encased in new flooring to protect it for years to come.
We pay homage to our predecessors with authentic band posters and host events for the art and music aficionados of our community furthering the Al's Bar legend and rich culture of our neighborhood. Our store is built for and by this integral community and we are proud to serve in and alongside it."
Now let's step outside again and continue on to the south side wall of this iconic building.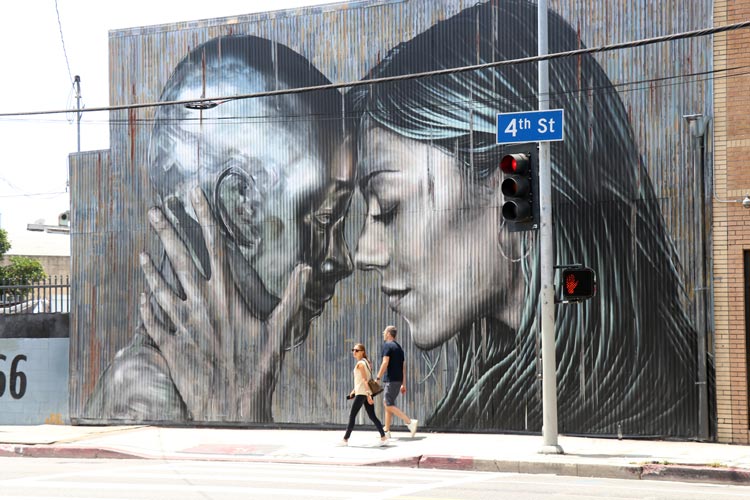 100 Murals in LA Arts District
By now you'll have begun to discover that the Arts District is an open-air art gallery with 100 massive murals painted on the sides of buildings throughout the area. When you reach the corner of the hotel, turn around and you'll see one of my favorites – La Abuelita. Painted on the side wall of the building, the collaborative work by three artists features Navajo blanket weaver Martha Gorman Schultz.
These massive works of art don't always stay up indefinitely. Many are gone within a few months to be replaced by a new work. While they're free for the looking and photographing, if you want to know more about what they represent and the creators, join a walking tour.
Art Share LA
Now cross to the opposite side of Hewitt and head into the open garage door of Art Share LA, a gallery, artists residence, theater and provider of walking tours, where you'll be met by a startlingly lifelike mannequin seated at an upright piano. Head upstairs to the galleries to view the current exhibits of up-and-coming artists working in all mediums.
As you exit the building, turn left toward West 4th Street to see more murals and graffiti. Turn left again on 4th and walk east to the corner of Merrick where the old Coca-Cola syrup manufacturing plant faces a black-and-white collaborative mural by Christina Angelina and Fanakapan.
Southern California Institute of Architecture
Now take in the massive black sculpture on the east side of Merrick at the end of the 4th Street Bridge. The work of art is part of the Southern California Institute of Architecture (SCI-Arc) campus where we're headed next. Used as the school's "graduation pavilion," it's called "League of Shadows" and was designed by Silver Lake architects Marcelo Spina and his wife Georgina Huljich.
Santa Fe Freight Depot
Turn north on Merrick Street toward Traction and walk straight ahead – do not turn onto Traction – into the live/work development, aiming your feet northeast toward South Santa Fe Avenue where you'll find the quarter-mile-long 1907 Santa Fe Freight Depot that has been the home of SCI-Arc for nearly 20 years.
Made of reinforced concrete, the building is reputed to be as long as the Empire State Building is tall. The school was an important catalyst for the neighborhood's revival when the area was still called "gritty." Ask at the front desk about current exhibits of "experimental projects by contemporary architects," check out the school swag in the store and take a tour of the studios (reservation required.)
Hammer & Spear
Next, walk to the northeast corner of SCI-Arc and you'll be at the intersection of Santa Fe and 3rd Street. Cross the street and stop in at Hammer & Spear, where vintage and new combine to "showcase the work of burgeoning DTLA designers and to engage and collaborate with the craftspeople of the district."
Continue west on 3rd Street and step into the alleyways where small shops and restaurants have taken over the shipping bays and offices of former industrial tenants.
Manuela Farm-to-Table Restaurant
At the corner of 3rd and South Garey Street, the international gallery Hauser & Wirth has consumed the entire block that was once a flour mill. An art book store, retail shop, event and exhibit spaces provide respite from the desert heat. The popular farm-to-table restaurant, Manuela, attracts locals and visitors alike to the coolness of the interior courtyard.
But this is not just farm-to-table. This is on-site garden-to-table. And the eggs were laid by a flock of resident hens on the other side of the courtyard. Look around. Cluck at the chickens. Inhale the scent of herbs. Find a table. Order. Relax. Watch people.
Salt & Straw
But leave room for ice cream because Salt & Straw is next up. Located on 3rd just past Garey, the Oregon-based creamery is a favorite hangout on the weekends with small tables and stools set up on the sidewalk for cone lickers of all ages.
Flavors include Black Olive Brittle & Goat Cheese, Roasted Strawberry & Toasted White Chocolate and Dandelion Chocolate Hazelnut Cookies & Cream. My favorite runs to the more mundane – Sea Salt with Caramel Ribbons.
Walking Tour
Ready to hit the pavement again? Cross the street and join up with Traction Avenue. Walk back to the intersection of Traction and Merrick and turn right on Merrick to 4th Street. While you wait for the light to change, check out the 4th Street Bridge. A mashup of styles from Beaux Arts to Gothic Revival, it spans the river and replaced the last wooden bridge in LA in 1931.
Best Tips & Tools to Plan Your Trip
Cross over 4th and head onto Molina Street. Now we're entering the southern side of the Arts District. On the southeast corner of Molina, notice the murals wrapping around the home of Colossal Media, a creator of hand-painted outdoor advertising. According to the website, "Colossal's army of highly-trained painters produce large-scale photorealistic murals…" Which proves some artists can actually make a living with their art.
At the next corner, turn left onto East 4th Place and follow the curve onto Mateo. One of LA's hottest new Middle Eastern restaurants, Bavel, is at the intersection.
Stephen Kenn Loft
Continue on Mateo past the Molina Street Lofts on your right, one of the first buildings to be renovated into pricey condos. Want to pretend you, too, live in a loft or stage a cocktail party to promote your latest film?
Book a night at the nearby Stephen Kenn Loft, a combination "micro hotel", experiential retail showroom and event space created by the furniture and accessory design team, Stephen Kenn and Beks Opperman. The 14-foot ceilings and large windows are remnants of the furniture factory that once inhabited the building.
Zinc Cafe
At the corner of Willow and Mateo, Zinc Café is my go-to-in-the-hood for breakfast, dinner and everything in between. Meat? Who needs meat? This is a vegetarian's finest. Order the avocado toast. And during happy hour don't miss the mushroom sliders with your choice of craft cocktail. Swoon.
But that's not all. Not by a long shot. After resting your dogs (aka feet) among the real dogs and their owners in Zinc's garden, continue south to 6th Street. Stop looking at your phone and take in your surroundings.
Comme des Garçons
Turn left on 6th and go one block to the corner of Imperial Street where the London-based Dover Street Market sits. Rei Kawakubo of Comme des Garçons and her husband Adrian Joffe founded the store and now have locations around the world. It's a collective of designer clothing displayed in eye-popping, divided sections of white, steel and wood. Poke around. Try something on. Have a cup of green tea in the café.
Now head farther south on Imperial and keep your eyes peeled for Urban Radish on the west side of the street in the center of the block. The open-air grill isn't the only attraction at this family-owned food emporium. Check out the street art along the south side of the parking lot.
Historic Nabisco Landmark Is Now Biscuit Company Lofts
Walk west through the Urban Radish parking lot to Mateo Street, then continue south and you'll run into another historic landmark, the National Biscuit Company, or Nabisco, at the corner of Industrial and Mateo.
Built in 1925 to manufacture biscuits and sugar wafers, it's now the Biscuit Company Lofts and a designated historical building. If you ask politely and the doorman is willing, step into the lobby and check out the interior. On the Industrial Street side, the former loading dock is now the site of Church & State, a popular restaurant with a French-Mediterranean focus. Chef David Féau is "a Michelin-starred disciple of the great Guy Savoy."
Warner Music
Back on Mateo, continue south to 7th Street. Turn left and cross the street at Santa Fe where the former Ford Factory and its 1,100 workers once turned out a daily quota of 300 Model Ts.
A more modern manufacturer, this time of entertainment, Warner Music, took over the space in early 2019 and installed work spaces around a center stage that seats an audience of 250 for performances by the labels' artists.
I was fortunate to be able to live in the middle of the Arts District for a full month, but there are still places left to investigate on my next visit. If you don't have that amount of time to spend, set aside at least two days and sign on for a walking tour. Then strike out on your own adventure. Guaranteed you'll want to return again, too.
Here are a few more things to check out. (As you can tell, I heart me my food.) Days and times vary so click on the links for more information.
Firehouse Hotel and Restaurant, 710 S Santa Fe Ave. Built-in 1927, once housed Engine Co No 17.
Bon Temp, 712 S. Santa Fe Ave. Chef Lincoln Carson "reimagines a modern French brasserie with industrial roots." As of this writing, the newest kid in the 'hood.
Soho Warehouse, 1000 S. Santa Fe Ave. A members-only club in a 100-year-old, 80,000-square-foot warehouse. Three restaurants, 48 bedrooms, private event space, gym, two club floors, a rooftop pool and probably a partridge in a pear tree. The hottest kid on the block.
The House of Machines, 2028 E. 7th St., (next door to the old Ford factory.) Bar, bikes and music.
Angel City Brewery, 216 S. Alameda Street. Craft brewery plus tacos, trivia, yoga and fake money poker.
Arch The, 711 Mateo St. Women's apparel made with design simplicity and exquisite quality.
A+D: Architecture and Design Museum, 900 E. 4th St. A "design think tank."
Urth Caffé, 451 S. Hewitt Street. Organic coffees, fine teas and a farm-to-table menu in a jaw-dropping brick and stained glass building.
Wisdome, Palmetto St. A unique "immersive art park" presenting "avant-garde transformational experiences."
Art galleries (check the websites to find out when they're open and what's currently hanging):
So much coffee, so little time
Getting Around
To get my bearings, I relied on this map.
Sometimes you need wheels. If you insist on driving, there are parking lots throughout the district. For those of us who prefer taking public transportation over sitting in traffic jams, we move around on a system of buses, downtown shuttles called the DASH, and the new Metro Rail.
And throughout the district, and some areas of the wider city, you can jump on an electric scooter parked in designated areas…or left on the sidewalk by a prior micromobility rider…with the tap of an app. For those places that are not near a Metro station or bus stop, Uber and Lyft apps are on nearly every phone.
Inspire your next adventure with our articles below:
Author Bio: Joyce McClure is a freelance writer and photographer who moved to the remote island of Yap in the western Pacific Ocean in August 2016 as a Peace Corps Response Volunteer. At the end of her service, she decided to remain in Yap to continue writing and working with community organizations.