There are endless ways to share your love of exploration and passion for traveling the world. One fun way to reflect your adventurous spirit is by adding some new travel-themed decor to your home. 
Or maybe you are looking for the best gift for that travel lover in your life. Here are some options that will fit many different styles, from unique wall art to pillows to eye-catching pieces and travel coffee mugs.
Here are 12 Extraordinary Travel-Themed Home Decor Items: 
1. Wooden World Map Wall Art
This dynamic wall art is both modern and inspiring. These Wooden World Maps work well with any room, whether you're looking for a living room statement piece or a perfect bedroom piece for a young one.
You can choose from four different stain options or the multi-colored wood to fit your style. It makes a fantastic gift because it is unique and filled with possibilities for use.
Find this product here.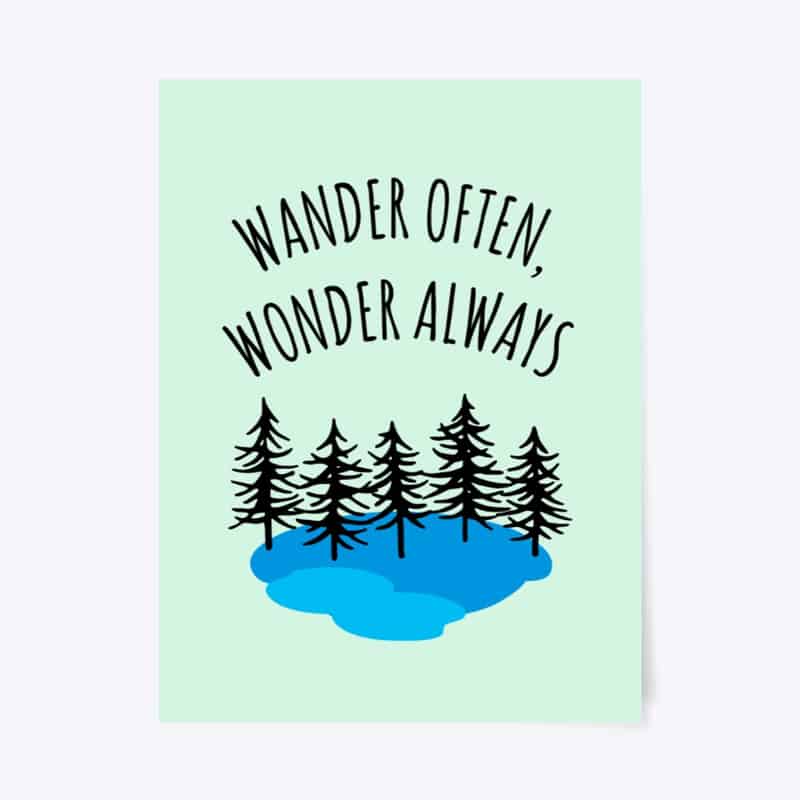 2. Wander Often, Wonder Always Poster
Another versatile gem is the Wander Often, Wonder Always Poster. Great for nature lovers, curious minds and those who love to explore the unknown. An excellent poster for any age and is sure to bring a smile to anyone who visits your home.
This poster also comes in 10 different colors.
Find this product here.
3. Travel is My Therapy Home Decor Throw Pillow
Every source of therapeutic release is essential, especially when it comes to the vitality that traveling brings to people. The Travel is My Therapy Pillow lets people know that nothing can bring you down when your next big trip is on the horizon.
It is a great travel home decor option if you are looking for subtle additions to make the room pop. This throw pillow also comes in 15 different colors.
Find this product here.
4. Vintage National Park Poster Set
These vintage posters are a best-seller for a reason. The Vintage National Park poster set is perfect for those who love national parks or just love being outside in nature. The national parks have been a critical resource for travel this year when so many people had fewer options for excursions.
Share your love for these incredible parks with these cool posters from the past.
Find this product here.
5. 3D City Map Wood Home Decor
The 3D City Map is one of the most exciting and modern pieces you can find for travel lovers and those who love their city. Keep it personal in your room or show it off as a centerpiece. Either way, this laser-cut wooden map is truly unique. It makes a great gift for any occasion. You can even get multiples and start a travel collection.
Find this product here.
6. Homode Floating Mountain Shelves
Bring a little bit of the great outdoors into your home with these fun mountain-designed shelves. The Homode Floating Mountain Shelves are perfect for young travel lovers or camping aficionados compelled to reach new peaks. It can hold vases, masks, keys and all of your other travel essentials.
Find this product here.
7. Original U.S. State Magnet Set by Classic Magnets
Brighten up that fridge, cooler or office space with these classic state magnets. Each of the states from the Original U.S. State Magnet Set has detailed highlights from each area. A terrific reminder that there is always something exciting to visit in every state. 
Find this product here.
8. Adventure Everyday Mug
The ultimate mug to add to your collection. The Adventure Everyday Mug features an alluring mountain design to keep you motivated. Whether planning your next hiking excursion or just making it through a mountain of work, this mug will get you there.
Find this product here.
9. Contemporary Japanese Art Coffee Table Book
Looking for something modern and engaging to elevate your home decor? The Contemporary Japanese Art Coffee Table Book is a great centerpiece and interesting read, capturing some of the most significant contemporary art and architecture designs with detailed background descriptions.
Wonderful for entertaining guests and bringing a boost of creative energy to your home.
Find this product here.
10. Camp Casual Road Trip Plush Blanket 
Get cozy with the Camp Casual Road Trip Plush Blanket. This super-soft double-sided throw is fun for the whole family and anyone who loves a good road trip. Choose from multiple colors and adorable designs of map elements, camping items and more. Bring some warmth to your home decor with this fun travel throw.
Find this product here.
11. Explore More Yoga Mat for Home Decor
What's the best motivation to plan a life-changing trip? A little sweat and meditation on your essential yoga mat. The Explore More Yoga Mat is ideal for anyone who feels wanderlust in their bones and loves to keep their body moving. Ofcourse, you can also bring this travel buddy with you anywhere you go.
This awesome yoga mat is also available in seven different colors.
Find this product here.
12. 3D Cork Globe
Another fun way to spruce up your home decor is with this 3D Cork Globe. Stand out with a new kind of hexagonal globe made from cork. It's durable and stylish A.K.A. excellent for any office space, coffee table or as an inspirational element in your child's room decor. 
Find this product here.
With any of these 12 fabulous travel-themed decor items, you can always keep the adventure alive in your home. Whether you are looking to brighten your own space or find the best piece for your fellow travel lover, these selections are sure to bring a smile to everyone who sees them.
Are you looking for more travel product fun? Check out more of our favorite travel essentials and travel gifts.