Fill your life with a passion for seeing the world with a collection of travel mugs. Travel-themed mugs are a creative and entertaining way to add to your favorite travel products while sharing your love for adventure.
Inspire yourself each morning while you sip on coffee to explore more with a bold travel mug. Also perfect for road trips, home decor and as a fun gift for a fellow travel lover in your life.
Here's our list of top 10 travel mugs: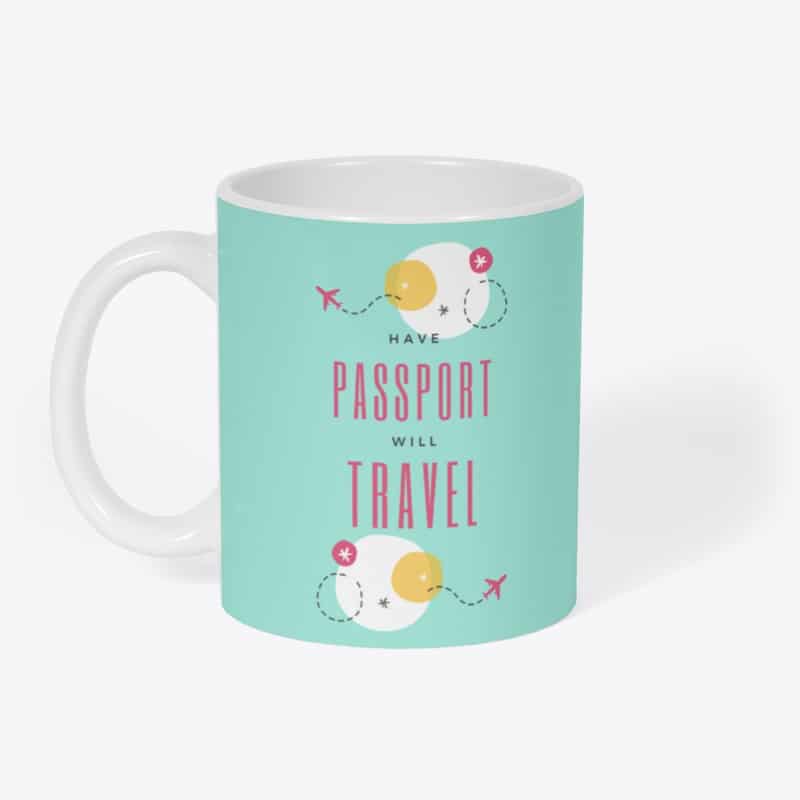 1. Have Passport, Will Travel
Time to brush off your passport again and start traveling. With the adorable Have Passport, Will Travel mug you can mull over travel plans and your next adventure while sipping on your favorite drink. We love this mug for its unique, sophisticated design that is also fun for anyone's cabinet collection. Available in six light and bright colors.
Find this travel mug here.
2. Where to Next?
Every travel lover knows that the best question to ask them is Where to Next? Whether you like to spin the globe and decide or plan your trips for years, you know that the next adventure is always coming. Bring the Where to Next? mug to work and fins your fellow travel lovers or gift it to the travel craving friend in your life. Available in eight bold colors.
Find this travel mug here.
3. Adventure Everyday
Find the highest peak in everything you do with the Adventure Everyday mug. This beautiful travel mug features a unique mountain top design that is eye-catching and cool. If you love to hike, be outdoors or just travel as much as you can, then this mug will be your new favorite travel companion. It's microwave safe, dishwasher safe and super durable for all your adventures.
Find this travel mug here.
4. Road Trip!
Pack up your trunk and plan out your routes with this exciting Road Trip! mug. There is nothing like the open road and traveling simply. Every road trip provides an opportunity to meet kindred spirits, camp in the desert, swim by a waterfall, explore new cities and create unbeatable memories. Add this fun mug to your collection or gift it to your favorite road trip buddy. Available in eight different colors.
Find this travel mug here.
5. Wanderlust
If you know the urge, then you know that wanderlust is in your heart. The Wanderlust mug is a classic design that is minimalist and cute in any situation. Perfect for students, peers and just a nice conversation piece in your home. If your looking for cool, then this mug is your answer. Available in two different colors.
Find this travel mug here.
6. Get Lost, Find Yourself
We all know, there is no better way to truly understand who you are than to lose your way. The colorful design of the Get Lost, Find Yourself mug reminds you that sometimes ditching your expectations or plans can create the best outcomes. When you get to let go, you are sure to find something new.
Find this travel mug here.
7. Take The Road Less Travelled
Get out and off-the-beaten path with the Take the Road Less Travelled mug. This mug has a pixel design of the tropical beaches we all fantasize about and is great for every age. So keep your adventure alive or inspire your loved ones to do so with this fun mug. Available in seven dynamic colors.
Find this travel mug here.
8. Wander Often, Wonder Always
Never forget that curiosity always drives the best adventures. With the Wander Often, Wonder Always mug, you can celebrate curiosity and the love for exploration every morning cup of coffee or soothing evening tea. This adorable design is great for nature lovers, adventure enthusiasts and curious planners of all kinds.
Find this travel mug here.
9. Let's Get Lost
Enjoy exploring without a map and open your eyes to unplanned activities. The Let's Get Lost mug is a bright addition to your home decor and a great way to seek out fellow thrill lovers who love to discover new experiences whenever they can. Available in five exciting colors.
Find this travel mug here.
10. It's a Wanderful Life
Not only is it a beautiful life, but for many, it's an opportunity to explore and wander the world. The It's a Wanderful Life mug is the perfect mug for anyone who can't fight the urge to travel as much as they can. The people who know that travel is essential to creating their beautiful life. Grab one of these entertaining mugs for yourself or for your favorite wandering friend.
Find this travel mug here.
11. Adventure is Calling
Your next big adventure awaits you. With the Adventure is Calling mug, you can share your love for exploring mountain summits and whitewater thrills, and tasting the flavors of the world. The simple design is youthful, fun and sleek so it's perfect your home, office or as a great travel gift.
Find this travel mug here.
12. If You Never Go, You'll Never Know
Do you love to push your limits and get outside your comfort zone to discover exciting new people and places? The If You Never Go, You'll Never Know mug is a shining reminder that you have to explore to understand the world and yourself. If you start feeling stuck, that's when you need to plan another adventure. Available in six fun colors.
Find this travel mug here.
Looking for more gifts for travel lovers? Head to our Travel Store.