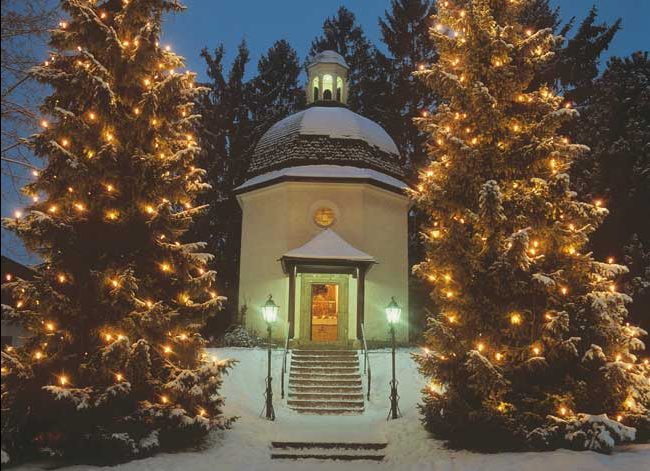 It was just a simple poem written by a village priest, but when the church organist composed a melody for it, "Silent Night" became a song that would touch the world. The priest, Josef Mohr, and church organist Franz Gruber wanted to give a song of hope to their small congregation in the village of Oberndorf bei Salzburg in Austria. The region had suffered through years of war and hardship, and life had been difficult. The duo's simple song was first performed in Oberndorf on December 24, 1818, and soon took on a life of its own.
Traveling singers heard the carol and later performed it at trade fairs in Germany, and then brought it to the court of the King of Prussia, where the Royal Court's Director of Music requested a copy of the song. Despite its humble beginnings, the song went on to become one of the best-known Christmas carols in the world.
Today, Christmas in Oberndorf and the surrounding region of Salzburg is still a time of wonder and magic. In a world where the holidays are threatened by commercialism, this small region of Austria still celebrates Christmas in many traditional ways.
Christmas in Oberndorf
On Christmas Eve in Oberndorf and many nearby communities, the lights in the churches are dimmed, leaving only candlelight. Then the congregation sings "Silent Night" in its original German version: "Stille Nacht, heilige Nacht". The sound of this memorable tune in such an inspirational setting is a moving experience.
Today, you can still visit the Silent Night Chapel and Museum, which stands in place of the former St. Nicholas Church where the song was first performed. The chapel is open daily from 8.30 a.m. to 6 p.m. year round.
During the holidays, you'll find the chapel's annual Christmas market just steps from where Silent Night was originally performed. The Silent Night chapel has meaning to many people around the world, and has become almost a pilgrimage site. You'll hear all languages among the shoppers looking for handmade ornaments, sweet gingerbread and other delicacies.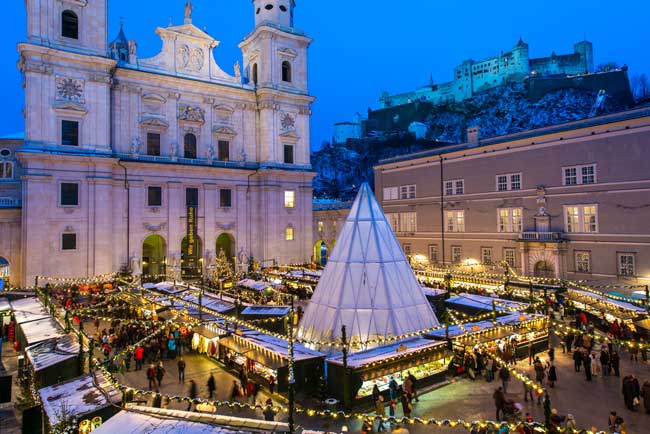 Salzburg at Christmas
The city of Salzburg is just a 30-minute drive from Oberndorf, making it an excellent base to explore the region at Christmastime. Best-known as the town in the film "Sound of Music," Salzburg is utterly charming at Christmas, with its narrow cobble-stone streets lit up in sparkling lights and Christmas concerts performed throughout the city.
The traditional Christkindl market in Cathedral Square is a delight for the senses, with the smells of gingerbread and hot mulled wine wafting among the traditional stalls selling handmade ornaments and Christmas cookies. Local choirs and children's school groups often perform carols throughout the evening, drawing visitors to the square with the sounds of their voices.
Continued on next page