In Scotland, prior to the Reformation in 1560, the mid-winter holidays, including Christmas, were celebrated with feasting and parties like the rest of Christian Europe.
The Presbyterian protestant faith put an end to this and other church feasting days. Christmas in Scotland did not become an official holiday again until 1958.
Thank goodness for that because the Scots know how to enjoy the holiday season. So much so that the period from Christmas until Handsel Monday (the first Monday in January) are called the Daft Days.
This includes the celebrations of Hogmanay (New's Eve) and Ne'erday (New Year's Day). These days are a great time to visit Scotland and enjoy the festivities and the warmth of the people of this underappreciated country.
Where to Spend Christmas in Scotland
Scotland is a diverse country. It has large cosmopolitan cities like Edinburgh and Glasgow where you can find enough entertainment, art, culture and history, to keep you busy for days. The delights of the city and its people will fill you with joy and a desire to return to this country.
Outside of the cities, some of the best scenery in the world will take your breath away. This is the land of Braveheart. It's a land full of castles, deep valleys with rushing rivers, high snow-capped mountains, peaceful lochs complete with monsters, historic islands and archaeology going back thousands of years.
The towns and villages with their country folk will give you a different outlook on the Scottish people and their Gaelic traditions. The Christmas season is a perfect time to make new memories and friends. Come and delight in this magical kingdom.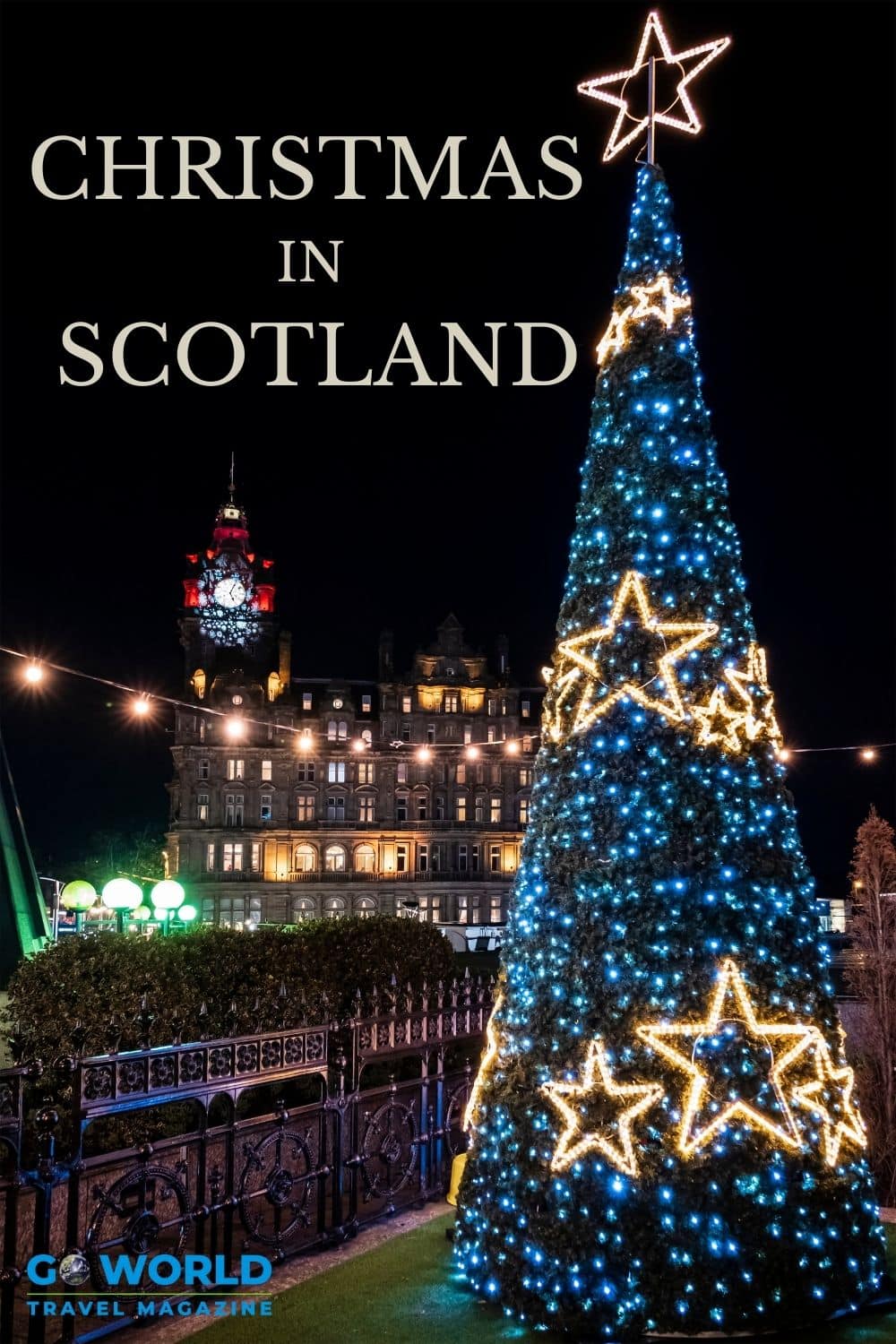 Christmas in Scotland Itinerary
Here is a 2-week itinerary that should cover a great Christmas season not to be missed in this country of kilts and bagpipes. I have tried to cover the main highlights but of course, none of this is written in stone.
Visitors can make it their own by adjusting dates, cities and activities to meet their schedule and interests.
Day 1 & 2 – Dec. 19 & 20
Depending on where in North America you are travelling from, you will lose 5 to 8 hours in time zones and 7 to 12 hours in flight time. Most the first day will be lost travelling.
Edinburgh International Airport is Scotland's busiest airport but is fairly easy to get in and out of. It is about 10 miles from the city centre and you can travel by tram, bus, taxi, limo or rental car. (Remember you are driving on the left.)
Check in to your hotel and take the first day to orient yourself and get over the jetlag.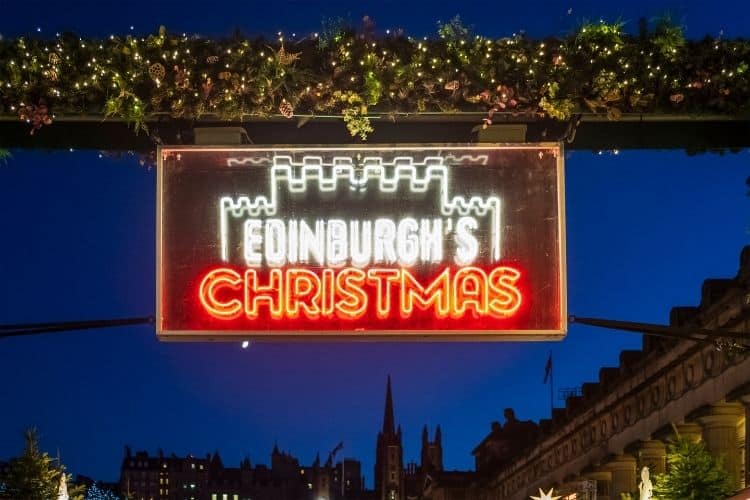 Day 3 – Dec. 21
Your first full day in Edinburgh. Still a bit jetlagged, you will probably sleep in a bit late, but that is okay as you still have plenty of time to see the city.
Enjoy a leisurely brunch in the hotel restaurant and get ready for your afternoon. Dress warm, this is winter in a northern country. There may even be snow for Christmas.
On your first afternoon, head for the Christmas Market. The largest in Scotland takes over the Princes Street Gardens in Edinburgh. Be prepared to have some fun, savour the mulled wine or cider, the fairground rides, Santa land, great gifts and food.
Night comes early and you will enjoy all the lights, the music and entertainment in the city centre. Have dinner at one of the great pubs, award-winning restaurants or on the street.
Day 4 – Dec. 22
Another day to wander the historic streets, do a little shopping or visit a palace. But what is Christmas without great winter entertainment? Off to the theatre tonight. If you love traditional Christmas shows, the Royal Ballet usually does the Nutcracker.
There are also performances of the Snow Queen and Sleeping Beauty. This is panto season, so it is almost a requirement that you take in at least one pantomime. Even if you do not understand the accent, you still come away with a smile on your face.
Day 5 – Dec. 23
Last day in Edinburgh before Christmas. Still time to buy that last gift, poke around in unique stores along the Royal Mile, visit Holyrood Palace or the National Gallery. Everywhere you look you'll see Christmas decorations and lights.
This evening is a good night to visit the historic Edinburgh castle for a spectacular show, the Castle of Light. This 90-minute light show illuminates the interior walls of the 900-year-old structure and presents the history of Scotland in a way that will delight the whole family.
Day 6 – Dec. 24 (Christmas Eve)
It is now time for the traditional castle Christmas in Scotland in the Highlands. Check out of your hotel and travel by train or car to the hills. Following is a typical 4-night stay. Each place will have a slightly different itinerary. Below is a link to some of these castle stays.
Arriving in the afternoon, you'll be greeted by your hosts with a welcoming Highland smile and a glass of champagne. Freshen up in your rooms and head back to the study or library to meet your fellow guests and enjoy a pre-dinner scotch.
After all, you are in the Scottish Highlands and the scotch whisky is great. Explore the castle and the grounds to work up an appetite for the lavish Christmas Eve dinner.
Day 7 – Dec. 25 (Christmas Day)
Wake up for a full Scottish Breakfast complete with blood pudding. Exchange presents, sing carols and drink mulled wine in front of the roaring first in the main hall. Go to the local kirk and join the locals in a Christmas service.
Soak a leisurely bath or take a crisp walk in the woods and heather. (Hopefully with snow.) Refreshed and happy, sit down for a traditional Scottish Christmas Dinner.
Later join the other guests and your hosts in the parlour or games room for a social evening. Enjoy a buffet dinner if you still can eat.
Day 8 – Dec. 26 (Boxing Day)
Once again enjoy a full breakfast, put on some warm clothes and join in the castle's planned activities. These may include skeet shooting, escorted tours up into the hills to see the wildlife, kayaking on the local loch or just a stroll through the gardens.
Dinner again is a lovely meal with the guests you now know very well. Afterward, in the games room, you can always find a billiards table or a card game in progress and some of that great whisky. A perfect day of leisure.
Days 8/9/10 – Dec. 27/28/29
Enjoy breakfast and say goodbye to your new friends. It is too soon to go back to the city, so let's have a Highland adventure. If you are a skier, there are lots of resorts to try, from small easy hills to some pretty challenging areas. The view from the top is always spectacular. See the link below for more information.
If skiing is not your sport, try ice climbing, snowshoeing, wildlife touring, dog sled rides, outdoor curling or just walking the many trails. If none of that appeals, you can always find a spa where you can put your feet up and watch the activities through the windows.
But, there is one thing you really must try. After dinner, on a clear night, find a spot away from the city lights and look up. The stars are so clear and bright it feels like you can almost touch them.
Looking to the north you may see the Northern Lights, a truly breathtaking sight if you are lucky enough to see it.
Day 11 – Dec. 30
Back to the city to get ready for Hogmanay. Find a nice hotel downtown if you like to party, further out if it's too noisy for you. If you have a chance, there is one more Christmas event you should try and see.
Edinburgh's 70-acre botanical gardens are lit up with thousands of lights. Follow the trails and be overwhelmed with these light features along with the music, mulled wine, food and fire pits.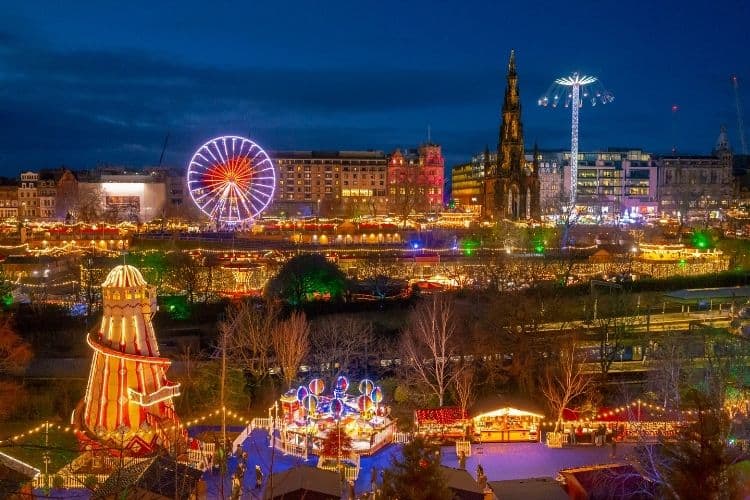 Day 12 – Dec. 31 (Hogmanay)
Hogmanay is what the Scots call New Year's Eve. It is based on the Norse and Celtic midwinter celebrations. Christmas is for the kids; Hogmanay is for the adults.
You have two choices; you can book an indoor dinner party at a ballroom or be brave and party with the people outside on the streets. Either way you will be delighted with bagpipes, kilts, haggis, fireworks and light shows. Party till you drop.
Day 13 – Jan. 1 (Ne'erday)
Ne'erday is the first day of the New Year. Generally starting just after midnight, the Scottish tradition of 'first footing' begins. The first person over your threshold in the new year hopefully will be a dark stranger with a gift of coal or whisky.
This is supposed to be good luck for the next year. Enjoy your last full day in Scotland, if you're not still suffering from the night before. Get any souvenirs or last-minute shopping. Go to a traditional pub and have a Scottish meal.
Day 14 – Jan. 2
Fly back home. You will pick up a few of the hours you lost when you came. Cherish your memories, photos and new friends. Then start planning your next visit to Scotland. It's nice here in the other seasons too.
If You Go:
What's on in Edinburgh at Christmas:
Christmas Castle Packages:
Scottish Ski Hills:
Book This Trip
Plan you holiday festivities in Scotland today. Prepare for a Christmas trip to Scotland with hotel and VRBO options, local restaurant reviews, tips on the best christmas events and more through TripAdvisor and Travelocity.
Be sure to check out our Scotland Travel Guide on the best things to see and do in Scotland here.
Author Bio: Richard is a Canadian expat, has lived in the UK and now in Cyprus. His writing includes fiction and non-fiction stories and articles for international and local magazines. He has had a historic travelogue, Stane Street, published in England recently and his first mystery thriller, The Missing Prisoner, is available on Amazon.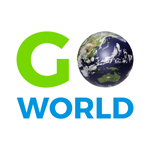 Latest posts by Go World Travel Magazine
(see all)