The smells, sights, and sounds of Christmas are the most delightful when experienced in person. No matter how many times you've seen it on TV or in a movie, there is nothing like the experience of being transported to a magical winter wonderland that feels like it has been plucked directly from your childhood imagination.
If you have yet to experience a European Christmas market this year, we have just the thing for you! From traditional markets to more niche experiences – with plenty of stops along the way at well-known sites – here's our ultimate travel guide to Europe's most exciting Christmas markets. Whatever your interests may be, we're positive that there is something here for everyone!
European Christmas Markets
Christmas markets, also known as Christkindlmarkt, are usually held during the four weeks of Advent. These festive markets have roots in the Late Middle Ages in the German speaking parts of Europe. Frankfurt's first Christmas market was held in 1393, while the Vienna "December Market" dates back to 1294.
Today, Christmas markets have spread throughout Europe and the world. Here are some of our favorites.
Graz, Austria
When the weather turns cold in the town of Graz, Austria, everyone feels like being a little closer together. That's why the town creates a little Christmas village in front of the town hall.
Filled with twinkling lights and smells of cloves and cinnamon, the Graz Christkindl Markt offers food for the soul and body. Visitors enjoy hot gluhwein, and dine on bratwurst, gingerbread cookies, marzipan sweets and more.
Handmade straw and wooden Christmas ornaments provide the feel of Christmases of old. (Our favorites are the small nativity scenes set in tiny walnut shells.)
The Engelsspiel-Pavillon hosts musical events and kids love riding the carousel.
Nuremberg, Germany
Christmas in Germany is something special — and Nuremberg is Christmas in a nutshell. A Christmas Angel opens Nuremburg's famous Christkindlesmarkt on Hauptmarkt square in the old quarter.
This delightful Christmas city has so much to offer including a medieval atmosphere, authentic Nuremberg gingerbread (yum!), Nuremberg bratwurst, Advent and Christmas concerts in the churches, traditional Nativity scenes in the baroque church of St. Aegidius and in Spitalgasse, an exhibition of historical market stalls in the town hall.
There's even 'Christmas for children' on Hans-Sachs-Platz, and an international market on Rathausplatz featuring Nuremberg's twin towns.
Locals and visitors enjoy the arts and crafts in the Handwerkerhof, a torchlit procession to the castle and rides on a horse-drawn mail coach. Nuremberg is Christmas in a nutshell.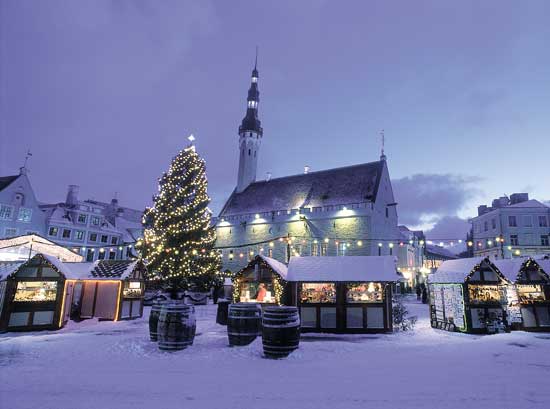 Tallinn, Estonia
The Tallinn Christmas Market may be one of Europe's youngest Christmas markets, but the Estonian organizers hope to make it one of the best. The town has sloughed off its post-Soviet gray colors to have a youthful vibrancy.
Tallinn's Old World charm is lit up in a festive array of lights and colors during Christmas. At the heart is a massive Christmas tree in Town Hall Square, which is filled with more than 60 wooden stalls selling hand-sewn quilts, sweaters, wickerwork, home candles and more.
Hungry visitors can warm themselves with hot mulled wine, and fill up on black pudding, hot soups, gingerbread and other sweets.
Prague, Czech Republic
Prague's top two Vanocni trhy (Christmas markets) are held in the Old Town Square and Wenceslas Square. Popular items for sale include holiday ornaments, wooden toys and exquisite art pieces in glass and ceramics.
Like many European markets, there is gingerbread, blood sausages and grog, along with Czech favorites like trdelnik (cooked dough with cinnamon and sugar) and corn on the cob and trdelnik (cooked dough with cinnamon and sugar).
Fish is the dish of choice on Christmas Eve in Prague, so you'll see carp on menus across the city.
Lille, France
The French town of Lille, on the country's northern border, is decked out in lights and color when Christmas approaches. The town is covered in a huge crown of garlands in the area of the Christmas market.
On Place Rihour, more than 80 wooden chalets offer nativity figurines, Christmas decorations and festive food. While mulled wine and sweets are the most common food item, you'll also find regional specialties, as well as arts and crafts from Russia, Canada and Poland.
A huge Christmas tree towers above nearby Grand Place, and a high Big Wheel lights up the square and provides visitors with an amazing view of the city.
Book Your Trip To A European Christmas Market
Ready to enjoy your next holiday at one of these delightful European Christmas Markets? Start preparing for your festive adventure with hotel and VRBO options in each town, local restaurant favorites and insider tips on how to get around and what else to see and through TripAdvisor and Travelocity.
Check out some of the best attractions in each city through GetYourGuide. Find skip-the-line tickets, unique activities, expert-led tours and more here. You can book ahead to reserve your dates and cancel anytime before the event if any plans change.
Check out more Christmas Market excitement here.