EDITOR'S NOTE: WE ONLY SHARE PLACES, PRODUCTS AND ACTIVITIES WE RECOMMEND. IF YOU MAKE A PURCHASE USING A LINK ON OUR SITE, WE MAY EARN A COMMISSION.
During the holiday season, Advent calendars of every design have become a popular staple in homes and businesses worldwide.
Traditionally, Advent calendars begin on Dec. 1 and continue until Dec. 24 as a symbolic period of waiting and preparing for the Nativity of Jesus. Now, the calendar is also considered part of the countdown until Christmas celebrations and presents.
Many believe the first Advent calendar was created in 1851, born from a holiday tradition of marking off days with chalk. Eventually in the 1900s, the seasonal calendars became a widespread phenomenon after Gerard Lang started mass-printing them.
Lang was inspired by his mother to include the addition of small cardboard windows, which opened each day of the calendar to build anticipation. From there, the production of different Advent Calendar ideas took off worldwide.
Today Advent calendars are limitless in their form. They can be wall-hanging, life-size and 3-D, shaped like Santa and more often than not, each day holds a small treat or surprise to open. Many calendars are filled with chocolates, money or small toys to encourage the whole family to join in the spirit of the season.
Here is our list of the 12 most festive Advent Calendars: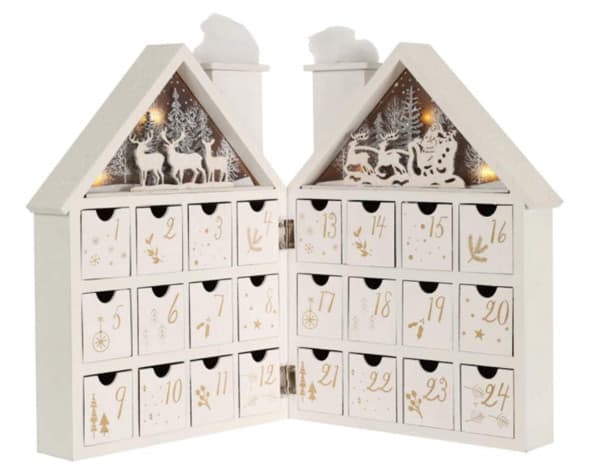 1. Snowy Christmas Calendar House
This tall wooden house from Pioneer-Effort opens up to hold 24 tiny fillable drawers. It also features LED lights surrounding the carved sleigh and reindeer scene to brighten the home throughout the night.
Find this calendar here.
2. Village Sleigh Advent Calendar
Ring in the season with this sleigh shaped 3-D wooden calendar by Clever Creations. The top of the calendar features an impressively designed snowy neighborhood with a child on a sleigh. There is also a "100% grinch proof or your money back" guarantee for the quality of each purchase.
Find this calendar here.
3. Gingerbread House Countdown to Christmas Calendar
This timeless holiday gingerbread house from HearthSong is perfect for stuffing with sweet candies and chocolate treats. Next to the design, another exciting feature is the interchangeable drawers to make every year feel new.
Find this calendar here.
4. Burlap Bag Advent Calendar
Looking for an unusual spin on Advent decorations? The calendar by D-FantiX is made of 24 festive burlap bags. The individual bags can hide whatever treats can fit inside. They can be hung in new patterns each year, as well as outside or draped around the Christmas tree.
Find this calendar here.
5. Wall Hanging Advent Calendar with Pockets
If you are in search of stylish and durable, this wall hanging calendar from JapanAmStore is ideal. The minimalist design works in any home decor and the pockets allow for a little peek of the treat. Additionally, the calendar is durable enough for the whole family to participate.
Find this calendar here.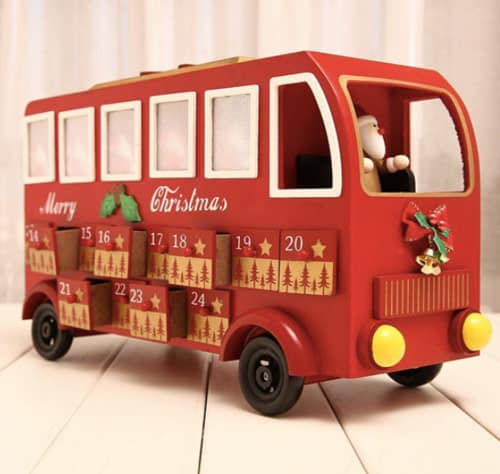 6. Bus Shaped Christmas Calendar
Compact, engaging and adorable. This little wooden Santa bus from HizoeChu holds 24 tiny cargo boxes. A pleasant and bright centerpiece that won't take up the whole table.
Find this calendar here.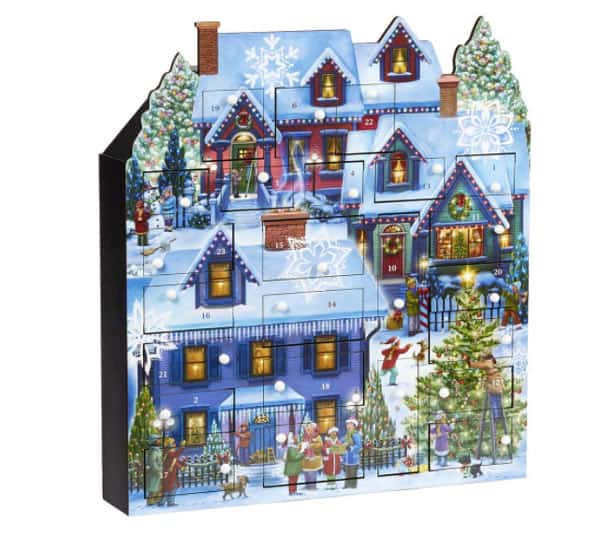 7. Holiday Houses Advent Calendar
Thinly designed to go along any wall, this beautifully painted calendar by Vermont Christmas Company is simple and merry. It includes carolers, snowmen and 24 little snowball doorknobs.
Find this calendar here.
8. Christmas Tree Calendar
A circular wooden Christmas Tree design, exclusive to Pioneer-Effort. This pleasant little calendar is decked with red present boxes as drawers. Tiny glowing lights and mini sleigh-bells also adorn the tree.
Find this calendar here.
9. Santa and Friends Wooden Calendar
For children, this calendar is the perfect holiday size to each have their own. Turn on the LED lights on the top and see a jolly Santa, snowman and reindeer above exclaim Ho Ho Ho!
10. Traditional Christmas Village Calendar
For more traditional decor, look no further than this wooden Christmas village design from Clever Creations. This is calendar also makes an elegant gift with its stenciled carvings, which create a lantern feel in the evening.
Find this calendar here.
11. Polar Train Advent Calendar
Enjoy the express train to Christmas eve with this Advent calendar from Pioneer-Effort. Children will delight in the unique drawings on each drawer filled with treats, as well as the enchanting figurines above the caboose.
Find this calendar here.
12. Santa's Workshop Wooden Advent Calendar
Start a new holiday family tradition with this magical scene of Santa's Workshop from What On Earth. Complete with elves at work and Santa decorating a LED light-up tree, this calendar is sure to captivate kids' attention.
Find this calendar here.