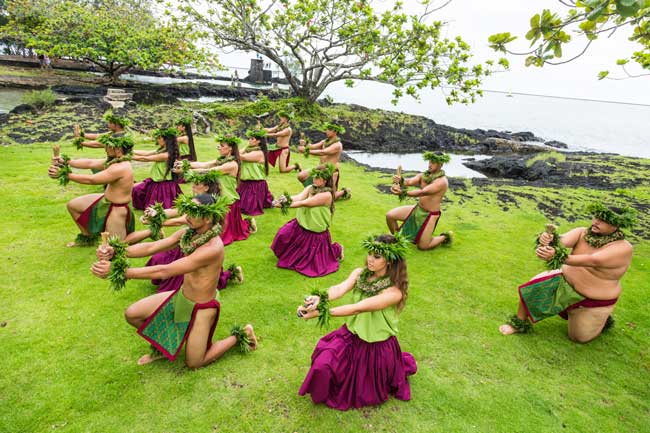 When you step off the plane in Hawaii, life begins to slow down. The air is thick with humidity, palm trees sway in the warm breeze, and colorful flowers are everywhere. Even in Honolulu, a capital city of over 850,000 inhabitants on the island of Oahu, the pace is slower. Businessmen with aloha-flowered shirts and sandals suddenly become the norm.
Hawaii, it seems to me, is as much an attitude as it is a place. Its relaxed culture is a mixture of surfer style, the Hawaiian "hang-loose" way of thinking and customs from dozens of different cultures.
No one ethnic group has a majority here. Immigrants from nations around the world now call the Hawaiian Islands home. This rich mélange of people has created a true Hawaiian culture all its own.
The first Hawaiians settled the islands over 1,500 years ago, with each island becoming a separate kingdom. White American missionaries first appeared in 1820, with Chinese, Japanese and Portuguese settlers arriving soon after. King Kamehameha, Hawaii's most beloved monarch, united the islands in 1810.
The royal family ruled until 1893, when a group of Americans imprisoned Queen Liliuokalani and the monarchy was overthrown. Hawaii became an American territory in 1898 and the 50th state in 1959.
That treasured Hawaiian heritage is still alive in the islands. Traditions, art, dance and song have been passed down from generation to generation.
The Hawaiian language is coming back in popularity, and you're likely to hear its melodic sounds spoken around town. With only 12 letters, including 5 vowels, the words are lengthy and pleasant-sounding.
If you'd like to hear more of the language, sit in on a Sunday service at Kawaiahao Church. Located on Punchbowl Street, a half block from the famous King Kamehameha statue, the church was built in 1820 of nearby 14,000 coral blocks. It is open daily from 8:00 a.m. to 4:00 p.m., and Sunday service is at 10:30 a.m.
Hawaiian words are part of everyday language on the islands. Many streets and sights have l-o-n-g Hawaiian names.
Like most big cities, Honolulu has traffic and crowds. But no one honks (it's considered rude), and the even the traffic loses that usual frantic pace. If you don't feel like driving, you don't need to.
The bus transportation system is safe, inexpensive and easy to use. In fact, it's one of the best ways to see Honolulu and meet the locals. I've learned a lot about Hawaii by riding the bus with employees from the Dole Cannery, surfers on their way to the beach, and folks from the mainland who now call the island of Oahu home.
Continued on next page