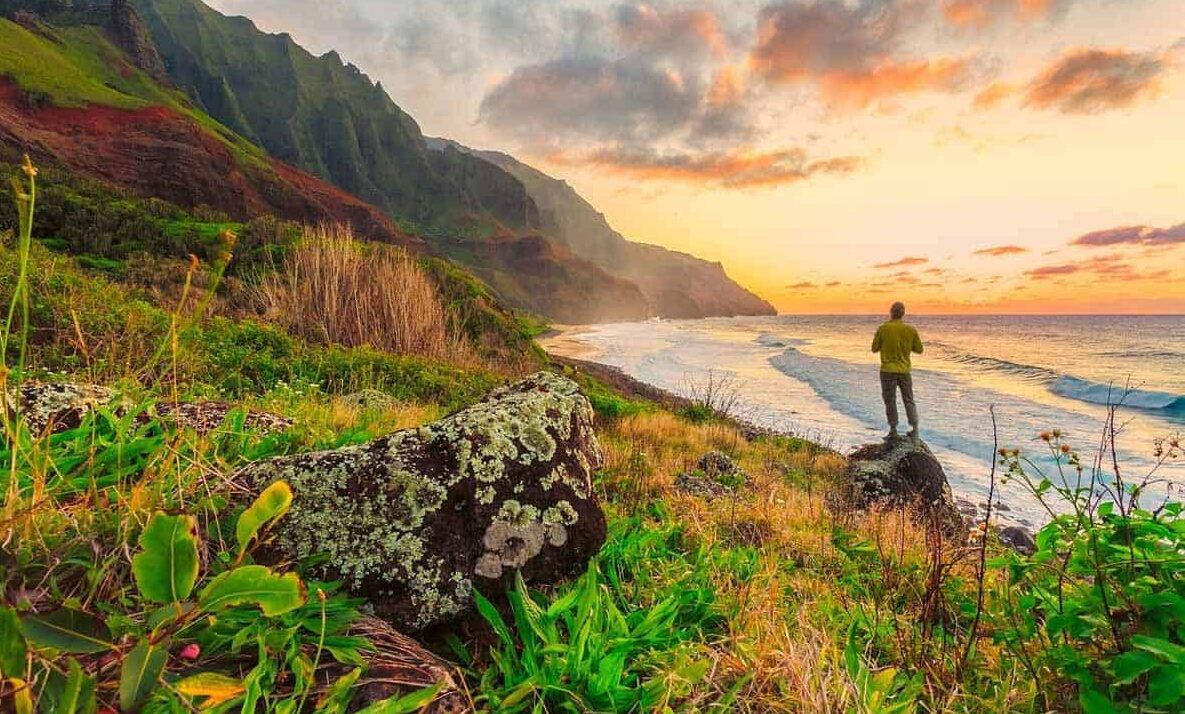 Editor's Note: Travel to Hawaii opened up on Oct 15, 2020. Visitors who present a negative COVID test, taken within 72 hours of departure, can bypass the state's mandatory 14-day self-quarantine requirement. For more information, see https://www.gohawaii.com/safe-travels. We share places, products and activities we recommend. If you make a purchase using a link on our site, we may earn a commission.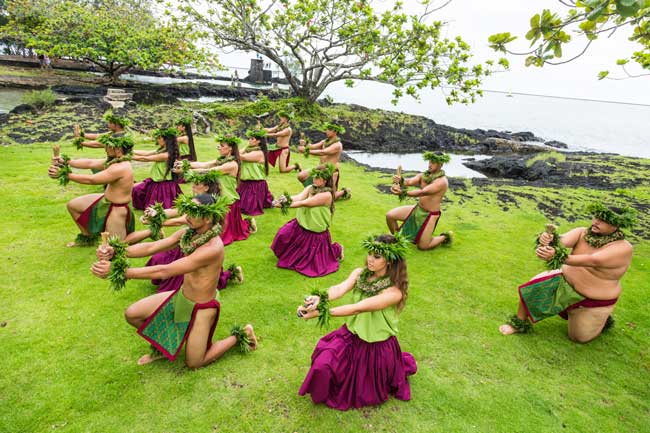 Welcome to Hawaii
When you step off the plane in Hawaii, life begins to slow down. The air is thick with humidity, palm trees sway in the warm breeze, and colorful flowers are everywhere.
Even in Honolulu, a capital city of over 850,000 inhabitants on the island of Oahu, the pace is slower. Businessmen with aloha-flowered shirts and sandals suddenly become the norm. Hawaii, it seems to me, is as much an attitude as it is a place. Its relaxed culture is a mixture of surfer style, the Hawaiian "hang-loose" way of thinking and customs from dozens of different cultures.
No one ethnic group has a majority here. Immigrants from nations around the world now call the Hawaiian Islands home. This rich mélange of people has created a true Hawaiian culture all its own.
A Brief History Of Hawaii
The first Hawaiians settled the islands over 1,500 years ago, with each island becoming a separate kingdom.
White American missionaries first appeared in 1820, with Chinese, Japanese and Portuguese settlers arriving soon after. King Kamehameha, Hawaii's most beloved monarch, united the islands in 1810.
The royal family ruled until 1893, when a group of Americans imprisoned Queen Liliuokalani and the monarchy was overthrown. Hawaii became an American territory in 1898 and the 50th state in 1959.
That treasured Hawaiian heritage is still alive in the islands. Traditions, art, dance and song have been passed down from generation to generation.
The Hawaiian Language
The Hawaiian language is coming back in popularity, and you're likely to hear its melodic sounds spoken around town.
With only 12 letters, including 5 vowels, the words are lengthy and pleasant-sounding. If you'd like to hear more of the language, sit in on a Sunday service at Kawaiahao Church.
Located on Punchbowl Street, a half-block from the famous King Kamehameha statue, the church was built in 1820 of nearby 14,000 coral blocks. Hawaiian words are part of everyday language on the islands. Many streets and sights have l-o-n-g Hawaiian names.
Traveling in Honolulu
Like most big cities, Honolulu has traffic and crowds. But no one honks (it's considered rude), and the even the traffic loses that usual frantic pace. If you don't feel like driving, you don't need to.
The bus transportation system is safe, inexpensive and easy to use. In fact, it's one of the best ways to see Honolulu and meet the locals.
I've learned a lot about Hawaii by riding the bus with employees from the Dole Cannery, surfers on their way to the beach, and folks from the mainland who now call the island of Oahu home.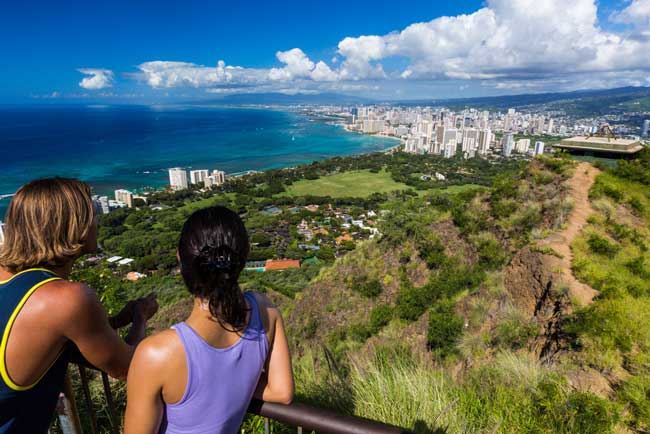 What to See and Do in Honolulu
The city has several distinct neighborhoods, each with a flavor all its own. Downtown Honolulu is the business district, with the Hawaii State Library and Honolulu Hale (city hall).
Be sure to look for the beautiful Iolani Palace, the royal residence of King Kalakaua and Queen Lili`uokalani, the last monarchs of Hawaii.
Another historical neighborhood is Chinatown, the oldest Chinatown in America and home to dozens of small Chinese, Thai and Vietnamese restaurants. One of the local favorites is Wo Fat Restaurant, which was founded in 1882.
If you like fresh fruit, be sure to stop at the neighborhood's Oahu Market, where you can pick up mango, papaya, and other local produce. (The prices are much better than at the major grocery stores.)
The Kuan Yin Temple located in Chinatown is the oldest temple in Honolulu, and worshippers still come here to worship and light candles.
Nestled behind the University of Hawaii is the quiet Manoa neighborhood. It is characterized by fine old homes built near the turn of the century. The lush area is a good place to get a glimpse of the Hawaii of yesterday.
The Shopping Opportunities
Excellent shopping opportunities are everywhere in Honolulu. You can find typical Hawaiian souvenirs, such as aloha dress, macadamia nuts, or island-grown coffee at Hilo Hattie stores, which are all over the islands.
The most convenient shopping may be the Ala Moana Shopping Center, the largest open-air shopping center in the world with more than 200 stores.
Located in the heart of the city, the mall is also a good place for a quick bite.
What to Eat in Honolulu
Be sure to stop for malassadas, a very Hawaiian desert. The tasty fried donuts were actually brought to the islands by Portuguese settlers and they've been a beloved snack ever since.
Due to Hawaii's mixed cultural heritage, you'll be able to find restaurants of all kinds. But the most typical local fare is called a "plate lunch". This is usually the daily special served with "two scoops rice." These are often inexpensive and tasty options.
One of my favorite treats is a huge scoop of "shave ice", the local version of a snowcone (finely shaved ice topped with your choice of flavored syrup). Some shaved ice has frozen yogurt or ice cream in the middle; others are simply flavored by the syrup of your choice.
These cool treats melt fast in the heat, so you need to eat them quickly! Another refreshing option is the fresh local juices sold in cardboard cartons in every grocery store. Be sure to try the starfruit juice. It's delicious and I always wish I could import it to the mainland.
The Weather In Oahu
The weather is usually warm and pleasant on Oahu, with average highs around 80° F (27°C), and temperatures cooling a little after the sun goes down. Hawaiian sunsets are truly incredible, so bring lots of film to capture them. The photos are sure to impress your friends back home.
Things slow down in the evening on the other Hawaiian Islands, but in Honolulu, nightlife is just beginning. Whatever your taste, you'll have plenty to choose from. The city has dozens of nightclubs, music bars and dance shows. If you're up for a truly Hawaiian experience, try a luau.
The Royal Hawaiian Hotel, built in 1927 and often called the "Pink Palace of the Pacific", offers a luau each Monday night on the beach of Waikiki. While most luaus offer the same standard fare and dance entertainment, the setting here is truly spectacular.
Hawaiian Beaches
Perhaps the most popular tourist attractions on the island are the beautiful Hawaiian beaches offering warm water, abundant sea life, and clean sand.
The mile-and-a-half long Waikiki beach is the best known in Honolulu, but the locals favor other sites. Ala Moana Beach includes a 76-acre park for picnickers, swimmers, and fishermen.
For snorkeling, try Yokohama Bay along the West Shore. The South Shoreline has excellent beaches for children, and the North Shore is best known for its world-class surfing and huge winter swells. Surf rage is a reality here. Watch where the skilled locals surf, and if you're not good enough to keep up with them, then it's best to stay out of their way.
Find expert guides and snorkeling tours with GetYourGuide. They now have flexible cancellation policies so you can plan your trip here stress-free.
Even if you're not a surfer, it's fun to watch the boarders and surfers at The Pipeline and Banzai Beach. Life is slow and relaxed on the Hawaiian Islands. It allows for more time to simply look around.
Chances are, after time spent taking in red sunsets, colorful flowers and warm, quiet hours on the beach, you'll be relaxed too. And like most visitors to Hawaii, you'll want to come back – again and again and again.
Beyond Honolulu
There's a lot to see on Oahu. Check out these other top attractions:
Diamond Head State Monument is one of Hawaii's most popular sites. From the 763-foot summit, you can see an incredible view of the Honolulu area. Watch windsurfers and Friday night sailing competitions from here, or pack a lunch and picnic inside the crater itself.
USS Arizona Memorial at Pearl Harbor. The Visitors Center is open to all at no charge. Take a complimentary boat ride out to the Memorial, which straddles the sunken hull of the battleship USS Arizona, a ship that sank on December 7, 1941, during Pearl Harbor. 1,102 crewmen lost their lives, and they are still entombed within the sunken ship.
Waimea Valley Adventure Park features botanical gardens, a 60-foot waterfall, and even a Butterfly Encounter pavilion. Kahiko, ancient hula, is performed daily.
FAQ about Honolulu
Best time to visit: Year-round
Getting there/airport location: Get the best and exclusive flight deals directly to Honolulu International Airport and the other islands with Hawaiian Airlines. Check out their vacation packages and destination deals here.
For more information before you go: https://www.gohawaii.com/oahu/
Latest posts by Janna Graber
(see all)