Editor's Note: Travel is complicated right now. Please check local regulations and location openings before you go. We share places, products and activities we recommend. If you make a purchase using a link on our site, we may earn a commission.
Christmas Market Is All Set
Let's face it, each year the Halloween candy is barely gone before Christmas decorations start appearing in stores.
And frankly, by the time Santa flies into town, we have had 60 days of the 12 Days of Christmas, been brainwashed with TV ads for Barbie dolls and play stations, and are ready to scream at the first note of Rudolph the Red-Nosed Reindeer.
Thankfully, I have found the antidote to my bah-humbug attitude… the Christmas Market.
These outdoor holiday markets are abundant across Europe during November and December, with the most famous ones, like that in Strasbourg, France, drawing thousands of visitors each season.
As only local artisans and merchants are allowed to sell products at a Christmas Market, each town has its distinct specialties.
My Intimate Experience of Christmas Market
I was looking for an intimate experience, a quaint and quintessential snow-globe scene where I could rekindle the memories of the Christmas spirit I once knew.
I found the cure only 90 minutes from my house in Brussels, and a few miles over the German border, in the storybook town of Monschau.
Nürnberg is famous for its gingerbread and Rauschgoldengel, golden foil angel figurines with pleated skirts crafted from finely milled brass or golden foil.
Vienna's ornately decorated trees grace the Rathaus (city hall) square, where local residents and visitors from all over the world enjoy an enchanted atmosphere.
Winter Morning on a German Village
Arriving on a cold gray winter morning, I caught my first glimpse of the tranquil western German village of 13,000 that looked as if it had been cast in miniature and set beneath a Christmas tree.
All that was missing was the toy locomotive encircling the scene. The cobbled town streets leading to Monschau's main square were an obstacle course for the senses.
Bakeries and candy shops lured me in with the smell of warm apples and shortbread, and beautifully festooned bags of chocolates and other colorful treats were within grabbing distance.
Learn how to ask for all of your Christmas list wishes in German with Babbel. Babbel has all types of lessons so you can learn the basics of any language and even become fluent as you continue. Find the perfect course to fit your schedule here.
I pinballed from store to store, sampling the goodies offered on trays by cheerful attendants, all the while admiring the windows bulging with handcrafted dolls and ornaments, trees and twinkle lights.
Wooden games and toys spilling out of doorways looked just like the ones Santa's elves would make. I was beginning to feel better already. Not a Barbie or Xbox in sight!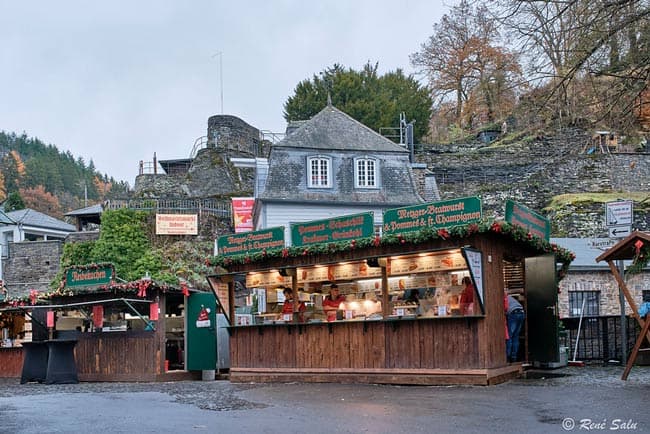 The Wooden Huts
Around the Weihnachtsmarkt (Christmas Market) were wooden huts stuffed like Christmas stockings with everything from ginger cookies to ornate music boxes, hand-carved nutcrackers to Santa hats.
Even I couldn't resist trying on a hat with attached blonde braids. I looked in the mirror and decided against it. I wasn't quite that spirited. In the distance, I heard the sound of brass horns and, as I turned a corner, its source was revealed.
Fifteen men and women in fur hats blew golden trumpets until their cheeks were cherry red. Although I didn't recognize the songs, the merriment was contagious.
Make sure you pack some layers to shop comfortably in the outdoor markets during the winter. SCOTTeVEST has layers, all with over 10 concealed pockets, so you can travel and be certain you have all of your essentials with you. Check out all of their gear here.
The lingering smell of cinnamon and cloves lured me past the grilled bratwurst and crocks of bubbling Monschauer Senfsuppe (mustard soup), a local specialty, to the glühwein (hot mulled wine) hut where the line was six-people deep.
The choices of steaming hot beverages on this winter day were inviting.
Eggnog, a creamy coffee-based elixir and hot chocolate were all available with a little extra "warmth" from one of the bottles of brandy, whisky or schnapps lining the countertop.
I opted for the glühwein, a Christmas Market must, and happily warmed my hands on the blue ceramic mug as the steam from the cup clouded the crisp air.
From the church, I heard the familiar sound of Christmas carolers. I sneaked in and sat in the back pew, sipping my wine.
The Church
I am not sure what was warming me more… the spirits in the cup or the spirit all around me. As I quietly inched out of the church, a robust woman caught my eye. "Frohe Weihnachten."  "Merry Christmas," I waved back. And I meant it.
Although the Weihnachtsmarkt is certainly about shopping, it is also about enjoying the magic of the season: the music, the festivity, the family and the friendly faces.
As I meandered the small alleyways out of Monschau, I was transported for a moment to my own Christmases past, and I remembered what Christmas was once about for me:
A time of believing, singing, my grandma's chocolate-chip cookies, and a tattered copy of 'Twas The Night Before  Christmas, the famous 19th-century poem by American author Clement C. Moore.
If only I had purchased the braided Santa hat. As I drove back home, a song popped into my head… Rudolph the Red-Nosed Reindeer. Hark! Could it be I was cured?!
Yes, Scrooge has left the building! Deck the halls because Santa Claus is coming to town!
If You Go
Weihnachtsmarkt Monschau – www.monschau.de