Christmas is a wonderful time to visit Germany. Towns and cities across the country are lit up with holiday lights, and nearly every community has its own traditional Christmas market. At each Christkindlmarkt, visitors browse the decorated stalls for unique handicrafts, listen to the music of local choirs and bands, and drink hot cocoa or Glühwein to stay warm. Christmas markets in Germany are a treasured tradition.
Erfurt Christmas Market
Above, Erfurt´s historic Old Town and the "Mariendom" (St.Mary´s Cathedral), where Martin Luther was ordained as a priest in 1511, provide a magical atmosphere at Christmas time. The "Domplatz" (Cathedral Square) is an ideal place for the Christmas market with a tradition of more than 150 years. Craftsmen sell a wide range of Thuringian handicrafts from Christmas tree decorations to blue print textiles and a rich choice of ceramics and pottery.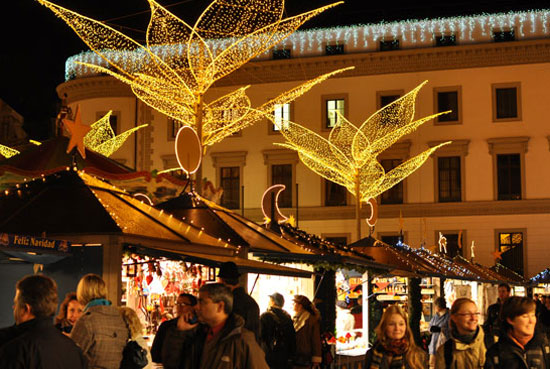 Wiesbaden Christmas Market
Advent is Wiesbaden´s star season as its Twinkling Star Christmas market takes place on the idyllic "Schlossplatz" (Palace Square) alongside the historic city palace. Seasonal concerts, ice skating, carol singing, nativity plays, and fairytale tellers add to a peaceful atmosphere.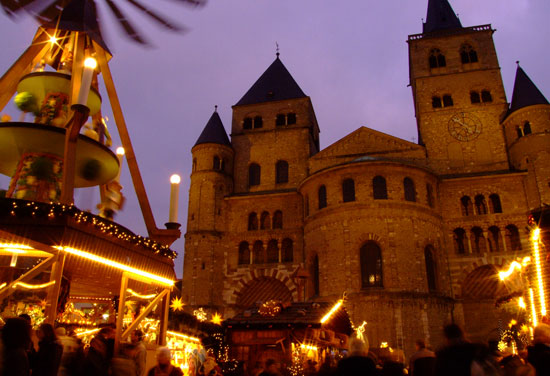 Trier Christmas Market
As Germany´s oldest city, Trier´s glorious history can be witnessed at every step on a stroll through the bustling Old Quarter that´s made particularly inviting for the holidays. The "Hauptmarkt" (Main Market) and the "Dom" (Cathedral) present themselves as a picturesque backdrop for the annual Christmas market.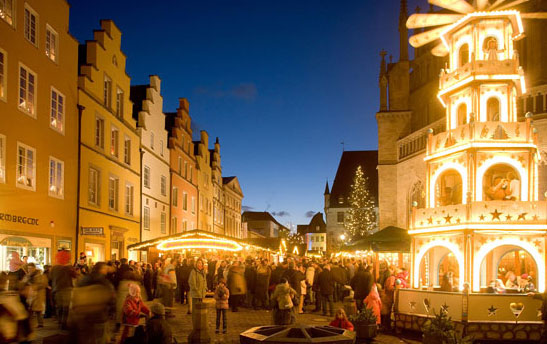 Osnabrück Christmas Market
A special attraction of Osnabrück's Christmas market is the largest Christmas music box in the world. Atmospheric bright lights illuminate the Old Town as a lovingly restored children´s merry-go-round from 1907 turns and festively decorated stalls offer craftworks, wooden toys, or sweets. St. Nikolaus visits each day to open a window on the huge Advent calendar in front of the "Rathaus" (City Hall) where Osnabrück's treaty of the Peace of Westphalia was signed in 1648.
If You Go
German Christmas markets usually open the last week of November and run through at least Christmas Eve, and are usually open daily from 10 am to 8 pm.
Germany National Tourist Office
germany.travel