Besides the fresh fruit and mango juice, in general do not expect food to be the highlight of your trip. Fish is the staple, and there is nothing much besides that. Local Creole cuisine is not bad, but I have no shame in saying that we did have a fair share of homemade pasta and peanut butter toasts on our stay there.
Praslin and La Digue
You will need to go to Victoria to travel to other islands in the archipelago. We only had time to visit Praslin and La Digue, which are the second and third biggest islands, but many others are worth a trip, like Curiouse, where giant turtles roam free, or Bird Island, a bird sanctuary which is guaranteed to exceed any nature lovers' expectations.
These two islands are just wonderful. Visiting them will make it very clear why they are a top choice destination for honeymooners. You can only explore La Digue by bike, so we rented one and rode across a vanilla plantation to reach Anse Source D'Argent.
Anse Source D'Argent
You know when you open a travel magazine and they show you these picture perfect stretches of white sand, palms stretching towards turquoise waters and all that? Well Anse Source D'Argent is the real deal. For a moment I thought I had died and ended up in sea-lover paradise.
It was so beautiful that it does not matter how much I blabber about it on here, you can really only understand by setting foot on those velvet smooth sands.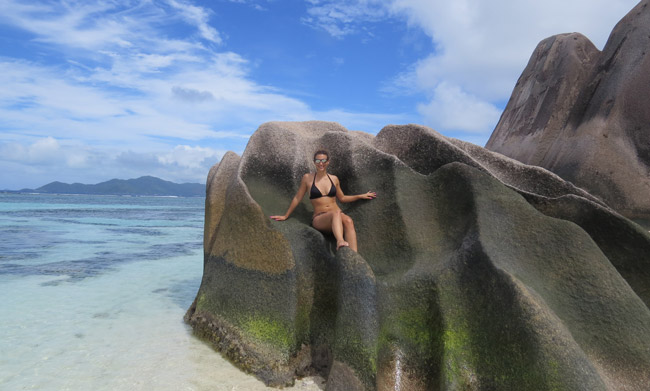 When it was time to leave, I grudgingly jumped on my bike, waved goodbye to the colorful fish and made my way to the port where we were going to catch a boat to Praslin.
Praslin is slightly bigger, and universally famous for two things: 1) hosting the only remaining pristine forest of coco de mer, a very sexy butt-shaped palm species, and 2) Anse Lazio, allegedly one of the most beautiful beaches in the world.
Vallee de Mai
Both are definitely worth a visit. I loved the Vallee de Mai, and you really have the feeling of being far from civilization and completely immersed in nature. The Coco de Mer palms are absolutely gigantic; it is really a special sight. Anse Lazio is also very nice, but because there is no reef, expect much wilder waters than in La Digue.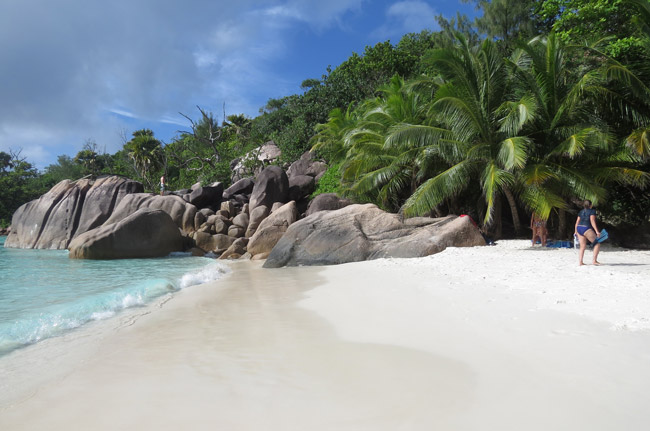 Visiting the Seychelles
When all was said and done, what I really took away from this holiday is that Seychelles is much more than just a honeymoon paradise. The scenery is surely breathtaking, as are the sunsets and the beach. Five-star resorts are everywhere to be enjoyed, affording luxury comforts.
But there is so much to be enjoyed on Seychelles. Hiking, nature, water sports and local culture are all there to be explored, and I would highly recommend making the most out of all of these experiences. This does not exclude the possibility of ending each day cuddling each other, sipping a glass of wine and listening to the waves. It is a holiday in Seychelles after all.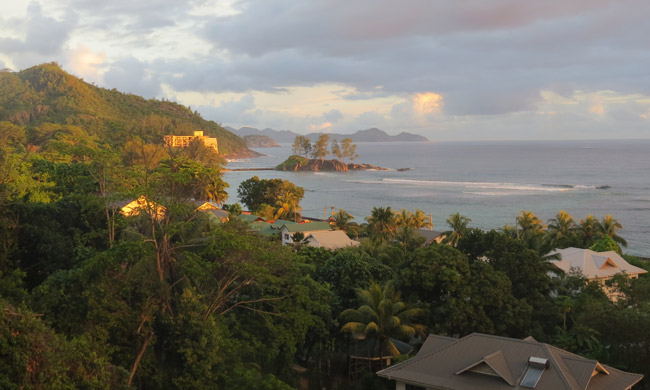 If You Go to Seychelles:
Day trips can be pricey, so plan that in your budget, but if you are tight on time like we were, you can combine La Digue and Praslin in one day, buying a ticket with Cat Cocos catamaran company.
If you visit Seychelles, do rent a car (we did it via our hotel). Buses are there (at least in Mahe), but are unreliable and don't cover the whole island. For Praslin, the same advice applies. You won't be able to use a car on La Digue or any of the other smaller islands. Bikes are the best option there, and are definitely a great way to discover the unspoilt beauty of these islands
Bring your own snorkelling equipment
Food can be expensive, even in local grocery shops
Do bring mosquito repellent, and the strong kind. especially when hiking or visiting any garden or plantation. Better cover yourself with it!
There are no dangerous animals or insects on land, so do not panic when you see the spiders
Helpful Info
Seychelles.org
Author Bio: Nicoletta Pavese is a 26-year-old, Italian, sea lover, and travel fanatic. She has lived a big chunk of her life in and out of planes, moving from Milan to London, Paris,and many more destinations. Her carry-on is always ready to go. Traveling is Nicole's passion and her blog My Carry On Life captures her attempt to (slowly) fulfil her dream of  seeing the world, one trip at a time. At the moment, she lives and works in Switzerland, loving her job as a Sustainable Agriculture Specialist, but starting to get that familiar feeling of itchy feet that nudges her forward towards a new destination. Who know where the wind will blow….