Her request was simple but enigmatic: close your eyes, extend your arms, and inhale deeply.
I breathed air so crisp it jolted my senses awake. Delicate steps circulated around me, crunching the freshly fallen leaves in poetic rhythm. Even in mid-October, the alpine sun persuaded me to shed my cardigan and feel its entirety on my bare arms.
"Inhale," she said again. This time the scent of burning juniper and sage tickled my nose. The smoke was soft and warm and provided a sense of comfort I wasn't expecting.
When we returned, the spa receptionist Alessandra asked, "So, how was your forest bathing experience?"
I smiled, having absolutely no idea what just happened but feeling a profound sense of peace and gratitude.
The Resort Focused on Healing and Well-being
Preidlhof Luxury DolceVita Resort welcomes those who want more than an escape in the mountains. This is the place for those who wish to be rejuvenated from the inside out, immersed in a true culture of wellness. Everything in sight promotes a message of self-care, from the gourmet Wellness Dinner Menu to the multi-level Sauna Tower. Even a brief stay would forge a reclamation of personal well-being.
Placed delicately in the alpine region of South Tyrol, Italy, Preidlhof is about 20 minutes outside the charming town of Merano and is a self-contained labyrinth of everything you would need for your escape. Beyond the inevitable rest and relaxation, Preidlhof gives you the space to heal whatever part of you needs healing, emotionally or physically.
Each room offers stunning views, whether overlooking the beautiful Ortler Mountains, vineyards (many owned by Preidlhof), or steaming pools. Preidlof has nine pools, seven saunas, and an elaborate spa boasting many different services from massages to facials. There is also a comprehensive med spa that specializes in helping guests with stress reduction, sleep improvement, weight management, and more. All services prioritize health and long-term results.
Book Your Stay at Preidlhof DolceVita Resort Here
My Spa Experience at Preidlhof
During my stay at Preidlhof, I was lucky enough to experience a Yaku Shiatsu session and a Hydrating Facial. After a few moments of having a cup of tea in the spa waiting room, Shiatsu Master Andrea Martinelli invited me into the Shaitsu room and provided me cotton clothes to change into. He asked what kind of emotion or physical tension I was dealing with so he could cater the experience to focusing on those specific issues.
I was expecting some sort of massage, but it was a much different experience. The focus of the treatment was on chakras, pressure points and directing energy. I was told to lie down on a blanket on the floor with a pillow for comfort. Throughout the treatment, I laid on my back, stomach and side. Mr. Martinelli worked his magic and circulated his hands around points of tension and utilized tapping, kneading, and stretching techniques to revive and rejuvenate my body.
The following day, I had a Hydrating Facial, which focuses on rejuvenating dry skin. The facial included the use of a machine that delivered electrical impulses to further promote the absorption of hydrating serums. The process didn't make much noise or take me out of the facial experience. The sensation does take a little getting used to, but it never was uncomfortable or hurt in any way. By the end of it, my face felt hydrated, and my skin was glowing, so it certainly was a success.
The Spa Facilities at Preidlhof
Geothermal Pools
The most impressive element of Preidlhof is the extensive spa facilities that are designed for pure relaxation. With both indoor and outdoor spaces, there are plenty of ways to enjoy your visit. My personal favorite was the underground thermal pool, completely fueled by natural geothermal hot springs. Therefore, the temperature is always changing based on the cycles of the springs. When I was there it was at a comfortable 31 degrees Celsius (about 89 degrees Fahrenheit). The lighting was dim and colorful and there were some very creative seating options. There were swinging circular beds big enough for couples and nooks built into the walls you could crawl into with ladders.
Be sure to read the signs outside each pool because they inform you of the type of pool, the naturally occurring minerals, and the length of time you should spend in there. The geothermal pools have minor amounts of arsenic (found in many pools) which does have some healing benefits in small doses. They advise you don't spend more than 20 minutes in the geothermal pool. Because of the naturally occurring minerals, the water is silky smooth and results in beautifully soft skin. This pool was very hard to leave, and the soothing waterfalls only made the experience better.
The Sauna Tower
Right across the hall from the geothermal pool is the glorious Sauna Tower, which is exactly how it sounds. It is a six-floor tower filled with 16 types of relaxation experiences including saunas, steam rooms, Turkish baths, pools and more. The sauna tower was intentionally constructed right in the heart of naturally high energy, enhancing the overall sense of well-being and serenity.
With so much to choose from, it can be intimidating to know where to start. I recommend you start by visiting each floor and seeing what draws you in. Another great way to get to know the Sauna Tower is to participate in one of the healing steam experiences that occur 3-4 times a day. Additionally, there is a sauna night hosted weekly that informs of relaxation techniques and how to make the most out of your sauna experience.
I started my sauna tower experience off by toasting in the salt room followed by a tranquil tea break in the relaxation room. Then I explored the many pools. Even in colder weather, it is so lovely to swim in the outdoor pools, especially knowing a nice hug from the saunas awaits you afterward.
Before my visit to Preidlhof, I had always associated saunas solely as a way to warm up and hadn't understood the broader appeal. Properly sitting in a sauna for the right amount of time, allowing your thoughts to evaporate, and acquiring a nice sheen of sweat takes the experience to the next level. Saunas are great for detoxifying, relaxation, and overall skin health.
Types of Saunas at Preidlhof
There is a wide array of saunas focused on different features. Some are focused on scents, like wine, olive, and 5-senses saunas. Others utilize chromotherapy techniques and light technology to enhance the experience. Each has varying levels of heat and humidity. Most saunas are meant to be experienced in the nude. Each floor is marked clearly whether nudity is expected in the facilities. Regardless, it is important to sit on a towel while you're in the sauna for sanitary reasons.
My personal favorite sauna was the 5-Senses Sauna. because I've never encountered a sauna quite like it. There is a moat of blue-lit water surrounding a crackling fireplace in the center. As you walk in, you wade through the warm silky water, have a seat on the bench, and take in all the different sensations. There is calming music playing and a variety of soothing scents.
The Fitness Center
There is a well-equipped cardio fitness gym that offers many kinds of exercise machines, where you have the option to work out independently or with a personal trainer. The fitness center also hosts a multitude of classes, spanning from yoga to functional training. You also have the option to sign up for organized hikes and bike outings ranging in difficulty. My personal favorite way of exercising is the latter, especially in a place as beautiful as the Italian Alps.
Good to Know
The facilities are open daily from 11 am – 11 pm
Pro-Tip go at night (around 10 pm) if you want a more private experience
Although it is a nice experience alone, Preidlhof is a very romantic location perfect for couples.
Read More: Discover the Dreamy Town of Annecy in the French Alps
Private Custom Tours in the Italian Alps and Nearby Towns
By far one of the most memorable experiences I had at Preidlhof was the private day excursion I had with Mateo, a local tour guide specializing in custom experiences. Having grown up in the region, he was very knowledgeable and knew all of the most authentic spots to visit.
Mateo was a great conversationalist who was dedicated to helping me find out what I wanted to see in the region. He provided insightful suggestions and showed me a side of Italy I would've never known existed.
First, we visited the neighboring valley of Senales where cows and sheep roam the steep hills. The sound of their ringing bells echoed peacefully through the valley. Just based on where these animals roam, you can tell their milk and cheese is some of the best in the world.
The humane treatment of animals is a priority for Italy, along with acquiring and utilizing fresh, local ingredients. The Italian government does everything it can to prevent fraudulent products that claim they were made in Italy when in actuality they were not. There is a reason Italy is known for its fresh quality food.
One of the highlights of Senales was the breathtaking turquoise Lake Vernago. Although man-made, it is a spectacular sight from every angle. There is also a nearby historical monastery known as Certosa that was founded in 1326. Nowadays, it is a residence but there is still a tribute to its rather dark monastic past as you walk throughout.
Each valley has different climates and characteristics. Preidlhof is located in the Vinschgau Valley which has more temperate weather and rarely gets snow – hence why it's open year-round. However, the valley of Senales gets a lot of snow which makes it ideal for skiing and other winter sports.
Lunch at an Authentic Senales Restaurant
South Tyrol is an interesting part of Italy because it is a meld of Austrian and Italian cultures. The bulk of the region is German speaking but I found that many people speak both German and Italian. This cultural blend inspires a cuisine like no other.
Südtiroler Gasthaus is a quaint hotel in the Senales Valley that offers a restaurant with very authentic food to the region. The menu is in German and Italian but not English. You'll find that many of the staff do not speak English as well, but that only reiterates the authenticity. Everything is made with local ingredients sourced from the valley, so you know it's the freshest it can be.
To start, I tried schüttelbrot, a crispy unleavened bread with local cheeses and wine. For my main course, I had schnalser nudeln, an amazing lamb ragout pasta dish (meat sourced from their own farm). And finally for dessert, I had schnalser schneemilch, which is somewhat like a bread pudding with cinnamon flavors and a heaping pile of whipped cream. This dessert is very unique to Senales Valley and isn't readily available in many other places.
Pro Tip: If you see a menu item marked with a stamp saying, "Slow Food" or "Presidio," that means it is traditionally and sustainably made with local high-quality ingredients.
What Activities Are There in the Dolomites?
The Dolomites are a year-round destination with beautiful hiking and swimming in the summer and amazing skiing in the winter. There are 12 ski resorts in the Dolomites, seven of which are connected. This means you have seven entire resorts at your disposal with just one ski ticket.
If you're looking for a cheaper, less crowded alternative, there is a Mateo-certified ski resort called DOLOMITI Super Ski which is tucked away in the Senales Valley. In addition to skiing, there are great hiking and biking trails ranging in difficulty, all of which have incredible views.
Read More: Skiing in Italy Makes a Great Family Vacation
The Village of Merano
Merano is a lively town located 20 minutes away from Preidlhof. It is renowned for its beautiful natural landscapes featuring dozens of vineyards, fruit orchards, and the Passer River. Merano boasts a vibrant blend of Austrian and Italian influences, evident in its architecture, cuisine, and culture.
Merano also has a naturally heated indoor/outdoor spa that is completely free to the public, something the town is famous for. Beyond roaming the quaint streets and marinating in the thermal baths, hiking and biking are great activities to experience in Merano. The hillside is almost always bathed in sunlight and rarely gets too cold to hike, even in the winter. People from neighboring valleys go to warm up in Merano when it gets too cold in their own towns. Hiking trails are accessible directly from the city and go for miles.
An Elaboration on Forest Bathing
Forest Bathing was one of the most intriguing activities on my agenda. I wasn't sure what exactly to expect and whether there would be actual bathing involved. The spa receptionist Alessandra suggested that I dress in hiking attire and that there wouldn't be any literal bathing involved.
We were a small group: our leader Irmgard, a British bloke and me. We began our day early just when the sun started shining through the trees. As we ascended the mountain, it got warmer and warmer, with an underlying fall crispness. It was ideal hiking weather. Irmgard, 76 and sprightly as ever, marched up the mountain faster than the two of us. Hiking is an activity she is well versed in. She makes the effort to go outside every single day and do something active. She also loves to garden and cook with her own food.
Coffee With a View
The three of us formed an unlikely friendship and chatted about our contrasting lives as we experienced an amazing hike. About a quarter of the way up lived a little café where we all stopped to have coffee with a view.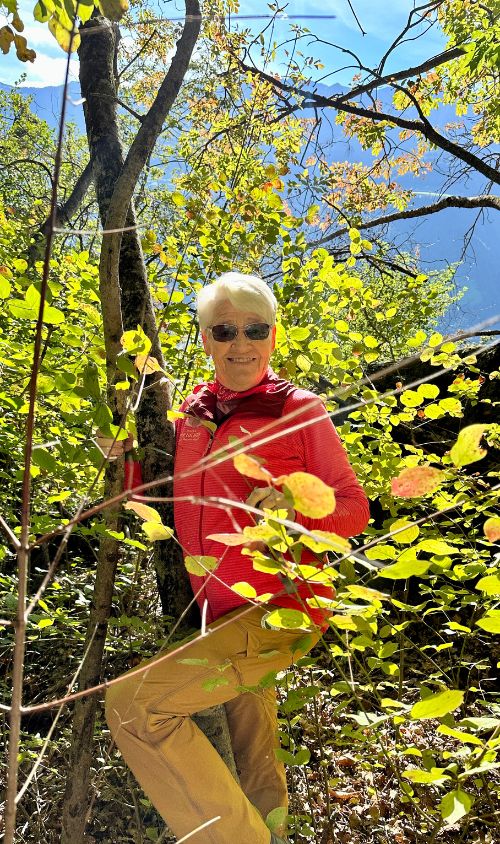 Forest Meditation
Irmgard sought out some trickling waterfalls and led us off the trail to a bit of forest with dappled sunlight. She asked us both to find a spot to settle, whether that be a tree or a sunbathed rock. I chose a rock to lean against. She told us to close our eyes and experience a silent meditation for 15 minutes, paying attention to the sounds and scents of nature.
Within those 15 minutes, I was swarmed with gratitude, thinking mostly about my Grandma who passed away, knowing how much she would adore this experience. She was a painter, and I could hear her voice in my head describing every shade of color of the autumnal mountains to me.
While previously having difficulty with meditation, the setting helped me become immersed to the point where I didn't want it to end.
Smoke Ritual
The final part of the experience was the smoke ritual. Irmgard collected plants throughout the hike and displayed them on a picnic table. She had a backpack full of other spices, herbs, and flowers that she took out as well. Then she took out a lighter and a censer and began describing what each herb was: juniper, sage, rose, vanilla, lavender, and many others. I was the first to go, so she put together a specific mixture of herbs just for me. Apparently, the mixture is different for men and women.
Irmgard danced around me with the censer waving smoke all over my body as I inhaled and exhaled. The entire ritual took ten minutes, but I oddly didn't want it to end. Afterward, I felt calm, present, and a little confused. Regardless, the ritual was the cherry on top of such a unique experience.
Dining at Preidlhof
Another one of the most amazing parts of my time at Preidlhof was the gourmet selection of food for breakfast, lunch, and dinner. Food is my favorite thing about being alive, so I was delighted to be surrounded by some of the best.
Breakfast
For breakfast, there was a huge buffet unlike anything else I had seen. Each day there was a different theme, my favorite being exotic fruit day. I had a whole assortment of starfruit, mango, pineapple, pomegranate, kiwi, dragon fruit, and some I don't even know the name of.
There was a section dedicated to making your own orange juice with the option to turn it into a mimosa. Then, there was a table with every kind of cheese and cured meat you could imagine, all delicately folded and presented in a way that you couldn't say no to. And of course, there were a variety of cereals, breads, and croissants.
A chef who made omelets, pancakes, and crepes right before my eyes. Each turned out flawless every single time. My go-to order was a Nutella crepe with fresh fruit.
Lunch
Lunch was also buffet style but with more savory choices. Rather than an omelet bar, there was a pasta bar where I chose what pasta I wanted and watched the chef create it right in front of me. It turned out so delicious I was tempted to go in for round two. My favorite part about the lunch buffet was the platform dedicated to every kind of cake imaginable. I definitely overindulged in this section and I don't at all regret it.
Dinner
Dinner at Preidlhof stole the show. I was treated like royalty by the gracious wait staff and provided an experience unlike anything I've ever had. There were a variety of menus to choose from that changed on a nightly basis. For my first night, I tried the Wellness Menu which had seven courses of unbelievable food.
The Wellness Menu featured healthy food options that were vegan, low sugar, and low carb promoting anti-inflammation, a good night's rest and overall good health. I, not used to indulging in seven course meals started to feel full by course two and a half. Regardless, I couldn't stop. I wasn't going to waste such brilliant food.
If you aren't interested in the pre-chosen courses, there is the option to swap them out for others. I tried some of the traditional food including the käsknodel which are cheese dumplings topped with melted butter. The other menus were equally as good but had more meat choices.
How to Get to Preidlhof
A new Sky Alps flight recently launched from London Stansted to Bolzano, making Preidlhof easier than ever to reach. Bolzano is a city in the South Tyrol region that is only a 40-minute drive from Preidlhof. The flight is offered twice a week for as low as $195 roundtrip.
You also have the option of flying to one of the following nearby cities: Venice, Verona, or Milan. From there, you could either bus or train to either Bolzano or Merano, which is a 20-minute drive from Preidlhof. From Merano and Bolzano, you could either rent a car or arrange a private transfer through Preidlhof to get there.
If You Go:
I was left with no choice but to spend my last day falling asleep with the sun caressing my face, resting on the bed of my private balcony that overlooked the Italian Alps. It was made clear that this was the place to surrender my worry and give in to the restorative ambiance of the mountains, the forest, and the resort that is so aptly integrated into both. Preidlhof was a sanctuary I never wanted to leave, one that will live fondly in my memories until I am able to visit again.
Read More
Author Bio: Isabella Miller is a passionate world explorer with an appreciation for the vast range of the human experience. She wants to live it all, from backcountry camping in the Great Sand Dunes to marinating in a saltwater geothermal pool in the Italian Alps. She loves the yin and yang of cities and nature, celebrations and peace, adventure and relaxation. The best kind of trip is when all of the above coexist. This world is nuanced and delicate, filled with infinite stories to tell. She takes great pride and joy in sharing her discoveries with the world.