Nestled in the French Alps, Annecy is a lakeside oasis like no other. Often considered the Venice of the Alps, turquoise canals carve through Old Town, decorated with floral arrangements and medieval-style bridges. This idyllic town feels more like a dream than a real place, as it's truly an escape from bustling city life and any of your concerns.
Where is Annecy, France?
Primarily known for its stunning setting, Annecy is located in the southeastern region of France known as Auvergne-Rhône-Alpes. It is 22 miles south of Geneva, Switzerland and 93 miles east of Lyon, the second-largest city in France. It is a relatively small mountain town with a population of 126,000 people and spans across 26 square miles.
I was fortunate enough to spend two nights in Annecy, and I was still able to experience most of what it has to offer. Ideally, I'd pick my whole life up and move there, but I'll take a one-day visit for now.
Read on to learn about the top 5 things to do during your visit to Annecy, all of which you can experience on a budget.
A Brief History of Annecy, France
Annecy has a rich history that dates all the way back to the Roman era when it was known as Anneciacum. Due to its strategic location and prime trade routes, Romans decided that it was the ideal place to settle.
Unlike other places in Europe, Annecy thrived during the Middle Ages. It became the capital of the county of Geneva and was ruled by the courts of Geneva until the 16th century. It became a well-regarded hub known for its trade and craftsmanship, particularly known for metalworkers and weavers.
During the Age of Enlightenment in the 18th century, Annecy experienced a period of great enlightenment and growth. The esteemed philosopher, Jean-Jacques Rousseau spent a lot of time in the region and contributed to the intellectual atmosphere.
During the 18th century, Annecy was affected by the French Revolution and fell under French control. It officially became part of France in 1860.
In modern times, it has become a stunning tourist destination that many people visit every year. It has become a haven for outdoor enthusiasts and history buffs combining scenic landscapes and the historic Old Town. Annecy has an annual animation festival, weekly markets, and beautiful museums to visit.
Book an amazing tour of Old Town, Annecy here
Top 5 Things to Do In Annecy, France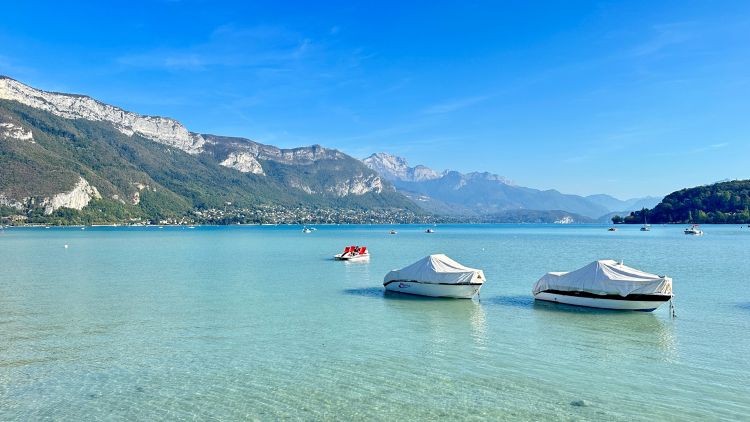 1. Lac d'Annecy
The Lac d'Annecy is absolutely iconic with its shimmering teal waters with the jagged green Alps as a backdrop. The lake is massive and is great for any kind of water activity imaginable. I was there for a day in October and the weather was stunning (sitting at a comfortable 70 degrees Fahrenheit). Although I didn't do any water sports, paddle boarding, paddle boating, water skiing, wakeboarding, and sailing are all amazing ways to enjoy the lake.
I spend a few hours roaming around the lake and visiting the many surrounding parks decorated with fountains and flowers. Lakeside parks host plenty of benches, though many people are happy to sit on the ledge of the lake. I sprawled out on a ledge, took my shoes off, and had the most glorious nap in the sun.
The lake truly is a breathtaking sight year-round and is one of the main highlights of Annecy.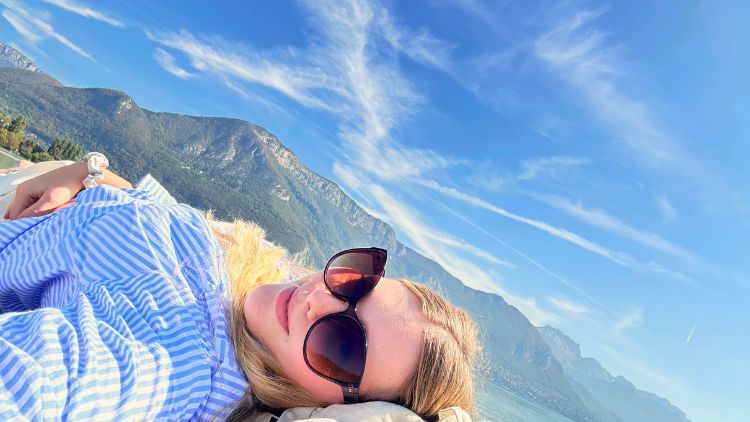 Parks and Beaches to Visit on Lake Annecy
Le Pâquier: Featuring walking paths for leisurely strolls, spots for picnics, and outdoor activities
Jardins de l'Europe: Featuring manicured gardens, sculptures, and beautiful views
Imperial Palace Park: Featuring a hotel and casino, gardens, and a small beach
Roc de Chère Natural Reserve: Featuring hiking trails through forests, a great place for nature lovers
Angon Waterfall and Gorges: Featuring waterfalls, short hikes, and gorges for a refreshing swim
Les Marquisats Beach: Featuring swimming, sunbathing, and picnicking
Sevrier Beach: Featuring a beautiful beach with picnic tables, playgrounds and restaurants
Talloires Beach: Featuring swimming, sunbathing, and enjoying the clear waters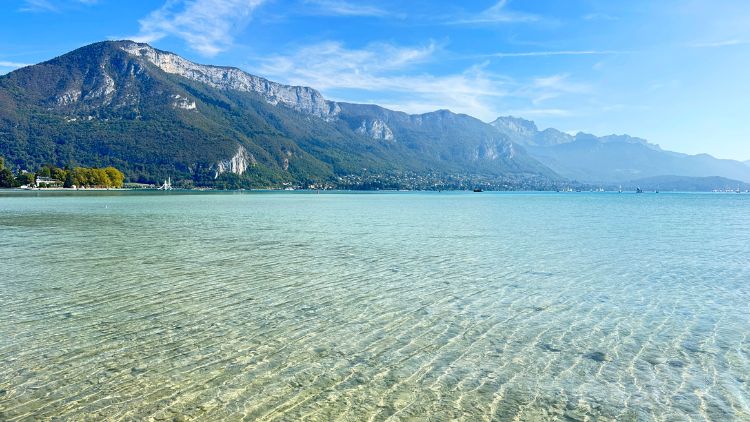 How is the Water so Clear?
Lac d'Annecy is known for its crystal-clear, pure water. The lake's water originates from snowmelt and glacial runoff from the Alps. The clarity is made possible with limited pollution due to strict environmental regulations. Watershed management also contributes to the health of the lake, especially since it's the main source of drinking water for the town. The lake also has balanced nutrients so there are rarely any algae blooms. The limestone geology also provides a natural filtration system. Because of these many factors, Lac d'Annecy is known as the most pristine lake in Europe.
2. Annecy's Old Town
Old Town Annecy is so picturesque and inviting featuring pastel-colored medieval-style buildings lining vivid teal canals. Depending on the time of year, flowers decorate the bridges and the streets.
You have to visit the legendary Palais de l'Ile, the most iconic photo op in Annecy. Located between two canals, this pointy medieval palace is truly a work of art.
I strolled around Old Town for hours, smelling traditional French cuisine wafting out of the restaurants. There are winding cobblestone streets and Venice-like nooks and crannies to explore. There are so many shops and vibrant buildings to see.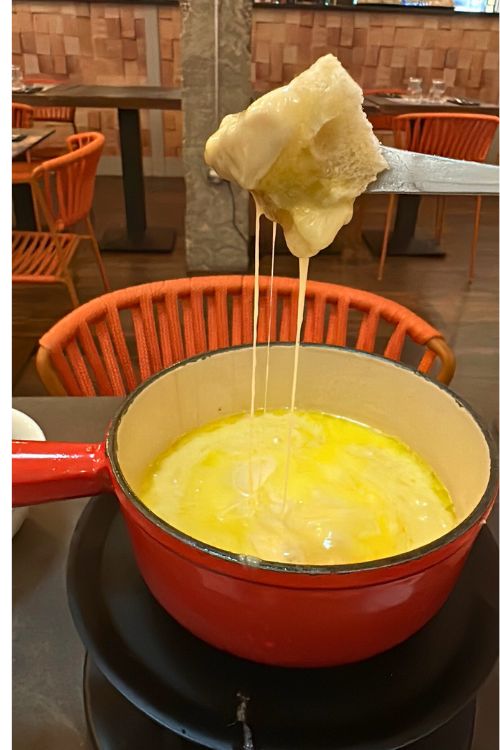 3. The Cuisine in Annecy
Annecy is undoubtedly home to some of the best cuisine in the world. Featuring a blend of Swiss and French flavors, there truly are some amazing choices.
Fondue is my all-time favorite food and is something I worship. There is a severe lack of fondue places where I'm from so visiting Annecy was a real treat considering fondue is their specialty. I had fondue at Le Freti Côté and it was fabulous. If you are traveling alone, this is one of the few places that serves fondue for only one person.
Sumptuous gruyere with bread and potatoes is an unbeatable combination that provides an ineffable ecstasy. Indulging in fondue at the very place that specializes in it is an experience that is unequivocally worth every moment.
As my tastebuds danced, I reflected on my gratitude of having the privilege of visiting such a rejuvenating place. Eating my favorite food in my favorite place has become one of my most cherished memories.
Besides the fondue place I won't shut up about, I had a great dinner at Le Chalet. The ambience was cozy and warm and the food was phenomenal. I had burrata pesto pasta and mint tea.
I also ate at the crepe place, Aux Crêperies Bretonnes La Bolée, and had a lovely three-cheese galette with goat, emmental, and Roquefort cheeses.
You can also never go wrong with picking up a baguette, getting some cheese from the farmers market, and munching on that flawless combo in the park. I could eat exclusively bread and cheese for the rest of my life.
4. Annecy's Best Museums
There are plenty of great museums to choose from in Annecy including Chateau d'Annecy, Musée Du Film d'Animation, and Palais de L'ile.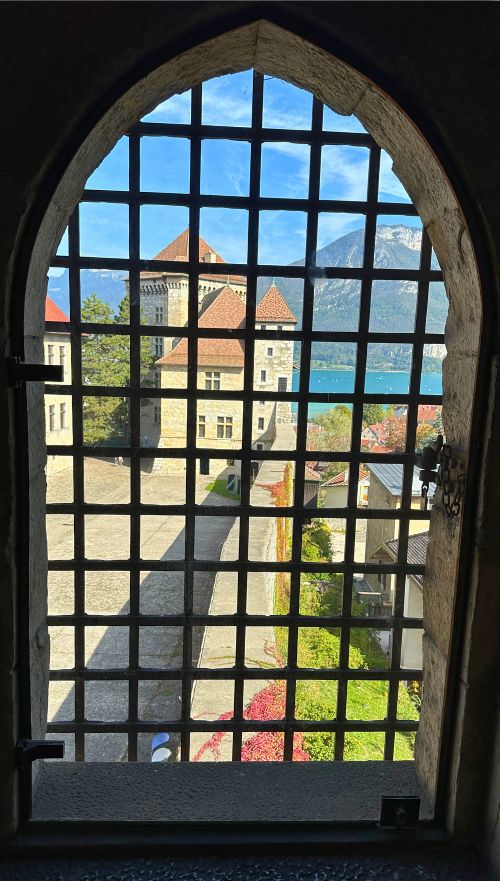 Chateau d'Annecy
I went to the Chateau d'Annecy which is located in a stunning medieval castle overlooking the lake. I didn't know what to expect when I first got there. The top-level hosted a variety of rather odd contemporary art, the middle section featured medieval art including realistic Alps scenes as well as some history of the castle. A lot of the plaques are in French so bring your Google Translate app along.
Musée Du Film d'Animation
There is also an animation museum that I really wanted to go to but it was unfortunately closed. There are many interactive displays, workshops and events, and exhibitions relating to the world of animation. It also hosts the Annecy International Film Festival which usually takes place in mid-June.
The Palais de l'Ile
The Palais de l'Ile is the iconic wedge-shaped medieval building planted between two canals. It used to serve as the primary residence for the Lord of Annecy in addition to a prison in the 14th century. During your visit to the museum, you can stroll through the various rooms, the prison cells, the court, and the home of the Lord of Annecy. It also features exhibitions on the history and culture. Although I wasn't able to see this museum, I plan on returning one day so that I can.
Book tickets and learn more about Annecy's museums here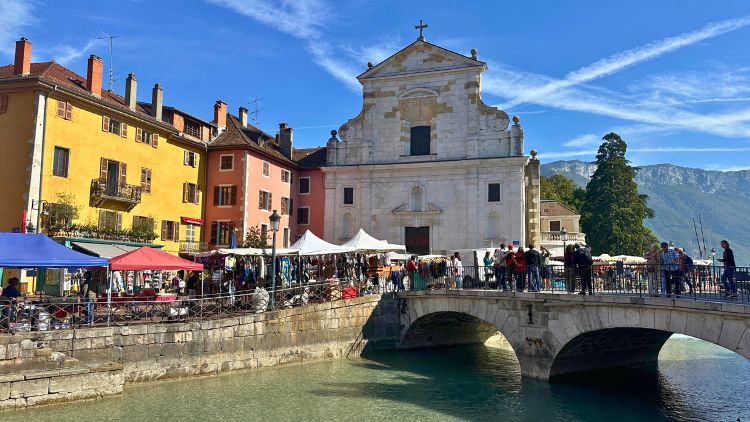 5. Annecy Street Markets
If you happen to be there on a Tuesday or Friday, you'll be lucky enough to explore the Old Town market. Winding all throughout Old Town, the market features a wide variety of fresh food, clothing, jewelry, and so much more. I firmly believe fruit tastes better in Europe so I decided to buy some raspberries and proceeded to eat the whole box in one sitting. The market is lively and crowded and amazing just to walk through.
Read More: Experience Another Kind of Oktoberfest: Cannstatter Volksfest
Where to Stay in Annecy
Since I'm a solo budget traveler, I most often stay in hostels. They're affordable, have all the amenities you'd need, and you can make a friend or two along the way. There are a wide variety of hostels, some with shared rooms with up to 12 people, some only have one other person, and there are some where you could get private rooms but that's typically more expensive. It's important to do your due diligence before booking a hostel and see how close it is to town, the services it offers, and the overall ratings. I stayed at Auberge de Jeunesse, perched at the very top of a steep hill.
If you're coming by train, give yourself 30-40 minutes to get from the train station to the hostel. There is also public transport (that I did not try) that shaves off about 10 minutes, but there's no escaping walking up some steep hills.
Once you make it to the top, the views are worth it. Auberge de Jeunesse has plenty of outdoor spaces to relax and admire the view from. It is equipped with a lounge, a kitchen, and a restaurant that serves free breakfast. The rooms are small, fitting 4 people. I only had one other roommate in my room and we got along very well. The beds were comfortable and our room had a view of a beautiful forest.
Auberge de Jeunesse has 88 locations all over France. I also stayed at one in Strasbourg. Although it's only a few kilometers from Old Town, the trek to get there is not easy. There are very steep hills which isn't made easier when you're carrying luggage.
Read More: How to Pack Light for Any Length Trip Abroad
Hostels are by no means luxury living. There were only 2 outlets in the whole room (not the end of the world) but they were far from the beds. Our room had two sinks and a shower but you had to walk down the hall for the toilets. Typically you have to "rent" towels for a couple euros when staying in hostels. The shower did not have any temperature control, and as someone who likes scalding hot water, this was an adjustment. I noticed that many hostel showers have an auto shut-off feature after a few seconds, so you have to continuously press the button to keep the shower running.
Browse other hostels in Annecy here
To me, these mild hardships are beyond worth it, because hostels cost a fraction of what hotels do. If you happen to get a roommate who snores or is disruptive in any way, earplugs and eye masks are your best friends.
If hostels aren't your thing and you have the budget, check out these quaint hotels in Annecy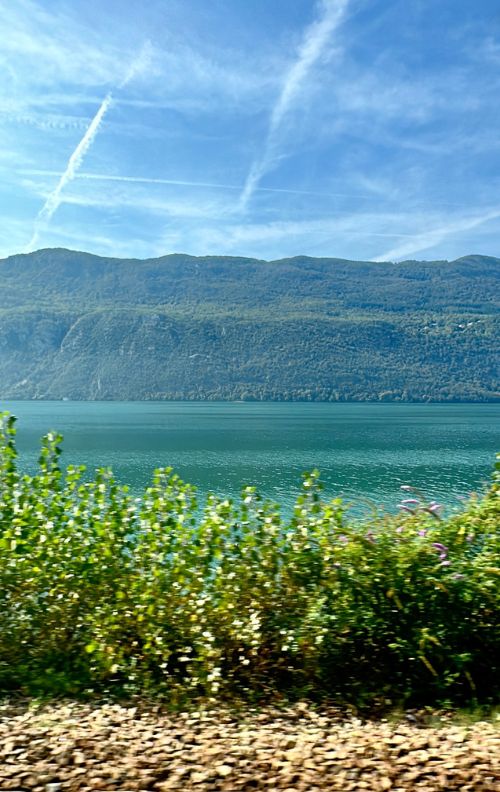 How to Get There
Annecy is well-connected and has a train station fairly close to the lake and Old Town. If you're coming from somewhere nearby in Europe, taking a train is the best way to get there. If you're coming elsewhere there are a few flying options too.
Although there isn't a major airport in Annecy, there are several nearby, including Lyon, Chambery Airport, and Geneva. Either way, you're likely going to have to take a train or a bus to get to Annecy from these airports. There are affordable bus options ranging in price from 7-12 euros.
Click here for more transportation info
Read More: