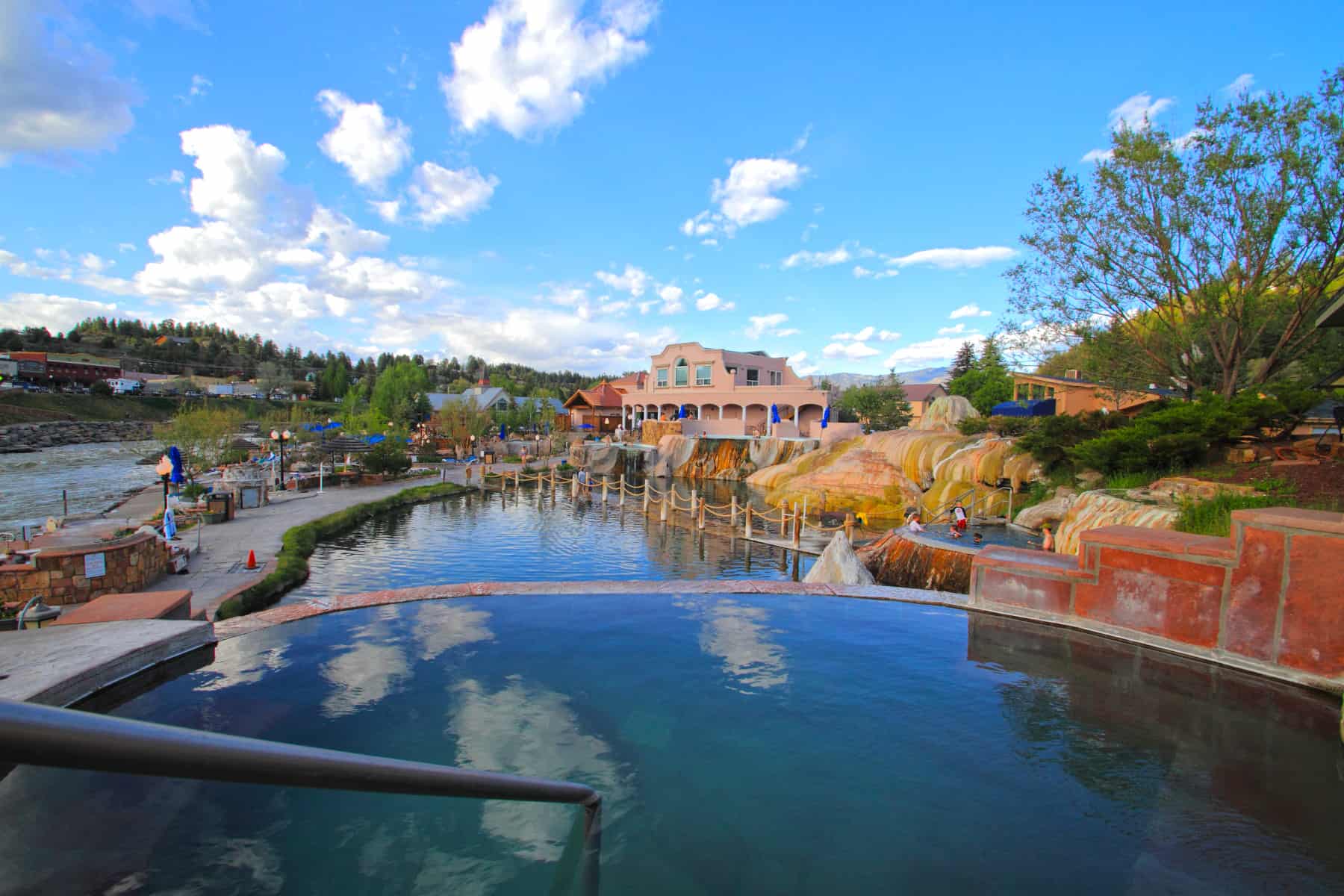 Editor's Note: We're all dreaming of travel ahead. Here's some inspiration for future adventures. We share places, products and activities we recommend. If you make a purchase using a link on our site, we may earn a commission.
Looking for the perfect Colorado destination to play outdoors? With more than 3 million acres of National Forest surrounding Pagosa Springs, this Colorado mountain town offers outdoor fun from hot springs to hot air balloons, horseback riding to hiking — and so much more.
Located at 7,126 feet above sea level in the San Juan Mountains, Pagosa is located 300 miles southwest of Denver, just 35 miles north of the New Mexico border. With its reputation for mild winters and warm summer days, it is a popular Colorado destination year-round.
Things to Do in Pagosa Springs, Colorado
As you might guess from its catchy name, Pagosa Springs was named for its geothermal hot springs. The word Pagosa comes from the Ute word for healing waters, and people have been drawn to the springs for their soothing properties for centuries.
The Mother Spring, visible when walking along the 1.9-mile San Juan Riverwalk, feeds all the geothermal pools and springs in the area. At 1,002 feet, it is said to be the World's Deepest Geothermal Hot Spring Aquifer.
Coloradans and visitors know that Pagosa Springs is an excellent outdoor playground.
With 300 days of sunshine a year, it's a place where you can spend much of your time outdoors. My favorite time to visit is during summer when the days are warm, but the nights are refreshingly cool.
I like staying right in the center of town so I can be near the river (the center of life here), as well as the town's many hot springs, restaurants, and shops.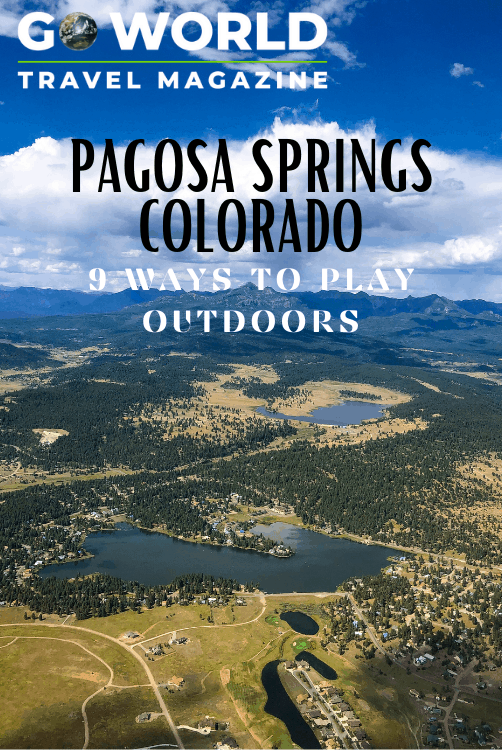 Hot Springs in Pagosa Springs
One of the main reasons people visit Pagosa is to enjoy the hot springs. If that's on your agenda, then you might consider staying at The Springs Resort & Spa.
Located on the banks of the San Juan River in downtown, the resort has 24 hot springs pools, each at a different temperature. The hot spring pools are open to the paying public, but a few of the mineral springs are reserved only for hotel guests.
There's nothing like soaking in the warm springs on a refreshing summer afternoon, watching hummingbirds flit among the flowers that surround the pools. Other hot springs to visit include The Overlook Hot Springs and Health Waters Resort and Spa. Each facility is open to the public with paid admission.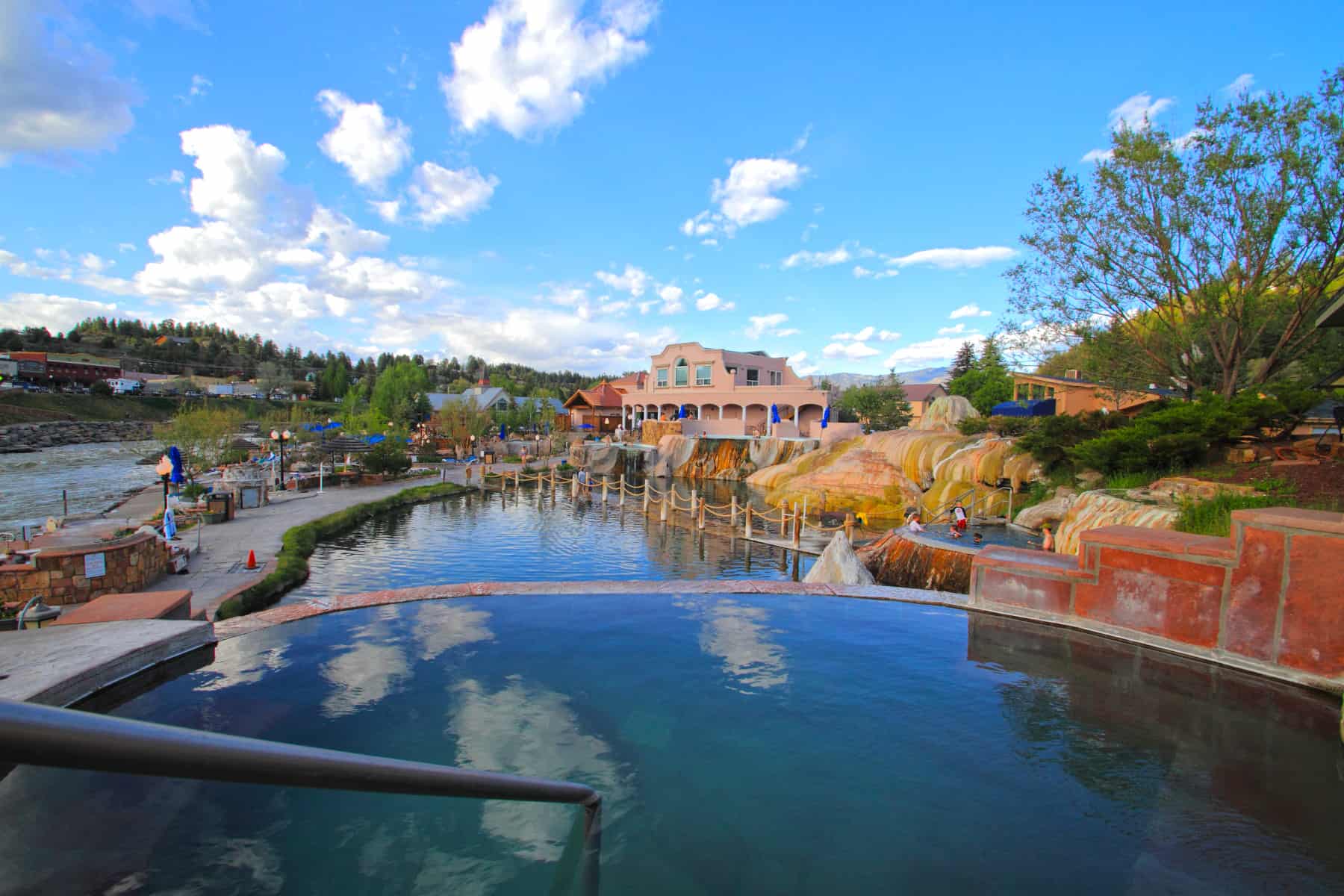 Kayaking and Rafting
The San Juan River, which runs through the center of town, provides an endless supply of recreation.
From around mid-April to June, when water levels are high, river kayakers and rafters utilize the river.
River Tubing in Pagosa Springs
Then, when the water level drops below 400 CFS, river tubing begins. Inflatable kayaks also take to the water during this time. If you have little ones who want to float the river, wait until water waters drop from 90 to 150 cubic feet per second.
Toward the end of the season, when water levels drop even lower, it's time to get out of the water. You can bring your own tubes and just drop them into the river. Or, several of the shops in town will rent you everything you need to float the river, including tubes, life jackets, and helmets.
Tip: Make sure you wear shoes, as the bottom of the river is rocky.
Canoeing and Standup Paddle Boarding
If canoeing or standup paddleboarding is more your style, head to one of Pagosa's many area lakes and reservoirs. You can rent canoes and paddleboards in town at Pagosa Outside, Pagosa Mountain Sports, or other outfitters. Several shops even offer lessons.
Fishing in Pagosa Springs
For anglers, Pagosa Springs is a paradise. Fishermen can drop their lines in lakes, rivers, and reservoirs.
At lower elevations, you can reel in catfish, perch, and bass. The higher lakes, with their cooler waters, offer pike, salmon, and trout. The local enthusiasts at the Pagosa Quality Fishing Project stock with San Juan River with trout in the summer.
If you'd like to go out with a local fishing guide to the backcountry, check out High Country Fishing Charters. They offer wade and float trips with experienced guides. For fishing gear, guided tours, and local fishing advice, stop by Let It Fly, a full-service fly-fishing shop in town.
Hiking in Pagosa Springs
For most visitors to the Colorado Rockies, hiking is a good way to get outside and enjoy Mother Nature.
Favorite local trails include Cimarrona Trail, which has plenty of wildflowers and scenic views of Williams Creek Reservoir, Alberta Peak Trail, which begins at the summit of Wolf Creek Pass, and the Continental Divide Trail, which makes you feel on top of the world as you hike along the backbone of the Rocky Mountains.
Visit Chimney Rock National Monument
In this quiet corner of Colorado, you can still see the vestiges of the ancient cultures that once called the region home.
Nearby Chimney Rock National Monument is among the most sacred sites of the Ancestral Puebloans of Chaco Canyon. Located at the southern edge of the San Juan Mountains one of the best hikes near Pagosa Springs is also an archaeological site and a national monument — and it's free to visit! Yes, you heard that right.
Visit Chimney Rock National Monument, and walk in the footsteps of the Ancestral Puebloans of the Chaco Canyon, on the same pathways that haven't changed for 1,000 years! Chimney Rock covers seven square miles and preserves 200 ancient homes and ceremonial buildings, some of which have been excavated for viewing and exploration: a Great Kiva, a Pit House, a Multi-Family Dwelling, and a Chacoan-style Great House Pueblo.
The highest elevation of all Chacoan sites is Chimney Rock at about 7,000 feet above sea level. At just a half-mile hike from the base, most visitors will have no problem, although some of the paths are rocky and slightly steep. However, your reward is the dramatic 360-degree views of Colorado and New Mexico.
If you'd like to learn more about Colorado's cliff dwellings, add a visit to Mesa Verde National Park, home to the most famous cliff dwellings in the country, and just two hours to the west of Pagosa.
Horseback Riding in Pagosa Springs
One unique way to experience Colorado's outdoors is on a trail ride. With access to over three million acres of national forest, there is an endless supply of horseback riding trails.
Numerous local ranches and stables offer trail rides. Crazy Horse Outfitters is in the heart of the San Juan National Forest and Weminuche Wilderness, while Fish Creek Outfitters offers horseback wilderness adventures for hunters and fisherman.
Others, like Bruce Spruce Ranch, provide lodging at rustic cabins in the San Juan Mountains, as well as horseback riding.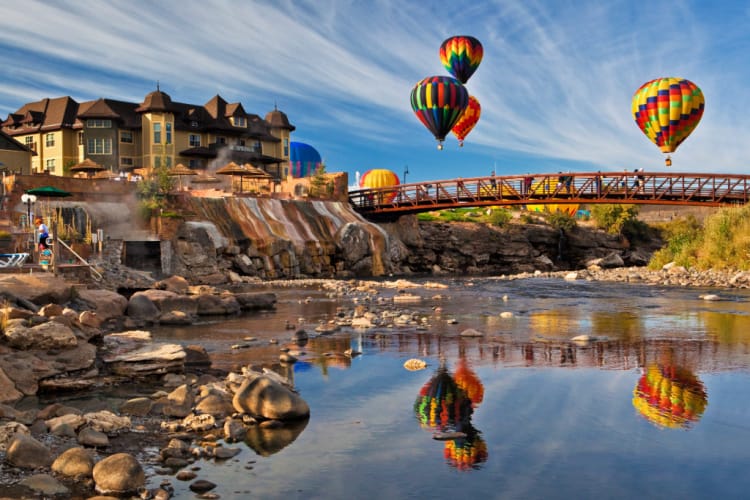 Hot Air Balloon Rides in Pagosa Springs Colorado
Perhaps one of the grandest ways to enjoy the great outdoors is with an early-morning hot air balloon ride over the valley. You'll have an expansive view of the river as it winds its way through the mountains and valley, and you'll glimpse views of local wildlife, from deer and elk to red-tailed hawks.
If you'd rather view the hot air balloons from the ground, consider visiting during the Colorfest Weekend in September, which also includes the Passport to Pagosa Food and Wine Festival. The latter features great local foods, local Colorado Wines, live music, and a whole lot of fun! In addition, there are two mass hot air balloon launches, one Saturday morning and one Sunday morning.
Life in Colorado is meant to be enjoyed outdoors, and in Pagosa Springs, you can do just that.
Book This Trip
Ready to enjoy all the activities Pagosa Springs has to offer? Start planning with the best airline deals and ground transportation through Kiwi. Then be extra prepared with hotel or VRBO options, local restaurant favorites and insider tips on the best sights through Travelocity and TripAdvisor.
Latest posts by Janna Graber
(see all)