Colorado may be known for its world-class skiing, but Colorado's hot springs are a draw for many. The state's geothermic wealth can be seen in the names of its townships: Glenwood Springs, Colorado Springs, Steamboat Springs, Pagosa Springs and more.
Early settlers were quick to discover that hundreds of hot springs erupt from the cracks of the Rocky Mountains, creating ample opportunity for a soak. Here are our favorite picks for the best hot springs in Colorado. Take the time to discover a few yourself.
Wiesbaden Hot Springs, Ouray, Colorado

Ouray claims to be "America's Switzerland," and you'll understand why when soaking in one of Ouray's many hot springs. Impossibly high, jagged peaks surround the tiny town that itself has a European feel. One popular option is Wiesbaden Hot Springs Spa and Lodgings. Take a soak in Wiesbaden's continually flowing hot springs vapor cave with its 108°F  soaking pool, or if you prefer something cooler, the outdoor swimming pool ranges from 99°F to 102°F. For those who seek solitude, the Lorelei is a private outdoor soaking pool.

As Ouray is nestled in 14,000 ft. peaks, the healing waters make a good complement to adventures above treeline. The town itself is pretty cool too. Little shops and good restaurants line the main drag, even providing some summer nightlife for ragged mountaineers.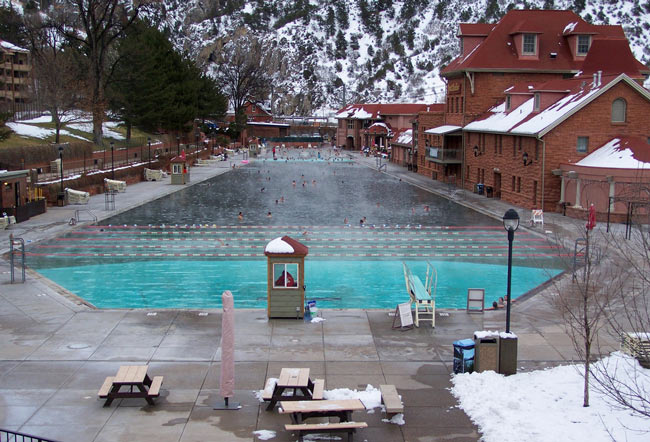 Glenwood Hot Springs, Glenwood Springs, Colorado

Glenwood Hot Springs is located on I-70 between Denver and Grand Junction, making it the perfect quick stop – and possible night's sleep – for those on interstate trips. In addition to the hot springs, you can overnight at the Glenwood Hot Springs Lodge or get a massage at the spa. The hot springs pools, though, are the main attraction. A large 90°F pool is accompanied by a smaller 104°F pool, but these temperatures may be lower, depending on the weather. The Yampah Spring sits at the east end of the resort, releasing over 3 million gallons of hot water daily, which makes the creation of such large pools possible. Complimentary high-speed Wi-Fi is a good excuse to stop off too.
Continued on next page