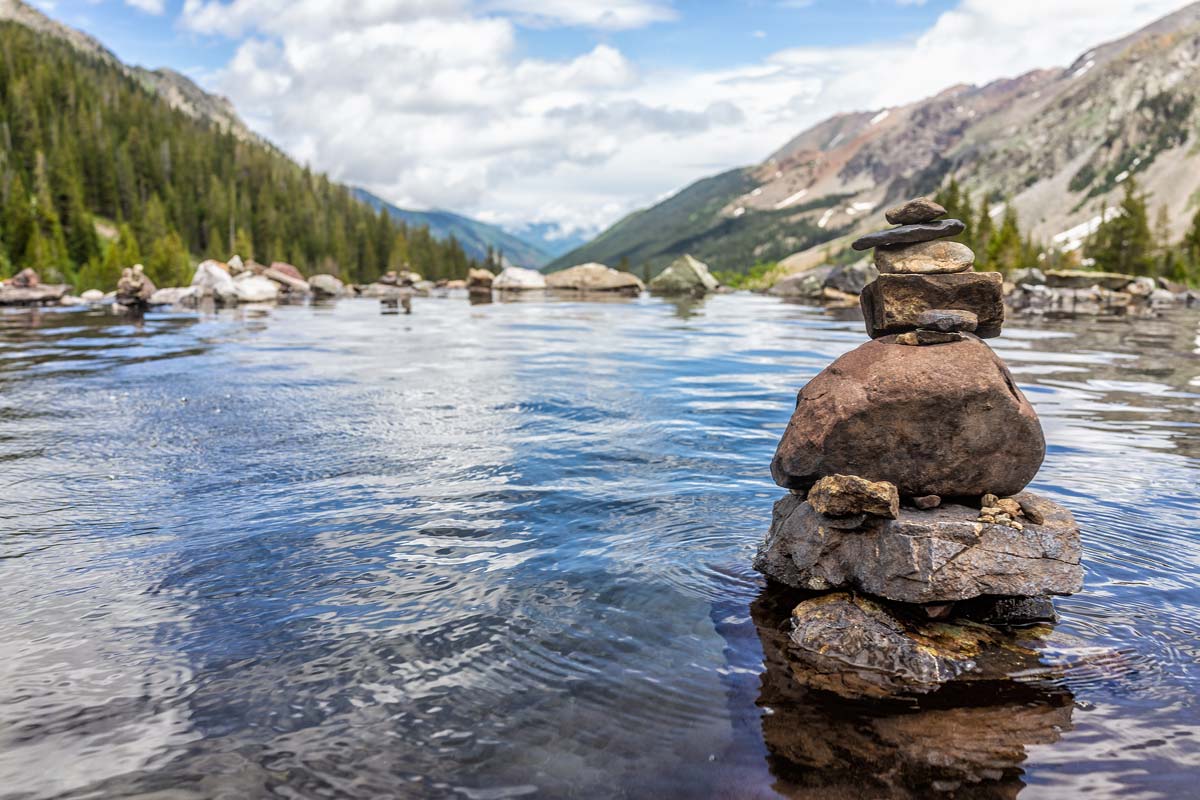 Colorado may be known for its world-class skiing, but Colorado's hot springs and hot springs pools are a draw for many.
Situated in Colorado's Rocky Mountains is a geothermic wealth of hot springs pools and resorts. The state's affinity for hot springs resorts can be seen in the names of its townships: Glenwood Springs, Colorado Springs, Steamboat Springs, Pagosa Springs and more.
Early settlers were quick to discover that hundreds of hot springs bubble from the cracks of the Rocky Mountains, creating ample opportunity for a soak. Here are our favorite picks for the best hot springs in Colorado. Take the time to discover a few yourself in Colorado.
Ouray claims to be "America's Switzerland," and you'll understand why when soaking in one of Ouray's many hot springs pool. Impossibly high, jagged peaks surround the tiny town Ouray has a European feel.
One popular hot springs resort option is Wiesbaden Hot Springs Spa and Lodgings. Take a soak in Wiesbaden's continually flowing hot springs vapor cave with its 108°F soaking pool.
If you prefer something cooler, the outdoor swimming pool ranges from 99°F to 102°F. For those who seek solitude, the Lorelei is a private outdoor soaking pool.
Ouray is nestled in 14,000 ft. peaks, the healing waters make a good complement to adventures above treeline. The town itself is pretty cool too. Little shops and good restaurants line the main drag, even providing some summer nightlife for ragged mountaineers.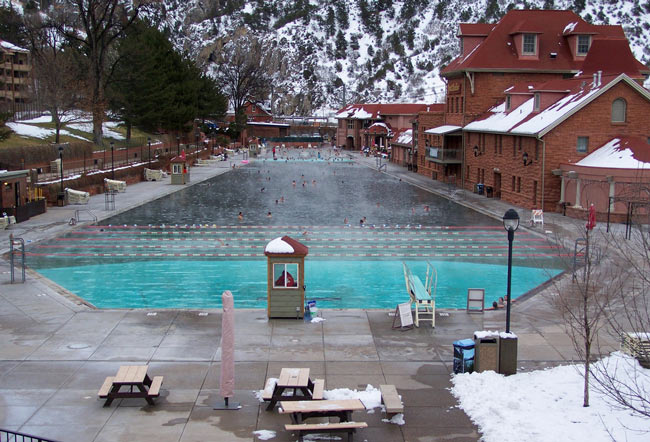 Glenwood Hot Springs is located on I-70 between Denver and Grand Junction, making it the perfect quick stop – and possible night's sleep – for those on interstate trips.
In addition to the hot springs, you can overnight at the Glenwood Hot Springs Lodge or get a massage at the spa. The hot springs pools, though, are the main attraction with plenty of water slides for kids and visitors to the hot springs resorts of all ages.
A large 90°F soaking pool is accompanied by a smaller 104°F pool, but these temperatures may be lower, depending on the weather.
The Yampah hot springs resorts sit at the east end of the springs resort, releasing over 3 million gallons of hot water daily at this Colorado springs resort creating soaking pools. Complimentary high-speed Wi-Fi is a good excuse to stop off too.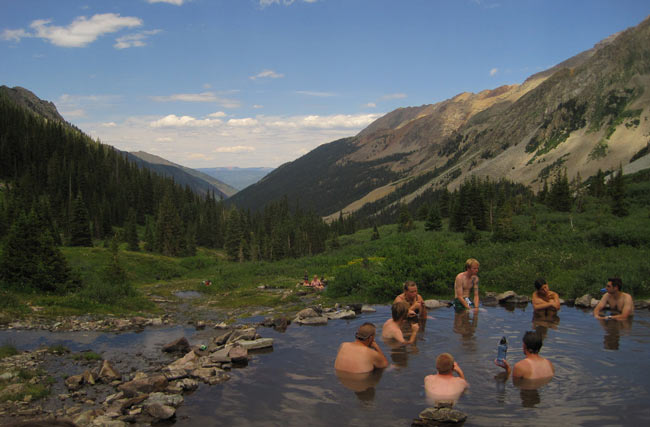 Conundrum Hot Springs Resort must be earned – a 19-mile roundtrip hike with a 2,500-foot elevation gain is the only means of taking a dip here.
The out-and-back trail is located outside of Aspen, and cannot be accessed from other trails. This undeveloped set of mineral pools is well-known but not necessarily frequent. The picturesque views here make it a coveted bucket list achievement.
The primary soaking pool is a crudely constructed rock dam that would seat about 20, though it rarely does, and other smaller pools are available just downstream. Given that the hike includes a waterfall, this may be a no-miss destination in Colorado if you have the athleticism.
Trimble is a quaint, well-conceived spring just north of Durango that is a favorite with locals but receives surprisingly little tourist traffic from the summertime Durango attractions. Shaded grassy areas slope downward to a central hot pot and a 25-yard lap pool as well. Saunas are available with the price of admission.
The trees over the primary hot pool offer nice shade and make for a relaxing afternoon in its soaking pools.
Strawberry Park Hot Springs is nestled in the trees outside of Steamboat Springs hot springs resort and offers funky cabins that allow access to the nicely developed, stone-built soaking pools.
Campsites are available in the summer for those looking to save a buck or up the ante on a rustic adventure. The 104°F temperature is achieved by the mixture of the much warmer spring with surrounding mountain creeks that converge near the natural hot springs resort.
A "clothing optional" rule applies after dark, which may up that adventure ante just a little further. Located in downtown Steamboat Springs is Old Town Hot Springs Pools offers eight mineral water hot pools, two water slides and a large gym where members can get in a workout followed by a soak in the hot pools.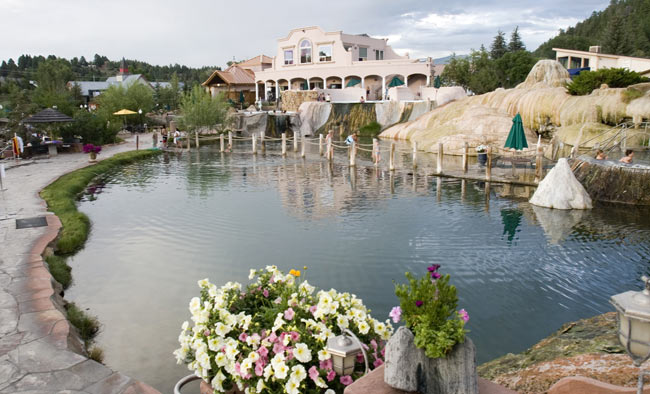 The Springs Resort & Spa in Pagosa Springs, Colorado is a well-known and beautifully developed facility that makes the town a draw for tourists, even though Pagosa Springs is somewhat off the beaten path.
Hot springs pools cascade down from the spring to the San Juan River below, and this setup has enabled some cool waterfall features and the ability to control the water temperature of different hot springs pools.
The San Juan River is a major tributary of the Colorado River which lends its cool waters to the Colorado snowfalls that happen each year and cascades down from the Rocky Mountains. Be warned that the San Juan River is considered one of the muddiest rivers not just in Colorado but in all of North America. 
The "Lobster Pot" averages around 113°F, though most people hang out in the cooler pools. Some pools are accessed across wood plank bridges that dip just under the warm water at ankle height.
Any spring in Pagosa Springs is quite sulfurous, so you can expect any silver jewelry to turn a dark, matte black if you soak long enough. Luxury lodging is available, as well as full spa services and massage at this hot springs resort.
Cottonwood Hot Springs is located in Colorado's Collegiate Peaks Mountains and offers several mineral pools for visitors that want to spend the day soaking in the Colorado hot springs or stay onsite in Cottonwood Hot Springs' creek-side cabins and hot springs resort lodge.
Cottonwood Hot Springs natural hot springs hover around the temperatures ranging from 93 to 110 degrees.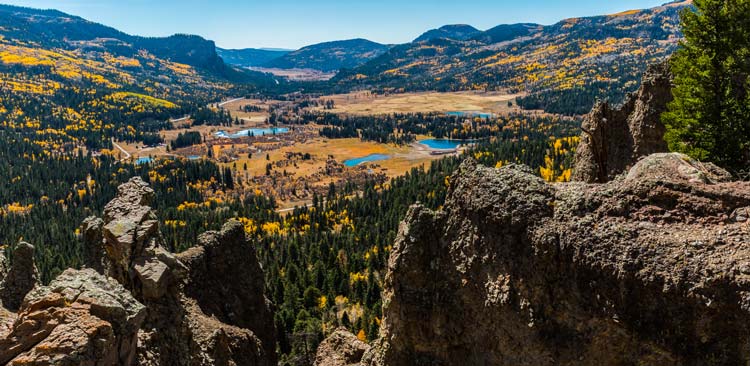 Located a mere two and a half hours from Denver, Colorado is Iron Mountain Hot Springs—a hot springs resort with a whopping sixteen natural mineral pools and a freshwater family pool.
Relax in Iron Mountain Hot Springs soaking pools with temperatures between 99 and 108 degrees while taking in a view of Mt. Sopris and the Colorado River. 
The Overlook Hot Springs is the little-known and less expensive Pagosa alternative that offers a soak experience contrasting the larger hot springs resort.
The Overlook facility is just across the San Juan River from the larger Springs Resort and Spa listed above and indeed overlooks the river to the other establishment.
Rooftop hot springs pools are great for sunbathing, but the coolest part of the Overlook Hot Springs Resorts is the lower level.
A 1920's style bath replete with a chandelier has been nicely reconstructed. It's a unique hot springs resort experience that could take you back in time if you let your mind wander.
Book This Trip
Start planning your relaxing escape to the hot springs of Colorado today. Get prepared with insider information on each mountain town, hotel and VRBO accommodations, local restaurant reviews and more through TripAdvisor and Travelocity.
For exclusive flight discounts, car rental options and vacation packages, visit CheapOair.
Find the ultimate travel bag that is stylish and durable for packing all your travel essentials and having room to spare for shops with AWAY Travel Bags. Check out their selection of top-rated travel bags and accessories here.
Author Bio: Jack Bohannan is a freelance writer living in Denver.
Latest posts by Janna Graber
(see all)