The sun shines bright at 8 a.m. when we meet our guide. The semi-arid desert here in southwestern Colorado can be brutal, and the sun's rays beat down without mercy. It's hard to imagine living here without modern comforts, but this region was once home to a thriving culture of Ancestral Puebloans.
From 550 A.D. to 1,300 A.D., the Ancestral Puebloans lived and worked in what is now Mesa Verde National Park. For the first six centuries, they lived primarily on the mesa top, farming and working the land. Later, they constructed intricate cliff dwellings tucked under the protected alcoves of the canyon walls, many of which can still be seen today.
Mesa Verde National Park

Mesa Verde is the only national park in the USA dedicated to preserving the works of men – and what incredible works they are. Their elaborate structures include more than 5,000 sites, including hundreds of stone homes, pit houses, pueblos and farming structures. Many of the villages built into the canyon walls were reachable only by a heart-racing descent on toe and handholds carved into the rock. It seems that life was good here, for a while.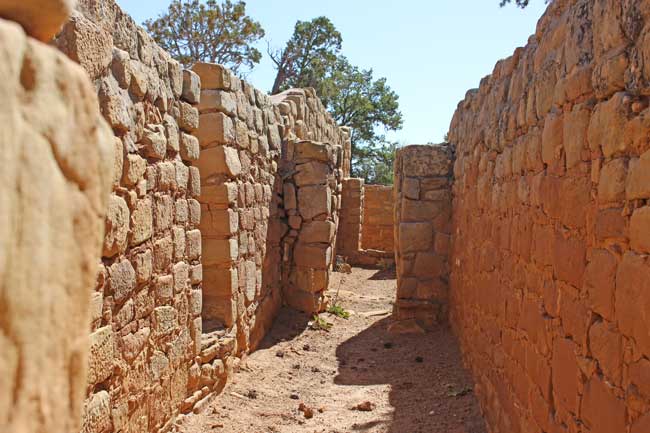 In the late A.D. 1200s, the people abruptly moved away, leaving their former homes to gather dust under the beating sun. No one knows exactly why they left, although many theories from drought to food shortages have been tossed about.
Fortunately, the ruins at Mesa Verde have been carefully preserved. President Theodore Roosevelt established Mesa Verde National Park in 1906, and the park continues to protect these remnants of the past.
Mesa Verde Tours
Our plan is to visit some of these incredible ruins during our visit to Mesa Verde National Park. My sister, Debbie, and I have joined our mom on a girls' trip to Southwest Colorado. Mesa Verde is about a seven-hour drive from Denver, and we've taken our time seeing the sights on our way down. After stopping for a night in the nearby small town of Cortez, we drove up the windy road into Mesa Verde National Park and our base at Far View Lodge.
Far View Lodge
The only hotel in Mesa Verde National Park, Far View Lodge is perched at 8,250 feet above sea level, offering 360-degree views of more than 100 miles. On a clear day, you can even see four states — Colorado, Utah, Arizona and New Mexico.
With its comfortable Kiva-styled furniture, Far View Lodge fits well with the park, and it's the perfect base for our stay. So far, the weather has been so pleasant in the evenings that we've dined on the outdoor patio of Far View Terrace Café twice. With views like that, you want to linger over dinner.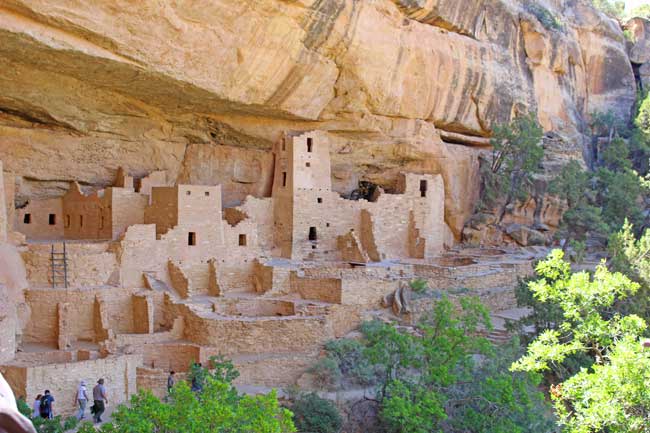 Cliff Palace
This morning, however, we're up early for the 700 Years Tour, a four-hour guided walking tour of Cliff Palace, the most famous of the ancient ruins. A comfortable bus picks us up at Far View Lodge and drives us to several ruins on the mesa top, where we learn about the Ancestral Puebloan way of life.
Then we head to Cliff Palace. This ancient village is only accessible on a guided tour, but that's good because our park service guide offers helpful insight into the cultural, religious and architectural dimensions of Ancestral Puebloan life.
It's not easy to reach the Cliff Palace. It is, after all, tucked under the rim of a canyon wall. To reach it, we must walk down steep narrow dirt paths, climb down several ladders and walk across narrow stretches of land. But even my 70-year-old mom, ever the trooper, does well.
Eventually, our group stands in the shadow of the canyon among the homes of the ancient people. It's strangely moving to walk in their footsteps and step through their village, which once had more than 150 homes.
I can't help but wonder what it must have been like to live here. I imagine what it must have been like to care for young children in a cliff-side home. One step off the path could send them plunging to the earth below.
But they obviously did well and thrived here. The structures have stood well against the ravages of time, helped along by the park service as needed. Today, 24 Pueblo tribes claim ancestry to this site, and they are an important resource of knowledge. There is ongoing research and work to understand this rich cultural heritage.
We follow our guide slowly through each part of Cliff Palace, learning and asking questions. Although the sun is high overhead, we are cool in the shade of the canyon rim.
After climbing back up, our bus driver takes us to several other overlooks, where we can see ancient ruins tucked into the hills.
Hiking in Mesa Verde National Park
The park has hundreds of miles of hiking trails, where you'll see coyote, rabbit and many birds. My favorite hike, however, is to Park Point, the highest point in the park. We hike up the well-paved path to the overlook just before sunset, and then sit to watch nature's best show.
The sun's rays splash across the wide valley, revealing the plains and mountains of Utah, Arizona and Colorado. It is a grand display, and a fitting end to our time here. I can understand why the Ancestral Puebloans made their home here.
How to Get to Mesa Verde National Park
Mesa Verde is about 40 miles from Durango, Colorado, 260 miles from Albuquerque, New Mexico and 380 miles from Denver, Colorado. If you are coming from outside of the region, you can fly to any of these cities and drive a rental car.
Mesa Verde National Park and Far View Lodge
Mesa Verde National Park is open year-round; coach tours, lodging and camping are available mid-April through mid-October. See https://www.visitmesaverde.com/ and https://www.nps.gov/meve/index.htm.
Cliff Palace Tours
Departure times twice daily at 8:00 a.m. and 1:30 p.m. from April to October. Cost: $47 (adult), $34 (child ages 5-11). The tour involves climbing down narrow passages, ladders and walking across narrow stretches of ruins. Wear good walking shoes and a hat. Don't forget to wear sunscreen and bring a bottle of water.
Cortez, Colorado

The small town of Cortez, Colorado is the nearest town to Mesa Verde National Park. We spent a night at the Retro Inn, a fun hotel themed to honor the past decades. (We stayed in the "1973" room, which was decorated with the crazy colors and fashions of the 70s.) There's a vintage trailer on site, and you can get your photo taken with Elvis.
Cortez has many local restaurants of note, including Farm Bistro, which serves fresh, local produce, and the Pie Maker Bakery, where we had savory pastries for breakfast. Also of note is the Cortez Cultural Center, an art gallery and museum. It sells art pieces by local artists and offers native dance performances nightly during the summer.