Travel has always been a big part of our family life. My kids were pulling their own suitcases by age four, and they knew that vacation meant lots of fun time together.
Fast forward a few years and now my three kids are young adults. Though they have their own busy lives, we plan a trip together once a year.
We quickly learned that cruising was a good way to satisfy everyone. Traveling by ship meant we could spend as much time together as we wanted, and there were always fun activities to do together.
This year, we took a family cruise to the Mexican Riviera with Princess Cruises. Based in California, Princess Cruises is one of the largest cruise lines in the world with a fleet of 15 ships that sail to over 330 destinations around the globe.
We sailed on the Discovery Princess, which was launched in March 2022.
Sailing on the Discovery Princess
The 3,660-guest Discovery Princess is large enough to have everything you could want on a cruise ship, yet not feel too crowded. It is the sixth Royal-Class ship and has the same features as its sister ships — Enchanted Princess℠, Sky Princess®, Majestic Princess℠, Regal Princess℠ and Royal Princess℠.
The ship was well laid out and easy to get around. The center of activity was the large central Piazza Atrium, where musicians, acrobats and more provided entertainment throughout the day. Bookended by sweeping spiral staircases, the atrium is surrounded by restaurants and entertainment options so it is always bustling with activity.
We spent a lot of time on Decks 16 and 17, with its pools and hot tubs. We watched the World Cup and a few movies on the huge Movies Under the Stars screen.
My husband and I shared a balcony cabin which offered plenty of space. We enjoyed spending time on the balcony as we were sailing in and out of the Mexican ports. Our young adult kids had interior rooms, which were comfortable and budget-friendly.
MedallionClass
The Discovery Princess is outfitted with Princess' signature MedallionClass technology, a wearable device that enables everything from contactless boarding to ordering drinks onboard.
My favorite feature was that our stateroom unlocked automatically as we neared it. I could also use the Medallion App to see where my family members were located and then easily map a way to reach them.
We purchased the MediallionNet wifi so that we could keep in touch with each other. It worked well most of the time.
The app kept a running total of our onboard bill. Onboard purchases can add up, but we could easily track them in real-time with the app.
Princess Cruises offers contactless payment with its Medallion wearable devices. In addition to using MedallionPay for onboard purchases, guests can now make purchases at stores in port that display the MedallionPay seal. (This is currently available in Cozumel, Cabo San Lucas, St. Thomas and Puerta Vallarta, with more ports coming soon.)
Currently, you can't book excursions or spa appointments on the app. You must use Princess's Cruise Personalizer website.
Dining on Discovery Princess
If you've ever cruised, you know that onboard dining is a highlight. The Discovery Princess had no shortage of dining options. The ship has three complimentary main dining rooms – Skagway, Juneau and Ketchikan. We dined at Skagway at least once a day and really enjoyed the food as well as the excellent service.

There's also a huge World Fresh Marketplace buffet on Deck 16 and Gigi's Pizzeria, which are also free of charge.
In addition, Discovery Princess has several for-cost restaurants that offer a more intimate dining experience. The Crown Grill a classic steakhouse feel, while the French-themed Bistro Sur La Mer offered a unique experience surrounded by panoramic windows with views of the sea. Our favorite was Sabatini's, an Italian restaurant that is a Princess favorite.
We were glad we had the Princess Premier Beverage Package ($84.99 per day) which meant we could enjoy premier wine, excellent cocktails and top-shelf spirits.
What If You Have Special Dietary Needs?
If you have special dietary needs, be sure to chat with your wait staff at each restaurant. For the specialty restaurants, I recommend talking with the managers at each restaurant ahead of your dinner. This will ensure they can meet your dietary needs when you arrive.
One of my daughters is vegan, and most of the specialty restaurants don't offer any vegan options. She spoke with the manager at each of our specialty dining restaurants ahead of time. When we arrived for dinner, they had an option available.
The manager at Sabatini's personally had the chef make my daughter a vegan pasta dish; Crown Grill and Bistro Sur La Mer were able to serve dishes from the main dining room. Gigi's Pizzeria was wonderful as they already could make a vegan pizza.
The main dining room offered a daily vegan menu for dinner, which my daughter really appreciated. At lunch, there wasn't a vegan menu, but guests can ask ahead for a vegan option.
360: An Extraordinary Experience
My absolute favorite dining experience on the ship was 360: An Extraordinary Experience.
Available for guests who are booked in suite accommodations, this intimate dinner is 90 minutes of pure enjoyment. Through stunning imagery, music, scents and film, you receive a "you are there" experience that transports you to places like Santorini and Provence.
We enjoyed Greek and Italian dishes while being introduced to artisans, passionate purveyors and beautiful scenery. Dishes were paired with wines that tied to the story of each destination.
Where is the Mexican Riviera?
While the onboard experience is a huge part of any cruise, the itinerary is just as important. The Mexican Riviera is a popular cruise destination for families, as there is something for everyone. You can spend time at the beach, in the water, exploring coastal cities or enjoying outdoor land adventures at each destination.
The Mexican Riviera is a scenic stretch of coastline that spans more than 4,500 miles along Mexico's west coast. It includes iconic Mexican destinations like Cabo San Lucas, Mazatlán and Puerto Vallarta.
Our Mexican Riviera cruise started in the busy port of Los Angeles. We flew in the day before the cruise to enjoy the city and then spent the night near the port for easy access.
Lotus Spa and Salon
Our first two days were spent at sea sailing from Los Angeles toward Puerto Vallarta, Mexico. I love sea days, as it means a whole glorious day to spend as you wish.
My husband, Benjamin, and I booked time in the Enclave, located in the Lotus Spa. The goal here is to de-stress and relax in the hydrotherapy pool and thermal suite complex with aromatic steam rooms and showers and heated ceramic loungers.
At the spa, I had an excellent 75-minute Coconut Poultice Massage. The massage therapist was skilled at her craft and the environment soothing, and I came out thoroughly relaxed.
Later in the week, we booked a half-day pass at the Sanctuary ($20 per person), an adults-only deck with a spa-like feel. Attendants brought around drinks and snacks, and the whole vibe was relaxing. While some areas are shaded, our lounge chairs weren't, so keep that in mind when visiting.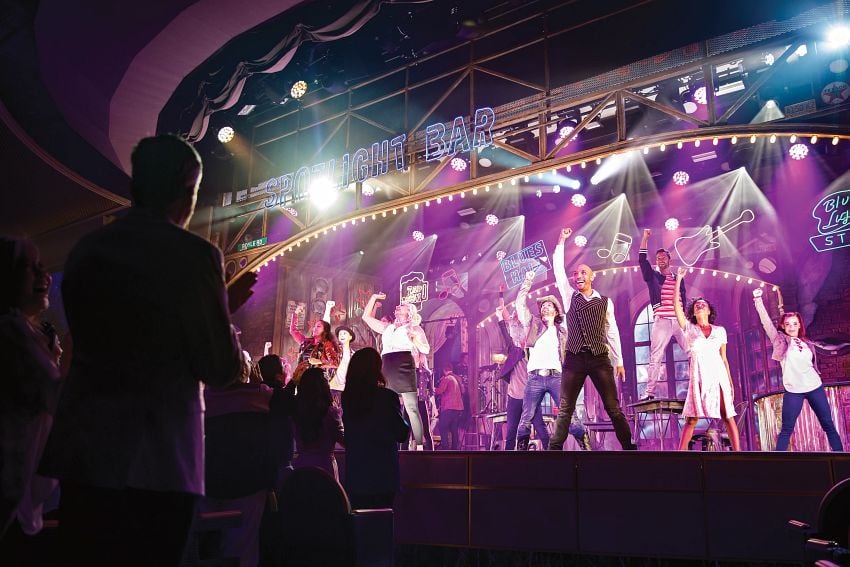 Entertainment on the Discovery Princess
There's no shortage of entertainment onboard the Discovery Princess. We watched several shows in the Princess Theater, a class show lounge that featured comedians, magicians and even Broadway-style shows. Our favorite was the show Rock Opera, an energetic show that combines high fashion with rock, opera and more.
In Princess Live! on Deck 7, there was a full schedule of activities, from music performances to game shows to trivia sessions. (We thought the 80's Hour was especially fun.) A myriad of lounges offer places to enjoy live music with a drink; one lounge had the ever-popular Love and Marriage Show.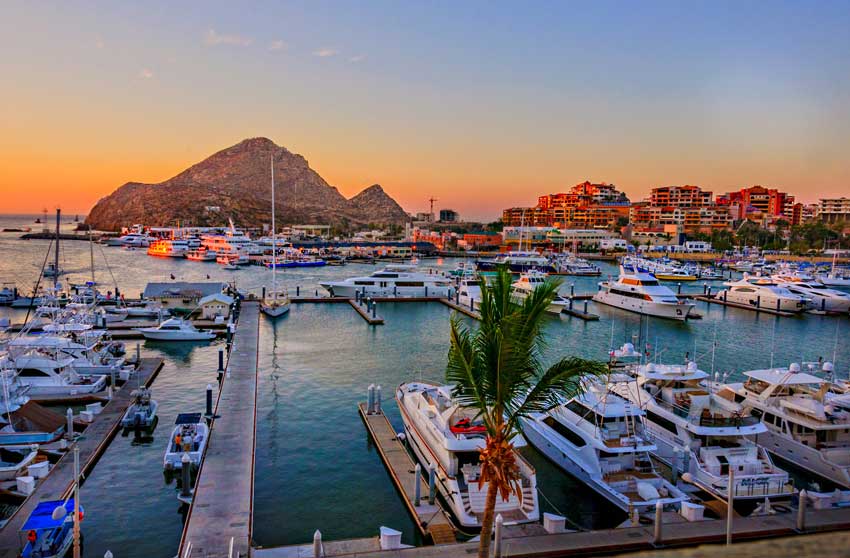 Port Stops on a Mexican Riviera Cruise
Of course, the highlights of any cruise are the destinations you visit. After two days of sailing, we arrived at our first Mexican port destination – Puerto Vallarta. Our family of four was ready for some beach time, so we booked the Exclusive Beach Resort Getaway excursion with Princess.

After a short bus ride, we landed at a resort with a white-sand beach lined with palm trees. We were given lounge chairs with umbrellas and had full access to a poolside bar and a buffet restaurant (drinks and food were included).
When my kids were little, they would spend hours playing in the water and sand at Mexican beaches. Now that they're grown, this fit the bill perfectly instead.
Mazatlan
The next day we stopped in the colonial town of Mazatlan. I'd been here many times, so we purchased hop-on/hop-off bus tickets so we could explore on our own. One of my favorite areas in Mazatlan is Plazuela Machado, the historic district.
We browsed in local galleries and chatted with some locals. They suggested we stop for lunch at a local vegan restaurant called MAWE Cocina Vegana. The dishes were excellent and very tasty.
Cabo San Lucas
One of the highlights of a Discovery Princess Cruise in Mexico is a visit to Cabo San Lucas, a lively resort town known for its stunning beaches, world-class golf courses, and legendary nightlife. Many visitors head into Cabo to soak up the sun on the sandy shores of Medano Beach.
We chose a Princess excursion that took us on a boat tour to see the iconic archway at Land's End. The weather was beautiful, and our guides were fun and joking along the way.
Like all vacations, our seven-day cruise on the Discovery Princess ended all too soon, but we left with great memories of our time together. That, at least for me, is the best souvenir of all.
If You Go
When Is the Best Time to Cruise on the Mexican Riviera?
You can cruise the Mexican Riviera year-round and enjoy nice weather, but the very best time to cruise the Mexican Riviera is during Mexico's dry season, which runs from November and May. The weather is great and there are fewer crowds.