Colorado is jam-packed with well-known mountain towns. Destinations like Aspen and Vail draw travelers from around the globe. But ask any Coloradan where they go when they have a weekend to play, and chances are, Glenwood Springs will be near the top of the list.
Tucked away in Colorado's Rocky Mountains, Glenwood Springs doesn't have big-brand resorts, but it does have something everyone loves – hot springs. In fact, hot springs have drawn people to this region for centuries, from nomadic Ute Indians who camped alongside its healing waters to miners and explorers seeking to rest their weary bones.
Two European settlers saw the region's potential as a destination for wealthy spa-goers, and in 1888, they opened Glenwood Hot Springs. The grand Hotel Colorado opened just a few years later, in 1893, and Glenwood Springs was soon attracting travelers from around the country.
The town of Glenwood Springs grew as well, but it has never lost its small town feel – and that's part of its charm. Today, Glenwood Springs is home to almost 10,000 people.
Glenwood Hot Springs
The Glenwood Hot Springs Pool is a focal point in this Colorado town. Local kids practice their swimming skills here, and vacationers come year-round to soak. Hotel Colorado, located just across the street, still welcomes travelers. Although the historic hotel has a few wrinkles from age, she still retains the grandeur of her bygone days.
Glenwood Hot Springs aren't the only place to relax. The Yampah Vapor Caves are unusual, but have been a respite for travelers for more than 120 years. Mineral-rich steam from the Yampah spring seeps into three subterranean chambers deep underground. It's surreal to sit in these steam-filled caves, but it does wonders for dry skin, which is a common result of Colorado's dry climate.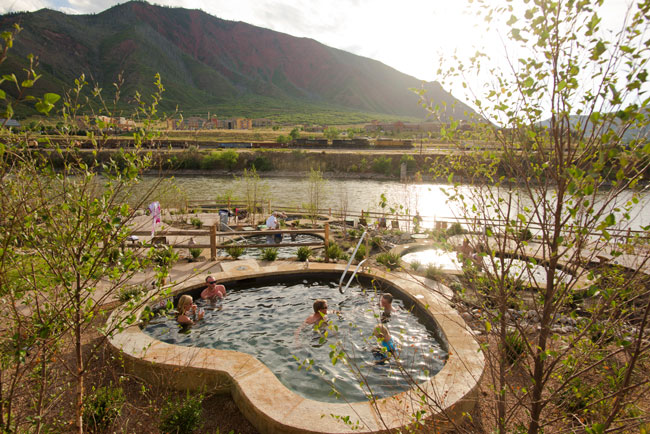 Iron Mountain Hot Springs began as a riverside bathhouse in 1896, then changed hands many times over the next hundred years until closing in 1996. Now under new ownership, it was developed and re-opened in 2015 as a beautiful hot springs destination with 16 thermal mineral pools and a large freshwater family pool. The pools vary in temperature, so there's a pool to suit everyone, and all come with a gorgeous view of the mountains. You can spend the whole day here. The Sopris Café onsite provides tasty comfort food and drinks, including beer and cocktails.
Continued on next page