Editor's Note: We're all dreaming of travel ahead. Here's some inspiration for future adventures. We share places, products and activities we recommend. If you make a purchase using a link on our site, we may earn a commission.
Glenwood Springs, Colorado, may not be the first mountain town that comes to mind to visitors. Destinations like Aspen and Vail draw travelers from around the globe.
Ask any Coloradan where they go when they have a weekend to play, and chances are, Glenwood Springs will be near the top of the list. No matter the season, there are so many reasons why you should visit from hot springs to high adventure.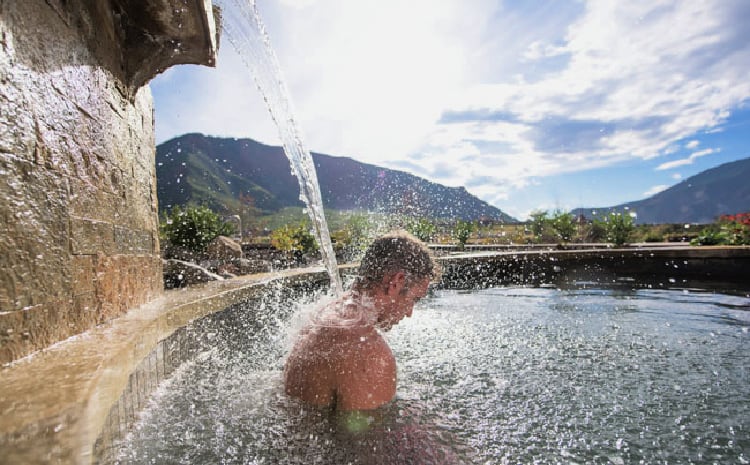 The Perfect Road Trip: Glenwood Springs, Colorado
Welcome to Glenwood Springs, Colorado known for its hot springs. This Colorado mountain town sits in the rugged Rocky Mountains, surrounded by the vast White River National Forest, a scenic road trip via I-70, just over 150 miles west of Denver.
Perhaps the most majestic scenery is through Glenwood Canyon, the 12.5-mile drive through canyons with walls climbing 1,300 feet above the Colorado River. Rich with wildlife, this canyon is also home to the famous Hanging Lake, with its turquoise waters.
For those adventure seekers, Glenwood Caverns Adventure Park features underground caves, roller coasters, and canyon swings overlooking the Colorado River.
Read on for all the things to do in Glenwood Springs.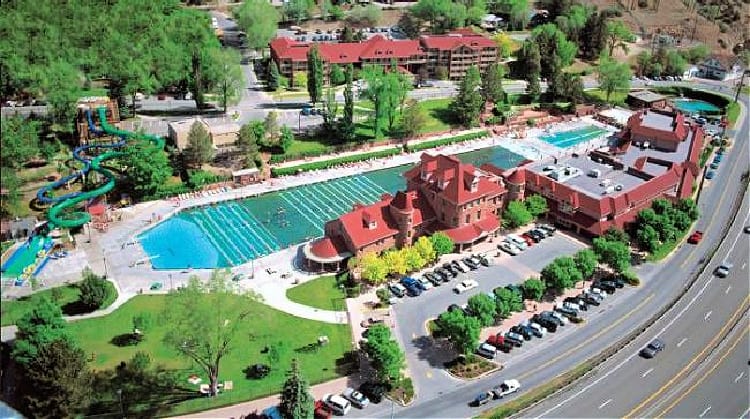 Soak in the Hot Springs of Glenwood Springs
Tucked away in Colorado's Rocky Mountains, Glenwood Springs doesn't have big-brand resorts, but it does have something everyone loves – hot springs.
In fact, hot springs have drawn people to this region for centuries, from nomadic Ute Indians who camped alongside its healing waters to miners and explorers seeking to rest their weary bones. Two European settlers saw the region's potential as a destination for wealthy spa-goers, and in 1888, they opened Glenwood Hot Springs.
The grand Hotel Colorado opened just a few years later, in 1893, and Glenwood Springs was soon attracting travelers from around the country.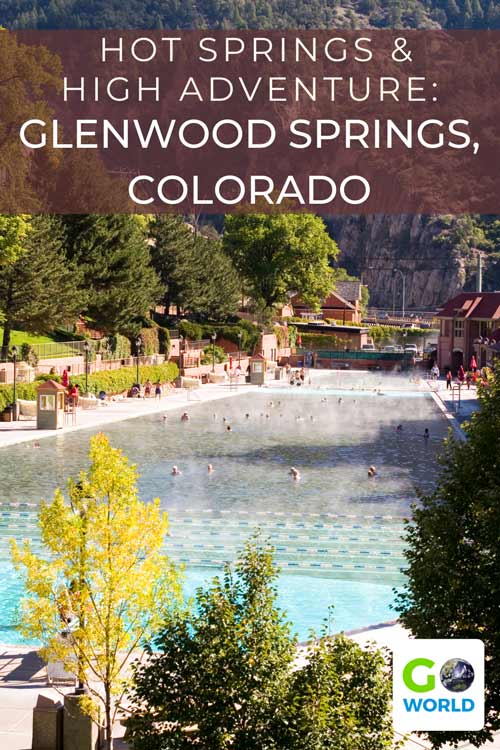 Glenwood Hot Springs Pool
The town of Glenwood Springs grew as well, but it has never lost its small-town feel – and that's part of its charm. Today, Glenwood Springs is home to almost 10,000 people.
The Glenwood Hot Springs Pool is a focal point in this Colorado town. Local kids practice their swimming skills here, and vacationers come year-round to soak.
Hotel Colorado, located just across the street, still welcomes travelers. Although the historic hotel has a few wrinkles from age, she still retains the grandeur of her bygone days.
Glenwood Hot Springs aren't the only place to relax.
Yampah Vapor Caves
The Yampah Vapor Caves are unusual but have been a respite for travelers for more than 120 years.
Mineral-rich steam from the Yampah spring seeps into three subterranean chambers deep underground.
It's surreal to sit in these steam-filled caves, but it does wonders for dry skin, which is a common result of Colorado's dry climate.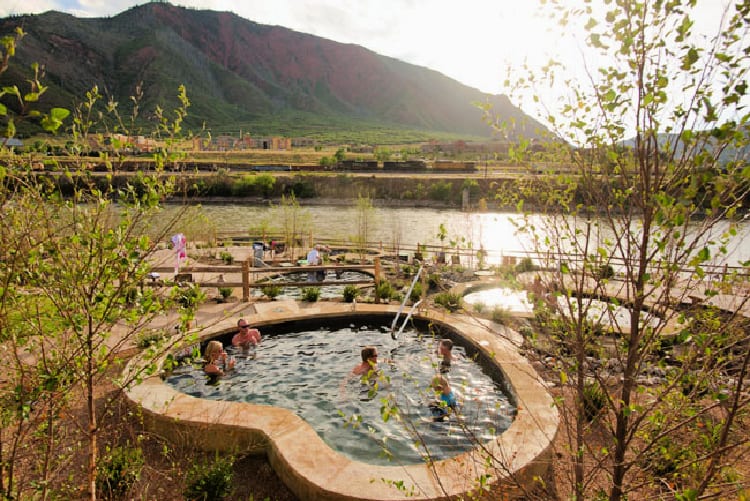 Iron Mountain Hot Springs
Located along the Colorado River, Iron Mountain Hot Springs began as a riverside bathhouse in 1896, then changed hands many times over the next hundred years until closing in 1996.
Now under new ownership, it was developed and re-opened in 2015 as a beautiful hot springs destination with 16 thermal mineral pools and a large freshwater family pool.
The pools vary in temperature, so there's a pool to suit everyone, and all come with a gorgeous view of the mountains. You can spend the whole day here. The Sopris Café onsite provides tasty comfort food and drinks, including beer and cocktails.
Glenwood Caverns Adventure Park
While the hot springs are a draw for many, others come for outdoor adventure. Glenwood Caverns Adventure Park is an unusual attraction offering cave tours, thrill rides, dining and more.
The park is perched at the top of Iron Mountain, and you'll want to spend the whole day here to experience everything it has.
You can start off exploring the caverns and their distinct formations deep in the earth, and then build your courage to try Colorado's longest alpine coaster and the Giant Canyon Swing, which is not for the faint of heart.
For those who prefer tamer adventure, there's a tram, laser tag, 4D theater, and restaurants. Ride availability varies according to season. During the holidays, Glenwood Caverns Adventure Park uses more than 500,000 lights to highlight the season.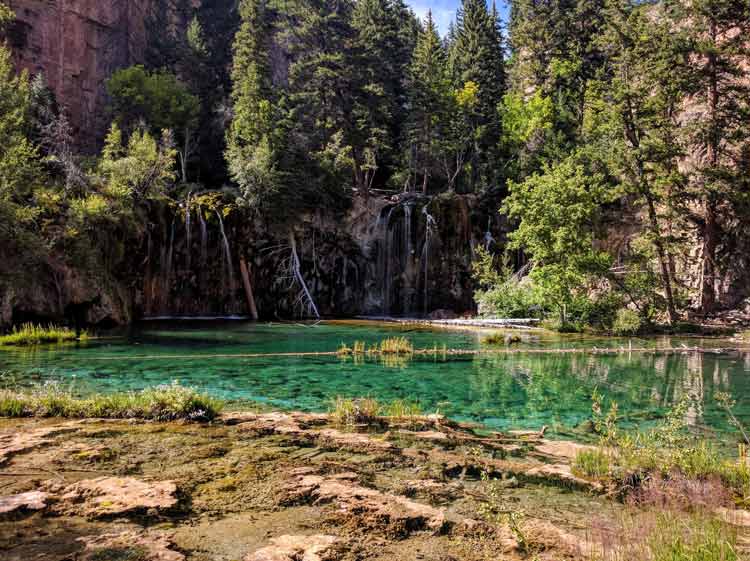 Hiking to Hanging Lake
One of the most popular activities near Glenwood Springs is hiking to Hanging Lake, a crystal clear lake atop the cliffs of Glenwood Canyon.
The one-mile hike is steep and the trail may be crowded, but the view is rewarding. This beloved Colorado location has suffered in recent years from overuse and even abuse by some who don't respect and protect its natural beauty.
NOTE: Reservations and $12 per person permits are required. Please take care to follow all guidelines so that we can preserve this natural treasure for years to come.
Skiing at Sunlight Mountain Ski Resort
During the winter, skiers head to Sunlight Mountain Ski Resort, which is just 10 miles from Glenwood Springs.
This small, but affordable family-friendly resort is best for those who prefer beginner and intermediate runs, but the resort's East Ridge does offer some double-black diamond thrills.
Where to Dine in Glenwood Springs
Glenwood Springs may be a small town, but it still has a wealth of excellent restaurants. Zheng Asian Bistro, owned by Mike Mercatoris and Henry Zheng, is a definite winner.
Their Atomic Shrimp is a must-try, and they even have a full gluten-free and vegan menu, if that's what you're after.
The Italian Underground Restaurant is another local favorite. This locale serves up authentic Italian cuisine on Glenwood Spring's Restaurant Row, where you'll find many other good options.
With its laid-back spirit and friendly ways, Glenwood Springs is an authentic small-town Colorado destination. Once you visit Glenwood Springs, you'll understand why it's a favorite with those who call Colorado home.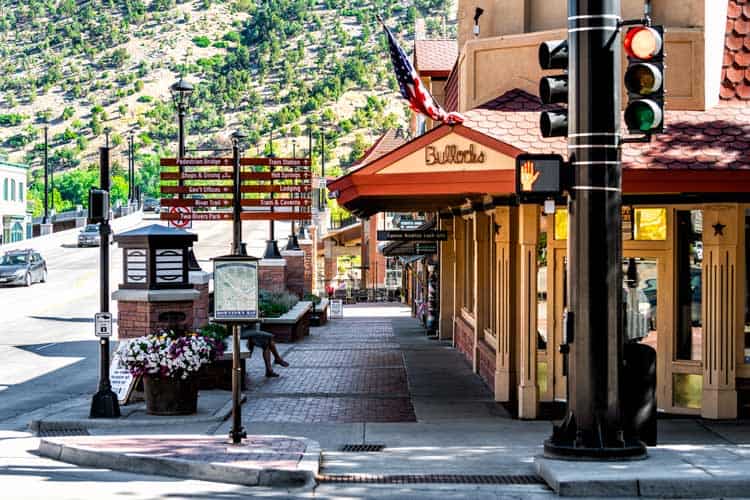 Book This Trip
Excited to visit this mountain town gem? Start planning your trip today with the help of Kiwi to find the best deal on flights and transportation packages. Next, you can find more information on hotel or VRBO bookings, beloved local restaurants, the best hiking trails and more with Travelocity and TripAdvisor.
Get the most out of your stay in Colorado by booking a couple of adventures through GetYourGuide. Check out the Rocky Mountain Half-Day Explorer Trip or the 6-Zipline Rocky Mountains Adventure Tour and experience the mountains like you never imagined. Book in advance and cancel anytime up to 24 hours before the event for a full refund so you can plan your trip stress-free! Find more tour options here.
More Helpful Info