Ready for an island escape like no other? Washington's San Juan Islands consist of 172 islands and more than 300 miles of shoreline.
Planning a last-minute trip to Washington?
Top Experiences and Tours in Washington:
Where to stay and transportation in Washington:
Seriously, you can't imagine a more serene, get-away-from-it-all destination than these islands. From bicycling to wildlife sightings including San Juan Islands whale watching, these islands offer so much to see and do — or you can simply do nothing at all.
Most of the islands aren't visible except during low tide, but the four largest islands are the perfect unplugged vacation: Lopez, Orcas, Shaw, and San Juan Island.
Get ready for travel inspiration as we share one writer's experience exploring the San Juan Islands.
Escape to Washington's San Juan Islands
Refreshing salt air buffeted me softly as I leaned against the ferry railing on my way to one of Washington's San Juan Islands.
The mainland was just a streak on the horizon, and the emerald-green water bubbled, forming lacey patterns in a trail behind us. Seagulls churned the air, crying raucously, in hopes that someone might toss popcorn skyward for them to catch.
Off the port side, we approached a rounded hummock of an island, solidly blanketed with the deep blue-green of a Douglas fir and cedar forest. Another forested island, rimmed with driftwood, slipped past on the starboard side.
Over the soughing of the waves and cries of the gulls, the ferry's public-address system crackled as a voice announced: "The Lopez Island soccer team wishes Casey a happy birthday!"
Cheers erupted from the passengers, and smiles broke out as everyone joined in the celebration. Even before the announcement, I had a big smile on my face.
Best Tips & Tools to Plan Your Trip
Along with my husband, I was on my way to one of my favorite places: Washington State's San Juan Islands, an enchanting archipelago. Where visitors and locals alike wave as they pass each other.
Where kayaking and bicycling are as common as driving. Where the pace of life slows to a languid mosey, whether along gallery-filled streets or along a sandy beach.
Follow along with me to discover and experience how special are the San Juan Islands.
Where are the San Juan Islands?
The San Juans, located north of Seattle, between Washington's mainland and Canada's Vancouver Island, consist of 172 named islands, with a population of just over 14,000. The largest is Orcas Island, a horseshoe-shaped island that encompasses 360,000 acres (147.37 km²).
Four of the largest islands (San Juan, Lopez, Orcas, and Shaw) are reachable by state ferry service. The others range from privately-owned islands to tiny islets with marine campgrounds.
Situated in the rain shadow of the Olympic Mountains to the west, the San Juans enjoy 247 days of sunshine annually and average only 22 inches (56 cm) of rainfall, making them ideal for exploring in every season.
San Juan Islands Ferry
The magic starts when boarding the year-round Washington State Ferry, either by driving your car onto the boat or walking on.
Choose from several daily sailings to and from the four main islands. Island hoppers can expand their San Juan Islands adventure with the inter-island ferry between the islands and/or the international ferry (March-December) to Sidney, British Columbia, Canada. 
Past visits included Orcas Island where I kayaked to the nearby wilderness preserve of Jones Island. I soaked in the streamside outdoor tub at the rustic Doe Bay Resort & Retreat and climbed to the top of Mt. Constitution for a bird's-eye view of the islands and skerries.
On San Juan Island, I visited art galleries and attended an intimate jazz concert. And on diminutive Shaw Island, I biked to a tranquil beachside campsite. On this visit, we rolled down the ferry ramp and onto the dock. Bright flowers in pots decorating the ramp greeted us, a cheery welcome to Lopez Island.
Experience Lopez Island
I already knew all about Lopez's welcoming attitude from years of visits. In my youth, I had sailed here with friends and rowed ashore to traverse the island beaches. On other trips, I rode my camping gear-laden bike off the ferry, anticipating camping on Lopez Island, one of the San Juan Islands.
Pack up everything you need in a durable and stylish pack from eBags. For a trip like this, the Mother Lode Jr Travel Backpack is ideal for loading up and staying comfy. Check out the rest of the selection here.
I meandered through fields of browsing sheep to Spencer Spit State Park. Great blue herons stalked minnows in a saltwater lagoon. I counted graceful deer and scurrying rabbits, and the stars at night, sitting around a campfire with friends. On this trip, though, we weren't roughing it.
It was fall, and rather than waking up to frost, my husband, Eric, and I had chosen to stay in the charming, Cape Cod-inspired Three Seasons cottage in Lopez Village. We settled into the sea-themed cottage with its blue-and-white décor, then set out on our walk to dinner.
We didn't have to walk far to the Bay Café, with its gorgeous views of Fisherman's Bay and distant islands. A crackling fire warmed the intimate room, and soft jazz music set the stage for creative riffs on local fare.
The restaurant is renowned for serving food grown and harvested on the islands, and our meal was no exception. We enjoyed fresh Dungeness crab and shrimp cakes, housemade apple-squash soup, and filets of tenderloin with grilled Portobello mushrooms.
Day 1 on Lopez Island
Morning arrived, and with it, the sun. We rolled out of bed and onto our bikes, which we brought with us. Our first stop was Holly B's Bakery, in the village, for coffee, and nut-and-raisin-filled cinnamon rolls that are siren calls for me. (I admit that I've scheduled trips to Lopez just to enjoy these buttery delights.)
Sufficiently sated, we rode around the curved arm of Fisherman's Bay. Past fishing boats at piers, past the island's homemade ice cream store, and past a gorgeous stretch of sandy beach. Several sea lions bobbed in the waves, watching us with intense, curious eyes. It was low tide, and blue herons waded like prehistoric dinosaurs in the shallows among algae-covered rocks.
The road wound through fragrant, dark cedar woods, then emerged into the sunlight in a meadow with a gnarled heritage orchard. Once a homestead, this gorgeous tract of forest, meadow and beach at the end of a peninsula is part of the island's land trust, set aside for all to enjoy.
After wandering across the dune grass-covered tidal flats, we reached the beach. Smooth pebbles in many hues competed with verdigris algae on driftwood for the flashiest colors. Arms around waists, we gazed out at the islands dotting the waters.
The serenity of the scenery was mirrored in watercolor-like silk wall hangings at Chimera Gallery in the village, where we browsed later before catching the ferry to San Juan Island.
Ferry to San Juan Island
The ferry slipped past rocky islands with homes on mossy knolls before docking at Friday Harbor. At the dock, Eric steered me down a ramp to one of his favorite places, Friday Harbor Seafoods, in a blue cottage with flowers overflowing pots outside.
We purchased fresh king salmon for dinner as a leopard seal spun in lazy circles, blowing bubbles in the water beside us. Driving down the road, we saw a sign for Lacrover Farm. Joining the farmer, Paul Lacrampe, and his four-year-old son, we tramped the rows of organic produce.
We peered between leaves in search of squash, carrots, leeks, and raspberries, which we added to our dinner basket.
Farther along the road, we dipped down a gravel road to Westcott Bay Sea Farms, where water tumbled through self-service bins holding oysters, clams, and mussels. Eric scooped out the plumpest oysters — appetizers for our do-it-yourself island feast.
Roche Harbor – San Juan Island
A few minutes beyond, we rounded a bend in the road to emerge at Roche Harbor. Built in 1886, the historic Hotel de Haro is surrounded by formal gardens and fronted by a picturesque boat harbor. Accommodations range from luxurious modern homes to historic cottages. Three on-site restaurants offer a range of options from fine dining to casual cuisine.
While there are few hotels on the islands, there is no shortage of places to stay. Choose from numerous bed & breakfasts, small inns, and rental houses, in addition to campgrounds. We stayed in a modern, light-filled guest house at Lakedale Resort. The resort also features more than 200 campsites, some of which overlook Neva and Dream Lakes.
While there, we canoed on Neva Lake, watched wildlife — deer and a particularly earnest pileated woodpecker. We enjoyed twilight visits to a hot tub in a gazebo at the water's edge. The beauty of nature in the San Juans is so intense and so accessible that many artists have made these islands their home.
Exploring the Island
At the Westcott Bay Sculpture Park, we strolled through fields and woods dotted with metal, wood, and stone sculptures.
My favorite, Salutation, a bronze, is a delicate study of a woman in a yoga pose. We both admired the artistry of Airborne, a soaring sculpture of hundreds of miniature silvery kayak paddles that spun at the merest brush of a breeze.
In town, the Island Museum of Art also featured sculptures inspired by local nature, including a black, human-sized flicker sculpted of cast iron by Ross Matteson.
I overheard a gray-haired gentleman examining a sculpture of a life-sized eagle on a branch. He said, "I'll take this and the owl outside. I have 40 old-growth trees on my property, and I'll put these there." I wished I could've invited myself to see the installation.
A few blocks away, we paused at Pelindaba for a piece of homemade lattice-top berry pie. The pie was in the midst of all things lavender: lavender honey, lavender syrup, lavender-sugar facial scrub, and scores of other lavender products. All were made from lavender grown on the island.
So Much to See, So Little Time
In the coming days, we visited the San Juan Vineyards, where the fall grape pressing was underway. We took a ride on a converted whale-watching boat to one of the nearby islets for kayaking amid the resident orca whale pod. We playfully squeezed into driftwood lean-tos on a sand beach backed by a cliff, where we listened to the sonorous thunder roll of the waves.
We also visited the island's historic sites. English Camp is a rocky cove with tidy lawns and a small formal garden, where British soldiers lived for 12 years during the Pig War. This all began in 1859 after an American settler shot a British pig on the sovereignty-disputed island — and American Camp, a lonely, windswept prairie where the Americans lived during the war.
Somehow I wasn't surprised to learn that, with the men stranded here for so many years, friendships sprang up between the camps. The soldiers even celebrated holidays together. I like to think that these truces sprang from the spirit of warmth and friendliness that comes over island dwellers and visitors alike that worked its magic.
This same magic that's still very much at play today in these nature-filled, out-of-the-mainstream islands.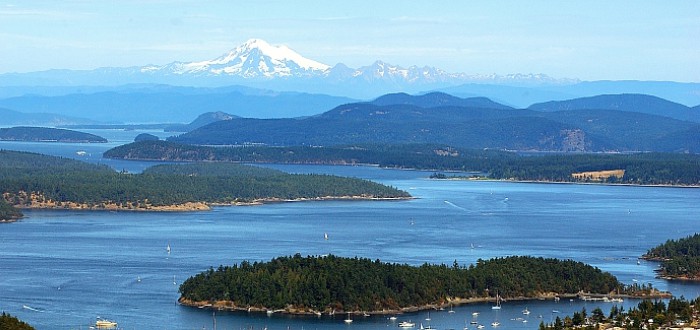 If You Go to Washington's San Juan Islands
Discover more at San Juan Islands Visitors Bureau
Find experienced guides around the islands and tours based on your interests through GetYourGuide here.
Getting to the San Juan Islands
By Sea:
Washington State Ferries offer frequent sailings to the San Juan Islands from Anacortes, about a 90-minute drive north of Seattle, Washington, or south of Vancouver, British Columbia. If driving on the islands, be forewarned that ferry waits can be long on summer weekends. Allow plenty of extra time to wait in line.
The islands are beloved by bike riders, even though they are hilly. Lopez is among the flattest. If you choose to get around by bike, walk your bike onto the ferry in Anacortes. In the summer, the Victoria Clipper hydrofoil travels passenger service once a day from Seattle to Friday Harbor, on San Juan Island.
By Air:
San Juan Airlines offers daily scheduled flights from Anacortes, Bellingham, and Orcas Island to Friday Harbor, as well as charter service.
Kenmore Air provides float-plane service from Seattle's Lake Union and Lake Washington to Friday Harbor.
Inspire your next adventure with our articles below:
Author Bio: Leslie Forsberg