Walt Disney World has been entertaining and delighting families since 1971. The 40-square-mile theme park is home to four theme parks, two water parks, 36 resort hotels and activities from boating to golfing to fishing.
But that doesn't mean that Walt Disney World can sit back on its laurels. The park continues to evolve. If you haven't been back in the last few years, you'll be in for a surprise. Here are some of the newest experiences at Walt Disney World.
My Magic+
Walt Disney World has taken a giant leap forward with its new My Magic+ approach. Designed to make the guest experience more customizable and convenient, My Magic+ has three different components: MyDisneyExperience.com, FastPass+ and Magic Bands.
MyDisneyExperience.com is a new site that allows you to design your visit before you even arrive. Simply create an online account, add each family member, and then select the attractions and experience you want to visit. You can purchase tickets, accommodations, and make restaurant reservations.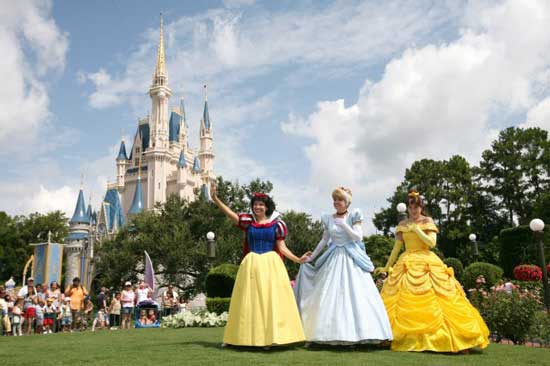 Best of all, you can select up to three FastPass+ attractions or experiences per guest at one park per day of your visit – all before you set foot in the parks. You can reserve FastPass+ for rides, shows, parade or fireworks viewing areas or even Disney Character Greetings. Keep in mind that you can only have three FastPass+ reservations at a time.
After you've used your three FastPass+ tickets or the reservation time has passed, you can make another FastPass+ reservation at one of the FastPass+ kiosks throughout the park. If you have purchased a Park-Hopper Pass, then you can make a reservation at one of the other parks. After you've used that additional FastPass+ , you can select another one, and so on.
If you're staying at a Walt Disney World Resort, you can use MyDisneyExperience.com to reserve FastPass+ tickets up to 60 days in advance of your visit. If you're not staying at a WDW resort but have purchased tickets on the site, you can make your reservations 30 days in advance.
The mobile app version of MyDisneyExperience.com is a helpful tool while in the park. There are interactive maps and you can easily search for whatever service you need, from a charging station for your cell phone to somewhere to get new camera batteries.
The best part of the mobile app might be the list of real-time wait times. The list provides the wait time as well as how far you are from the attraction, so you can make informed choices throughout your day.
Another convenient option is the MagicBand, an all-in-one device that connects you to the online vacation you designed on MyDisneyExperience.com. The wearable bands are made of non-latex, hypoallergenic material, and can be easily sized to fit even the tiniest wrists. They serve as park admission (no more tickets!), as the hotel room key to your Walt Disney World Resort, and to your Disney photos, if you purchase any. Those staying at a Walt Disney World resort can attach charging privileges to the band as well.
If you're staying at a Walt Disney World resort, MagicBands will be mailed to you ahead of time. Each family member can choose their own color, and the bands are customized with each family member's name.
If you're not staying at Walt Disney World, you can still use a regular theme park admission ticket to enter the park and redeem FastPass+ selections. You can also purchase the MagicBand at the park for $12.95, and then link it to your MagicBand (park employees can help you do this).
FYI, no personal information is stored on the band, and a PIN is required to use it for any purchases. The band can be easily disabled if lost or stolen.
Disney Memory Maker
Now you don't have to be behind the camera to capture your whole Disney experience. Walt Disney World's affordable photo program, Disney Memory Maker, provides unlimited digital photos taken at hundreds of Disney PhotoPass locations throughout Walt Disney World Resort.
For $199 you can have as many photos taken as you wish during your visit. Then, you can download and use the photos as you want. You can save $50 (making it $149), if you purchase Memory Maker online three days before your trip.
Magic Kingdom: New Fantasyland
The Magic Kingdom is the heart of Walt Disney World, and it's the most popular park with little ones. Fantasyland has been entirely re-imagined and expanded. The multi-year project more than doubles the size of Fantasyland and represents the largest expansion in Magic Kingdom history.
One of the highlights is Princess Fairytale Hall, where visitors can see all their favorite princesses in one place. Located in a castle-like setting, guests can choose between two tracks, one for Cinderella and Rapunzel or one for Frozen's Anna, Elsa, and another visiting princess (Aurora, Snow White, Tiana, Jasmine or Mulan).
When it's your turn, you're ushered into the royal chambers to meet and take photos with your favorite princess. This is a popular attraction, so consider reserving FastPass+ tickets.
One older attraction that has been completely redone is Dumbo the Flying Elephant. While the ride itself hasn't really changed, waiting for it has.
A while back, folks at Walt Disney World began asking the question: "What if there were no lines?" This attraction provides one possible answer.
While guests start off in a line, it quickly leads to a huge circus-themed play area. Guests are given a pager, and then sent to enjoy the space. When it's time for them to ride, the pager goes off and guests can enjoy the ride. The play area is so much fun that some might be tempted to stay and play.
In that same note, The Many Adventures of Winnie the Pooh attraction has an interactive queue, with four areas of fun and games throughout the line.
Walt Disney World is known for its spectacular parades, and the new Disney Festival of Fantasy Parade does not disappoint. Since its debut in March 2014, the parade has delighted guests daily with its fanciful tribute to new and classic Disney and Pixar stories. More than 100 cast members in dramatic costumes perform on stilts, swings and grand floats as they make their way through the park.
Fans of the Disney film "Beauty and the Beast" should have lunch at Be Our Guest Restaurant, which won a National Innovation Award. Located in the Beast's enchanted castle, guests dine in the castle's West Wing, Rose Gallery or grand 2-story Ballroom. Counter-service is available at lunchtime, while dinner is a fine-dining affair. Advance reservations are strongly recommended for dinner.
Those in search of a little more adventure should make their way to the Seven Dwarfs Mine Ride, a light-hearted roller coaster ride that explores the popular story of Snow White and the Seven Dwarfs. Set to music from the classic film, the ride is not extreme, but has enough curves, dips and twists to thrill coaster riders.
Epcot
In Epcot's World Showcase, Morocco has been making waves with their new restaurant, Spice Road Table. Inspired by the outdoor cafes of the Mediterranean, the eatery is known for their wide array of Moroccan small plates, including merguez sausage, zesty harissa chicken drumettes, and garlicky jumbo shrimp in a spicy chile pepper sauce. Many guests come just for the specialty drinks and the sangria is a popular favorite. The restaurant's location alongside the World Showcase lagoon makes it the perfect spot to watch "IllumiNations: Reflections of Earth," Epcot's spectacular fireworks show.
Also new at Epcot are the Epcot After Hours Wind Down experiences. Guests can linger at the park after closing at one of four lounges in World Showcase — La Cava del Tequila (Mexico), Spice Road Table (Morocco), Tutto Gusto Wine Cellar (Italy), and Rose & Crown Pub (United Kingdom) to sample flavors from that region after the nightly finale. Epcot After Hours Wind Down is available Thursdays through Sundays from 9:20 p.m. to 11:00 p.m. The cost is $35 per person for a selection of appetizers and one beverage flight. For reservations, go to www.disneyworld.com/spring or call 407-WDW-DINE.
Animal Kingdom
The newest event at Animal Kingdom is Harambe Nights, a special-ticket, after-hours event that celebrates the tastes and flavor of Africa in honor of the 20th anniversary of "The Lion King." Each Saturday from June 7 through August 9, guests who purchase the event ticket attend a fun street party and theatrical production.
The evening starts off with African-inspired appetizers and drinks served in the Africa area of the park. Then you are treated to a 55-minute musical show called "The Lion King Concert in the Wild." With the help of celebrity narrators and a live orchestra, the show details Simba's coming of age.
When the show concludes, the party moves back into the streets. A large variety of buffets allow guests to savor African-inspired dishes. The event starts at 7 PM and tickets are limited. Cost is $119 for adults; $79 for ages 3-9.
Disney's Grand Floridian Resort & Spa
Senses is the newly-remodeled spa at Disney's Gland Floridian Resort. Now owned and operated by Disney, the spa offers  Victorian elegance with classical Disney flair. True to its name, the senses are engaged to provide a relaxation experience. A wide array of services are offered at the 15-room spa, including massage, water therapy, sugar exfoliation body treatment, and rejuvenating citrus facials. Princess Pedicure or Magical Manicure are available for those ages 4-12.
The Villas at Disney's Grand Floridian Resort & Spa is the newest Disney Vacation Club Resort. Located on the shores of Seven Seas Lagoon next to the Grand Floridian Resort, the 106 villas combine modern touches with classic Victorian design. The luxury condos can accommodate between five and 12 guests, and most include a full kitchen and living room, which is always a plus when you're traveling with family.
If You Go
Author Bio: Go World Travel editor Janna Graber has been covering Disney Parks for more than 10 years – and she still enjoys every single visit.