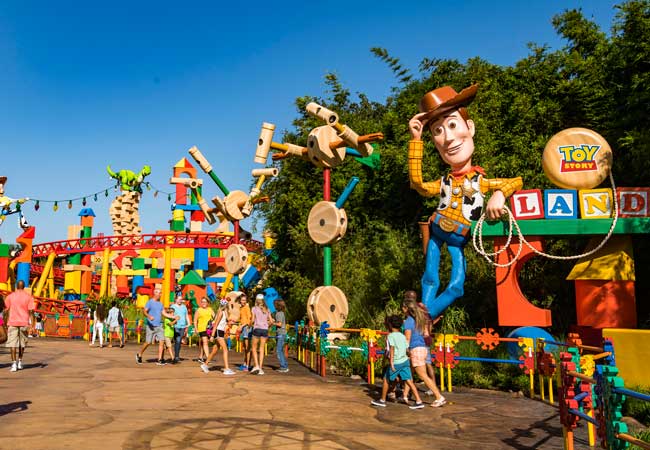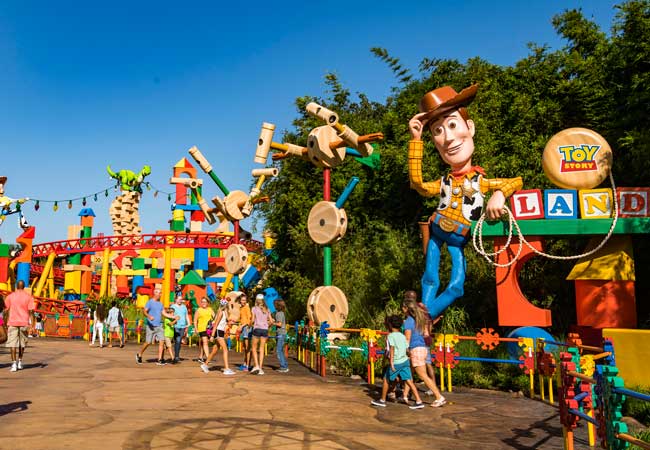 Toy Story Land at Disney's Hollywood Studios is the newest crowd-pleaser at Walt Disney World Resort in Orlando, Florida. Toy Story Land features two new rides and new shopping and dining opportunities. Toy Story Mania – an attraction that has been a favorite for several years – rounds out the lineup of attractions at Toy Story Land.
Toy Story Land
Based on the Pixar Animation Studios' Toy Story films, Toy Story Land immerses guests into a giant, toy-filled world. Walking into the area is like walking into your childhood. Surrounded by giant-sized classic toys of childhood, such as Tinker Toys, Scrabble, Slinky, Crayons and more, it's easy to feel nostalgic.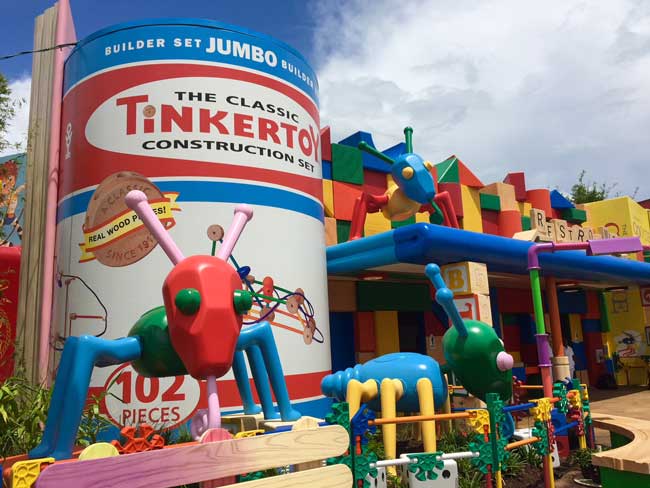 Kids of all ages will love the feeling of being toy-sized and surrounded by their favorite characters like Woody, Jessie and the Green Army Patrol, which make frequent appearances throughout the day.
Toy Story Land has two new rides. The Slinky Dog Dash, inspired by the classic 1940s American toy, is an 18-passenger coaster train that is tame enough for small children, yet thrilling enough to keep teens and adults engaged. The coaster itself is a Slinky Dog.
The Slinky Dog Dash even includes a second launch point (the coaster stops midway, and then takes off in a second thrilling rush), which is a first for a Disney roller coaster. The coaster zips through Toy Story Land then through a series of rings to the end, where riders are greeted by Wheezy, the squeaky penguin.
At Alien Swirling Saucers, guests ride in spinning toy rocket ships while The Claw hangs overhead. The last attraction to round out Toy Story Land is the ever-popular Toy Story Mania! (which is one of my two favorite rides in all of Walt Disney World Resort). In this interactive 4D ride, riders wear 3D glasses and take aim at a variety of moving virtual targets from plates to balloons, earning points for each target they hit.
The game is easy enough for all ages to enjoy and will bring out your competitive side. The attraction now has a new entrance in Toy Story land and has been updated with a third track.
Rounding out Toy Story land is Woody's Lunch Box, a walk-up restaurant which serves old-fashioned soda floats and quick service meals. The restaurant and eating area is surrounded by giant toys and even a vintage giant thermos. Toy Story merchandise is available from two new merchandise locations – a toy camper and a toy dump truck.
In true Disney fashion, Walt Disney World imagineers have created this toy-filled world with careful attention to detail. The result is whimsical and fun, offering the kind of experience that the park is known for. Toy Story Land is part of multiyear investment in Hollywood Studios. In 2019, the 14-acre Stars Wars: Galaxies Edge will open, and is sure to be a crowd favorite. The new Star Wars: Galaxies Edge is sure to be very popular, so reserve your hotel and book a car as soon as you can.
Check back here soon for our review on Star Wars: Galaxies Edge, and don't miss our other stories on Walt Disney World.
Play Disney Mobile App
Another brand new feature at Walt Disney World Resort is Play Disney. This Disney Park interactive app can help you pass the time while you wait in line for your favorite ride. The Play Disney app, available for free download on iOS App Store and Google Play, lets guests play games that interact with the physical environment around them.
Each of the four theme parks at Walt Disney World have different activities, including themed games, digital achievements, Disney trivia, and more.
Players ages 13 and up who are signed into their Disney account can earn, collect and share achievements, and are rewarded for experiences in the app and across the Disney parks.
You can also listen to your favorite Disney tunes. Before, during or after their visit, guests can listen to Apple Music (must have Apple Music account) in the Play Disney Parks app to hear a curated playlist of their favorite Disney songs.
My Disney Experience

When My Disney Experience was rolled out some years ago, it was a nice addition. The mobile app lets you check wait times and map your way through the park and more.
During this visit, we found that the app has developed even more to become a powerful tool for planning your Walt Disney World Resort vacation. It allows you to manage and view your entire experience, from your hotel booking to your restaurant reservations to FastPass+ tickets.
One new feature is the ability to place an advance mobile food order at quick-service Walt Disney World Resort restaurants. Instead of waiting in the line to order, you can now place the order from your phone and then pick up the order at the mobile order counter.
If You Go
Walt Disney World Resort
https://disneyworld.disney.go.com/
Getting to Walt Disney World
If you stay at a Walt Disney World Resort property, Disney's Magical Express offers complimentary bus transportation to and from Orlando International Airport. However, to make the most of your Orlando stay, we recommend that you rent a car in Orlando. If you are staying at a Disney Resort hotel, you can park for free at Disney theme parks for the length of your stay.
Latest posts by Janna Graber
(see all)