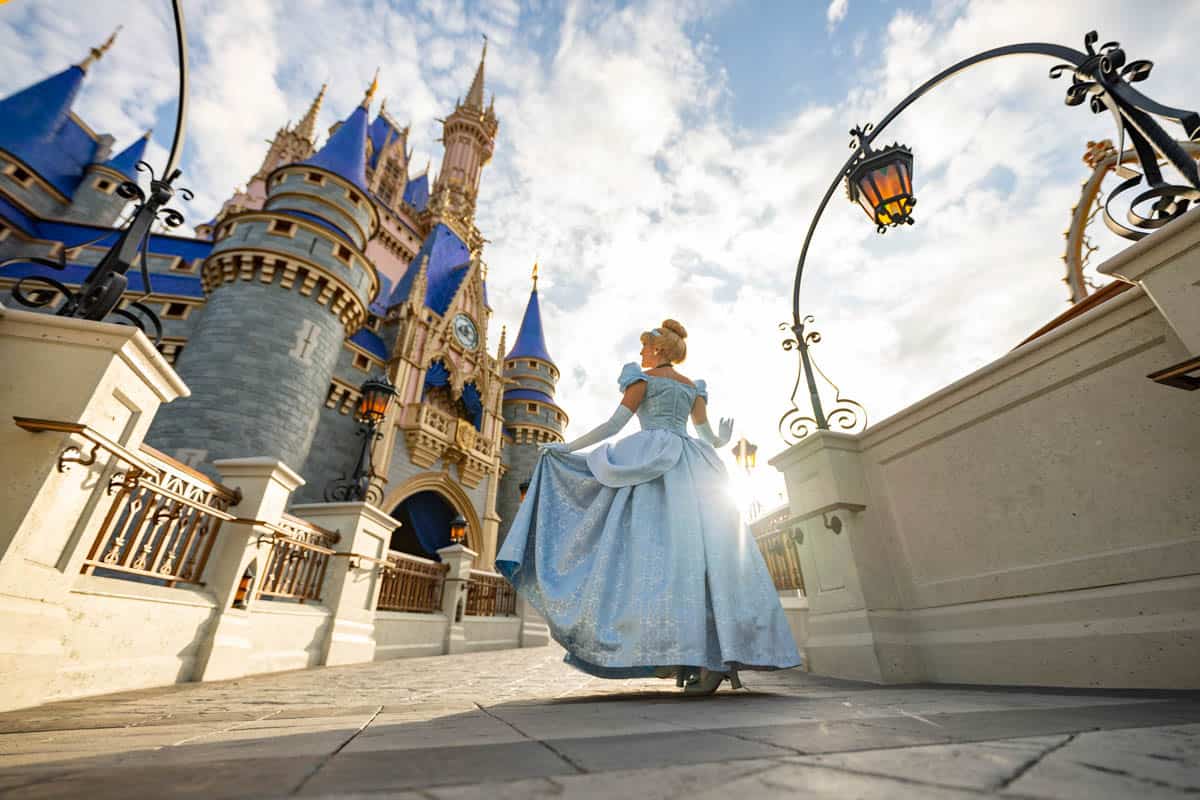 Editor's Note: We're all dreaming of travel ahead. Here's some inspiration for future adventures. We share places, products and activities we recommend. If you make a purchase using a link on our site, we may earn a commission.
Navigating a vegan diet at Walt Disney World wasn't always the easiest thing to do. However, that's changed in recent years.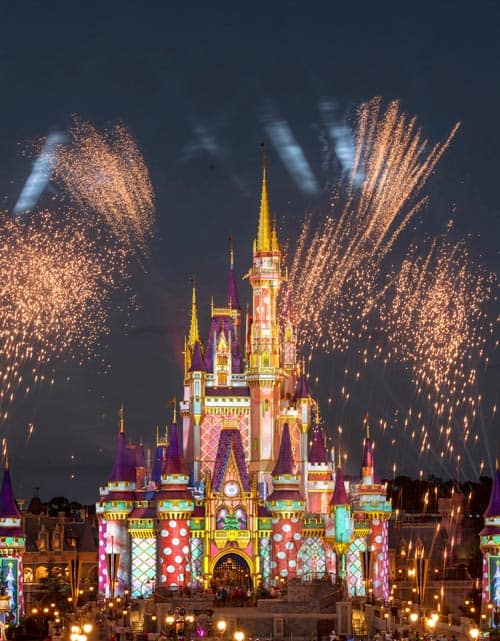 Vegan Dining at Walt Disney World
Disney listened to feedback from vegans visiting the park. They used this to implement new plant-based options that accommodate vegan guests.
If you're a vegan planning a trip to this magical place, check out this guide on where to go and what to do to find delicious vegan food at Disney World.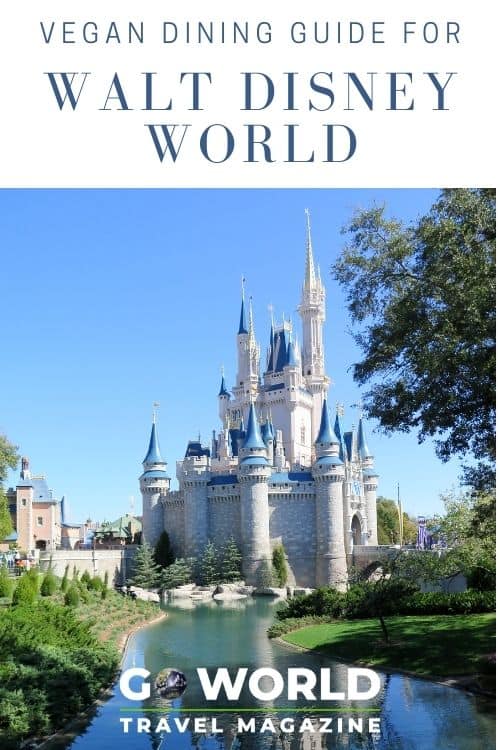 The Double-Leaf Symbol
Disney has created a system to quickly identify vegan options. Simply look for the double-leaf symbol on their menus. This double-leaf symbol signifies that the dish does not contain animal meat, dairy, eggs, or honey.
Furthermore, you can pick up a guide to the park's plant-based cuisine available at guest relations.
When in doubt, ask your favorite cast member. Each park has a cast member who can answer any question about Disney World dining options. Most cast members know or can find out about the Disney World vegan options offered.
Vegan Options at Epcot
After years of visiting Disney as vegans we are thoroughly enjoying the transition to new dining options.
For starters, we highly recommend visiting Regal Eagle, an Epcot quick-service restaurant. Be sure to try the BBQ Jackfruit Burger. The kids will love it!
The Rice Pilaf and Garden-Fresh Vegetables at the Garden Grill Restaurant are other good options. The Biergarten Restaurant has a limited menu but it does include a variety of vegan items.
If you want a snack or a light lunch, get the Beet Salad or sauerkraut, roasted potatoes, and green beans.
Vegan Dining at Magic Kingdom
Disney World is a true American wonderland. From the colorful characters to the stunning parks, you can't miss the magic that surrounds you.
Disney World's Magic Kingdom has a variety of vegan options to satisfy many plant-based cravings. For example, the DOLE Whip® (a pineapple sorbet) is vegan and delicious.
For lunch, we recommend Jungle Navigation Co. LTD Skipper Canteen. Try the Falls Family Falafel or the Perkins Thai Noodles for something on the healthier side. For dinner, Impossible™ Meatloaf at Liberty Tree Tavern is a great choice.
Vegan Options at Animal Kingdom
Animal Kingdom has plenty of plant-based options for breakfast, lunch, and dinner.
For lunch, we recommend Satu'li Canteen. Here you can make your own bowl and choose from options like Chili-Spiced Crispy Fried Tofu, Black Beans and Rice or Potato Hash. Then top your creation with the Charred Onion Vinaigrette.
At dinner, we suggest Tiffins Restaurant. Tiffins offers a vegan dish of North African Spiced Tofu as well as vegan tacos. After a long day of exploring the park, you can finish your day with something sweet like the Passion Fruit Tapioca Creme also found at Tiffins.
Have you ever considered a Disney Cruise? Here are 10 Reasons to Cruise with Disney
Vegan Restaurant Options at Disney's Hollywood Studios
Disney's Hollywood Studios has perhaps the widest range of vegan options of all the parks.
For breakfast, we recommend the Plant-based Egg Frittata at the Hollywood & Vine, one of the few vegan breakfast options available. The Hollywood & Vine also offers Plant-based Pan Roasted King Trumpet Mushrooms perfect for lunch.
If you prefer Italian-style cuisine try Mama Melrose's Ristorante Italiano. They offer a plant-based Minestrone Soup and Polenta Cake, plus a Mushroom and Herbed Cauliflower dish.
To finish off your day try a Cookie Shake at the Sci-Fi Dine-In Theater Restaurant.
Where to Find Vegan Options at Disney's BoardWalk
As you stroll down Disney's Boardwalk be sure to pick up a quick bite at Boardwalk Bakery which offers "The Veggie" Sandwich.
If you're strolling by in the morning, try the Avocado Toast at Trattoria al Forno. The Trattoria al Forno is also a good choice for a vegan dinner. Here they offer the Roma Tomato Bruschetta and Plant-based 'Bolognese' to their vegan visitors.
Vegan Meals at Disney Springs
Disney Springs also has some vegan options. Try the Plant-based Pacific Island Burger at D-Luxe Burger or a Plant-based Bratwurst Sausage at B.B. Wolf's Sausage Co.
Plus, you can find DOLE Whip® here as well at Marketplace Snacks.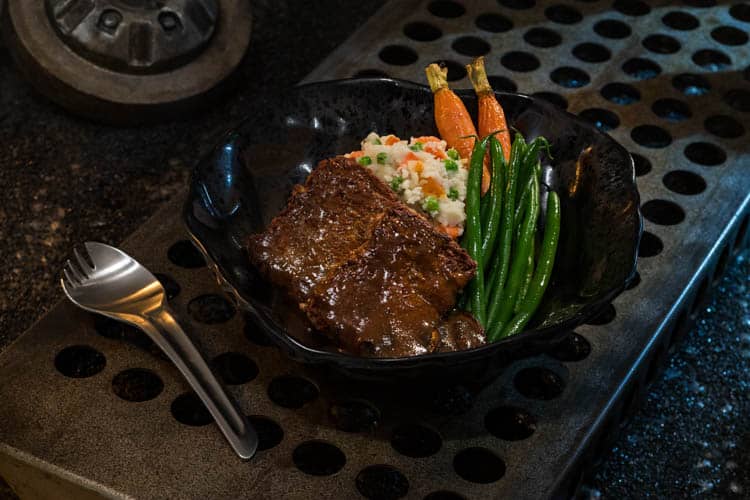 Vegan Options at Disney's Water Parks
If you are visiting Disney's Water Parks you can find a Plant-based Bratwurst Sandwich and Impossible ™ Burger at Lottawatta Lodge at Disney's Blizzard Beach Water Park.
Being vegan in Disney World is definitely a lot easier than it was a few years ago. Between the new options at food kiosks and the detailed food guides, vegan dining is no longer a challenge. All in all, Disney is a great vacation spot for the vegan vacationer and a great place to let one's imagination explore.
Book This Trip
Experience the magical world of Disney with all your dietary needs met! Make the trip to Florida a breeze by booking the best airline deals here through Kiwi. Then you can find hotel or VRBO options, rental car deals and more hot tips on where to find the best food on Travelocity and TripAdvisor.
You can find Disney's guide to delicious plant-based dining here. This information was current at the time of publishing. Please check with a cast member to verify ingredients if necessary.
Author Bio: Sandy Page is a life-long adventurer. In her free time, she reads and consumes copious amounts of hot beverages.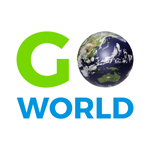 Latest posts by Go World Travel Magazine
(see all)