If you've ever cruised with Disney Cruise Line, you know how much fun their family-focused cruises can be. The cruise line has just announced its latest addition, the Disney Treasure, the sixth ship in the Disney Cruise Line fleet.
This new ship is still being built and will debut in December 2024, but Disney Cruise Line gave us a sneak peek into what promises to be an exciting new ship.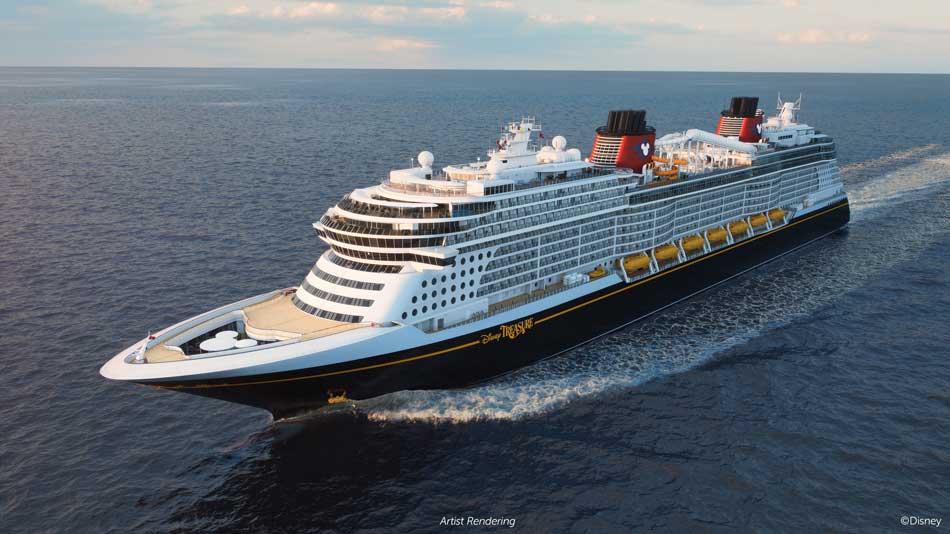 What to Expect on the Disney Treasure
The Disney Treasure will bring to life captivating stories from the archives of Walt Disney Animation Studios, Pixar, and Disney Parks adventures.
The ship's onboard spaces are expected to offer a fresh perspective on familiar settings, inviting passengers to immerse themselves in vibrant Mexican plazas, navigate winding rivers from around the world, and even take a dive beneath the ocean's surface.
Onboard, passengers will find popular elements from the Disney Treasure's sister ship, the Disney Wish. From the ship's bow to its stern, guests will find themselves surrounded by Disney storytelling, with themed spaces and live entertainment paying tribute to cherished tales such as "Aladdin," "Coco," and "Zootopia."
What You'll Find on the Disney Treasure
Here's a breakdown of some of the exciting features and experiences you can expect:
AquaMouse: Curse of the Golden Egg
This has to be our favorite feature on the Disney Treasure. A unique water slide attraction at sea, AquaMouse will take guests on a zany adventure with Mickey Mouse and Minnie Mouse as they explore an ancient temple. Suspended high above the ship's upper decks, it will offer breathtaking views of the ocean.
Grand Hall on the Disney Treasure
The ship's central gathering space will be themed around Agrabah from "Aladdin," with statues and decor that evoke the palace and wonder of this classic Disney tale.
Themed Spaces on the Disney Treasure
The ship will feature various themed spaces that draw inspiration from beloved Disney and Pixar films as well as Disney theme park attractions. These spaces will immerse guests in the world of Disney storytelling.
Plaza de Coco
This theatrical dining experience will be themed around the Disney and Pixar film "Coco." Guests can enjoy unique dining experiences with performances and show effects that celebrate the movie's vibrant music and family-centric themes.
Jumbeaux's Sweets
This sweetshop is inspired by the popular ice cream parlor from Disney's "Zootopia." It will offer a wide variety of gelato, ice cream, sorbets, specialty treats, and candies in a playful and colorful setting.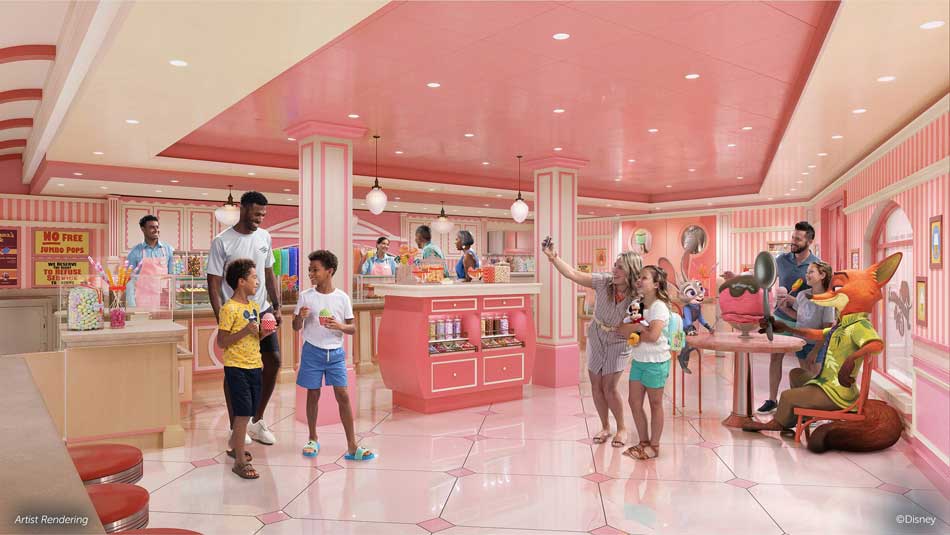 Skipper Society
A themed lounge inspired by Disney Parks' iconic Jungle Cruise attraction. It will feature jungle-themed decor, references to the attraction, themed cocktails, light snacks, and live entertainment.
Periscope Pub
This venue will be inspired by Walt Disney's 1954 film "20,000 Leagues Under the Sea" and the former Disney Parks attraction of the same name. The design will include steampunk influences, and guests can enjoy craft brews and light bites while feeling like they're aboard Captain Nemo's Nautilus.
Walk-Up Cafes
Two casual cafes named Heihei Café (inspired by "Moana") and Jade Cricket Café (inspired by "Mulan") will offer coffee, tea, specialty beverages, and snacks with themes based on Disney Princesses.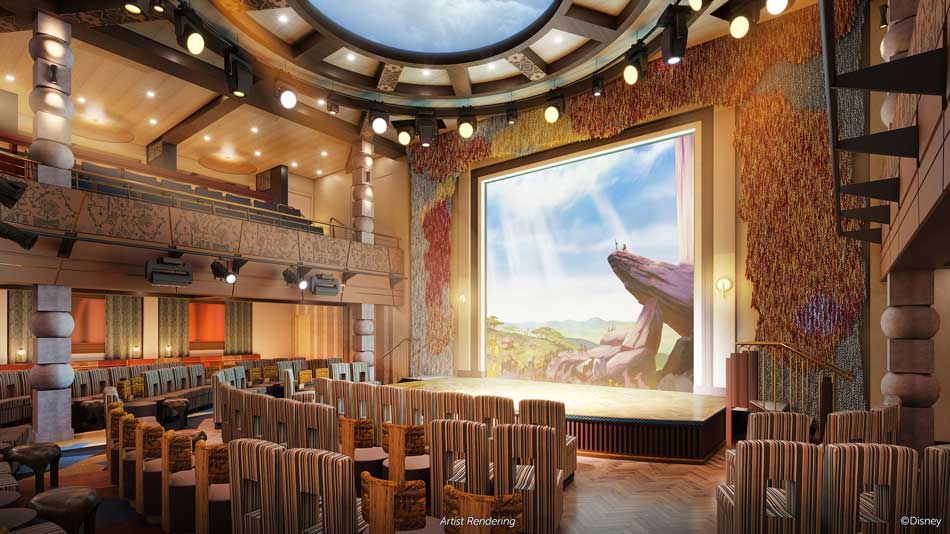 Sarabi
This central hub will offer daytime activities and adult-exclusive evening entertainment inspired by the natural beauty of the savanna from "The Lion King."
Staterooms on the Disney Treasure
The ship's 1,256 staterooms will feature custom artwork and design elements inspired by beloved Disney and Pixar films, such as "Aladdin," "Pocahontas," "Up," and "Encanto."
Entertainment
Guests can look forward to stage productions like "Beauty and the Beast" and "Disney Seas the Adventure." There will also be family dining rotations, including Worlds of Marvel, as well as adult-exclusive dining experiences like The Rose, Palo Steakhouse, and Enchanté.
Kids' Spaces
The ship will offer designated areas for kids of all ages, including Disney's Oceaneer Club, Edge, Vibe, and It's a Small World Nursery, where they can engage in various activities under the guidance of Disney-trained counselors.
How to Book a Cruise on the Disney Treasure
The Disney Treasure is scheduled to set sail on its inaugural journey, a seven-night Eastern Caribbean cruise, commencing from Port Canaveral, Florida, on December 21, 2024.
Following this maiden voyage, the ship will embark on a series of seven-night itineraries, exploring the Eastern and Western Caribbean from Port Canaveral.
Disney Cruise Line Castaway Club members are in luck, as they will have the opportunity to secure their spots aboard the Disney Treasure as early as September 12, 2023, while bookings will open to the general public on September 20, 2023.