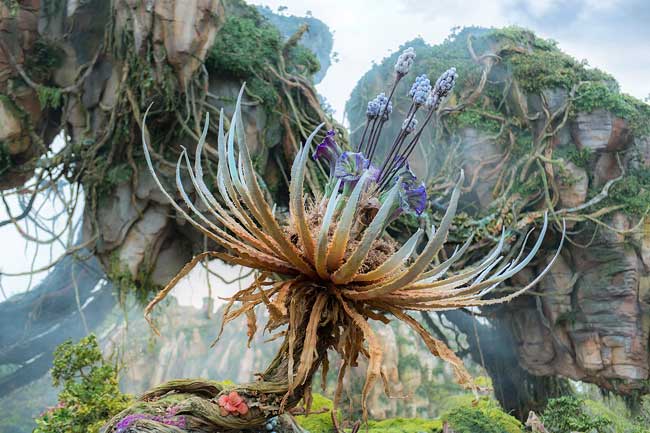 Walt Disney World draws visitors from all over the world. Some come to create family memories; others for thrill rides and entertainment. For many, it's a chance to step out of daily life and just feel like a kid again — to imagine new worlds and possibilities.
Pandora – The World of Avatar
Walt Disney World's latest park addition offers the chance to do all those things. Pandora – The World of Avatar opened at Disney's Animal Kingdom. Animal Kingdom is one of four parks at Walt Disney World in Orlando, Florida. Years in the making, the 12.2-acre land at Animal Kingdom recreates the world of Pandora from the hit film AVATOR by filmmaker James Cameron.
Home to the Na'vi, Pandora features floating mountains, waterfalls, streams and a rainforest filled with bizarre plants and creatures. More than 60 artisans from the U.S., Peru, France, Portugal, Japan and Ireland contributed to creating the art-scapes of the floating mountains.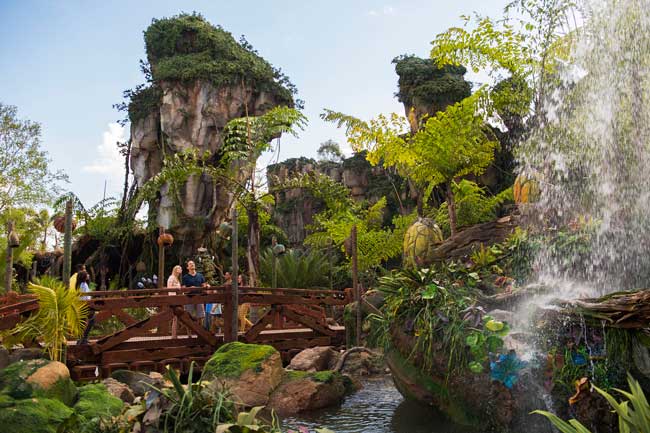 Many plants are interactive, and move in waves of energy. One giant plant shoots water when caressed by human hands. In addition to the Pandoran landscape, the Disney horticulture team planted nearly 500 trees and 10,000 shrubs to create a lush Pandoran rainforest.
Many creatures hide in the landscape. Look closely, and you'll see Pandoran Stingbats nesting in the mountains. Pandora is teeming with sounds, from the songs of insects to the cries and mating calls of Pandora's alien creatures.
Animal Kingdom at Night
In the past, Animal Kingdom shut down after dark, but the park is now open at night – and the darkness reveals a different side of Animal Kingdom.
The Tree of Life is the park focal point at Animal Kingdom. At night, the Tree of Life "awakens" to display colorful stories of animals and nature.
Rivers of Light is the all-new nighttime show at Disney's Animal Kingdom. This 15-minute spectacular is projected onto the Tree of Life, and uses a visual mix of water, fire, nature and light all choreographed to an original musical score to take visitors on an emotional journey.
Pandora at Night
By day, Pandora is a green, lush rainforest; by night, Pandora comes alive with glowing, bioluminescent flora and fauna. Bioluminescent paths guide visitors through Pandora. These elements are charged in the day by sunlight and glow at night, reinforced by black light.
Purple, blue and green bioluminescent colors cover the hanging mountains and colorful glowing flowers line the paths. The effect is otherworldly.
New Rides in Pandora

Pandora has two new rides – the Na'vi River Journey and Flight of Passage. The 4½-minute Na'vi River Journey is suitable for all ages. This gentle boat rides ventures into the bioluminescent world of the Na'vi.
If you're not able to visit Pandora at night, this ride will give you an idea of what it looks like at night. Bioluminescent plants and creatures are everywhere as you float along this mysterious river. The highlight of the journey is the Shaman of Songs, a 10-foot Na'vi creature whose fluid moments were created by the most advanced animatronics that Disney has used to date.
Avatar Flight of Passage
If you've ever dreamed of flying, Flight of Passage just might be the closest thing to that feeling. On Flight of Passage, guests ride on the back of a flying banshee, thanks to a state-of-the-art theater and 3D technology.
Similar in concept to Soarin' – where guests soar across the world on a glider – Flight of Passage gives you a "you-are-there" experience with sight, sounds, movement and even smells.
Flight of Passage goes much further, however. After being genetically matched with an avatar, guest mount a single-seat simulator, similar in feel to a motorcycle. The device delivers the realistic feel of riding a banshee; you can even feel the animal breathing.
Wearing 3D glasses to view the giant projection screen, which is 69 feet wide and more than 97 feet high, visitors soar over mountains, zoom through trees and plunge down mountain sides. You feel each turn and twist, with wind in your hair and the feel of mist when you ride through waterfalls and across the sea. You even feel your stomach fall as you plunge and turn.
"In Flight of Passage, the sensation of flying is really visceral, really believable," said Joe Rohde, Walt Disney Imagineering portfolio creative executive. "Not only do you have the more obvious aspects of flying – the swooping and curving – but we've put in crosswind, air density and banking."
At one point during the ride, you pause in an ancient cavern and have the chance to look around. You can smell the musty dampness of the cave. The exhilarating ride is four-minutes long, and it's certainly going to be a hit.
What's New at Walt Disney World
Pandora isn't the only new thing at Walt Disney World. The all-new Happily Ever After fireworks and projection show features more lasers, lights and projections than any show at Magic Kingdom Park before. The show, which is projected on Cinderella's castle, is an entirely new kind of Disney storytelling. The 18-minute spectacle features moments from classic such as the "The Little Mermaid" and "Aladdin," as well as today's favorites like "Moana" and "Zootopia."
At Hollywood Studios, The Music of Pixar Live! – A Symphony of Characters plays from May 26-August 27 in Theater of the Stars. The Music of Pixar Live! features a live full orchestra performing selections of favorite soundtracks from Disney favorites like "Toy Story," "Up," "Finding Nemo" and many more. Animated scenes from the films play behind the orchestra, and the resulting is a moving crowd-pleaser.
Book a Hotel in Orlando
Latest posts by Janna Graber
(see all)