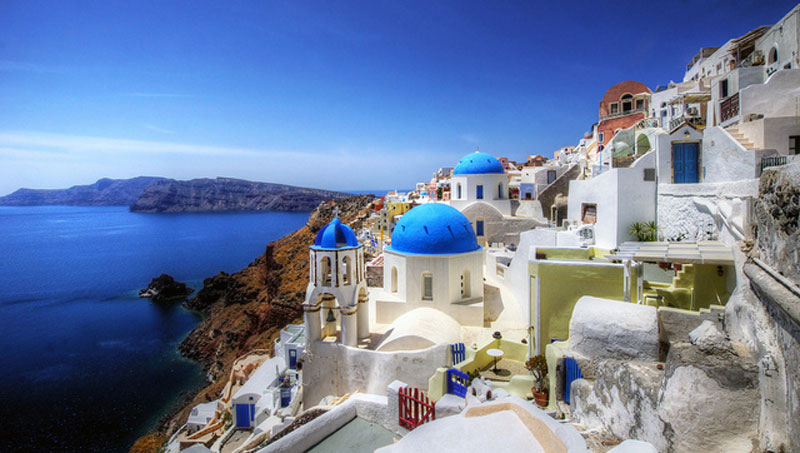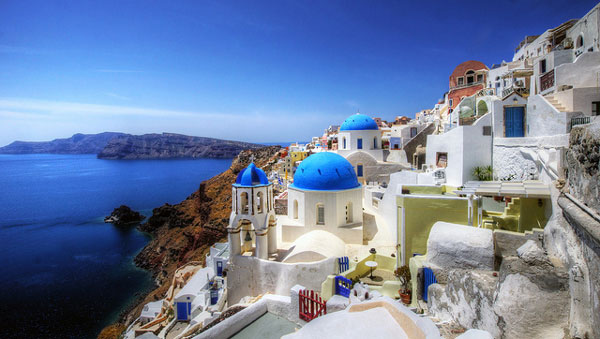 Trip to Europe
My two daughters and I were on our first trip to Europe together. Romantic visions of an era where every young woman's education included the grand European tour swirled in my mind's eye like the movie, "A Room with a View."
Yet as a diligent customs official pulled my oldest daughter aside to inspect her bag, the zipper sprang undone, releasing clothes that moved like a living animal.
A long feather boa, two hardcover coffee table books and a jumbo box of condoms rendered us speechless.
"She is 23 years old," my youngest said. "You should be proud that she is so responsible."
Intergenerational travel – it's never what you expect it to be.
How It All Begins
It had all begun innocently enough. We planned to be in Greece for a few short weeks.
As it was their first trip abroad, I aimed for a balance of culture and fun by combining time on Mykonos with a cruise of the islands of Santorini, Rhodes, Patmos and Crete.
In reality, there was at least one reluctant traveller. My youngest, at 16 years old, longed to spend the last few weeks of summer at the local shopping mall.
The oldest was keen to go, but after a hard night of partying in her home in Vancouver, she slept in on departure day, almost missing her connection to rendezvous with us in Toronto.
She showed up sporting snakeskin gloves and the previous night's hairdo of tiny corkscrew curls.
Visiting Athens
But arriving in Athens, our first day was everything I'd dreamed of.
We explored the cobblestone streets in the Plaka area at the foot of the Acropolis and, shaded under a massive Platano or sycamore tree, had mezethes, or Greek appetizers, facing the ruins of the Roman Agora.
Built around 40 B.C., its marble Tower of the Winds, topped by the winds of mythology, turned a rosy red and then a golden hue as our dinner progressed.
The next day, after a visit to the National Archaeological Museum, we headed to Akra Sounion, just 30 minutes east down the coast from Athens.
There at the Temple of Poseidon, 15 marble columns provided a perfect frame for the sunset.
King of Athens
An orange and violet sky hung over the limestone peninsula where the King of Athens held vigil for his son Theseus.
As the legend goes, in his haste to return from slaying the Minotaur on Crete, Theseus forgot to switch his sails from black to white – the signal that he was alive.
So, when the ship rounded the coast of Attica, King Aigeus saw the black sails and took his own life by throwing himself into the raging sea 200 feet (about 60 metres) below.
The classic tale evoked differing emotions in my youngest daughter and me.
"Couldn't it have been avoided by a simple reminder pinned to Theseus' travelling trunk?" I asked.
"Perfect example of parental overreaction," replied my youngest daughter. But my oldest daughter, waiting in the restaurant below, missed the whole experience.
Earlier, in the heat of the day, she'd climbed to the top of the Acropolis – wearing patent leather Prada boots and what seemed to be a high tech dress made entirely of plastic.
Overheat
Now, she'd hit the sandy trail – head first – a victim of the 104 F (40 C) heat.
But in typically Greek fashion, the restaurant staff was busy creating a special spot for her.
Near the kitchen, it was protected from the sun lying low on the horizon and caught the evening breeze, unlike the tourist section where the rest of us sweltered.
Even better, it seemed that the owner had three sons. They offered cool cloths, icy lemon drinks and later, crispy calamari.
Soon, their friends pulled up on Honda motorbikes and there was a party going on. Her recovery was remarkably speedy.
Cruise to Turkey and the Greek Islands
After a few days in Athens, we headed to the port of Pireas to board our ship, the Aegean II, for a one-week stopover in Mykonos.
It would be followed by a four-day cruise to Turkey and the Greek Islands.
As we perched on our bunk beds trying to free up floor space in our cabin, there was a knock on the door – it was our luggage.
Six Russian porters stacked the bags higher and higher. "Maybe I shouldn't have bought that bongo drum," said my oldest.
I suspected that the real problem was the two bags filled with platform shoes the size of butcher blocks.
As we neared the island of Mykonos, it was bathed in dazzling sunlight. Crosses on domed churches soared over white houses stacked like sugar cubes.
Crystal waves decorated the blue sea. Although the island has a reputation for partying and Shirely Valentine jokes, our destination was Petatos Bay Hotel in the village of Platy Yialos, a quite corner.
There, my oldest discovered boats that ferried partygoers to discos at Paradise and Super Paradise beach. My youngest discovered Kostas, the Greek porter.
I found Metaxa and the hot-tub. We floated together in clear, cool water that swirled over flat smooth rocks. Colored fish darted between our toes.
In the week that passed, I visited Delos, the birthplace of Apollo, while my youngest took scuba diving lessons at Psarou Beach and the oldest danced at the Sunrise Bar.
End of Our Two Weeks Tour
On our last night, in our favorite restaurant, local Greek men danced until the moon was high in the sky.
The aroma of oregano, crushed by their heels on the wooden floor, filled the air with bursts of its spicy fragrance.
The cruise of Santorini, Rhodes, Patmos and Crete that followed was a slideshow of culture and beauty. With just a taste of each island, we wished for more time.
But our two-week experience was a wonderful blend of education and enjoyment. Some moments were small, such as the elderly vendor and donkey that shared pistachios with us.
Others loomed larger like the Visa bill for a Turkish carpet, bought on impulse.
We also discovered new depths to our relationships.
At the oracle of Delphi, our guide described how Pythia, the priestess of Apollo, rested the spiky leaves of the oleander under her tongue to release toxins and inspire mystic hallucinations.
"Don't even think about it," said the youngest to her older sister who was eyeing a nearby shrub. I didn't have to say a word.
IF YOU GO
The official site of Greek National Tourist Organisation has been offering information on events, accommodation and attractions for more than 60 years. Visit them at www.gnto.gr.
Latest posts by Janna Graber
(see all)