Corfu stands out as an enchanting Greek island that captivates first-time travelers, particularly those with a penchant for history, meandering cobblestone streets, and crystal-clear turquoise waters.
Whether you're seeking a day trip or planning a week-long getaway, Corfu offers an array of attractions to cater to every taste.
Here Are Our Suggestions for the Top 10 Things to Do in Corfu.
Planning a last-minute trip to Greece?
Top Experiences and Tours in Greece:
Where to stay in Greece:
Find accommodation with Booking.com
Get a rail pass through Rail Europe
Find Bus, Train, and Flight tickets with one search through Omio
Wander Corfu Old Town
A guided walking tour is the best way to learn about the Old Town of Corfu. Wander through quaint alleyways, stopping at historic stores where you can try different traditional foods and buy souvenirs.
Take in the must-see historic attractions like the Old Fortress and the Palace of St. Michael. Visit the Church of St. Spyridon to pay your respects to holy relics while dining and mingling with the locals.
On a thorough walking tour, you can also visit the coastal region of Kanoni, which offers typical Greek culinary nibbles and a laid-back beach town atmosphere. Corfu Town is full of surprises. Don't be surprised if you spend a full day wandering the narrow streets and losing track of time.
Best Tips & Tools to Plan Your Trip
Visit Paleokastritsa Beaches
Greece is home to some of the most beautiful beaches and the clearest seas in the world, which is why visiting Paleokastritsa is something like living the Greek dream. Paleokastritsa, which consists of several lovely beaches that look out onto a lagoon, is simply magnificent.
Paleokastritsa has a rich past and myths connected to this place. It is well-known for being the location of Ulysses' last rest stop before traveling to Ithaca. He was found abandoned on the historic Phoenician coast, which is today known as Paleokastritsa Beach, and was saved by them before ending his protracted trek.
Paleokastritsa is a popular tourist attraction today. You may find a few souvenir shops, taverns, and various hotels and guest rooms along the road that leads to the seaside. If you can escape the crowded summer months, the shoulder season is the finest time to visit Paleokastritsa.
You will be rewarded with a tranquil atmosphere and some of the best sceneries in Europe.
Swim at Canal D'Amour Beach
Undoubtedly one of Corfu's most picturesque locations is this lovely secluded bay with its distinctive rock formations. The oddly terraced golden boulders that border the margins of a protected lagoon are infamously known as the Canal d'Amour and are ideal for romantic picnics, swimming, and sunbathing.
Explore the roads leading from Sidari village to find a collection of hidden coves, each one greater than the previous. You can choose to snorkel, swim, or relax in the sun.
However, be aware that this is a popular tourist attraction and it is best to visit early in the day, or in months before and after the summer season. Sidari has some of the best beaches the Ionian Sea has to offer and they will leave you speechless.
Take a Boat Trip to Paxos Island
Embark on a yacht and travel over the azure sea to the magnificent island of Paxos for a day trip. Explore the pristine northern coastline, swim in the clear waters of Ionian islands, and stroll through the alleyways of old-fashioned settlements while inhaling the aroma of olive groves and listening to your travel guide explain the fascinating history of this beautiful Greek island.
Visit the monk seals who call the otherworldly Blue Caves home before finishing strong in Antipaxos with world-class swimming and snorkeling off Paradise Beach. The beautiful island Antipaxos is located close to its larger sister Paxos and is often visited at the same time on a boat trip.
It has much flatter terrain, is heavily covered in Mediterranean shrubs and vines, and, most importantly, offers stunning sandy beaches.
Discover the Architecture of Spianada Square
Due to the significant Venetian influence, Corfu, the capital of Corfu Island, is one of the most alluring cities in Greece. Other cultures, such as the French, the Normans, the British, and the Romans, have also had an impact on Corfu. This is all very well seen on the main square of the city, Spianada Square.
There are numerous archaeological sites and top-notch archaeological museums that house the ancient structures that have survived. Corfu is quite similar to an Italian city.
However, there are other influences as well, such as the Liston, a structure that borders the principal promenade, or Spianada, a stunning park designed by the French. Some of Corfu's best cafes and tavernas may be found in Liston, a portion of the plaza.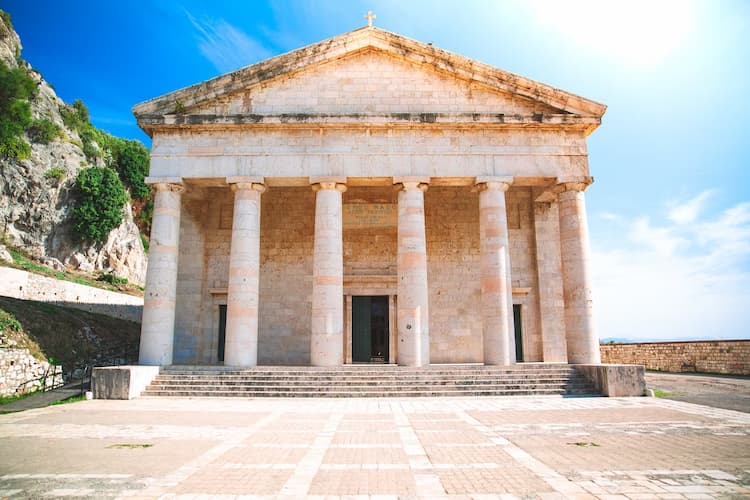 Stop by the Museum of Asian Art
Corfu's Museum of Asian Art is housed in a palace with a magnificent garden. You can spend a couple of hours here admiring this gorgeous neoclassical building and checking out the exhibits. This palace was home to the British High Commissioner who left his collection of Asian art to the city of Corfu.
Climb to Angelokastro Castle
Corfu's Angelokastro Castle is the island's highest point. For anyone looking for fantastic sightseeing, this place should be on top of the list. Originally built to protect against pirate raids, it is now a charming tourist destination with stunning sea views.
Exploring the remnants of what were once ramparts, chambers, and passageways is possible after passing through the stunning castle gate. Look for the remains of a buried cave chapel, as one of the most significant archeological attractions within the castle grounds.
Visit Achilleion Palace
The Achilleion Palace is without a doubt the Old Town of Corfu's crowning architectural achievement. This palace, which bears the name of the Greek hero Achilles, is a tranquil museum filled with classical sculptures and old paintings.
You can peek into the former residences of Austria's Empress Sisi because many of the interior items are authentic. Wander through the verdant gardens to find statues and enjoy the stunning coastal vistas.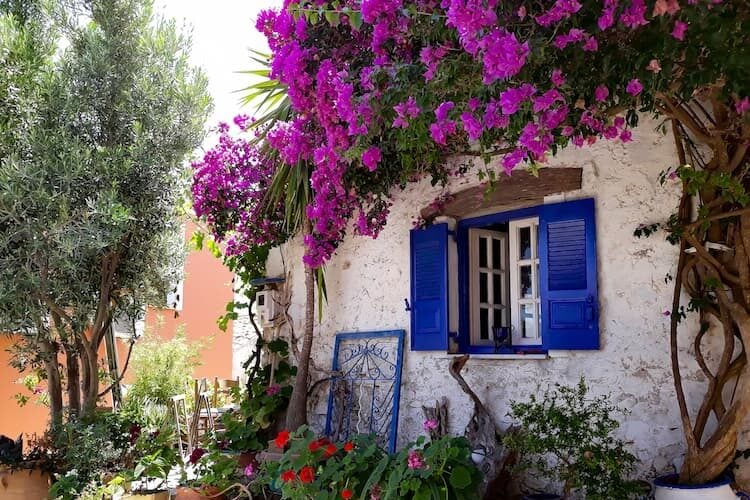 Admire Vlacherna Monastery
Vlacherna Monastery is located on a tiny islet south of the Kanoni peninsula. To reach this beautiful 17th-century monastery, which is now a church for celebrations, you simply have to walk down the pier.
Explore the interior before taking a boat trip to Mouse Island, where you will find a little Byzantine chapel hidden in a forest, overlooking the beautiful Ionian Sea.
Watch the Sunset From Beach Bars
Like many other seaside tourist hotspots, the island of Corfu also has phenomenal beach bars to offer. You can enjoy water sports, swim, sunbathe, and later have drinks and watch the sunset from one of the laid-back beach bars along the coast.
Many beach bars also offer fresh food and here you can try local cuisine, fresh seafood, and local wines. Many beach clubs offer amazing views and service, but here are the most popular ones: Nagual Beach Club, Tierra Del Fuego, Akron Beach Bar and Restaurant, Imabari Seaside Lounge Bar and Restaurant, and Piedra Del Mar.
Inspire your next adventure with our articles below:
Author Bio: Danijela Horvat is a travel writer with a passion for discovering new destinations. With a background in journalism and photography, she is trying to translate her own experience into articles.